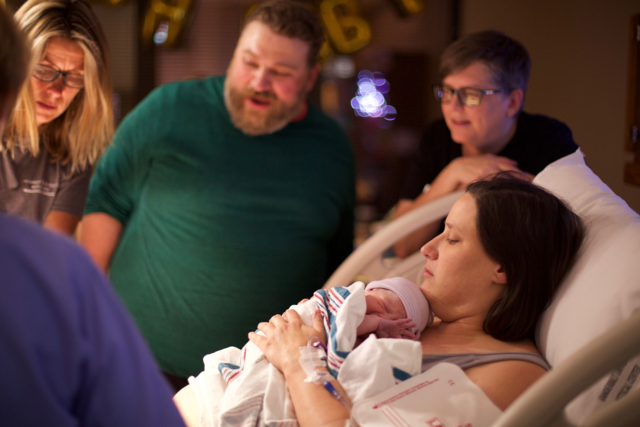 Elizabeth Muñoz's doula-assisted birth in 2018Photo: Angela Wiggins
When a young woman in labor arrived at Vanderbilt University Medical Center prepared to give birth alone, she was happily surprised when the staff offered her the services of their on-call volunteer doula. 
It was a long birth. When the first doula's shift ended, the torch was passed to the next volunteer. Then came time for the third doula's shift. Once the baby arrived, Elizabeth Muñoz — co-founder and midwifery liaison of the Vanderbilt Volunteer Doula Program — checked in on the patients. "I had three doulas and three times the support," the new mother told her. And it was all completely free.
The VVDP was founded in 2014 by Muñoz and former Vanderbilt University School of Nursing midwife program director Michelle Collins. The two noticed that over the past half-decade, doulas had become mainstream — popularized by celebrities including Nicole Kidman and Kelly Ripa. But despite Nashville's booming birth-support community, which grew with the influx of people of child-bearing age to the city, many of their patients were still not utilizing this type of nonclinical labor support. That's when they decided to see what would happen if they removed the cost barrier.
"Doulas should be paid, and we do not want to diminish the amazing work that they do," says Muñoz. "But there are people who simply can't pay for these services. By creating this program, we wanted to reach these people, who are often the most vulnerable during childbirth."
Muñoz notes that a doula can often take on the role of advocate for the person giving birth, and may also provide acupressure and massage, distractions and emotional support to the person and their partner.
"We believe this labor support shouldn't only be available to those who can afford it," says Muñoz. She cites evidence that people who utilize a doula often experience better birth outcomes. According to The Journal of Perinatal Education, these benefits include reductions in cesarean births, shortened labor duration, increased satisfaction with the birth experience and more.
The VVDP includes Vanderbilt midwifery students, other Vanderbilt students enrolled in programs unrelated to midwifery and nursing, professional community doulas who want to give some of their time for free, and uncertified community members who believe in supporting new parents through the birthing process. 
"It's definitely not a requirement for the midwifery program at Vanderbilt, but we are encouraged to be a part of it because it's a great way for us to put some of our didactic knowledge to use before we are seeing patients," says Hannah McGrew, a student of the Vanderbilt School of Nursing's nurse-midwifery program who has volunteered as a doula since fall 2018. "It's great for us because it makes us more holistic and compassionate providers, and it's great for the birthing person because we have all of this student knowledge that we can bring, and we know that providing this kind of support creates better outcomes for birthing people."
Muñoz says attaining a doula certification is a long and beneficial process, but it's not required for doulas in the VVDP. The program provides a biannual training session at the hospital for prospective volunteers, who can take their first shift as an on-call volunteer doula as soon as their training is complete. 
That said, the support of a VVDP volunteer doula is more limited than the support provided by a paid community doula. VVDP doulas provide intrapartum support only, meaning the birthing person will not meet their doula until labor begins, will not have to exchange any personal information at any point, and will not see the doula after the initial postpartum time, unless they specifically request to. A paid doula, on the other hand, will typically provide support and visits before, during and after birth.
Andrea Hewitt, certified doula and owner of East Nashville Doulas, acts as the community doula liaison for VVDP and teaches the biannual training sessions. She says the main difference between a volunteer and a paid community doula is that the paid doula will build a strong relationship with their client before and after the birth.
"The other big difference is the cost, obviously," says Hewitt, noting that the average cost of a doula's services in Nashville is $800-$900 per birth. "My philosophy is that if someone wants a doula, I'm going to do everything I can to get them one." This is a controversial topic in the birth community, she adds, as some workers feel the volunteer program is taking business away from paid community doulas. But Hewitt disagrees.
"If these people can't afford a community doula anyway, it's not taking away from our business," says Hewitt. "If our goal is to provide support for families giving birth, and we know the research shows this helps them, then we should be all for volunteer programs — all of us. And this program helps us get the word out about what doulas do, and that's a rising tide that lifts all boats."
The next VVDP training session will take place 8 a.m.-5 p.m. Feb. 15 at the Vanderbilt University School of Nursing. For more information, email