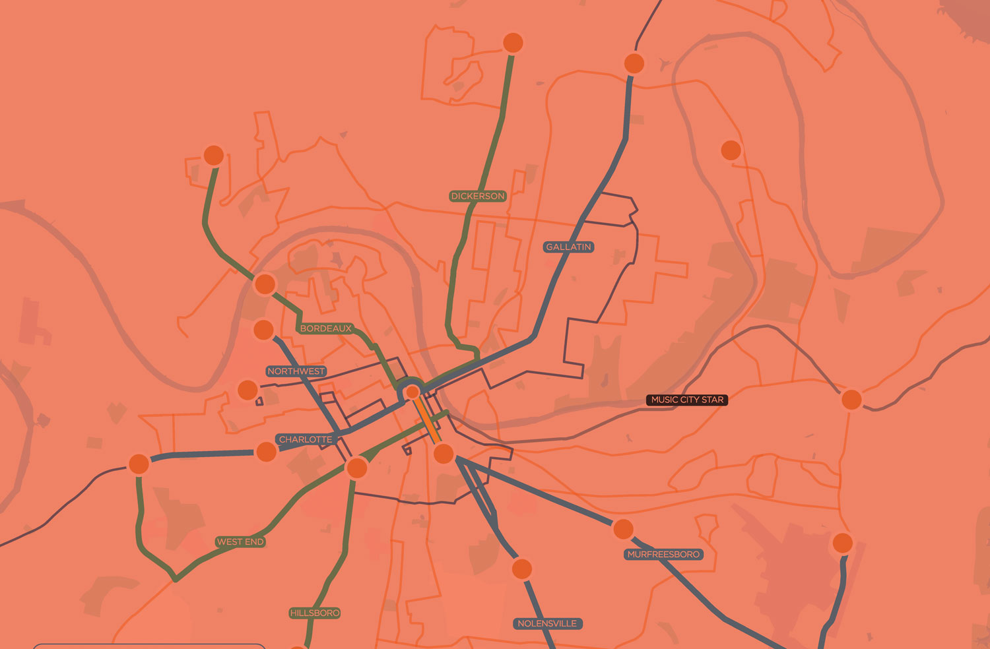 Why did the transit referendum fail so badly? 
In conversations with more than 15 different transit stakeholders — donors, consultants, Metro Council members, city insiders and business leaders — a withering picture emerges of a campaign that not only faced significant headwinds, but failed to deal with them as they came. Our sources all agreed to speak to the Scene on background so that they could be candid with their remarks. Below are five areas where transit came apart.
Campaign Leadership
"There were two overriding concerns," says one business leader. "Ralph. And Schulz."
Fundamentally this was a chamber-led campaign. Ralph Schulz, the president of the Nashville Area Chamber of Commerce, was the man at the podium on election night delivering the bad news to a roomful of supporters. More than a few people pointed fingers at Schulz, who — though he was on the winning end of the English-only debate — was a loser on The Amp (the city's bus-rapid-transit proposal, which died in 2015), in school board races and now in a countywide transit referendum. Schulz and the chamber were successful in helping lobby for the Improve Act, which would have provided the funding mechanism for the transit plan, but that was a legislative victory, not an electoral one. Several coalition members argue, with some merit, that at some point the city's leadership must stop putting important public campaigns in the hands of the chamber.
"Ralph's credibility to be an honest broker back to the business community is compromised," says one corporate stakeholder. Many credit Schulz with a formidable fundraising effort. He raked in more than $3 million. "I didn't think we'd raise $2 million," says one adviser. "It really is Herculean. It wasn't that I didn't think he could do it, it was that I thought no one could do it." They also say the coalition that Schulz built was too focused on downtown and too light on grassroots support.
"They were out of step with the majority of Nashvillians," a significant donor told the Scene.
MP&F
McNeely, Pigott and Fox is one of the city's largest public relations firms, and its big contract with the city — and close ties to both the Karl Dean and Megan Barry administrations — makes it a frequent target of critics. After MP&F won the bid to run the transit campaign, the spotlight was always going to be on the firm.
The biggest complaint is that the campaign MP&F built was about turning out voters, not convincing undecideds. Having aimed the effort at a low-turnout election in May with models projecting between 60,000 and 80,000 votes, the campaign was laser-focused on mobilization instead of persuasion. Voters who went to a transit forum in the months leading up to the vote got a lot of high-quality information that was likely to make them consider voting yes. But if your exposure to the campaign was mail and broadcast advertising? It was less than compelling. Three weeks before the election, the campaign ran ads attacking the dark money behind anti-transit group No Tax 4 Tracks, a sign that they had been taken off of their message and were focused on the opposition.
What was their message? No one could adequately tell the Scene what they were supposed to be communicating. "Congestion, I guess," says one stakeholder.
But as early as February, transit leaders and MP&F were aware that the campaign was in trouble, according to internal polling. And with more than 120,000 votes eventually cast, the low-turnout model for the May election was blown up. Generally, experienced political campaigns will pivot when they see trouble coming, but there was simply no shift in tactics. That's the danger in hiring a public relations firm to do political work: While MP&F has a number of campaign veterans in its ranks, the overwhelming body of its work is corporate and civic. 
"They're not qualified to run a campaign like that in 2018," says one stakeholder, pointing to the inability to adapt during the race.
"We got a PR campaign, not a political campaign," says another observer. "They gave us testimonials, not arguments."
At the donor level, there had been grumbling about the state of the campaign for months, with fingers pointed both at the chamber and MP&F. But after the loss, the anger was boiling over for some.
"The level at which those guys enriched themselves out of that project is staggering," says one stakeholder. "These guys are vertically integrated at every level of the campaign. I think they looked at it as a cash cow. It gets back to the relationship they have with the current chamber leadership and the board."
MP&F won the bid after a process that included local and out-of-town firms, some of which had specific experience in running transit campaigns. Schulz, as head of the chamber, helped pick MP&F, one of the chamber's longtime partners. Many believe that was because he wanted to control the campaign.
Stakeholders in Bellevue and Donelson point out that there was no effective messaging or outreach to those parts of the city, and that was reflected in the vote. When the final results were in, transit passed in only six of 35 council districts, all of which were at or near the center of the city. 
"It's like they ran a countywide race within three miles of downtown," says one business owner. 
It's Gonna Be May
From the outset, the timing of the transit vote during a traditionally low-turnout election such as the primaries for municipal judge and clerk races was controversial. Even within the transit campaign, there was some dissent. While campaign leaders relied on polling that suggested the early date provided the best possible chance, others disagreed and pointed to successful efforts in other cities.
"There are three determining factors in successful transit campaigns," says one dissenting veteran observer. "Federal dollars, state support and high-turnout elections." 
In hindsight, moving the election to November would have provided a number of advantages for pro-transit forces. First, it would have given more time to make the case for transit as an infrastructure investment and not just a way to combat traffic issues — something that clearly didn't resonate. And second, there will likely be two former Nashville mayors on the ballot in November — Dean for governor, assuming he beats Craig Fitzhugh in August, and Phil Bredesen for Senate — and both will be looking to maximize Democratic turnout in the city to make up for Republican advantages in other parts of the state.
Pro-transit advocates rightly point out that getting the measure on the ballot before the state legislature could change the terms of the Improve Act was an important consideration. A November election could have made the proposal a target for conservatives in the General Assembly. But with the national trends pointing toward a wave of Democratic enthusiasm in the fall, this seems like a missed opportunity.
The African-American Vote
It's a mistake to assume the African-American vote is a monolith. And it's clearly a mistake to assume that because transit is popular in large parts of the community, African-American voters — who turn out in higher proportion than white voters — would support the referendum.
Several key issues undercut the transit campaign's message. First, the Barry administration's handling of changes to both General Hospital and the Bordeaux YMCA led to deep skepticism among black voters in North Nashville. But more importantly, there was a complete lack of understanding of the racial implications of Nashville's explosive growth over the past decade. Every district north of downtown voted heavily against the plan, as anti-transit forces stoked real fears about gentrification pricing African-American households out of It City — all they had to do was point to multiple $300,000-plus real estate listings in Buena Vista, just blocks from public housing. The pro-transit campaign had no real answer for that. 
"It's the growth debate," says one consultant. "We still haven't figured out how to message it. And transit's paying for the sins of others."
Some stakeholders tell the Scene that outreach efforts to the African-American community were inadequate to nonexistent. "You can't just trot out African-American elected officials like Howard Gentry and Brenda Wynn and expect support," one transit stakeholder says. "It's tone-deaf." And major improvements to the city's bus system, including crosstown routes, simply were not communicated effectively.
The Mayor
When Barry resigned, it robbed pro-transit forces of their most effective spokesperson and the leader they were counting on to close the deal. Some transit advocates argue, with merit, that Barry's presence might have changed only the margin and not the outcome of the election. But there were other problems.
Mayor David Briley and his staff knew a month before the election that transit was almost certainly going down. While Briley was supportive of the referendum, transit stakeholders say he didn't hammer the message at a series of town halls he held after taking office, and sometimes skipped the transit piece of his remarks altogether. That's not surprising — transit was Barry's plan, and he was forced to carry it out of necessity as its highest-profile supporter. 
Contributing also to the messaging difficulties was the fact that the business coalition and chamber cleared the field for Briley, endorsing his candidacy in the special election just days into his tenure. The effect was that every other candidate for mayor became anti-transit. Councilmember Erica Gilmore, in fact, had already represented the pro-transit side in a public forum, but switched sides as she looked for supporters and campaign dollars. While conservatives like Carol Swain and Ralph Bristol were never going to support the transit plan, and jeff obafemi carr was being paid by the anti-transit side, the strong business support of Briley meant candidates like Harold Love Jr. gravitated to opposing the referendum.
At the end of the campaign, one prominent transit stakeholder, pointing to Seattle's starts and stops over the years, described his frustration with Nashville's needs and the failure of the transit proposal this way: "We're gonna have a [transit] system that looks a lot like this one someday — it's just gonna be more expensive."