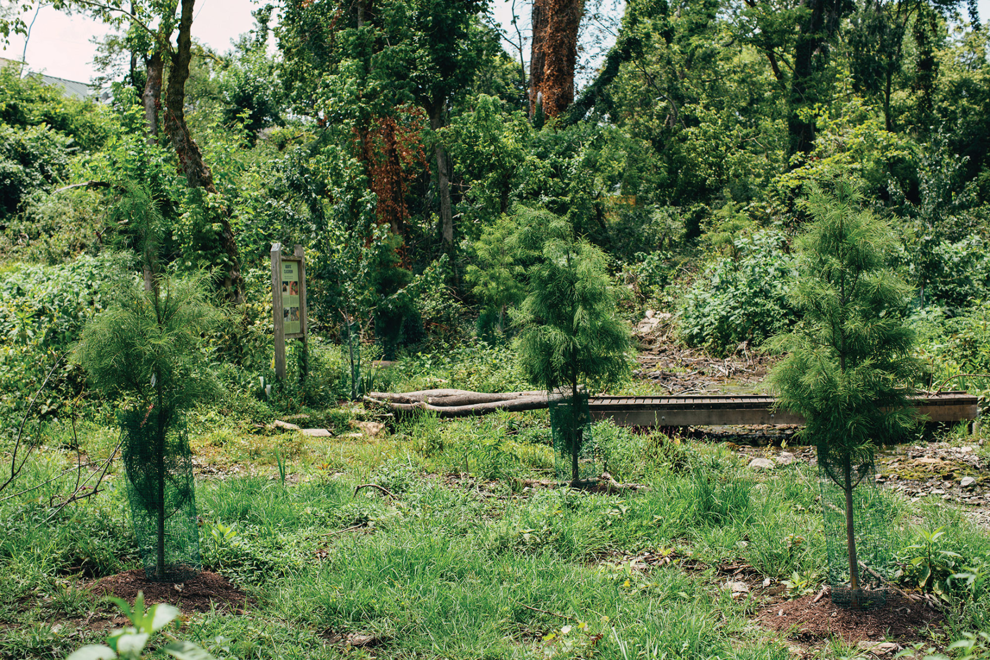 At the bottom of a small lowland area near Holly Street, Lockeland Springs Park lies partially hidden at the end of a narrow trail through the greenery. Although a sign reading "Aquatic Classroom" and other features like bridges and benches are intact, there are fewer fully grown trees than there were in the past. Instead there are smaller, younger ones, planted as part of the reforesting effort following the devastating March tornado that tore through the area.
Jim Gregory, chair of the Nashville Tree Conservation Corps, says residents came together following the storm, which damaged and blew over much of the growth in the park. Gregory says residents with the "good old Nashville volunteer spirit" planted more than 100 trees in the park, and continue to water and care for them in the summer heat.
"People were crying happy," Gregory tells the Scene. "People are adopting these trees."
The trees were donated by Hale and Hines, a nursery in McMinnville. The Tree Corps partnered with two other nonprofits — Root Nashville and the Nashville Tree Foundation — to deliver more than 1,000 trees to local residents in an effort to recover those lost in the storm. Gregory moved to Nashville in 2012 and was inspired to act after watching his own neighborhood trees disappear. He says the groups worked with an expert in local forestation at the sheriff's department to set up a staging area with four semi-truck loads of trees, some of which are still being distributed around the city.
Despite the large number of trees coming in, it's still not enough to completely recoup the loss. According to Gregory, Metro Nashville is still working on an official report and may be using numbers from the 1998 tornado to assist in the estimate. A public records request about tree loss and recovery efforts to the mayor's office was declined because no such records exist yet. However, according to information from Metro's Office of Emergency Management, 2,264 properties listed some form of damage, and those could include forestation loss.
Root Nashville, a citywide campaign aiming to plant 500,000 trees in Davidson County by 2050, said in an email statement that tens of thousands of trees were lost in the storm. Root also said thousands more were lost in the high winds — or derecho storms — that have taken place since the tornado. Outside of storms, both Root and the Tree Corps say Nashville is losing swaths of trees each year to development, old age and disease. Many residents will remember the infamous cherry tree debacle last year, in which thousands signed a petition to stop several downtown cherry trees from being cut down to accommodate the NFL Draft.
"The Tennessee Division of Forestry estimates that Nashville has lost 9,000 trees every year for the past eight years," say Root Nashville's representatives in their statement. "These trees are lost mostly to construction and development, but many are dying of old age. The invasive beetle called the emerald ash borer also arrived. It will destroy all of the city's ash trees."
The ecological impact of this tree loss adds up, causing problems with stormwater runoff, wildlife habitat loss, erosion, pollution and a reduction of neighborhood privacy and beauty. 
"While tree loss undoubtedly leads to ecological degradation and habitat loss, we have also experienced a loss in stormwater retention in three very important neighborhoods," says Will Caplenor, field operations supervisor at the Cumberland River Compact. "As related to stormwater, this is probably the most detrimental impact we will experience. High sedimentation is already the leading polluter in Tennessee."
Stormwater runoff alone costs cities millions of dollars per year in management costs. An Environmental Protection Agency report states that cities losing 10,000 trees per year pay about $5.6 million for stormwater interception over a decade, and cities that lose about 54,000 trees per year pay upwards of $46 million over a decade. Over time and compounded with exponential tree loss, the total adds up quickly.
But besides stormwater runoff, Root Nashville says there's no way to estimate how much debris and trash were dumped into waterways by the storm, including potentially hazardous chemicals distributed by destroyed houses.
"Homes from many eras using different types of insulation were destroyed," says Gray Perry, manager of the Clean Streams Initiative at the Cumberland River Compact. "Some insulation is treated with fire retardant. Those chemicals would be harmful if consumed. Fiberglass insulation might be picked up to build nests or dens, and it is easy to imagine that harming young wildlife." 
While all three Tennessee-based reforestation nonprofits are hard at work replacing trees, their efforts won't pay off for a long time. 
"We won't see environmental recovery in our lifetime," says Mekayle Houghton, executive director of the Cumberland River Compact. "We lost trees that were hundreds of years old. They provided significant environmental benefits that can't be replaced by newly planted young trees."
Houghton says Nashville can't afford to wait any longer to make trees and the environment a top priority. She says we as a city can expect to continue experiencing more severe storms, and investing in our "tree-lined stream banks, steep slopes and tree canopy" will help buffer and protect us. 
For its part, the Nashville Tree Conservation Corps is supporting legislation aimed at reforestation and protection — like the tree-density-increase bill that became a law in 2019. Residents can still request trees, which also gives the Tree Corps more quantifiable data about the city's tree loss, and Houghton encourages locals to vote for officials who understand Nashville's environment and value its protection.
Gregory says the reforestation work that locals are doing is inspirational, and desperately needed.
"One of the most magical things to come from the devastation is watching little seeds of hope grow, that people have planted."