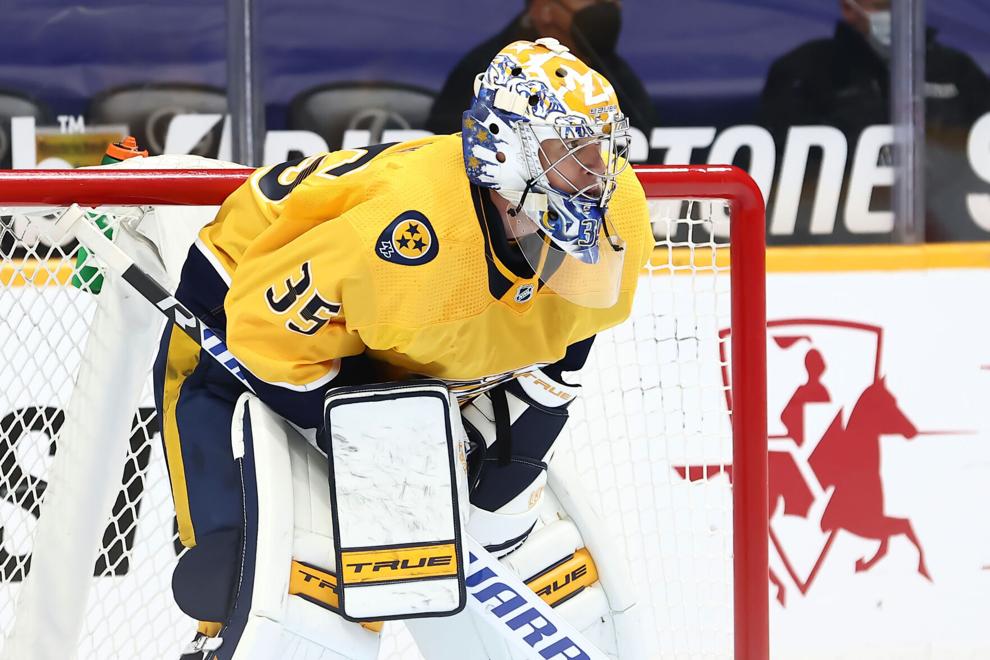 Pekka Rinne was sitting in his car and had just taken his dog to the vet when he got the call from Nashville Predators General Manager David Poile that the team would be retiring his number in February.
Rinne, who's rarely ever comfortable with the spotlight on himself, took a moment to self-reflect. His 15-year career ended not but four months ago, and now, the moment was about him.
"I think for half a minute I was pretty much speechless," Rinne said. "I couldn't believe it at first but after that, obviously, I was really excited and super happy. In a moment like this, you start reflecting back and thinking about the players you played with and the coaches you had and all the people that have helped me along the way. Even though they're going to be celebrating me at Bridgestone in February, it's a team effort. And that's the biggest thing to me is I get to share that with everybody."
The franchise's all-time leader in games played (683), wins (369), goals-against average (2.43), shutouts (60), saves (17,627) and total ice time (39,413:29), Rinne was a once-in-a-lifetime goaltender.
No Predators goalie matched what Rinne accomplished over his 15-year NHL career, success — which included a Vezina Trophy — that rivaled some of the best goaltenders the NHL history. The 39-year-old Rinne ranks 19th all-time in NHL wins and shutouts, and he holds the NHL record for wins, shutouts and games played for a Finnish-born goaltender.
So, it's fitting that not only will no one wear the No. 35 again but also that Rinne will be the first Predators player to have his number retired.
"Being the first Pred to have a jersey retired is a huge honor," Rinne said. "I was fortunate to play for the same team for such a long time. To have my jersey retired, it's a huge honor, and I don't know how to put it. When I came into the league, there's always been great Predators players, and there always will be, and I consider myself very fortunate that I got to play for the Preds so long."
After Rinne announced his retirement in July, Poile called him the most important athlete in Nashville while he was playing. 
Poile's remarks were about more than just performing on the ice. Rinne was the perfect ambassador for a Predators organization; the ultimate lead-by-example man. He ingrained himself in the Nashville community through several philanthropic efforts.
Perhaps Rinne's biggest off-ice contribution was the 365 Pediatric Cancer Fund, which he started with former teammate Shea Weber and has donated more than $3 million to the Monroe Carell Jr. Children's Hospital at Vanderbilt to support cancer research.
He also did work with the Best Buddies program, which helps advocate for individuals that suffer from intellectual and developmental disabilities, the Make-A-Wish foundation and the Peterson Foundation for Parkinson's.
Rinne also stepped in to fill some gaps during the COVID-19 pandemic, participating in the "Feed the Frontline" initiative by delivering meals to every Metro Nashville Police precinct and Metro Nashville Fire station. He also helped deliver more than 600 meals from Chick-fil-A to doctors and nurses at the Vanderbilt University Medical Center and helped provide free coffee to medical professionals as well.
Talk about leaving a legacy.
"I don't want how people remember myself. … Obviously I've always been a hockey player and I'm sure people remember me from the ice, but I hope they also remember me off the ice," Rinne admitted. "I've never wanted to be recognized off the ice; I never seek publicity or anything like that. But again, I've been fortunate to work with some of the charities that are really close to me and hopefully that work will always be there and continue. I think that's my dream and I really appreciate the Preds Foundation's commitment to support me with that. So, I think that's the one thing alongside my on-ice career is what I want people to remember."
Added Predators president and CEO Sean Henry: "Pekka Rinne defines what it means to be part of the Nashville Predators. From how he trained and played to how he put so much into so many community-changing programs … to always being there when Smashville needed a friend, Pekka was always there, doing more than anyone thought a person could. While he is the greatest player to wear our jersey, he was even better as a neighbor and friend to all. His career on and off the ice will take center stage when we raise his sweater to the Bridgestone Arena rafters, but we know that he will be celebrated time and time again, as his impact can't be contained to just one event."
Follow Michael Gallagher on Twitter: @MGsports.