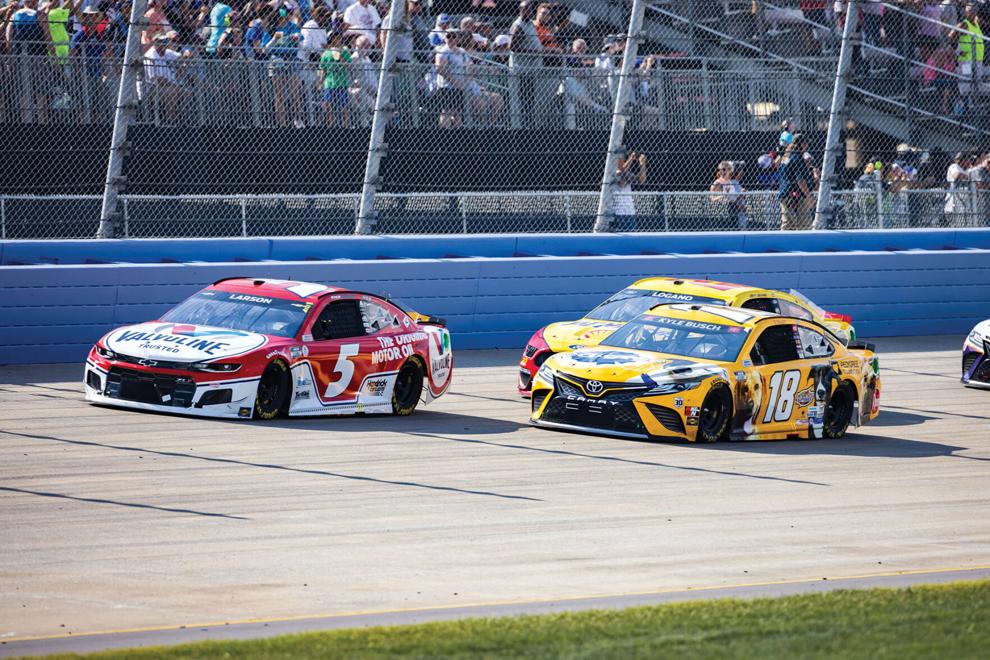 On June 20, fans sprawled well beyond the 1.33-mile track and towering grandstands at the Nashville Superspeedway, into campgrounds and grass parking lots surrounding the site. When the NASCAR Cup Series race began on Sunday, the sounds of V8 engines mingled with 38,000 screaming fans in a deafening roar.
Before last month, the Superspeedway — about 45 minutes east of downtown Nashville in Gladeville — hadn't seen a race since 2011, and Middle Tennessee last hosted the Cup Series in 1984. And as racing returns, the Nashville car community is changing. In addition to the Superspeedway's reopening, IndyCar will bring the debut Music City Grand Prix to Nashville in August, and the NASCAR Cup Series may return to the Fairgrounds Speedway.
What's more, the city will soon have its very own NASCAR team. Justin Marks, a former NASCAR driver and current team owner, recently announced that his team, Trackhouse Racing, is planning to relocate to Nashville. If all goes well, Marks says, Trackhouse will have its race shop in downtown Nashville for the 2023 season. The team is co-owned by Marks and Mr. Worldwide himself, Pitbull, and Trackhouse's driver, Daniel Suarez, drives a bright-pink No. 99 car sponsored by Tootsie's.
It's rare to base a NASCAR team anywhere other than Charlotte, N.C. And it's even rarer to build a race shop in a city center. But Marks and Pitbull have an audacious vision.
"We talked about it early in the days of Trackhouse, asking ourselves, what is a race team?" Marks told press on June 19. "Why is a race team in 140,000 square feet in an industrial park?" He envisions the Trackhouse headquarters as a more hybrid space, maybe even including "a music venue and bar in downtown Nashville that is over the top of the race shop or something like that."
Before the Cup Series race, many drivers commented on the strength of Nashville's fan base. Denny Hamlin, a driver for Joe Gibbs Racing, originally raced at Nashville Superspeedway in the Xfinity Series (then called the Nationwide Series, but long referred to by fans as "the Saturday Circuit") and returned this year for the cup. "Obviously, Nashville itself is a very exciting town," Hamlin says. "Hopefully we get a lot of fan enthusiasm back there that we had about a decade ago."
Beyond racing fans, Nashville also has a growing base of car enthusiasts, with clubs that — though often small — are varied andunique. When Drake Alexander Knight and Emily Melheim founded Elite Street Society, they didn't have high hopes. They created their own car meet on a whim, and sat in a parking lot, waiting.
"We were like, 'Oh, nobody is going to show up,' " Melheim says. She adds with a laugh, "But we were also like, 'What are we going to do if they do show up?' "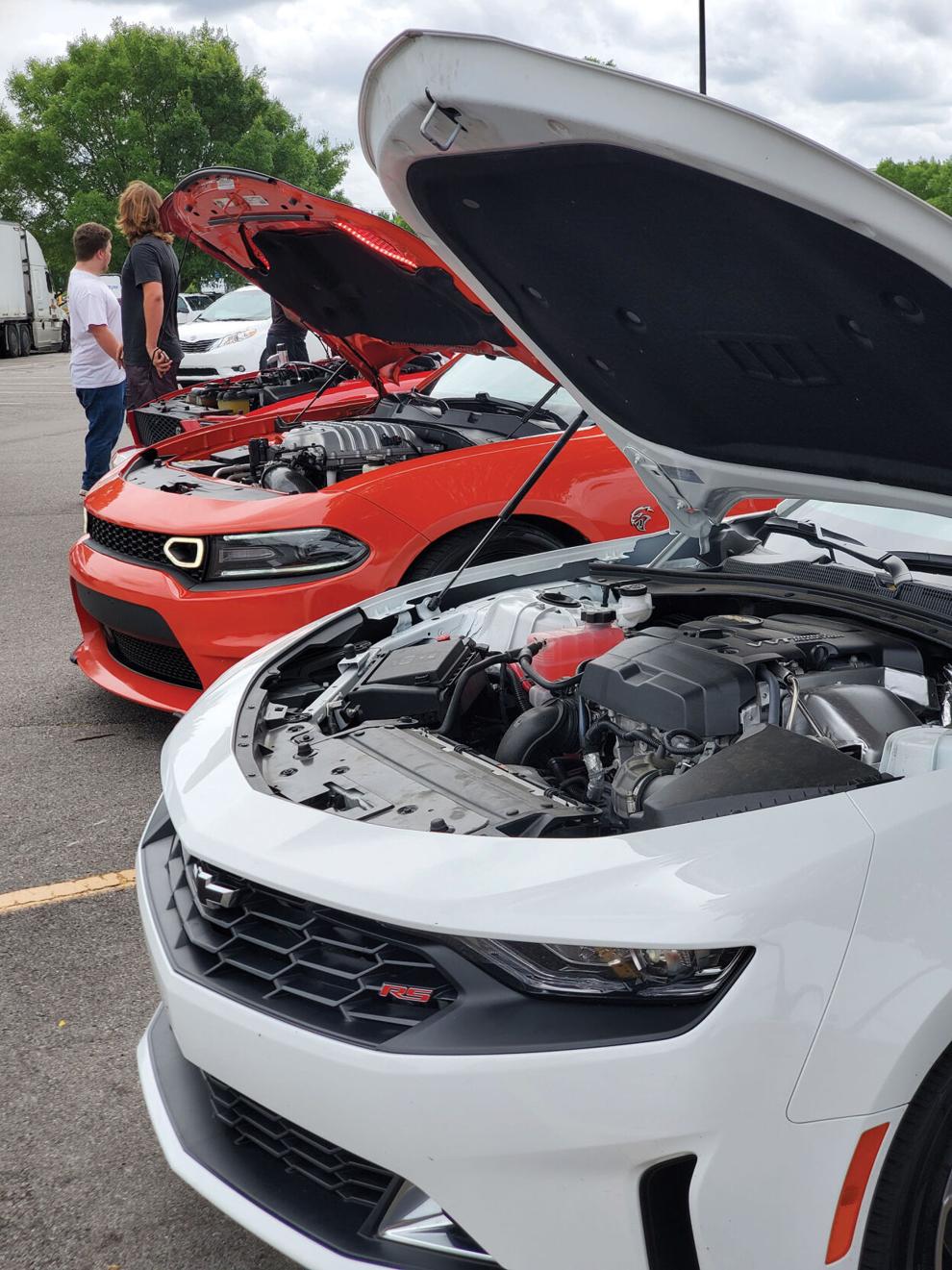 Ten people came to their first meet, and they convoyed east to Fall Creek Falls. Knight says they didn't consider any of the logistics of their first "car cruise" — like, for instance, what to do when someone is separated from the group at a stop light. Now, a year later, the group has more than 1,500 members. At their anniversary cruise on June 27, Knight and Melheim knew to hand out Motorola walkie-talkies and give detailed instructions to participants.
Knight and Melheim initially joined the Nashville car scene by attending meets at night. But they say those meets often became dangerous as the night went on, with cars spinning out of control close to spectators. Once they saw someone with an assault weapon strapped to his chest nearly struck by a BMW doing doughnuts. To them, joining Nashville car clubs felt like a choice between risky sideshows or standoffish daytime meets with prohibitively expensive vehicles. They wanted to create a legal, safe alternative for "people who feel like they don't belong," says Knight.
Melheim pushed through self-doubt to learn about cars in an overwhelmingly male-dominated environment. "There's been times I've felt so discouraged, like, 'Oh, nobody wants to see me at these events,' " she says. "But it's been the opposite. Being the president of this — it's been so different. I feel like I can build that confidence."
Now Melheim always makes a point of introducing herself to other women at ESS events. She and Knight acknowledge that the car scene is far from perfect. Knight points out that women make up only 11.1 percent of ESS' membership. "When I see that number, I get hurt," Knight says. "Because that tells me how much capability is out there. And I want to know what's shying people off, I really do."
More generally, he says, "that's becoming a big focus coming up … how we can build a diverse and inclusive culture around what we do." Their aim is for the meets to be open to everyone, regardless of who they are or what car they bring — or whether they bring any car at all.
Knight and Melheim once raised $500 to repair a club member's engine — after they bought the parts, 13 members of ESS worked together to figure out the repair themselves. This is typical for the group, which often raises funds to help members in need and spends weekends driving around the Nashville area offering free repair services.
There's a similar sense of community spirit on display at the big events too. On June 18 at the Nashville Superspeedway, during the Rackley Roofing 200 (part of the NASCAR Camping World Truck Series), the RV lot was nearly full. Each RV was a snapshot: a couple sipping drinks on a roof; kids running around with traffic cones; two teenagers sitting in a plush, brown driver's seat while putting on makeup. As I passed one RV, a stranger called out, "Do you want anything to eat or drink? We're just having dinner." My new friends were a group from Louisiana who drove up every year before the track closed in 2011. Early on, they met a pit crew and cooked them dinner after each race. Ten years later, they're still in touch.
Indeed, NASCAR is making overdue strides toward inclusivity. The company banned Confederate flags from its races about a year back, and publicly supported driver Bubba Wallace running a Black Lives Matter car. Both decisions received mixed responses from fans.
On June 20, Kyle Larson won the Cup race. (Trackhouse driver Suarez earned seventh place.) After a virtual race just last year, Larson faced serious backlash for using a racial slur. Though NASCAR has taken much-needed steps, the car community more broadly is facing an important cultural moment. How can they make sure the hospitality of the sport truly extends to everyone?
The last time the Cup Series was in Middle Tennessee, Geoffrey Bodine won. That was nearly 37 years ago. Since then, NASCAR, and Nashville, have changed. It would seem the city's car culture is moving in a new direction too.