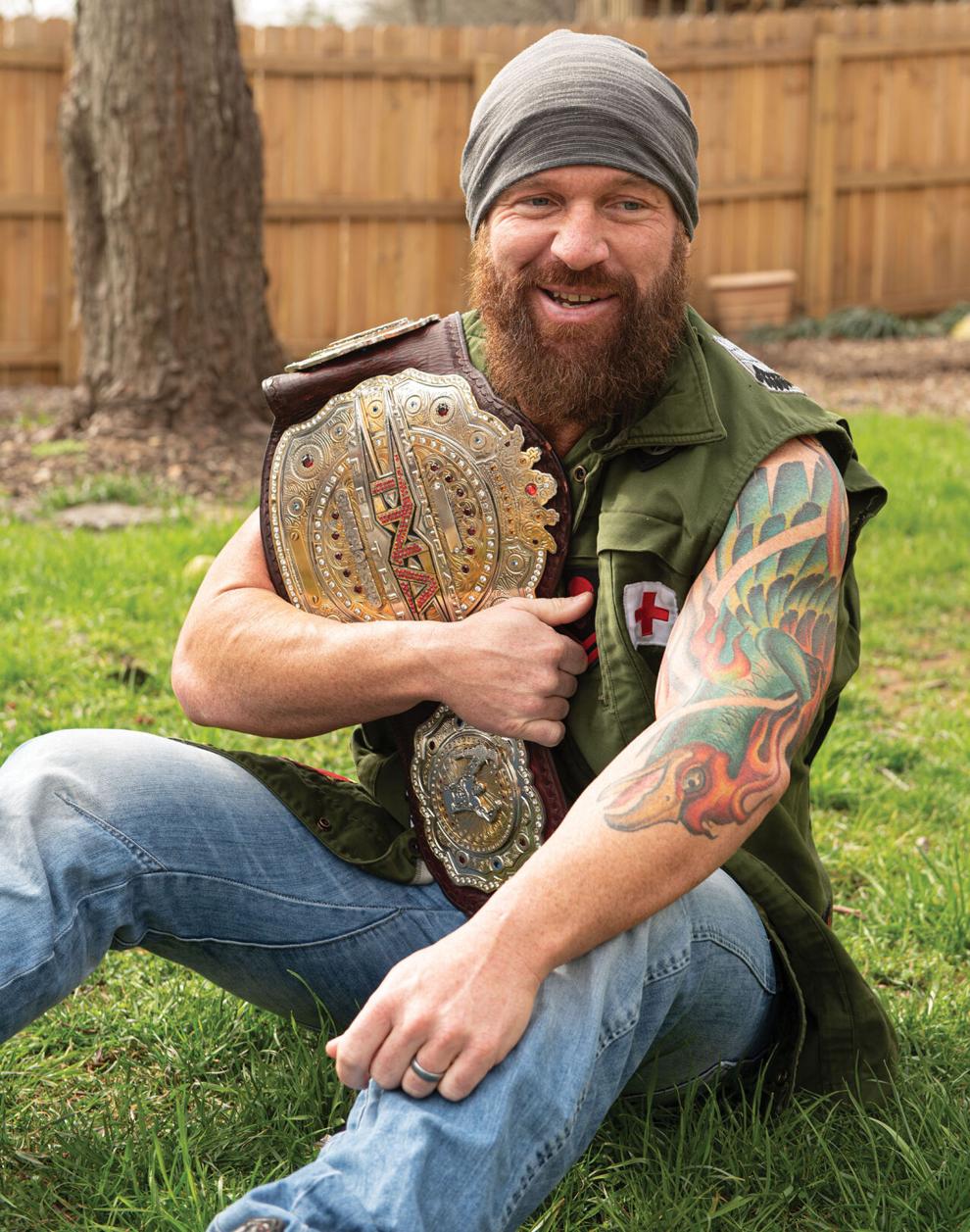 Remember back in 2019 when hardcore-legend-turned-promoter Tommy Dreamer and some local talent staged what was billed as the last professional wrestling show at the Nick Gulas Sports Arena at The Fairgrounds Nashville?
We got worked.
OK, so it wasn't entirely your fault, mark. The original plan for what is now Geodis Park put the old Breeko building in danger of demolition, but like Robert Gibson taking the hot tag from Ricky Morton, there was a last-minute save.
Of course, much like the metaphorical Rock 'n' Roll Express match, we shouldn't have been surprised. It'd take a lot to drive pro wrestling from its Nashville home.
Plenty of headlines — and plenty of speculation and concern, to boot — have been dedicated to 16-time world champion Ric Flair's return to the squared circle as part of the Starrcast fan convention July 31. There's plenty to question in the wisdom of the 73-year-old Flair — who has almost died more than almost anyone in wrestling — going back at it one more time after a well-remembered retirement match against Shawn Michaels at Wrestlemania XXIV 14 years ago, and doing it in the town that played host to one of his greatest matches.
But of all the great art forms, professional wrestling has always been one of the most overtly capitalist. It is, after all, the most complicated method yet devised by humanity to sell T-shirts to children. And nostalgia is a force powerful enough to shake loose several extra dollars from those now-grown T-shirt-wearing children.
But before Starrcast rings the bell on July 31 at 6:05 p.m. (the five-after start time is nod to the old Jim Crockett Promotion shows, which grew into World Championship Wrestling, and now you know why TBS started everything at five past in the old days), the promotion that kept the flame of wrestling alive at the old Gulas barn will come back for its premier show. Impact Wrestling (née TNA) is bringing Slammiversary back to the building that hosted 111 of its shows in the early 21st century. The crowds at the venue were so hot that it took just nine shows before Ron "R-Truth" Killings dubbed it "The Asylum." The name stuck.
The main event for June 19's Slammiversary (more nostalgia: Impact has been running its pay-per-view events on Saturdays for a few years but is moving to Sunday like the old days for this one, held 20 years to the day after the first TNA show) will be a battle for the Impact World Championship between title-holder Josh Alexander and challenger Eric Young. Young, who has won 14 titles in Impact/TNA, including two world championships (and a women's tag-team title for reasons that are better left unexplained), returned to Impact at Slammiversary in 2020. The return followed a stint working for Vince McMahon in WWE, primarily on the NXT brand, before COVID-related cost-cutting ended his run.
Coincidentally, Slammiversary was exactly 90 days after Young's departure from the WWE, which came with a 90-day non-compete clause. Nobody seemed to be counting the minutes.
Young tells the Scene over some afternoon brews at TailGate's Charlotte Pike headquarters (he's also a one-time TNA World Beer Drinking Championship titleholder) that it's special to come back to The Asylum.
"That building is iconic in wrestling," he says.
Young may have a reputation as an off-kilter, slightly demented figure between the ropes. That is, in the parlance, kayfabe, because Jeremy Fritz (that would be his shoot name) is a thoughtful student of the history of his profession. These days, he says, most of the wrestling he watches is "Mid-Atlantic Wrestling from 1982," as the Jim Crockett-run promotion also televised and ran shows in Fritz's native Ontario during his preteen years.
That isn't to say he doesn't have appreciation for his fellow workers in the modern game, many of whom made their bones in The Asylum. A.J. Styles and Samoa Joe, both of whom have at times had claims as being the best wrestler in the world, had plenty of legendary matches at The Asylum in the early 2000s. All-time legends Kurt Angle, Sting, and Matt and Jeff Hardy, along with Flair, all had turns at TNA. Wrestlers like Christopher Daniels, Moose, James Storm and Young himself became legends in the promotion, though — for whatever Vince McMahon-conjured reason — never grabbing the bigger attention that WWE would generate.
Young made his name in those early days by being willing to take crazy bumps. Having experience putting together ladder matches led to that gimmick being a common go-to for him in his 20s. He remembers a four-way ladder match involving Jerry Lynn, Mr. Aguila and Taichi Ishikari as particularly well done. He may not remember how significant that match was: It was his first singles win in TNA. 
Young, along with fellow Canadians Bobby Roode and Petey Williams, had signed a four-show deal with TNA while at the same time working tryout matches for McMahon. TNA made the trio an offer, and within weeks they had coalesced into a stable called Team Canada, complete with red-maple-leaf-adorned gear and sneering antipathy for their American fans.
The gimmick, as they say, got over, and Team Canada as a group and its individual members became TNA and Impact mainstays. In 2016, Roode left for the WWE, where he remains. Williams left TNA to work independent promotions in 2009, returned to Impact in 2017 and is now a producer for WWE. Young, like Roode, left Impact in 2016 and, as the leader of the villainous Sanity, won an NXT Tag Title, but could never get momentum on the main roster. (Longtime observers will note that Vince McMahon has never figured out how to handle tag teams appropriately, much to the chagrin of fans from the South, where tag matches were historically main events.) 
The pandemic brought him back to Impact, where he — like the rest of the wrestling world (and the world in general, really) — had to figure out how to navigate a locked-down world.
"It's weird," Young says, "wrestling in front of nobody."
Indeed. For as much work as the performers put in and as much as television has changed wrestling in the past 60 years, there is a certain role in the storytelling the live crowd plays. There have been iconic empty-arena matches, to be sure (Jerry Lawler and Terry Funk at Memphis' Mid-South Coliseum in 1981, for example), but those should be the (very rare) exception, instead of how the business had to operate for a year.
But crowds are back now. Impact, in general, films its weekly shows at a Florida studio, in front of an audience.
Those old crowds from The Asylum are what Young misses. Of all the places he's wrestled — and he's wrestled at plenty, including some of the world's most famous arenas during his WWE stint — he says the old Nick Gulas Sports Arena in Nashville is his favorite. As an Impact longtimer, he knows the crowds will be as heated and as knowledgeable as they were the first time he stepped into the ring there in 2003.
And if this summer proves to be the extended swan song of wrestling at the fairgrounds, it's a good way to go out. But as the Nature Boy is proving, retirements in wrestling are rarely permanent.