Let's talk about narratives for a second.
As June and July bled into August, Nashville SC's on-field performance had the effect of spinning a couple of different narratives about the direction of the club. The biggest was that this team was a frustrating, sputtering mess to watch on the field, full of late goal concessions, an offense that simply could not finish its chances and real questions about whether they could make the MLS Cup playoffs.
Almost half the league makes the playoffs. If you miss the postseason, the solution is not to tinker around the edges — it's probably to take a sledgehammer to big parts of a roster that doesn't have a ton of young players in it. The captain, Dax McCarty, was starting to look like a 35-year-old player whose central midfield position requires a LOT of running in the sauna of Nashville summers. Aké Loba, the team's most expensive signing, has played 312 minutes over the course of 20 games. If you say to yourself, "That doesn't sound like a lot," it's not. Coach Gary Smith prefers 33-year-old journeyman forward C.J. Sapong at striker, and Loba's minutes were mostly contained to late cameos in games before he went out with an injury that only shows up on the team's official reports as "trunk." Is Loba locked in Smith's trunk? GM Mike Jacobs' trunk? We don't know.
Losing to LAFC — the Western Conference leaders and collectors of European superstars like Giorgio Chiellini and Gareth Bale — is no sin. But getting smashed by 4-1 by Charlotte, an expansion team that had already fired its coach? Winning just once at newly minted Geodis Park in eight games? It was a frustrating stretch.
The lone bright spot in all of this has been Hany Mukhtar, the German-born attacker who was a runner-up for the league's MVP award last season. His 12 goals and 4 assists entering August once again had him in the discussion of the best players in MLS, but some others, notably Austin FC's Sebastián Driussi, jumped ahead of him. But the team's overall performance was threatening to squander Mukhtar's brilliance.
The narrative around Nashville was that they were a victim of "Gary Ball," a derisive term for playing defense-first fútbol. Opponents not only had more of the ball, they played a more attacking brand of soccer (where the word "attacking" is a euphemism for "attractive" or at times "watchable"). Smith makes no apologies for the intense, organized style his teams play, nor should he — the man's got an MLS championship to his name. It's a style that's built for the postseason, though, and in the dead of summer, "Gary Ball" seemed about a million miles away from the playoffs. 
But here's the thing about narratives — sometimes they mask the facts at hand. When Nashville got humiliated in Charlotte, they actually created more chances. Most of the advanced metrics, including expected goals (or "xG") showed Nashville outperforming their opponents even when they weren't getting results. 
But July brought reinforcements. Right back Shaq Moore, who has an outside chance at making the U.S. roster for the World Cup, transferred from Spain in July. He was joined a few weeks later by Jacob Shaffelburg, a speedy left wing from Toronto. Smith switched the team's base formation to a four-man backline, sacrificing a center back to get Moore onto the field.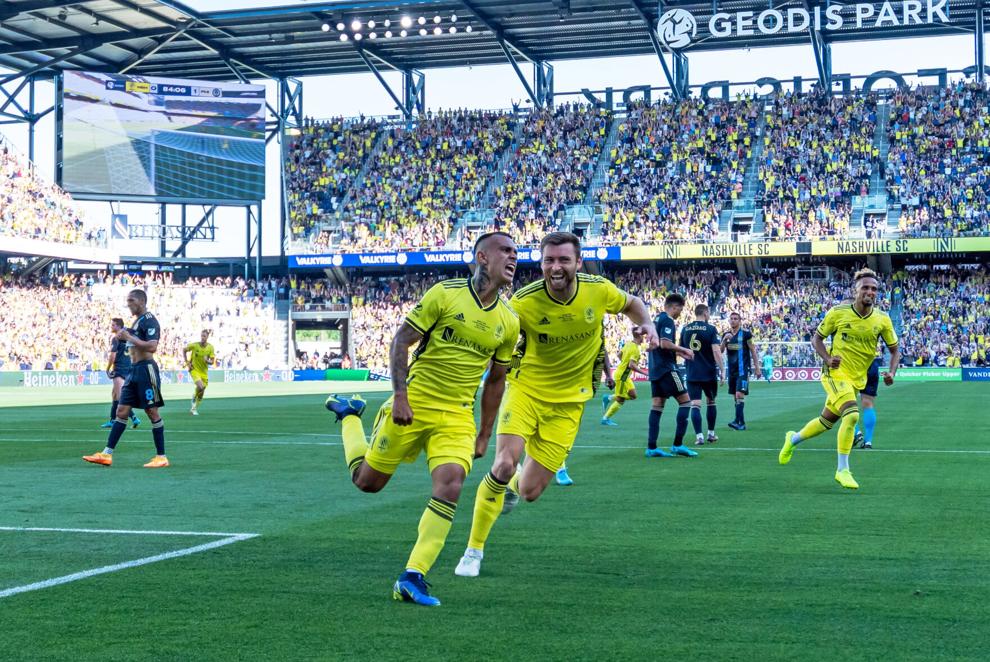 The pair shook up Nashville's lineup and perhaps the team's fortunes.
A 4-0 home drubbing of FC Dallas on Aug. 21 was followed by a 3-0 victory over Vancouver on the road (the same Vancouver side that Nashville had tied 1-1 at Geodis a month earlier) and a 4-1 home win over the Colorado Rapids, Smith's former team. Shaffelburg was instant energy, scoring twice, drawing a penalty and generally providing a left-sided threat that has been nonexistent for most of the season. His presence has seemingly supercharged Mukhtar, who scored five in this stretch, including a hat trick against Colorado. The process that Smith had preached was being rewarded.
After the Colorado game, one where McCarty appeared only as a late substitute, the captain walked into the postgame interview room with Mukhtar to give a campaign speech.
"I'm sure most of you guys are sitting here wondering, 'Well, why is Dax in this press conference right now?'" McCarty said. "Doesn't make any sense. And honestly, I'm going to be very brief. You guys know what time it is. It's awards season. You know that that means the propaganda machine starts churning out all the favorite candidates and highlights. ... But I think it's incumbent upon myself to come up here as the team captain and talk about how important Hany Mukhtar has been to our club."
As he rattled off Mukhtar's stats — at that point an eye-popping 19 goals and 11 assists on the season — and compared him to past league greats like Robbie Keane and Theirry Henry, McCarty knew exactly what he was doing. The "propaganda machine" he was referring to was likely the hosts of the ExtraTime Radio podcast, one of the most influential among national media. Austin was coming to town on Saturday, and that meant Driussi, Mukhtar's biggest rival for MVP and a favorite of ExtraTime, would be on the same field as his guy. 
McCarty was trying to change the narrative. And then Mukhtar let his play do the rest, scoring twice in front of Driussi en route to a 3-0 victory. After a run of four spectacular games, Mukhtar now leads the league with 21 goals. Nashville SC has slingshotted up the standings and is now fourth in the Western Conference and in line to host at least one playoff game.
And it seems to be working. After the game, Stu Holden, the former U.S. national team star and currently Fox's lead broadcast analyst, took to Twitter. "​​Is a single player in @MLS more important to their team than Hany Mukhtar? His performances the last month have been incredible. 21 goals on season and IMP [sic] he's jumped to the top of the MVP race."
It's been a frustrating season for Nashville fans. The gleaming new home that opened in May has not been the same fortress Nissan Stadium was. Lots of new people have been sampling the product, but often the stadium has been the star, not the team. 
Four games at summer's end may have changed that too. Suddenly, goals are flying in, roars of "MVP" fill the air, and now the on-field performance is matching the off.
The narrative is changing — for the club, for Mukhtar and for the fans. And not a minute too soon.