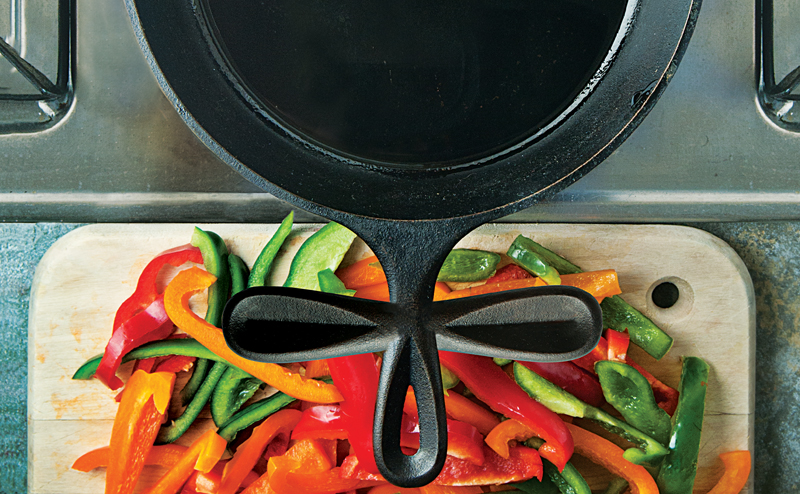 At the fall symposium of the Southern Foodways Alliance, an illustration for the Women in Work theme showed a silhouette of an apron-clad female with a rolling pin over her shoulder. The serious study and celebration that followed included Nashville's Lisa Donovan baking pies and André Prince Jeffries of Prince's Hot Chicken Shack serving her famous fried bird.
A month later, however, women in the food industry might have wanted that rolling pin for a different purpose: delivering a frustrated whack.
The ruckus began when Time magazine published a November spread called "Gods of Food." It was an Olympus of culinary professionals, to be sure — yet it failed to include even one female chef.
The controversy spawned more pies — this time in the form of charts, which used to show the lack of female inclusion in major food festivals. The New York Times joined the fray in January, devoting its dining page to the progress of female chefs. Kerry Diamond of Cherry Bombe, a New York-based publication about women in the food industry that launched in 2013, accelerated the timing for a Jubilee festival to celebrate the females of food.
"We saw that and wondered how we could even respond to it," Diamond told Eater. "[At Jubilee] there will be a large percentage of women, in terms of the attendees, the presenters and the panelists."
Women have long played an important role in food beyond nurturing family and putting dinner on the table by 6 p.m. See Julia Child and Chez Panisse founder Alice Waters, for just two examples. Or better still, look closer to home — to the food scene in Nashville, and the female chefs, proprietors and restaurateurs who have played such a part in building its burgeoning reputation.
It would be impossible to include everyone who has made a difference in the city's restaurant culture, or to solve gender discrepancies and settle scores in one story. But it's equally unthinkable to imagine the food scene we have today without the women of all races, backgrounds and cultures who helped lay the groundwork, on a variety of fronts. Imagine Nashville without Prince's and its specialty, which gave the city a source of local culinary pride and an early food destination for adventurous visitors. Imagine the farm-to-table movement taking hold without Cindy Delvin of Delvin Farms to galvanize Middle Tennessee's producers and farmers markets.
Nor does their influence begin and end at the restaurant level. Their ranks include Megan Morton, executive director of Community Food Advocates, the Nashville nonprofit that works to bring low-income neighborhoods and their schools access to affordable healthy food. And Robin Riddell Jones, a longtime advocate of wine culture and the slow food movement who has helped refocus the dining experience on pleasure and community. And Jessica Benefield, a winner of the Scene's annual Iron Fork summit of top chefs who now commands the city's first izakaya house, East Nashville's Two Ten Jack.
It's one thing, though, to read about these unique women individually. It's quite another to learn how their stories compare and intersect, and to see them pictured as a group with roughly two centuries of experience among them. So consider this overview of women's influence on the local food scene — and the remarkable group photos that accompany it — a reminder of the ways a connected web can lift others up, through a job opportunity or even a well-placed word. At the same time, it's an opportunity to celebrate what women have been doing for ages at home and in restaurants, without awards or rock-star status. They work, they deliver — and when things get tough, they deal.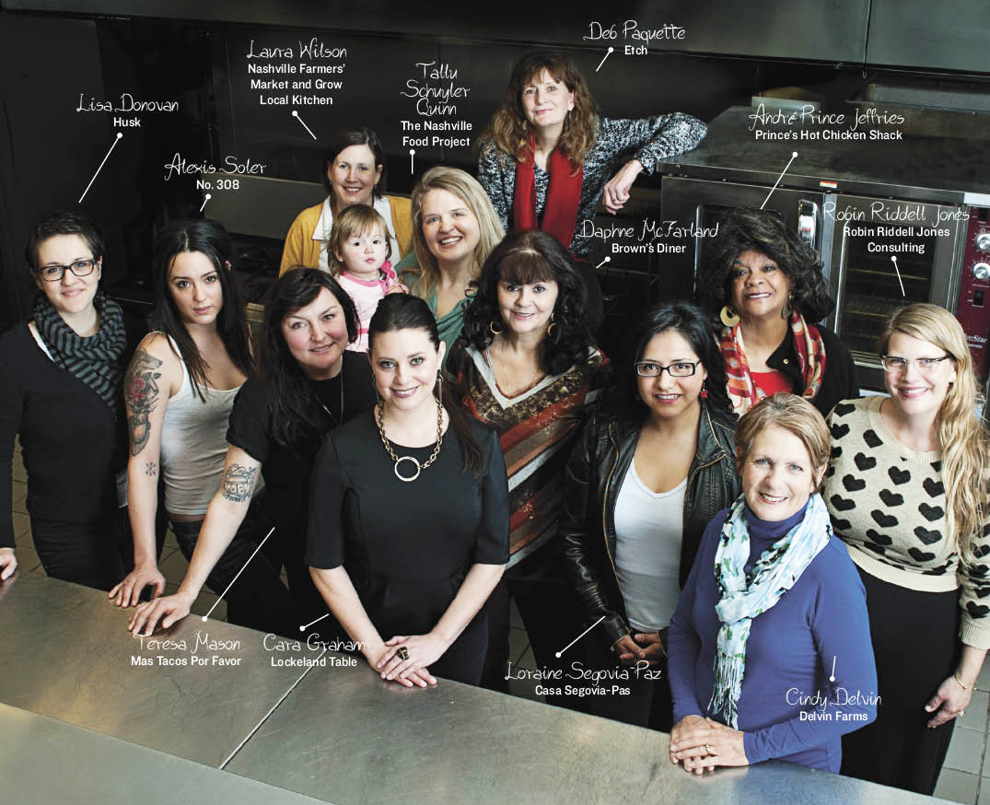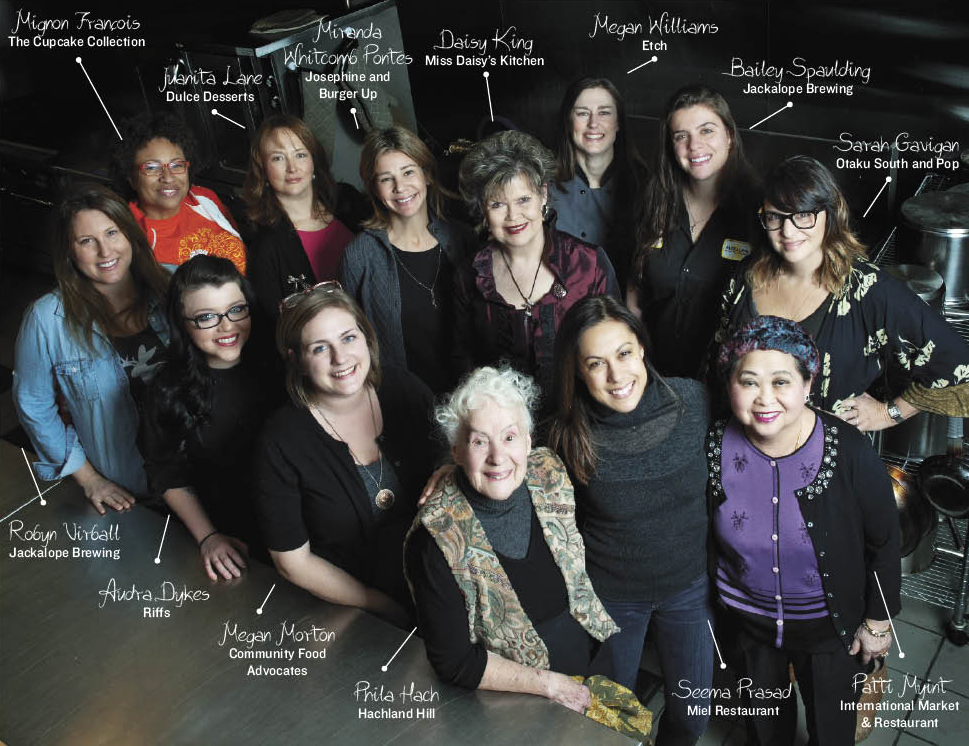 ---
The Matriarchs
Every morning, Phila Hach slips into a pair of Birkenstocks and ties on an ankle-length apron with pockets. It's where the 87-year-old chef keeps her cellphone.
Her white hair pulled into a tidy bun, she buzzes around her Joelton kitchen with youthful zest and curiosity. Influenced by her mother, one of the first home demonstrators, she started cooking at age 2 when she peered over a frying pan to marvel at the magic transformation of an egg.
"I'm still just as passionate," she says.
She cooked with chefs at The Savoy in London and the Hotel George V in Paris — only because she asked if she could — while on layovers as a flight attendant in the late 1930s and '40s. She hosted the first cooking show in the South more than a decade before Julia Child, whom she knew personally. And she created the first catering manual for the airlines just after World War II, before opening an inn and catering company in Clarksville, which she later moved to family property in Joelton.
"When I started in the food business with the airlines, there were no women," she remembers. "It was a man's world."
But she's heard all these questions before. As far back as 1979, a magazine interviewed her about being a woman in the food industry, back when her few peers included Lynne Tolley of Miss Mary Bobo's Boarding House in Lynchburg, Tenn.
"Well, you never even thought about the man," she explains. "You do have to have a strong will and a perseverance to make anything happen."
Her cooking show debuted just after television came to Nashville around 1950.
"They said, 'What can you do in the kitchen?' I said, 'Anything you want,' " she remembers. "I had the first black woman on television in the South. Martha Mormon. She was from Detroit, and she was one of the maids at WSM. Beautiful woman, twice my age, and I said that's who I want to help me."
When asked if the choice was controversial, she doesn't even wait for the question to finish.
"I was very bold," Hach states firmly. "I'm a bold woman. They said, 'Well, this is during segregation, we don't know about that.' I said, 'Let me handle it.' Nobody resented Martha. I respected her. Without her my show would not have been successful."
Hach's advice for younger women is to be persistent, truthful and passionate, but most of all authentic. "The successful person in business is the person who can be real about the whole thing," she says. She also believes in the power of women supporting one another along the way.
"I learned there were always people out there willing to help you and always people willing to learn from you and not help you," she says. "I chose both routes, because I felt the more you could help people, the more you learned from them."
She's still teaching and learning from those she visits. Among them is her friend Patti Myint, who opened International Market on Belmont, the first Asian grocery in Nashville, 40 years ago. Myint raised her son Arnold between its rows of sauces and tins of teas. She opened a restaurant to increase traffic and help educate customers about her goods, and even today she's not shy about telling them to keep soy sauce off the curry.
"I'm proud my customers start to know what they're eating," Myint says. But when it comes to serious advice for younger women in the food business, she suggests kitchen experience first.
"Dishwasher, cut vegetables, it doesn't matter. Then you start to have a taste of how hard you have to work," she says. "I enjoy myself every day. Sometimes I feel very tired, but I enjoy my customers."
Just one year before Myint opened her grocery, Daisy King debuted Miss Daisy's Tearoom in Franklin in 1974. She employed and inspired Kathy Bonnet, who later opened The Picnic, and Christy Shuff, a founder of the original Rumours Wine Bar in 12South. She continues to inspire home cooks through the 14 cookbooks she has authored.
A decade after opening her first location, King had another important role, this one in a Green Hills dining institution. It started with a pitch from three men who would become her partners.
"They came to me and said, 'We'd like you to be an owner with us,' " she recalls. Then they asked that she execute the menu, hire the staff and name it. So she played off the Daisy theme.
"I was like, OK," she remembers, "we're gonna call it 'F. Scott's.' "
The restaurant opened in December 1987, and King worked as owner for about a year before selling her interest. Chef Anita Hartel worked at the restaurant using garden produce to change the menu daily.
Not long after, a female chef took the reins at the restaurant after returning to her native Nashville from New York City. Her name: Margot McCormack.
---
The Chefs
When Margot McCormack worked as a chef in New York while in her late 20s, she showed up to try out for a saucier position after one chef recommended her to another.  
"Oh my God!" the man in charge said. "You're a girl?"
McCormack's gender clearly hadn't been communicated as part of the message. With resignation, the chef (who happened to be about her age) allowed her to trail the saucier, who was leaving after three months because he couldn't handle the pace. She got the job — on the strength of an ethic she describes as, "I just put my head down and work."
"Of course, a year goes by and I'm ready to move on, and he's like, 'Where are you going?' " she remembers. "And I'm like, 'Are you kidding me? You don't care about me. You just care about the fact that I could kick ass in your restaurant."
Beyond that, McCormack says she didn't "really encounter any issues per se" when it comes to gender. She cites the early boost she got from her former boss Jody Faison, the king of Nashville's late-'80s restaurant scene, who encouraged her to leave Nashville for culinary school. In New York, she worked for Danny Saltiel of Danal, who expanded her scope by recommending she read works by Child, Elizabeth David and M.F.K. Fisher, motivating her to self-teach and to travel for inspiration to food epicenters such as Paris.
"I used to think I had to keep up with the boys," she says. "I think when you're young, you have this need to prove yourself. But I don't know if it's as a woman chef, or just as a chef, period." Women too were formative influences on her, starting with her mother's simple home cooking. Another turning point came when Faison gave her a copy of Alice Waters' Chez Panisse Pasta, Pizza, Calzone.
"Originally I thought chefs were a bunch of assholes," she says. "I thought, 'That's awful. That's not what I want to be at all.' And then here was Alice Waters, making salad and nurturing people in her hippie-dippie kind of way, and I thought, that's way more my speed."
Having presided now over all-female kitchens (with a Girls Rock sticker on the cooler) and all-male kitchens at the East Nashville restaurant that bears her name, she's careful not to make generalizations about either gender. Yet she says certain issues still reveal a gender gap in the way male and female chefs are regarded — such as motherhood.
"I have a 3-year-old," McCormack says. "No judgment on dads and fathers, but I don't have that same ambition to say, 'OK, honey, five states and I'll see you whenever. You take care of the baby and the house and everything else.' This is where I like to cook." 
She says food culture takes a lot of its cues on such matters from the national media and the rise of food TV. Even though "we seem to have a good amount of women represented," she says, you wouldn't know it to look at magazine covers. And like many viewers of Bravo's reality series Top Chef this season, she's still stinging over the unexpected loss of popular finalist Nina Compton to a male chef who did substantially worse throughout the season.
"Nina was robbed!" McCormack says. "I kinda feel like if you don't have a beard, a bunch of tattoos and you're not cooking pig, that you're not relevant somehow. That is a little bit disappointing to me that this network has really seemingly closed rank."
She also thinks the focus on food-celebrity glitz has distorted the gritty realities of the business. She warns young women they'll face hard work and hours getting cut and burned. 
"I try to paint the worst possible picture," she says. "And if they want to go on, I'm like, fine."
Those who have handled the heat include Lisa Donovan of Husk, and Avon Lyons, who helped kick off the modern incarnation of pop-ups with The Good Wife Supper Club. Two others who weren't scared away hatched an alliance in McCormack's dining room that would send ripples through the city's growing food scene.
In 2002, Laura Wilson and Kim Totzke sat at opposite ends of the Margot Cafe bar. Each woman was dining alone; each had a bottle of wine and three courses. Wilson finally asked: "What's your deal?"
"Oh, I'm a chef [at Yellow Porch at the time]," Totzke remembers, "And she's like, 'I'm cooking at F. Scott's.' " They've been friends ever since, and were colleagues at Nashville Restaurant Group and then their late, lamented restaurant on Elliston Place, Ombi. Wilson now presides over the innovative entrepreneur kitchen program at the Nashville Farmers' Market, while Totzke serves as COO of Provence Breads — a career path Wilson applauds.
"Kim has taken it from being a really great chef to just killing it in the food business world," Wilson says of her former Ombi partner. "There's this whole part of it that's like the suit-wearing, tie-having, dude investor world, and she's dominating in a ball cap and capri pants."
Totzke learned about food from her grandmother, who never graduated from grade school but knew how to run a household. She would blindfold Totzke to teach her to taste. When time came to start her career, Totzke moved to New York, where she had some "ugly experiences."
"Sexism was huge," Totzke remembers. "I got here [to Nashville], and it wasn't as bad. But I still felt like I had to prove I could do it and show up with deliverables to get the same pay as someone who just walked through the door."
She received a working education at the hand of a chef whose kitchen constitutes a veritable family tree of Nashville restaurants. It was chef Deb Paquette, she says, who helped her develop her management style. Totzke worked for Paquette at The Cakewalk Cafe in the early '90s, and Paquette encouraged her to concentrate on cooking and hold off on the executive chef job as long as she could.
"She taught me a lot about managing a kitchen, how to make sure you take each person and help them become the next person — prep to cook, cook becomes sous chef, and sous becomes chef," Totzke remembers.
Totzke still believes that mentoring grows strong, confident people. She nurtured Molly Fitzpatrick Martin of The Food Company, for example, and pastry chef Megan Williams, now at Etch. Former boss Paquette calls Totzke her "little Mama" — a title she could wear herself, given all the people who have passed through her kitchens on their way up.
Early in her own career, Paquette remembers getting a raise before the men in the kitchen. The reason was simple: "Because I worked hard," she says, adding that she's had jobs where she cleaned the walk-in cooler every day. "I was into it. I'm not a beauty queen. I'm a hard-working girl."
But even for someone as driven as Paquette, that wasn't always enough to put her on equal footing with male colleagues — especially in some of the more corporate environments where she worked in the past.
"I once worked for a team, and I was pregnant and I lost the baby back at seven months," Paquette remembers. "They wouldn't hire me back because they thought I'd be a high risk. I thought, 'Fine. I don't need to work for people like that.' " Another time she was reprimanded for fraternizing with a female employee while another male chef played poker once a week with several members of his team.
But overall, she's optimistic about the future of women in professional kitchens. 
"Maybe [women] have a chip on their shoulder and know they're always gonna be observed, so they're gonna make an effort to be equal or better. I know I did," says Paquette, a fan of local female chefs such as McCormack, Martha Stamps, the Green Door Gourmet's Sylvia Ganier and The Clean Plate Club's Monica Holmes. "I think sometimes you have to work a little harder to prove to yourself that you can tackle this business." 
---
The Sweets People
Lisa Donovan had been working in the arts community when she took a job as server at Margot. "I didn't realize a food community existed," she says. "It changed everything for me." From her vantage point, she admired McCormack's consistency, and she realized an artistic career could be had with food as medium. Since then she's moved from City House, where Rebekah Turshen now creates impressive desserts, to founding Buttermilk Road Sunday Suppers and landing the pastry chef job at Husk.
"If you're good, you have a chance. If you work hard, you have a chance," Donovan says. What barriers exist, she explains, come from outside the kitchen, such as "dealing with media, and what the world thinks a chef and a kitchen is." Like the time a radio host outside Nashville asked if she felt forced into pastry as a woman.
"I felt really offended," she says. "It would be like asking them, 'Are you having to be a journalist because you can't be a real novelist?' I do this because I love it, and wouldn't do it for any other reason." 
Donovan says she doesn't know "a lot of men in the kitchen who have ever kept me down." City House's Tandy Wilson and Husk's Sean Brock are "two of the most important people in my world," she says. But she notes that coalitions of female chefs have been popping up. Her contemporaries — like James Beard-nominated Ashley Christensen, with whom she cooked recently in North Carolina — aren't waiting to be invited to things. They're creating their own events instead.
Similarly, Donovan belongs to a growing and varied community in Nashville of those who specialize in sweets, who have built their businesses out of necessity as well as love. Mignon François built a thriving business to support her family with The Cupcake Collection in Germantown, while Ellen Einstein of East Nashville's Sweet 16th took her talents to the display case when husband Dan left the music business.
"Juanita Lane [of Dulce Desserts] is another pastry chef who has done amazing work in this town," says Audra Dykes, herself a gifted dessert maker whose imaginative takes on Little Debbie-type snacks have a growing following at the new Riffs Cafe at Highland Ridge. "Megan Williams [of Etch] was the first person to hire me. I worked for her at Provence. It's cool to see her career thrive."
Asked if she thinks women are starting to get some overdue attention in their field, Dykes shrugs off any explanation beyond their work ethic. Her words echo Margot McCormack's: "I simply put my head down and work."
"I think women have progressed by simply working hard and focusing on our goals," she says. "I've been in this industry since I was 17 years old, and I'm having the time of my life."
---
The Entreprenuers
Every other week during the recent fall semester, restaurateur Miranda Whitcomb Pontes met with a female Belmont student who had a dream of opening a restaurant. "If I knew half as much when I started Frothy Monkey, I would have had way less heartache and headaches," she says.
Pontes, on the other hand, started Frothy Monkey a decade ago with the advice of a workbook not even an inch thick called "How to Open and Run a Successful Coffee Shop." The shop joined a 12South neighborhood that looked much different than today, with just Mafiaoza's and 12 South Market (now Taproom) as other eateries. But her business took off. She sold it to then-manager Ryan Pruitt, and since then she has opened Burger Up and Josephine, with a fourth venture, Prima, in the works.
"I really just wanted to become more a part of this neighborhood and just have a place where people could come together and meet and hopefully feel good inside," she says. "I can't speak for others, but I think for myself and never compare myself to a man. I'm just so grateful that I found something I enjoy doing."
While Pontes started with a coffeehouse — as did Rachel Lehman of the well-respected Crema — others began businesses as food trucks or carts that grew into brick-and-mortar spaces. Their ranks include Teresa Mason of Mas Tacos Por Favor, Sarah Souther of Bang Candy Company and Kathleen Cotter of The Bloomy Rind. At the much-loved Las Paletas, Irma Paz Bernstein and her sister Norma Paz blazed a trail by introducing ice pops from their native Mexico to Nashville, and more recently Loraine Segovia-Paz has provided a piece of her Latin culture with empanadas at the farmers markets.
Sarah Gavigan of the Japanese pop-up Otaku South also plans to open a brick-and-mortar location called Pop. The East Nashville building will offer space for her business to grow while allowing other entrepreneurs to use it as incubator. Gavigan spent her "formative foodie years" in Los Angeles admiring chef-restaurateurs Suzanne Goin, Mary Sue Milliken and Nancy Silverton before returning to her native Middle Tennessee. 
"Every one of these women is a mother first. So basically they have 200 jobs," Gavigan says. "Let's face it. Food is now a story-driven industry, and women have a lot of stories to tell."
---
The Farmers and Activists
When Tallu Schuyler Quinn talks about female mentors, she remembers one of her seminary instructors, Catholic nun Janet Walton, who taught her about the ritual of food and acting with intention. Though Quinn too has worked in clergy, she found her ministry at The Nashville Food Project by connecting and feeding people.
What began in 2009 as distribution of sack lunches through a part-time position at Mobile Loaves and Fishes has grown to an all-female staff of eight serving 150 hot meals a day to needy folks in seven neighborhoods. Quinn's team practices collective decision-making to work with farmers, markets and hunters to glean, grow, prepare and distribute food.
While the nonprofit world might feel more comfortable for some women, Quinn says the field of clergy and farming, where she has many friends, isn't as naturally associated with women. She respects the female farmers who have blazed a trail in Nashville, such as Tana Comer of Eaton's Creek Organics and Tallahassee May of Turnbull Creek Farm. May even organizes a "Middle Tennessee Women in Farming" gathering and potluck each year that brings together competitors in a spirit of collaboration. 
Quinn also points to Laura Wilson for her work with Grow Local Kitchen and the Nashville Farmers' Market. Wilson moved to Nashville from New Orleans, where she cooked with strong women like Susan Spicer and participated alongside Leah Chase and others in a Women Chef Show-Off event benefiting services for battered women.
"I kind of sailed through a lot of [gender issues] pretty blissfully early on because I just didn't care," Wilson recalls. "I was doing what I wanted to do. ... I powered through it.
"With the Time article, I stopped for a second and was like, 'Are you kidding me?' Maybe I'm just becoming more aware of the bigger picture of it. In the land of 'I have a publicist and here's my brand,' I never had to really go into that playing field. And that's pretty predominately dude."
But both Quinn and Wilson have taught food-related classes to young people recently, in addition to setting examples for their own kids.
"It's what kids see growing up that changes what they're going to believe," she says, showing pictures of her 5-year-old son making biscuits with her. "I know my son's not gonna think it's weird for a chick to be in the kitchen."
---
The Front of the House
Author and photographer Candacy Taylor, who spoke at the SFA's symposium on women in work, devoted a book called Counter Culture to longtime servers across the country.
 Entire books could focus on just front-of-the-house women in Nashville too — familiar, friendly faces (and owners) like Seema Prasad of Miel and Cara Graham of Lockeland Table, who set the tone for patrons' experiences from the moment they enter. Marilyn Merdler has been greeting guests at the door of Sunset Grill for more than two decades, and Arnold's Country Kitchen would not be the same without Rose Arnold at the cash register. And of course wait staffers like Daphne McFarland have been graciously delivering burgers to tables at Brown's Diner for 25 years.
"We get songwriters and people who want to be songwriters. You wait on attorneys and people going to school to be attorneys. Some are from the neighborhood. They're like family," she says.
Maybe only a woman could speak of what it takes to do the job well — and the regulars she's advised on careers and love — in such a nurturing way.
"They mother their people — well, I do anyway," McFarland says. "They're like my children."
---
The Thirst Quenchers
When it comes to women in the world of food and drink, we can't ignore the hardworking bartenders who put up with us during the some of the latest hours of all. Alexis Soler of No. 308 takes the role further as co-owner. And our city boasts female wine experts such as Elise Loehr of F. Scott's and female distillers and brewers such as Andrea Clodfelter of Corsair and Bailey Spaulding and Robyn Virball of Jackalope Brewery.
"Nashville just lost a true pioneer with the sad passing of Stephanie Weins, the co-founder of Blackstone Brewery, who had the courage and foresight to open and run a brewpub when brewpubs didn't exist here," Spaulding says. She also acknowledges Karen Lassiter, head brewer at Bosco's, as a knowledgeable and welcoming member of the brewing community.
But Spaulding adds that stereotypes have kept women from the industry too. She finds herself fighting constantly against two outdated notions: one being that "beer doesn't taste good or has more calories than other drinks, and the other being that you have to be a heavily bearded, flannel-wearing lumberjack to brew it."
On a national level, Spaulding points to leaders like Kim Jordan, CEO and co-founder of New Belgium Brewing Co., and Teri Fahrendorf, who started The Pink Boots Society about six years ago as a resource for women in the industry.
"While there have occasionally been times that I've felt being a woman-owned brewery affected the way the public sees our beer, I've never felt I've been treated differently by another brewer because I'm a woman," she says. "I think opening a brewery is so hard, that by the time you open your doors, and have kept them open for few months, you've earned the respect of your colleagues."
Email editor@nashvillescene.com.