The Metro Council voted on Tuesday to again defer a rezoning ordinance that would allow the sale of a mobile home community on Dickerson Pike. Tenants of that community and their advocates see the vote as an opportunity to secure more time to negotiate with the developer purchasing the land.
Residents of the community have been fighting the zoning ordinance since the summer, when they received eviction notices from landlord Tony Clouse telling them to leave the premises by Aug. 31 because he was selling the land. The tenants, organized by local worker center Workers' Dignity, lobbied the Metro Council in August to delay the zoning hearing, effectively blocking the sale. The developer purchasing the land, Key Real Estate, offered to let tenants stay until Dec. 31, rent-free. The zoning was again delayed in October.
After the initial delay, tenants met with representatives of Key Real Estate and were given until Dec. 31 to move out. Tenants then began negotiating compensation for their trailers. (Former landlord Clouse also purchased some of the mobile homes.)
Before the Metro Council meeting, tenants and Workers' Dignity held a rally that included testimony from tenants as well as photographs taken by David S. Piñeros. Piñeros — who has contributed photos to the Scene before — spent two weeks with the mobile home community.
"They have a very loving community there," says Piñeros. "Across the city, working-class people are being displaced."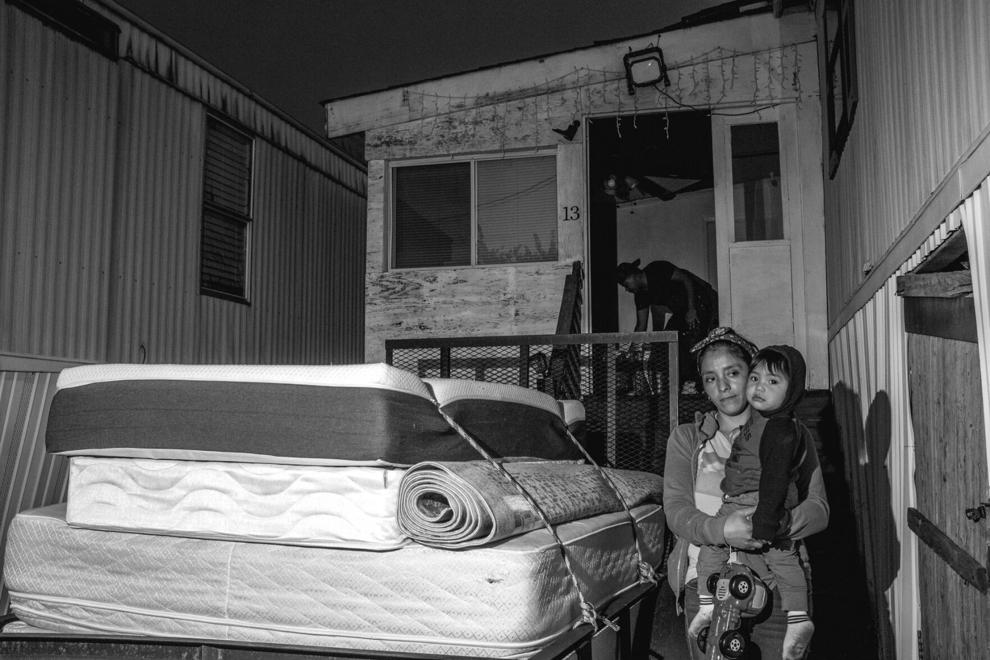 Tenant Javier Rios describes his struggle finding new housing or a new location for his mobile home in Nashville, and adds that he also has to worry about affording eye surgery. "I don't really have the money," he said in Spanish.
When the bill last went to council, 17 tenants were still at the mobile home park. Cecilia Prado of Workers' Dignity tells the Scene that fewer families are still there now.
Two letters provided to the Scene show points of disagreement between the attorneys for the developer and those representing the tenants.
Key Real Estate's attorneys have expressed frustration that the tenants' lawyers wouldn't speak with them on a phone call. The letter mentions an offer to provide tenants with relocation assistance through Mi Casa, a bilingual real estate program. Attorneys also write that Key Real Estate is under no obligation to purchase the remaining properties and note that "mobile home trailers are personal property of a class no different than an automobile."
Jamie Paulen of Paulen Solidarity Law calls that claim "disingenuous" in a responding letter. "These trailers have been their homes, not a vehicle, in spite of the classification of personal property," she writes. According to Paulen's letter, tenants are demanding compensation from $20,000 to $25,000, with one family asking for $55,800. "The community will not consider an alternative that doesn't account for every single household here." Most of Key Real Estate's offers are less than $20,000. Paulen also tells the Scene that she prefers written communications when it comes to negotiations "because it leaves zero room for misunderstanding" and that she has sent several emails to the developer's lawyers.
Prado says the goal isn't to sell trailers but to get all members of the tenant organization, called Dickerson Road United in Struggle, compensated for their displacement — even if those who have already left the park or sold units to Clouse. Key Real Estate's attorneys maintain that they will not pay someone who already sold a trailer.
Prado also references a video she took on Thursday that shows Clouse at the property. According to Workers' Dignity, Clouse was told to stay away from the mobile home park as part of an agreement between tenants and Key Real Estate — though a partner at the real estate company tells the Scene he is unaware of such an agreement.
In the video, Clouse extends a hand toward Prado's phone while she films and moves closer, prompting her to move the camera and shout, "This is my phone." Clouse was there to oversee the destruction of a mobile home, and left shortly after filming started.
The Scene spoke with a tenant of the home being destroyed, Valery Abril, who says she still had furniture inside. She says she never sold the unit to Clouse or Key Real Estate and didn't agree to allow Clouse to destroy the home. Abril says workers had taken apart much of the roof but stopped once Clouse left the property. Abril has found a new apartment but is hoping to receive compensation for her mobile home from Key Real Estate.
In a phone call to the Scene, Clouse says he is indeed allowed to be on the mobile home park property. He also says Abril didn't own the unit; his lawyer adds that the home was purchased by Clouse for $10,000. Clouse also says he wasn't reaching for Prado's phone, just trying to block his image and get her to stop filming.
Once the land is sold, a mixed-use project is set to take the place of the mobile home park.