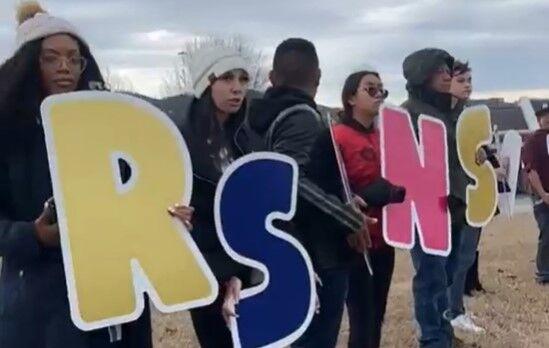 Several members of the kitchen staff and front-of-house workers at Twin Peaks in Brentwood have gone on strike, accusing the restaurant's general manager of racism, verbal abuse and more. On Saturday, 18 kitchen employees went on strike and on Monday they picketed outside the restaurant, an action organized with help from local labor advocacy group Workers' Dignity. That same Monday, 10 waitresses also joined the strike, according to Workers' Dignity.
Employees say general manager Andrew "Hunter" Kirkpatrick has made racist comments, thrown away their lunches, yelled at staff and more. In an interview with Nashville Noticias prior to Monday's picket action, some employees — most of them Latin American immigrants — said the manager's behavior was racist and discriminatory.
"We have a right to raise our voices," said a Twin Peaks employee of six years in the interview.
A recording of Monday's protest is available on Workers' Dignity's Facebook page. In the video, picketing workers, including two waitresses, call for the removal of the Kirkpatrick.
Ricardo Juarez, an employee of eight years, tells the Scene that while his time at Twin Peaks started off well, it changed in the past few months with the hiring of Kirkpatrick as manager. He called the behavior hostile and rude to kitchen workers and waitresses, and says Kirkpatrick would complain about kitchen staff speaking to each other in Spanish. Juarez also describes working long hours without a break for meals.
Elise Reilly, a hostess at the restaurant since November, was one of the first front-of-house workers to join the strike, and tells the Scene she has also experienced wage theft at that restaurant. She says her working relationship with the manager "started off strong" and that he advocated for her in the workplace, but he soon soured on her and tried to fire her multiple times. Reilly says the strike affected the restaurant's hours but notes there are still employees showing up to work.
Juarez and Reilly say the main demand is for the removal of Kirkpatrick as manager. Workers' Dignity says via press release that workers are compiling a full list of demands.
Twin Peaks opened in Brentwood in 2012. The Hooters-style franchise restaurant, whose servers wear revealing uniforms, originally launched in Texas.
The Scene attempted to contact the restaurant's management via phone call; the person who answered declined to give his name and said the restaurant had no comment on the strike or accusations. The Brentwood Twin Peaks' co-owner Gary Casatelli did not respond to an email requesting comment in time for publication.
Update: This article has been updated to clarify that the strike began the Saturday prior to Monday's picket line. It has also been updated to clarify that the ten waitresses joined the strike on Monday; the original language of this article suggested they joined on Thursday.