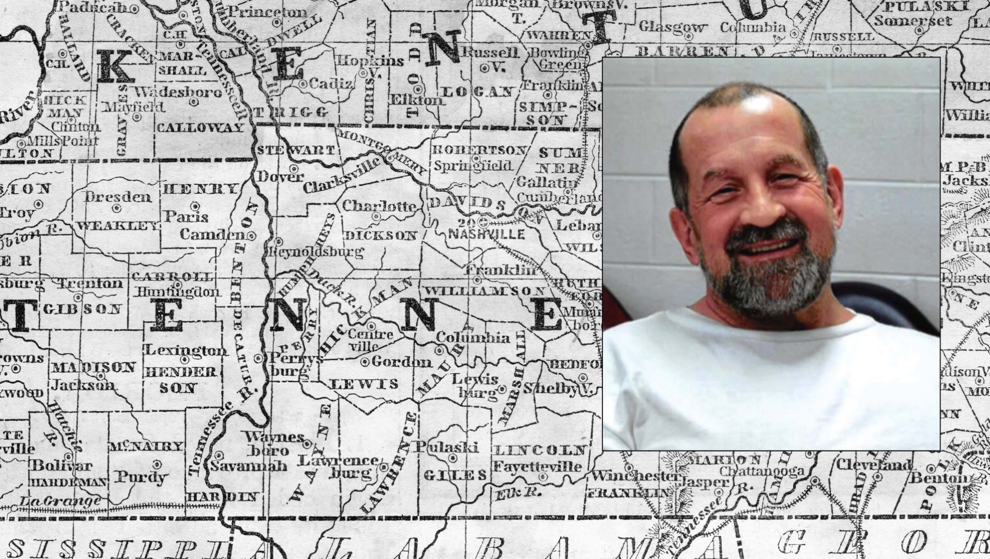 For a while as the hour of Nick Sutton's electrocution approached on Thursday night, no one stood outside the prison to cheer on his execution.
As a few dozen people gathered in their normal spot in a field outside Riverbend Maximum Security Institution to hold a vigil beneath the flood lights — to remember the victims, to pray for Nick Sutton and to stand against state killings — the area designated for supporters of the death penalty was empty. 
But that changed closer to 7 p.m. A lone man in a cowboy hat — a regular — arrived and took his place. He paced alone in the bitter cold, stopping occasionally to clap his gloved hands.
In moments like this, it feels as if the death penalty continues not because of a mandate from the people of Tennessee, but as a result of their quiet consent. It is the law, yes, but one that many other states have left behind either by abolishing capital punishment or declining to act on it. 
Innocent men have seen this country's death rows and its execution chambers. Nick Sutton was not one of them. As an 18-year-old just emerging from a brutal childhood and still in the throes of substance abuse and addiction, he murdered Charles Almon and John Large as well as his grandmother, Dorothy Sutton. He was five years into a life sentence for those murders when, in 1985, he was charged in the fatal stabbing of a fellow prisoner, Carl Estep, who'd been convicted of raping a 9-year-old girl. Estep had threatened Sutton's life during an ongoing drug dispute. For that killing, Sutton received a death sentence. 
But 35 years later, who was demanding Nick Sutton's death? During their vigil Thursday night, people who have gotten to know him over the years — from chaplains to civilian visitors to college students who met him during classes at the prison — spoke of him as a friend. His request for clemency from Gov. Bill Lee was supported by seven former prison officers, including three who say he saved their lives. Five former members of the jury that convicted him and sentenced him to death also supported him. 
After the execution was carried out, Lt. Gov. Randy McNally tweeted that "justice was served tonight and I hope it brings some closure to the families of the victims." While no one can speak for the entire families, family members of each of Sutton's victims were publicly supportive of his request for clemency. Almon's nephew Charles Maynard explicitly said that mercy, not an execution, would honor his slain loved one.
"You don't even have surviving victims who are clamoring for revenge," Evan Mandery, a professor at the John Jay College of Criminal Justice and a death penalty expert, told CBS News this week. "On the pro-and-con ledger, I can't come up with anything on the pro side for why execution would be important to do."
Even the governor does not make an affirmative case for the death penalty. Instead, earlier this week, he released a version of the statement he has released four times now saying that he would "not intervene." 
And so Nick Sutton was strapped into the electric chair Thursday night and given a chance to say some final words. 
"Don't ever give up on the power of Jesus Christ to take impossible situations and correct them," Sutton said, according to media witnesses. 
"He can fix something that's broken. He fixed me."
Later, he added: "I'm just grateful to be a servant of God, and I'm looking forward to being in his presence — and I thank you." 
After Sutton's death, his attorneys released a longer written statement in which Sutton thanked his friends and his wife of nearly 26 years.
The supposed aim of his sentence was to snuff out the life of a violent and unrepentant 23-year-old. But that boy has been dead a long time. The man who was executed in Tennessee this week was, by all accounts, someone new. 
On Friday morning, Kevin Sharp — a former federal judge who served as Sutton's clemency attorney — was still processing the whole experience. 
"I don't know what I want to say because I'm so mad," he says. 
He last saw Sutton on Tuesday, before the governor announced that he was rejecting their request for clemency. What angers Sharp now is the feeling that Lee, a man who speaks openly about his faith in the redemptive power of Jesus Christ, is not truly open to sparing a condemned man's life. 
"They'll say, 'Well, the criminal justice system worked, I'm not interfering with that,'" says Sharp of the state's leaders. "But what they don't understand is they are part of the criminal justice system. The Constitution makes them part of that. So they want to abdicate that responsibility, but you can't. That is your responsibility."
If the governor is set against granting clemency, Sharp says, then Lee should come out and tell people not to waste their time laying out the stories of transformation and redemption. 
"But don't act like you care."