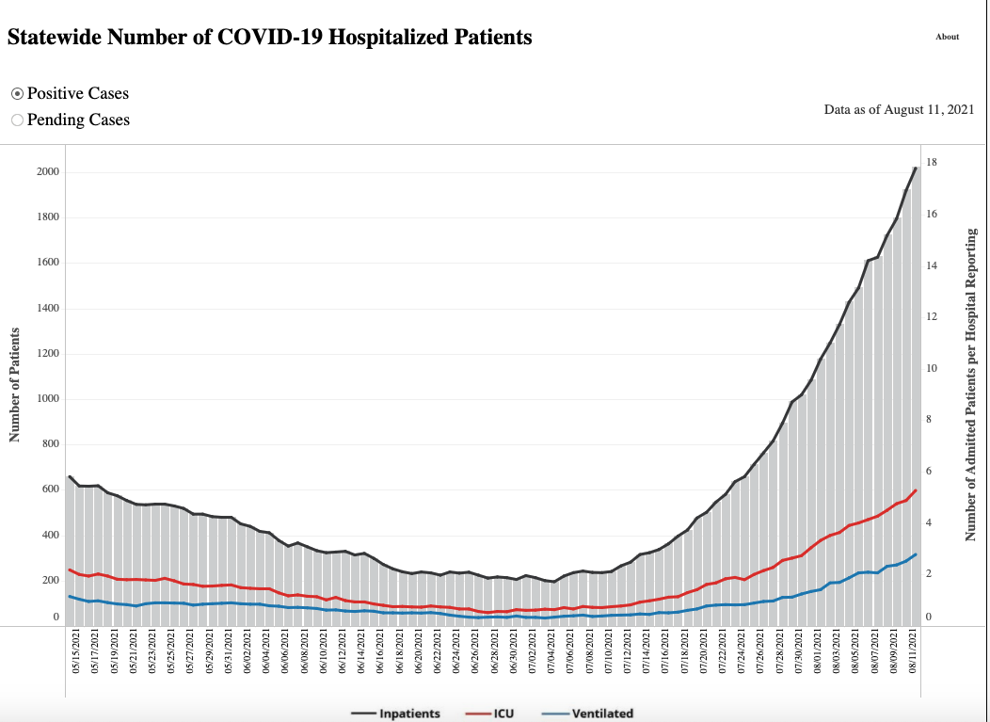 In early July, fewer than 200 Tennesseans were hospitalized with COVID-19 — the lowest numbers the state had seen in more than a year. Now there are more than 2,000 hospitalizations — including 49 children — and all indications are that those numbers will continue to grow. 
The state first surpassed 2,000 COVID hospitalizations in November 2020 and eventually saw more than 3,300 people hospitalized in December. 
Now, hospital officials continue to report that nearly all of the patients they are seeing are unvaccinated. Only 39.9 percent of Tennesseans have been fully vaccinated.
"Nearly all COVID inpatients we care for now are unvaccinated," Dr. C. Wright Pinson, deputy chief executive officer and chief health system officer at Vanderbilt University Medical Center, told staff in a memo on Aug. 5. "Data on the effectiveness of COVID vaccines continue to show that each one prevents serious illness, hospitalizations and death. Unlike last year when a majority of our COVID patients were elderly, now they are all ages. The overall severity of their illness has increased, causing longer lengths of stay."
The Delta wave has made hospital capacity a concern again. The Tennessee Department of Health's data shows 150 remaining ICU beds across the state. 
As of this writing, 12,892 Tennesseans have died from the virus and more than 930,000 have been infected.