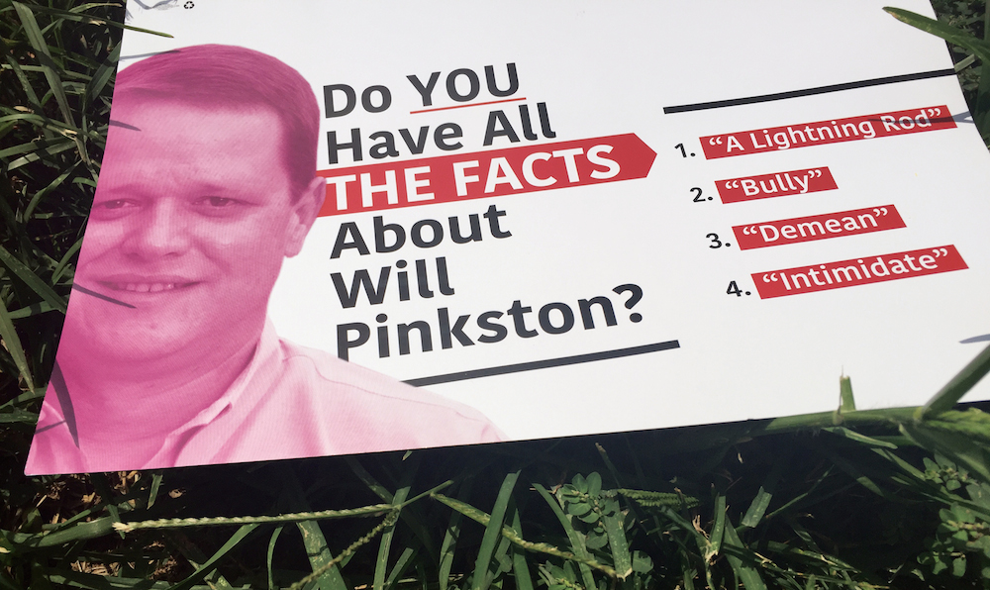 My wife walked out to the mailbox at our new home last week and pulled out the contents. Literally the first mail we received at our new address — the signature on the closing papers barely dry — was an attack mailer in a school-board race.
The piece, from Stand for Children Tennessee, laid into Will Pinkston for his combative personality. Coincidentally, Stand's pre-primary campaign finance report appeared on the state's website that night with this little bomb: They had dropped more than $230,000 into races in support of pro-charter candidates and more than $700,000 into Tennessee races overall.
So I called Dan O'Donnell, the Nashville director for the organization, and asked him about the money. 
"I found out about that when you did," he said, then went through an explanation. Stand for Children Tennessee PAC, which he works for, is completely separate from the Stand for Children Tennessee Independent Expenditure Committee. Even though O'Donnell's PAC gave huge donations directly to the campaigns for Thom Druffel, Miranda Christy, Jackson Miller and Jane Grimes Meneely, there was absolutely no coordination between that money and the tens of thousands of dollars spent by a committee controlled by the national office of the same organization. An organization that shares national leadership. And money. And whose address on 18th Avenue South is exactly the same. And spent money on exactly the same candidates.
Sounds ridiculous, doesn't it? That's because it is.
I reached out to Krista Spurgin, who was responsible for the spending, which in the case of every candidate but Jackson Miller represented more money than the candidates were able to raise on their own.
"My current title is National Campaigns Director, but I am concurrently serving as the Stand for Children Tennessee IEC Chair," Spurgin said. So a political operative in Denver, who shares the same leadership as the locals here in Tennessee, is directing hundreds of thousands of dollars into local school board races from a slush fund of charter advocates in Oregon. 
If you don't think this is an erosion of democracy, you're not thinking about it hard enough. The current campaign finance system, which lets so-called social welfare organizations launder unlimited money from rich interests — in this case money from Walmart and Microsoft billionaires — into local races, is asinine. They are picking candidates who support their worldview and turning on a firehose of attack ads, direct mail and digital marketing.
(And let's not be coy — unions are doing the same thing, too. It's disgusting and wrong.)
Through outdated rules and terrible Supreme Court decisions like Citizens United, we are left with a system that encourages winks and nods by campaigns to huge sums of dark money and creates ridiculous scenarios like the following:
O'Donnell was caught by a WSMV-Channel 4 camera entering the Holiday Inn Vanderbilt where Thom Druffel works to meet with him. Druffel is currently in a pitched race against charter critic Amy Frogge in District 9. The meeting took place during the mandatory blackout period before elections, which prevents PACs from helping campaigns.
O'Donnell told WSMV that he "took the day off from work." His lawyer says he was not there in his capacity as the Nashville director of Stand for Children, but rather as a private citizen volunteering, which is allowed. Druffel describes their meeting like this: "I think we were trying to detail for the last 10 days what we were going to do and nothing more than that."
So, here's what we have to believe: The guy who has already given the maximum amount of contributions to Druffel and whose national organization just called in an airstrike of negative ads against his opponent — including a mailer that, incredibly, misspelled the word "Nashville" — was just there on his own time. And even though they talked about the final days of the campaign, where they will both be devoting all of their time, this was just two guys having a chat. On O'Donnell's day off. Which was a Tuesday.
Is this how we should be running elections? 
Make it all stop: The push polls with the misleading questions. The mailers with the out-of-context quotes. The robocalls that try to confuse a candidate's job with a spouse's. Just make all of it stop.
This will go down as one of the dirtiest, most expensive races in Nashville school board history, and the implications for the board's function after the election are insane. Say, for instance, that Pinkston, Frogge and Jill Speering — the incumbents who are Stand's biggest targets — manage to beat back this tidal wave of cash and attack ads. Who among the charter advocates on the board will be able to reach out and work with them? And say that Stand wins all of those races, what's the implication for board members Joann Brannon, Anna Shepherd, Tyese Hunter and Mary Pierce in the next cycle? What if one of them doesn't agree with Stand? There's a loaded gun full of dark money from Oregon pointed at them next. 
If you like to complain that the school board is dysfunctional and gets tied up in an endless series of debates over charter schools, tell me how hundreds of thousands of dollars spent by outside actors — charters, unions, billionaires, etc. — does anything but make the situation radioactive.