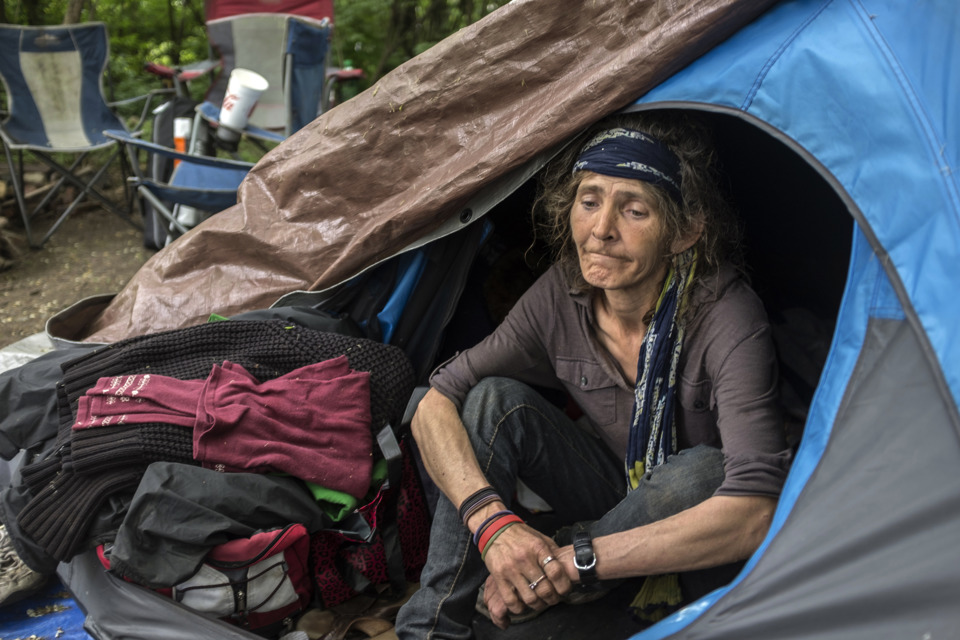 Nashville's homeless service providers are scrambling to prepare for the cold weather after Metro revealed it would not open emergency shelters this winter. The announcement, which came during an Emergency Weather Committee & Stakeholder meeting Monday night, leaves a gap in the winter strategy private providers had been coordinating.
"We've been planning on [the shelters] to happen, we pushed for them to happen," Lindsey Krinks tells the Scene. Krinks, the co-founder of Open Table Nashville — a nonprofit that focuses on addressing issues of poverty and homelessness — says Metro's decision results in a shortfall of 200 to 300 shelter beds. Krinks was blindsided by the decision, saying "we received no communication" from the city ahead of the decision.
Vice Mayor Jim Shulman is also surprised by the news. "I thought everything was taken care of as of two weeks ago," he tells the Scene. As far as he knew, transportation was the last issue they hadn't figured out for the winter plan. "We need to act quickly, bring all the parties together and figure this out."
In past winters, Metro would open up additional shelters when temperatures dropped below 28 degrees. The cold-weather response also included coordinated efforts around transportation and meals. According to a government website hosting data on Metro shelters, "During the three-month period of December 2017-February 2018, Metro Social Services provided shelter to approximately 2,200 homeless clients and their pets." Shelters were open 18 different nights that winter, and Metro saw an average of 121 guests per night.
But according to Krinks, Metro said it didn't have the resources or funding to operate shelters this year.
"We hear that every year," says Shulman, who in 2017 tried to raise the emergency "trigger" temperature to 32 degrees. He says the shelters and coordinated response can be expensive to run, but notes that the city still manages to cobble together a response.
According to Krinks, the Metro shelters offered a flexible alternative to Nashvillians experiencing homelessness, including pet owners, couples who didn't want to be separated, people with severe mental health issues, and members of the LGBTQ community who may not always feel safe or welcome in shelters (including religious providers).
"Providing low-barrier options is the best practice across the country," says Krinks. Low-barrier shelters accept individuals with few restrictions — they may have pets, they might be under the influence of drugs or alcohol, or they may lack an ID. Krinks says providers are exploring options to make shelter access easier, as well as identifying new resources for beds and space.
When reached for comment, a spokesperson for Mayor John Cooper said, "Our office is meeting with the Department of Social Services later this week to learn more information in regards to why this decision had been previously made from the previous administration." That's of course an ungenerous reference to David Briley, who lost his re-election bid to Cooper just last month. Shulman says that as far as he knows, however, Briley never seemed to indicate he would keep shelters closed.
According to the 2019 point-in-time count, the homeless population of Nashville was 1,986 — a 14 percent decrease from 2018.
Nashville's homeless population has been the target of fear-mongering ads, like Broadway businessman Steve Smith's "Anybody but Briley" TV spot.
Krinks says many people see homelessness as an individual issue — as in, it's their own fault and their own problem to solve — when it should be recognized as a systemic issue.
"It's a problem with the system," says Krinks. "Are we going to be a city that pushes those cries for help away?"
Shulman anticipates meetings between providers and officials within the next week, in hopes of finding a new plan.
"It may be a short-term plan," he says. "What we really need is to figure out a long-term plan so it just works."
Update: According to a transition memo obtained by the Scene, the outgoing Briley administration listed the cold-weather response plan as a top priority for economic opportunity policies.
Following this story's publication, Briley's press secretary Thomas Mulgrew emailed a statement to the Scene: "The decision to close the cold weather shelters was not made by the Briley administration. It is false for anyone, in particular Mayor Cooper's administration, to say otherwise."
Update (4 p.m. Oct. 17): Cooper's administration says winter emergency shelters will be fully funded and operation this winter after meeting with Metro agencies. Read more about that development here.