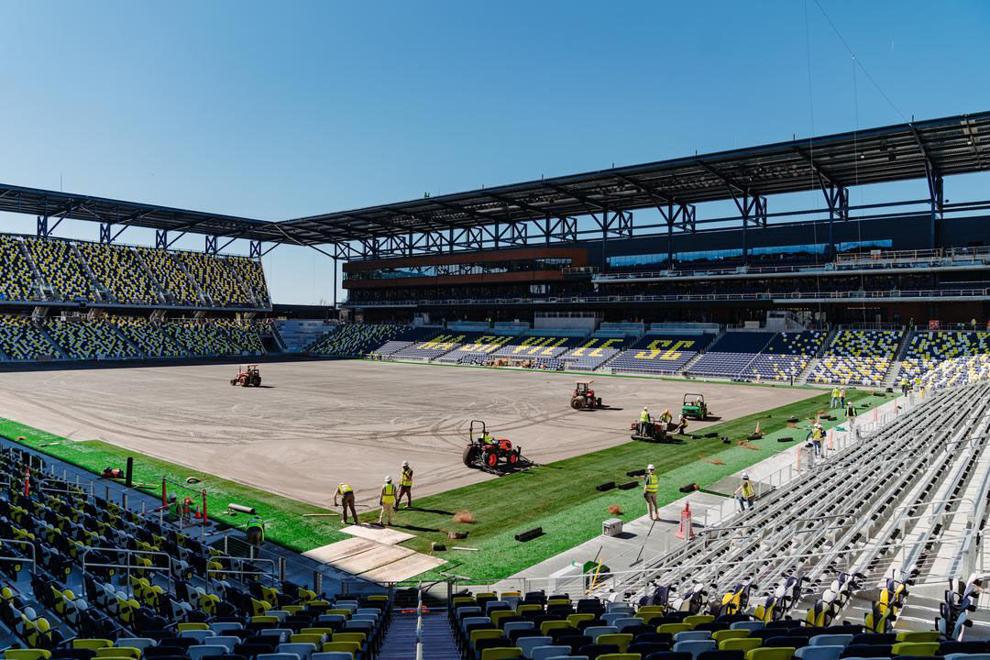 When Nashville SC's owners proposed construction of a Major League Soccer stadium at Fairgrounds Nashville south of downtown, advocacy group Stand Up Nashville was among those voicing concerns. After several months of negotiating, both parties settled on a community benefits agreement, which called for a $15 minimum wage, affordable housing and other concessions associated with the new stadium project.    
Fast-forward four years, and details from the benefits agreement are making their way into reality as the club prepares to open the new stadium on May 1. The soccer club's ownership and Stand Up Nashville are joining forces to host a job fair on Tuesday, March 8, at Easley Community Center. The jobs include maintenance, parking and security roles, among others, and pay more than $15 per hour, as called for by the CBA.   
Zach Hunt, a spokesperson for Nashville SC ownership group Nashville Soccer Holdings, says the ownership group has been committed since the beginning of the process to making sure the new soccer stadium is a win for the community.
"That's what the community benefits agreement is all about — making sure that every day Nashvillians feel the benefit of the project more directly in terms of jobs, housing and more," Hunt says. "The upcoming job fair represents a lot of hard work put in by many to bring that vision to life. It is a moment Nashville Soccer Holdings is very proud of. We look forward to working with our Community Advisory Committee — which includes NSH, SUN and community members — towards continued success for the community. We hope to see lots of our fellow community members at the upcoming job fairs beginning on March 8."  
According to Katharine Heriges, Stand Up Nashville communications director, the two organizations are planning further career fairs in the coming weeks:   
Pruitt Library on March 29, 6-8 p.m.   
Southeast Community Center on April 9, 10 a.m.-noon 
Coleman Center on April 20, 6-8 p.m.   
Martha O'Bryan Center on April 26, 10 a.m.-noon 
Hadley Park on May 7, 10 a.m.-noon
Nate Carter, director of workforce and employment at Stand Up Nashville, said the team has been "pounding the pavement" and canvassing underserved Nashville neighborhoods to increase awareness about the fair.
"We are hopeful of a great turnout and some quality hires for our city's new stadium," Carter says. "Please help us spread the word about the whole series — tell your friends, your family, your church congregation. We don't want anyone who wants a job to miss these opportunities."  
Metro Councilmember Colby Sledge, whose District 17 includes the stadium project, spoke with Scene sister publication the Nashville Post about whether the terms in the agreement have been met.    
"So far it sounds like everyone is living up to their end of the bargain," Sledge says. "As far as the team goes, I can say within and outside the CBA, they have done what they've told me they're going to do. They've done that with housing and with participation in the community." 
Sledge adds that the first phase of housing is underway, with future development and a daycare facility promised by the agreement yet to come.   
According to Nashville SC, the facility is the largest soccer-specific stadium in the United States and Canada. The 30,000-person stadium will include 25 private suites, five locker rooms, and three club areas.    
Construction progress with the stadium has continued, and crews recently began installing sod for the playing field.  
This article first ran in our sister publication, the Nashville Post.