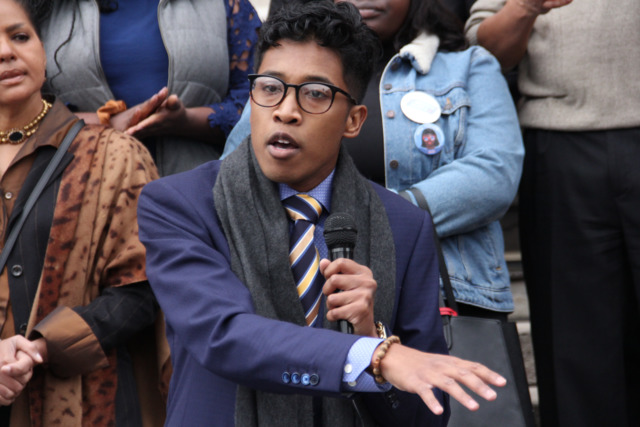 Party leaders and election officials have decided to hold a number of candidates off August primary ballots.
Among the most prominent is John DeBerry, a Memphis Democrat who has served in the state House for more than two decades. Members of the Tennessee Democratic Party's executive committee decided last week to yank DeBerry from the primary ballot in part because of his support for more typically Republican positions on abortion, LGBT rights and school choice.
DeBerry, with the support of both Democratic and Republican leaders in the House, appealed the decision, but the party committee rejected his appeal, meaning he cannot run in the August primary. 
Of the questions about DeBerry's pro-life and pro-school choice positions, House Democratic Caucus Chair Mike Stewart said: "They're not trivial concerns, but I don't think this is the right forum to express those concerns. The proper forum for deciding issues of the sort raised in the complaint is the Democratic primary."
One committee member, Katharine Heriges of Nashville, agreed with Stewart, and changed her vote from last week. She said she would prefer to "see [DeBerry] lose at the polls and show that these views are not Democratic values." But DeBerry's appeal was unsuccessful, and he will remain off the primary ballot, barring a successful legal challenge.
Another of the candidates to miss out on the primary ballot is Justin Jones, a congressional candidate in Nashville. But his absence is not because Democratic power brokers questioned his bona fides.
Jones, an activist who was seeking to unseat U.S. Rep. Jim Cooper, did not gather enough signatures to qualify for the ballot. He submitted 30 signatures, he said, but local election officials only certified 24, one shy of the 25 needed to make the ballot.
Jones  in part blamed last month's tornado and the spread of coronavirus for his campaign's lack of attention to the signature-gathering process.
Jones did not offer an endorsement in the 5th Congressional District race, where Cooper will face former public defender Keeda Haynes as well as Joshua Rawlings in the Democratic primary, but he said he is "hoping there is still a debate in our district because I think these issues need to be lifted up."
Jones has pressed Cooper on progressive priorities like the Green New Deal, which the incumbent ultimately supported, and Medicare for All, which Cooper once supported but no longer does.
"We want to use the leverage that we've built by organizing a team of young people from across the district to try to increase voter turnout among young people," Jones said.
Jones did offer endorsements in a series of races across the state.
Another candidate to miss out on the August primary ballot was Christi Rice, one of the women who accused Republican Rep. David Byrd of sexual assault when she was a teenage player on the basketball team he coached. Rice had sought signatures to appear on the Democratic primary ballot after Byrd reneged on his pledge not to run for re-election, but she was unsuccessful, having failed to turn in petitions in the district's four counties.