Ariza Bellevue, a 43-acre site in southwest Davidson County, is ground zero for a fight over housing and density.
Residents are rejecting the NIMBY label while claiming the development doesn't fit in Bellevue. In order to kill the development, they are discrediting city planners, advancing far-flung arguments and proposing luxury single-family homes as an alternative. Cypressbrook, a Houston-based real estate development firm, is expected to purchase the property contingent on a rezoning from Metro. 
The plan puts 417 units on 43 acres, half of a peninsula formed by a small bend in the Harpeth River between Highway 70 and I-40. The other half of the bend, previously owned by the Frist family, is a mostly undeveloped Metro park. The Ariza development would connect the park's small, isolated greenway with Bellevue's larger network of walking and biking paths — a plan the previous owner James Fussell had opposed. Fussell died in June.
Now, Councilmember Dave Rosenberg — whose District 35 is home to the proposed development — must balance Nashville's need for more housing with the staunch resistance of Bellevue neighbors. The parcel's rezoning was deferred this month and will come up again in late August. A community meeting in early July drew hundreds of angry Bellevudiers united in opposition to the project.
"The proposal brings benefits, but there are a lot of questions to be answered and concerns to be addressed," Rosenberg tells the Scene. "At this point, I'm facilitating discussion and not taking a position."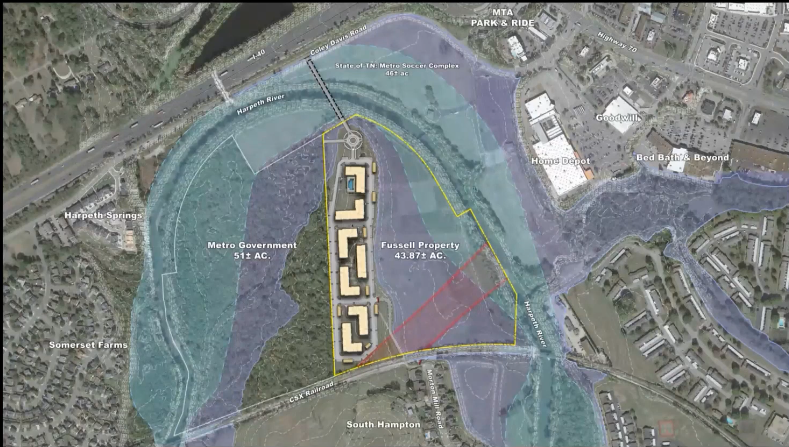 The proposed apartments include a bridge across the Harpeth to divert resident traffic onto Coley Davis Road, a desolate two-lane connector that runs between Highway 70 and a few neighborhoods across the river from Ariza. The bridge would connect District 35 and District 22, drawing Councilmember Gloria Hausser into the debate as well. Hausser hasn't yet taken a definitive position on the proposal.
Neighbors' arguments against the development range from muddled concerns about the site's ability to withstand flooding to layperson critiques of Metro's traffic study methodology. Some neighbors also seem bitter that new residents would have better access to the greenway than current residents. Residents swap information on a Facebook page dedicated to neighborhood opposition — "Stop the Coley Davis bridge," opponents' central organizing hub, which is rife with petitions, photos and inflammatory comments. 
At nearly every opportunity, critics point to the parcel's history of flooding as evidence that the city should kill the project. The Facebook page is plastered with pictures of the site underwater, though it's not clear whether this is neighborly warning against a bad investment for the developer and future residents, or an accusation that this development would make future flooding worse.
When pressed on why the site's flood history is so relevant to neighbors' opposition, organizer Jim Rossi pointed to the threat posed by debris during the apartments' construction. He posed this hypothetical in an interview with the Scene: "What happens if we hit a period of flooding and some of the debris washes away and blocks crucial flood-control facilities? It's construction debris. That's the risk." Rossi also argued that the increased traffic caused by more residents would make it prohibitively difficult for emergency responders to get to Lakeshore Senior Communities, a nearby retirement home, especially during a flood event.
Rossi is a professor at Vanderbilt Law School and lives in a nearby cul-de-sac. "We have nine private homes," he says. "Each of us has about 10 acres, and most of us have horses down there." He's done some back-of-the-napkin sketches and hopes developers will instead consider a dozen large-tract single-family homes that, according to Rossi, could sell for around $2 million each. "That's the kind of development that would be harmonious with this footprint." Rossi also expressed potential support for condos or townhomes, which, he says, attract residents who are more invested in the community.
Rossi says the group rejects the NIMBY label because they're not against all types of development. "When it happens in my backyard, I guess I have a preference for a more stable, deliberative approach to development that shows a commitment to the community." 
Both sides have informal lobbying efforts, including an anonymous website authored by "Support Ariza Bellevue" that sends form letters to the Metro Council. Opponents' petition to stop the Ariza garnered more than 300 signatures. 
"Every zoning battle ultimately comes down to a NIMBY argument of, 'How is this going to impact my neighborhood?'" Rosenberg says. "And that's not such a bad thing."