Mayor John Cooper addressed the city Wednesday morning at 10 a.m. in the gym of the Southeast Community Center. Performances by Nashville Youth Poet Laureate Sheerea Yu, singer-songwriter Amy Grant, and the East Nashville Magnet High School cheerleaders lent the ceremony a pep-rally ambience while councilmembers sat in folding chairs on the gym floor.
The mayor explained six focus areas and took the chance to highlight his proposed — and still unreleased — FY23 budget, which will attempt to scale up the city workforce. According to Cooper, the budget will include raises across MNPS staff and funding for hundreds of new hires in fire, police, emergency services, NDOT and other Metro departments currently understaffed.
The mayor used previous State of Metro addresses — to an empty chamber in 2020, at a vaccination hub at Music City Center in 2021 — to emphasize how the city has moved through the challenge of COVID-19. The thrust of the speech was that Cooper will now act, rather than react, freed to pursue his original (campaign) agenda, which centers the nuts and bolts of Nashville. That means things like education, neighborhoods and public services. Cooper's focus areas, which he ticked through for the rest of the speech, repackaged the top line of his 2019 campaign policy book.
The book: affordable housing, education, fiscal accountability, parks and green spaces, police and public safety, transportation, economic and community development, infrastructure, and restoring trust (in government). 
The speech: affordable housing, addressing homelessness, good schools, a sustainable and resilient city, bolstering community safety, better city services and improved transportation infrastructure. A few of these bleed into each other — you can read the full text here.
Cooper's kitchen-table issues depend on a Metro hiring spree set up by large allocations in the new budget. The bulk of this work lies downstream of funding decisions and may be a misread on the bottleneck dynamics that have kept Metro understaffed. The Metro Homeless Impact Division has been clamoring for more staff for years, but has struggled to keep employees this year, headlined by the departure of Judy Tackett on not-so-great terms. The same day Cooper announced funding for dozens of new police officers, MNPD has 174 funded vacant officer positions. Improving "core services" allowed Cooper to address two recent Metro public relations headaches: curbside trash and recycling pickup and potholes. He vowed to restore normality to pickup and patch more potholes faster with new technology and more hires.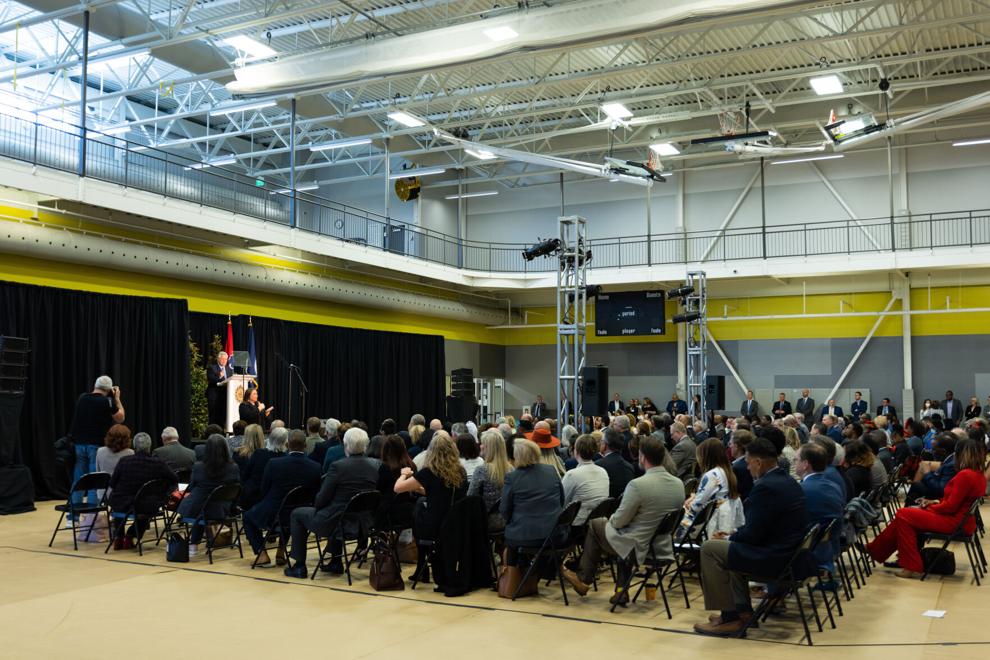 A few major omissions during Cooper's speech indicated a gap between what the mayor's office has been doing since he got elected and what it chose to talk about on Wednesday. Despite an impassioned defense of public education, Cooper didn't mention charter schools or the threat they pose to MNPS enrollment. There was no explicit mention of Metro's recent acquisition of the Global Mall, the physical site where the State of Metro took place. Based on the choice of location — this was the first time in more a decade the speech has taken place outside of downtown Nashville — at least a sentence about the acquisition would have made sense. A few allusions about city investments and growth in Southeast Nashville were contained largely within Vice Mayor Shulman's introductory remarks. The purchase faced scrutiny from the Metro Council and hasn't been finalized yet. Last week, the council approved a $46 million outlay in general obligation bonds backed by the city's general fund. 
A redeveloped East Bank has been a major Cooper project for months. It too went unmentioned Wednesday, as did Oracle and the Titans. The mayor has signaled hundreds of millions of dollars in infrastructure investment in the East Bank. He secured $20 million for its main street, the East Bank Spine Connector, in the fall's Capital Spending Plan. Metro wrote Secretary of Transportation Pete Buttigieg this month about a $9 million transportation department grant that would plan a bridge from the East Bank into Napier. Nashville may not be in the stadium business, per Cooper's most recent remarks, but stadium discussions are a hot iron and the state of Tennessee aggressively moved funding through the legislature last week. Cooper himself has mentioned a "stadium-solve" ready for a World Cup or Super Bowl. The timeline has reached a crescendo and may take hundreds of millions of dollars in Metro commitments. 
A possible reason for these omissions: People are just not that happy about them. An internal poll in the mayor's office is rumored to have confirmed as much, leading to content revisions in Wednesday's speech. As of this writing, the office has not returned comment about the existence of such a poll.
Asking the public might lead to uncomfortable answers, but that's accountability — a benchmark of where people think the city is going and whether they want to come along. The possibility that more Nashvillians think the city will sooner be named a World Cup host than patch up its roads might be instructive. Residents can see the city and tourism industry forging ahead with high-profile plans, leaving them with the associated headaches. This is where the State of Metro's key tension formed: the gap between what has been said and what has been done.
On Wednesday, Cooper returned to his campaign vision from 2019, a simpler time before he had to manage multiple overlapping emergency responses. An ambitious hiring goal will put money toward chronically understaffed city departments. By this time next year, a longer track record will give the public more data and Cooper more to explain, defend, highlight or omit as he likely faces challengers ahead of reelection. After today's speech, all signs point toward a campaign staked on the same talking points — infrastructure, housing, safety, schools, parks.
Update, April 28: The mayor's office on Thursday responded to a request for comment with the following statement: "Any rumors that certain topics were excluded from the speech because of poll results are false, and we are unfamiliar with any negative poll results."