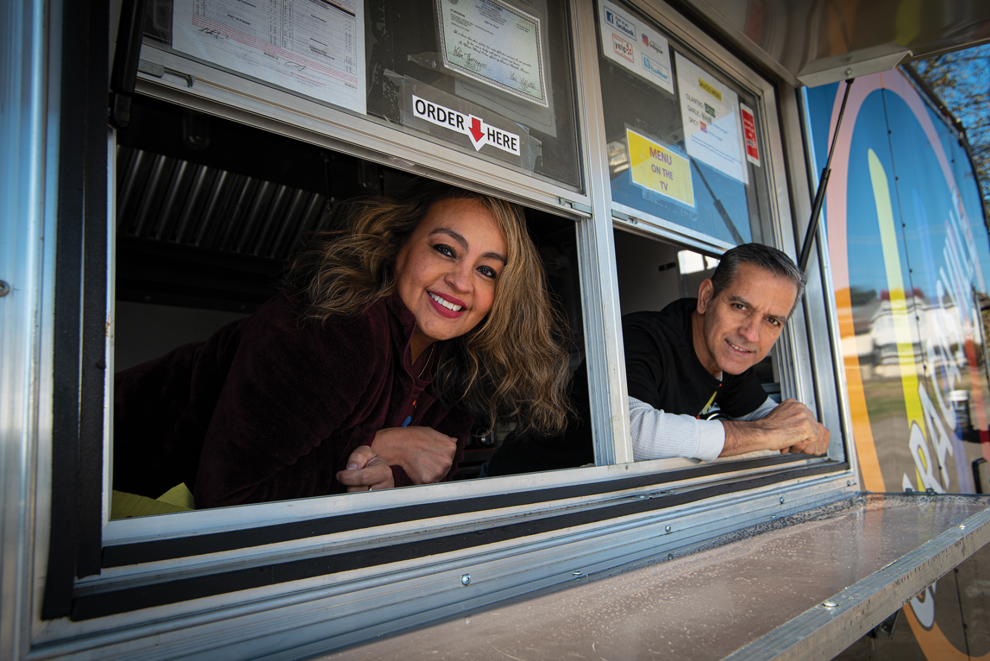 Radley Balko is a journalist who covers criminal justice and more for The Washington Post. He is author of the books The Rise of the Warrior Cop and The Cadaver King and the Country Dentist. With his ongoing series Nashville Byline, he'll profile fascinating characters, businesses and other parts of Nashville.
---
For all the justified foodie praise Nashville gets these days thanks to its hot chicken, buttermilk biscuits, meat-and-threes and other staples of Southern cuisine, I've been arguing for a few years to anyone who will listen that the single best bite in town originates quite a bit farther south — South America, in fact.
Please meet the stuffed arepa served by Caracasville, a local Venezuelan-food truck owned by couple Fidel Vazquez and Ivonne Reyes that you'll find parked at the Nashville Farmers' Market most weekends. They take a patty of corn-flour dough, grill it to a light crisp on the outside — but keep it just warm and chewy inside — then stuff it with a mix of meat, beans, plantains, avocados, cheese and sauce. 
I'm partial to the shredded-beef arepa. Approach it correctly, and your teeth will hit the light crunch first, followed by some satisfying give from the dough. Next come the tender, salty strings of beef. The sweetness of the plantain hits next, then the ooze of melted cheese, all of it permeated by a warm trickle of au jus, juice from the tomato, and whatever sauce you've chosen for slathering. I always go for the garlic.
You'll want a napkin. It's a wallop of taste, texture and aroma packed into a single bite. My wife gets the black bean. Her parents are from Colombia, and there's a bit of a rivalry between the two largest countries that the arepa calls home. But she'll admit, sheepishly sometimes, that Caracasville serves the best arepa she's ever had. Caracasville also offers pork, chicken and an especially decadent chorizo. The empanadas are revelatory. 
Oh, and about those sauces. Caracasville provides three: a white (garlic), a red (spicy) and a green (cilantro). My wife and I intentionally get too many so we can keep a few extras in our refrigerator.
"You can put them on anything," Fidel says. "I've been told we should bottle them up and sell them separately. I wish I knew how to do that. Venezuelan food includes a lot of sauces. Even for a hamburger, you might choose between 10 or 12 sauces."
There's usually a line at Caracasville these days. Business is booming. And in our era of "shithole countries," family separation and general anti-immigrant fervor, the Caracasville story is so uplifting it's almost a cliché. It's enough to give Stephen Miller a case of hives. 
The story begins in the mid-1990s. Fidel's sister was already living in Nashville at the time, and he and Ivonne flew up to pay her a visit. It took just a few days. Before they returned home, they were already making plans to move. "We just fell in love with this city," he says. They arrived in 1996. 
Fidel has a degree in computer science, but that didn't do him much good in a country where he didn't speak the language, so he took manual-labor jobs wherever he could find them. He loaded and unloaded trucks, bused tables, and took orders at a McDonald's. For years, he washed dishes at Cracker Barrel until 1 a.m., came home for a few hours of sleep, then got up to drive the early-bird airport shuttle for a Holiday Inn. Ivonne worked long hours as well. She started in hotel housekeeping, then did a stint as a McDonald's cashier. She was eventually promoted to manager. 
For the better part of 15 years, the couple worked long hours, almost always at multiple jobs. "We didn't sleep much," Fidel says. They taught themselves English, well enough that Fidel worked for a time in customer service for a cellphone company. They saved money. And they had three children — two girls and a boy. Fidel spent a lot of that time thinking about cooking, and about cooking for a living.
"When I was young, I would watch my mother cook," he says. "I watched and I learned. I asked her to stop cooking for me so I could do it for myself. So I've been cooking all my life. All these years in Nashville, I've thought about cooking Venezuelan food. But I didn't want to be stuck in a job cooking someone else's food. I decided I'd rather work other jobs until I found a way."
On the side, Fidel had been fixing computers for other Spanish-speaking immigrants. His conversations with those people gave him an idea. "People would always talk about their families back home, and how much they missed," he says. In 2011, he opened an internet cafe that catered to Nashville's immigrant community. "I had five computers. I set up a camera and a microphone so people could talk to their families. So they could see their children." 
It did well, at least at first. "You wouldn't believe how much crying there was in there," he says with a chuckle.
But within a few years, smartphone cameras and better connection speeds made the cafe obsolete. By then, Fidel spoke conversational English, and his success at the cafe brought some job offers. But he turned them down. His mind was still on cooking. "I was afraid if I took a good job with a good salary and benefits, I wouldn't be able to quit. Ivonne wouldn't let me! And I'd give up on my dream."
In November 2013, Fidel finally had the time and extra money to begin pursuing his passion. He started selling his food on weekends in the rotating pop-up spot at the Nashville Farmers' Market. He started with empanadas and pineapple juice, then added the arepas, tequeños (fried cheese sticks) and pastries called cachitos — both savory (ham and cheese) and sweet (guava and cheese.)
Business was slow at first. "Most people are at first afraid to try new foods," Fidel says. "You have to bring them along." The market bustles on weekends, but Fidel found it difficult to get people to try something unfamiliar. "There would be lines at the burrito place, at the gyro place, and we'd have just a few customers. We'd make just $40 or $50 profit in a weekend. We had to build word of mouth."
To pay the bills and buy supplies for the pop-up, Fidel continued to put in long hours during the week. At night, he worked the graveyard shift stocking shelves at an Amazon warehouse; during the day, he delivered and installed appliances for a Home Depot contractor. "It was hard work," he says. "It's a lot of lifting, and I wasn't getting a lot of sleep."
The first break came from Fooda, a company that helps restaurants serve on site at larger businesses. The restaurants get new customers, and the companies get to offer their employees a variety of lunch options. The deal brought Caracasville to businesses all across the Nashville area, giving Fidel broader exposure than he'd been getting at the Nashville Farmers' Market. "They told us to expect about 90 customers," he says. "At first, we'd only get 40 or 50. But after a few visits to each company, we'd have 100 or 150." It also brought a reliable stream of income, which allowed him to quit the grueling work at Amazon and Home Depot.
The lines at the Nashville Farmers' Market started to grow too. A short writeup from the Scene in 2014 brought another wave of new customers. "Some people waited 45 minutes or an hour to get an arepa. We learned from that. And in spite of the wait, a lot of those people started coming back."
By 2016, the couple had saved enough money to start looking for a food truck. They found one in Kentucky — a truck previously used for environmental studies by the U.S. military. But it would be a while before they could start using it. The truck itself hadn't been outfitted for cooking, and it took another 18 months to save the money to convert it, have it painted and emblazoned with the Caracasville logo, and to obtain the proper permits. Fidel and Ivonne also had to teach themselves how to use it. "I wasn't familiar with some of the equipment," Fidel says. "It was restaurant equipment, different than anything I had used before. I watched YouTube videos to learn how to use the fryer."
Finally, in July of last year, the Caracasville food truck served its first arepa. Today Ivonne works for Nashville's Women, Infants and Children Program, which provides nutritional education, food and health care referrals to low-income families. But she helps with the food truck on weekends. The couple's daughters also help when they're home from college — one attends UT-Knoxville, the other attends Cumberland University in Lebanon, Tenn.
Fidel and Ivonne also have a son who lives in Chile with his wife and their 5-month-old. They previously lived in Caracas, but left when the economy started to unravel. "In Venezuela, you wait seven or eight hours to get what you need, and by the time it's your turn, you probably won't get it," says Fidel. "The good stuff already went to people who have connections to the government. So you take whatever is left. If you came for chicken, you'll maybe get some rice or pasta."
As in many large cities, the Venezuelan community in Nashville has grown dramatically in recent years, as people flee the political and economic crisis back home. "When we came, I could count the number of Venezuelans in Nashville on two hands," Fidel says. "Now I hear it's around 3,000." 
Both Fidel and Ivonne still have family in Venezuela, and they send money to support them. "If you don't have money there, you don't eat." he says. "But then there aren't a lot of ways to make money." He also seems to feel some guilt about the life he and Ivonne have made in Nashville, despite the grind it took to make it. "Business is good now. But business, food, cooking — none of that matters as much as family. Family is first."
On the weekend after Fidel's interview with the Scene, his son, daughter-in-law and new grandson are to visit from Chile. He and Ivonne will be seeing their grandson for the first time, and Caracasville will be closed. "Family is first," he says again. 
The success of Caracasville has Fidel and Ivonne considering the leap to a permanent restaurant. But he's also wary of the compromises he may need to make to accommodate that sort of expansion. "The Farmers' Market has offered us a permanent space a couple times, but I have worries about that," he says. "If I start renting a space, part of me will be working for someone else again. And I finally just stopped doing that."
After working a string of jobs he disliked so he could work a job he loves, Fidel also wants to be sure expansion doesn't affect the food.
"If we have a bigger space, we'll have to hire new people. This is the food I grew up with, the food I love. I don't want to hire someone who's working for me while they're waiting to work somewhere else. It will affect the quality of the food. I want to wait until I can hire people who love to cook, who love the food. They don't have to be Venezuelan. But they have to love the food."
Follow Caracasville on Twitter and Instagram (@caracasville).