Radley Balko is a journalist who covers criminal justice and more for The Washington Post. He is author of the books The Rise of the Warrior Cop and The Cadaver King and the Country Dentist. With his ongoing series Nashville Byline, he'll profile fascinating characters, businesses and other parts of Nashville.
---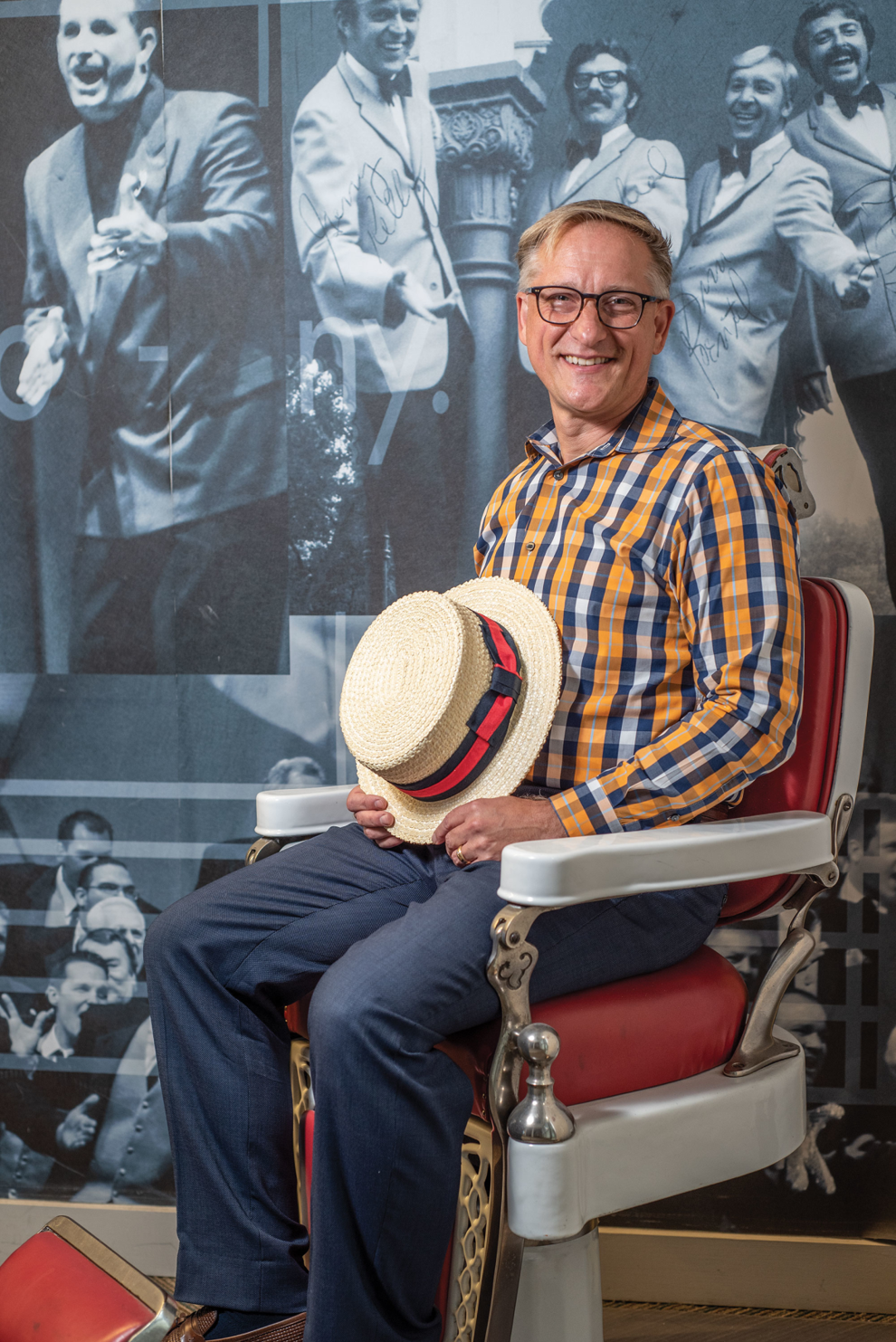 We're currently in a moment of nationwide racial reckoning. Institutions big and small, coast to coast, are reflecting on history and attempting to unearth, reconcile and atone. Newspapers are grappling with their own coverage of lynchings. Confederate monuments have come down. Universities are trying to figure out how to separate themselves from the tainted legacies of their funders and founders. 
This summer, as the COVID-19 pandemic and the George Floyd protests raged in the background, I thought I might pursue a topic less fraught — barbershop quartets. You've probably seen their headquarters on Seventh Avenue North. It's the building with the 20-foot mural of Norman Rockwell's famous Saturday Evening Post cover — the one with three barbers harmonizing with a half-shaved customer. Seems wholesome. Uncontroversial. Safe.
But then Brian Lynch, who handles communications for the group operating out of that building, enthusiastically responded to my email. And it became clear this column wouldn't be all straw hats, handlebar moustaches and hello my baby, hello my honey, hello my ragtime gal. 
"Barbershop has been hit hard by COVID-19," Lynch wrote to me. "Our primary activity — standing close together, exhaling with gusto — is among the more dangerous activities one can undertake right now." He followed with this: "A huge issue for us over the past few years has been building a culture of inclusion and understanding our musical heritage in African American communities of the South. Even before #BLM, this overwhelmingly white male organization has been taking steps in understanding and teaching ourselves." 
So this will be a column about racial reckoning after all — because the story of barbershop quartets isn't just about cheesy outfits, close harmonies and the synchronized splaying of arms. It's about Jim Crow, blackface and minstrelsy, cultural appropriation and, ultimately, penance. It unfolds in places like New York during the wave of early-20th-century immigration, and in Tulsa, Okla., not long after the race riots. It traverses the cultural divide between rural and urban America. It also includes some surprising cameos from the likes of Louis Armstrong, Fiorello La Guardia and the notorious city planner Robert Moses, who took a stand for integration in the barbershopping world even as he was uprooting Black neighborhoods and destroying Black wealth with multilane expressways.
For a long time, the carefully crafted narrative of barbershopping in America looked a lot like that Norman Rockwell painting. It was whole milk, apple pie and courting parlors. As Gage Averill, dean of the College of the Arts at the University of British Columbia, writes in his history of the genre, barbershopping exploded in popularity in the years after the Great Depression and before World War II for its nostalgia, its appeal to neo-Victorian values, and the fellowship and camaraderie barbershoppers found in harmonizing with one another. This music was participatory. You didn't listen to it, you made it. It was also overwhelmingly white — at least as it was portrayed in pop culture. 
That history was uprooted in 1992 by a piece in the journal American Music by Tulane University jazz historian Lynn Abbott. After scouring newspaper articles, old sheet music and historical archives, and conducting a series of live interviews with survivors of the era, Abbott firmly established that key elements of barbershop — signature characteristics like ringing chords and "snakes" and "swipes" (when one or more voices change pitch while others voices remain the same) — pervaded Black culture dating well back into the 19th century. Abbott found unmistakeable similarities to the barbershop sound in the music of slave spirituals, gospel music and jubilees. Indeed the very term "barbershop quartet" is almost certainly more Black than white in origin. As now, Black barbershops at the time were likely to be neighborhood gathering spots — social scenes known for the sort of conviviality and camaraderie that could give rise to spontaneous singing and harmonizing. 
"We're talking about people hanging in barbershops, on street corners, in churches," Lynch says. "They were singing hymns, folk songs, whatever came to mind. They sang the music of the day."
Abbott also discovered that in the Midwest, the barbering trade after the Civil War was dominated by Black freedmen, and Black-owned barbershops often had mixed-race clientele, exposing white people to Black music. 
The music was far more improvisational than today's barbershop music, though improvisation is still common, if not recognized as the purest form of the music. "There's a term called 'woodshedding,' " Lynch says. "One singer lays out a lead line, and then the others jump in with harmonies." 
The better singers performed at social gatherings, churches and festivals. The rise of minstrel shows in the 19th century saw white performers co-opting the music to mimic and mock the Black performers. The songs themselves would later prove popular enough that white performers were paid to record them. White performers would of course add their own flourishes and phrasing, but the process effectively amputated the song and style from its Black roots. 
More traditional white harmony groups were also popular at the time, and peaked in about the 1890s with the popularity of sheet music. The printed music provided a canon of common material, and synthesized the various styles — though once again, that often meant white publishers co-opting traditionally Black songs. "Sheet music was designed for the masses," Lynch says. "It was the pop music of its day. But to be popular, it needed to be easy to play on a piano. Easy to sing. Easy to harmonize."
Eventually, a standard formula emerged. "You eventually settle on a form where the second tenor is the lead, and the tenor above the lead is chasing harmonies that make sense," Lynch says. "You have a bass chasing roots and fifths. And a baritone at the bottom, adding all sorts of goofy notes that only he understands."
Barbershop quartets were further popularized in vaudeville, and then on radio programs, producing American standards like "Sweet Adeline" and "Down by the Old Mill Stream." Barbershop took off in the mid-1930s, as the country was still recovering from the Depression and looked warily at the possibility of another war. The music's rich harmonies and themes of simpler times won broad appeal. Amateur quartets grew popular in the South and Midwest — where audiences basked in the nostalgia, tradition and Americana — and among immigrants on the coasts who aspired to be part of all three.
But the mainstreaming and popularization of barbershop music also further left its Black influences behind. Publishers started to define the genre with collections of barbershop standards that washed out the Black roots, even while including songs that originated in Black music. The move to standardize and formalize barbershop, and to sell it as sheet music, also left less room for improvisation. 
"There's this move to define the form — this is barbershop, and this isn't," says Lynch. "Gospel and jazz continue to evolve, while the standardization we see in white barbershop is trying to freeze the music in time. And so it starts to actively diverge from its roots in African American music." 
Louis Armstrong said that singing barbershop in New Orleans had a profound influence on his later career, and some scholars have posited that Black barbershop was a major influence on jazz. White barbershop, meanwhile, merged into Tin Pan Alley. By the late 1930s, interest in the music was soaring, so much so that New York City was hosting the first organized annual competitions. In 1938, Owen Clifton "O.C." Cash, a wealthy tax attorney for an oil company, ran into Rupert Hall, another wealthy oil man, at a bar in the Kansas City, Mo., airport. Both were from Tulsa, and both sang barbershop. After a few drinks, they started singing standards and were eventually joined by others in the lobby of the Muehlebach Hotel. The two agreed to host a "song fest" when they returned to Tulsa. 
As the story goes, 40 singers showed up at the first gathering. The next week, it was more than 70. The third event was so well-attended that it caused a traffic jam. A local Associated Press reporter looked into the commotion, and Cash, sensing an opportunity, told him he was head of a nationwide barbershop quartet organization. He printed up business cards, and the group was born. The next year, the group's first conference and competition had more than 1,000 attendees.
Cash was a political conservative with a sharp wit. His initial letter to his fellow barbershoppers began, "In this age of dictators and government control of everything, about the only privilege guaranteed by the Bill of Rights not in some way supervised and directed, is the art of Barber Shop Quartet singing." In a dig at what he saw as the pretense and bureaucratic bloat of the New Deal, Cash signed under the title "Third Assistant Temporary Vice Chairman." Cash and Hall named their new organization the Society for the Preservation and Propagation of Barber Shop Quartet Singing in the United States, or SPPBSQSUS, a jab at the alphabet soup of New Deal acronyms. Today, the society is officially called the Society for the Preservation and Encouragement of Barber Shop Quartet Singing in America (SPEBSQSA), though the group informally goes by the less cumbersome Barbershop Harmony Society (the latter is the name you'll find on that building on Seventh Avenue North).
As music historian Averill writes in his history of barbershop music, New York's barbershop competitions had been hosted by an unlikely trio: former New York Gov. Al Smith (an Irish Catholic), Mayor Fiorello La Guardia (son of an Italian father and Jewish mother), and the urban planner and head of city parks Robert Moses (son of German-Jewish immigrants). The first competition was held in 1935. The Bay City Four of Brooklyn won with a couple of booze-themed songs — "Drink to Me Only With Thine Eyes" and "There's a Tavern in the Town." The following year, the competition grew popular enough to be moved to a stadium, and featured a faux-retro main street, complete with a stage tavern, tobacconist and Chinese laundry. The third year, an all-Black group from Harlem took second place.
The two emerging barbershop scenes converged in 1939 when Rupert Hall wrote to Robert Moses to offer him an honorary membership in the new group — in recognition of Moses' efforts to popularize the music. New York happened to be hosting the 1939 World's Fair, and Moses planned to use the event to showcase his ambitious urban renewal projects. He offered to host the second SPPBSQSUS conference and competition at the fair. The event was a huge success.
But a clash was inevitable. Cash was an anti-government corporate tax attorney, New Deal critic and Midwesterner, and saw barbershop music as a purifying element and means of promoting civic virtue (he'd later prohibit songs about drinking and partnerships with alcohol companies). Moses was a proud New Yorker who oversaw massive government works projects, and was the most prolific spender of Works Progress Administration funds in the country. Midwestern barbershop sought to rescue the form from the profane excesses of vaudeville. East Coast barbershop celebrated vaudeville and the immigrant experience.
The 1941 national competition was held in St. Louis. Winners of regional competitions across the country would congregate to compete for the grand prize. The New York regional competition was won by the Grand Central Redcaps, a quartet who worked as porters at the city's famed train station. They also happened to be Black. When O.C. Cash got word of this, he wrote to the New York organizers to object. "To keep down any embarrassment, we ought to not permit colored people to participate," he wrote. He requested that the New York organizers send a quartet of singing policemen instead.
Robert Moses issued a furious reply. If he had known that Black quartets were excluded, he wrote, "We would have immediately dropped out of the competition." Instead, they'd drop out now. Former Gov. Al Smith also resigned from the organization in protest. Moses, who would later be criticized for obliterating black neighborhoods and business to make way for his projects, closed with a stinging reminder of the genre's roots. "Let me add that if American ballads of Negro origin are to be ruled out of barber shop singing, most of the best songs we have will be blacklisted."
Cash took offense. He argued, apparently without irony, that even if the racial prohibition were lifted, the Red Caps should have been disqualified because they sang negro spirituals instead of barbershop standards. Until 1963, whiteness was a prerequisite for membership in SPEBSQSA, and participation in its competitions, which of course barred the people who created the music and their descendants from participating in and enjoying its popularity.
"Even after the prohibition was lifted, the music by then was a million miles away from its roots," says Lynch. "It would be a white men's organization for a long time."
Today the Barbershop Harmony Society is led by Marty Monson, an earnest, affable, likable white man from Iowa (as opposed to Lynch, who is an earnest, affable, smiling white guy from Wisconsin). In his tenure, Monson has overseen a kind of awakening — or awokening, if you prefer — about the organization's past. 
"We're in a transformational time," Monson says. "We haven't been very good at integrating until only recently. It's something we've had to work on. We need to look like the communities in our backyards."
The Barbershop Harmony Society moved its headquarters to Nashville in 2007, relocating from an office on Lake Michigan in Wisconsin. They currently have 45 full-time employees, and famous barbershoppers include Jimmy Fallon, Dick Van Dyke and Dirty Jobs' Mike Rowe. 
In 2017, the BHS made the Grand Central Redcaps honorary members, and mounted a plaque for each member at the headquarters on Seventh Avenue. They also set up a scholarship endowment in the quartet's name to benefit young Black barbershoppers. In his keynote address at the annual conference that year, Monson declared that the group must strive to be "radically inclusive," to what the BHS website calls a "thunderous" ovation. 
"We want this history told," Monson says. "We'd like to see it as part of music curriculums in schools. We want to encourage more dissertations and academic studies on the origins of our music, on where it comes from." 
Monson adds that in recent years the annual barbershop "Harmony University" training at Belmont University has featured quartets from Turkey, India, Germany and Brazil — the last performing in Portuguese. 
In 2019, the barbershop story came full circle when the top prize at the international festival went to a quartet called Signature, which features a Black man as lead and two Latino men in harmony. The group competed with arrangements based on songs by Beyoncé, Jennifer Hudson and Marvin Gaye. In 2017, the BHS opened up to women. Monson says part of the challenge for him has been not just atoning for the group's past, but modernizing while still retaining the traditions that make barbershop unique — especially when those traditions are what severed the music from its roots in the first place. 
"We never want to lose that all-male singing experience," Monson says. "But we also need to create room for everyone to participate. In the end, it's about the joy and camaraderie of making music with other people. The vast majority of barbershoppers aren't onstage or performing for applause. They're jamming with other people. They do it for that magical moment of joining your voices together as one."