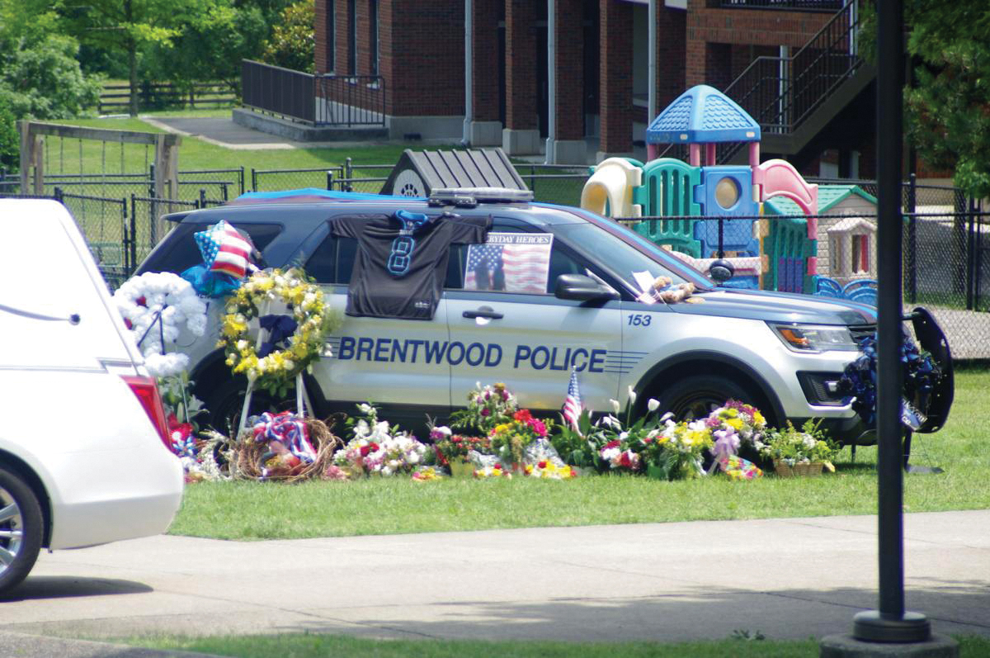 When Officer Destin Legieza was killed on June 17 in a collision with a drunk driver, an entire community was left mourning. It was the first officer the Brentwood Police Department, which was established in 1971, had lost in the line of duty. And what a great loss it was. 
In watching the press conference, it was apparent how painful the loss is for Legieza's fellow officers. Assistant Chief Richard Hickey expressed his heartfelt sorrow as he described his friend and colleague as a "shining star" in the department and in the community. 
Officer Legieza, who had been a member of the Brentwood police for five years, was a third-generation law enforcement officer. His father is a lieutenant with the Franklin Police Department, and his grandfather is retired from the CSX Railroad Police. Brentwood Police Department Chief Jeff Hughes stated that when hiring, they "set out for applicants with a servant heart … and [Legieza] possessed every quality and trait we were looking for." 
Perhaps his servant's heart stemmed, at least partially, from being a native Tennessean, and from being so immersed in his community. He had a passion for his family, friends and his neighbors. He loved his work, he loved Tennessee, he loved the camaraderie of sports. He was an ardent Titans fan — he reportedly drove a Nissan Titan truck and had a dog named Titan. He appeared to have a real passion for life and extended himself to improve the lives of every person he met. 
At his work, Legieza was part of a brotherhood — a tight-knit group of 14 officers who worked the midnight shift. For two officers in particular, this has been an especially difficult time. Officers Tim Finney and Brent Rowsey, along with Officer Legieza, were such a close trio that Legieza had fondly nicknamed them the "tripod." Rowsey told WKRN, "You know if one doesn't go, it falls, and that's how it was, us three, we were together all the time." He added, "Didn't matter who you were, what you looked like, where you came from ... he'd treat you the same way." 
Legieza's wife Heather was quoted by The Tennessean as saying, "My husband, Destin, was the best man I've ever met." Many would say that's what you might expect to hear from a spouse — but the overall sentiment from every person who came in contact with Legieza seemed to be the same. 
"He was a helluva man," his shift supervisor Sgt. Zach Hartman said. "When you hear people heaped with words of praise when they pass, I wonder if they are that good. But I can promise you this. Everything you've heard is true. He was that good of an officer and partner. He was that good of a son and that good of a husband. He was that good of a dude."
It is little wonder then, that hundreds of Brentwood and Franklin residents lined the streets to pay their respects during the officer's funeral procession. The funeral itself, honoring Legieza's life and service, featured a 21-gun salute and performances by Vince Gill and Lee Brice, as well as an appearance by Mike Keith, longtime voice of the Tennessee Titans. As such an avid Titans fan, Legieza surely would've been proud to see how many lives he has touched and changed for the better. 
In addition to those who lined the streets during the funeral procession, hundreds more gave donations to aid the officer's family. WKRN raised $77,000 during their fundraiser on Thursday, June 18, allowing people like myself to drive by and donate on the spot. If you'd like to contribute to Officer Legieza's family, accounts are set up at First Horizon banks in Officer Legieza's name. The GofundMe account, now closed, raised more than $50,000 for the family. 
I'd like to echo the words of Brentwood Fire Department Chief Brian Goss — who asks us to learn from Legieza's story. "I say just be kind to your police officers, be kind to one another. … We don't take for granted when we leave the house in the morning that we [won't necessarily] be coming home again." 
Bill Freeman
Bill Freeman is the owner of FW Publishing, the publishing company that produces the Nashville Scene, Nfocus, the Nashville Post and Home Page Media Group in Williamson County.