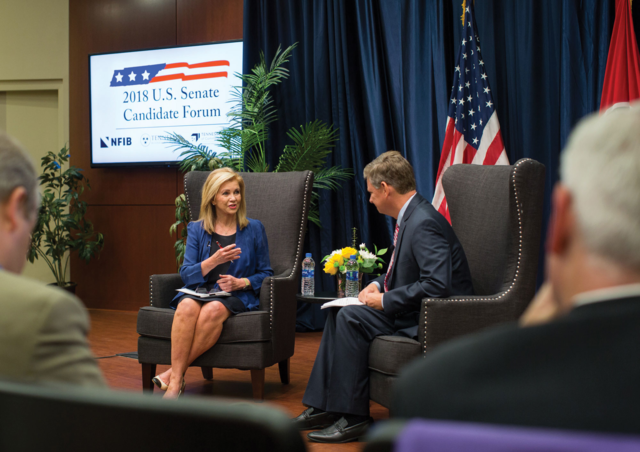 Photo: Daniel Meigs
Sen. Marsha Blackburn's recent Twitter attack on Army Lt. Col. Alexander Vindman went beyond the pale. 
Her tweet called him "vindictive" and questioned his motivation after the combat veteran — who serves as a high-level intelligence officer — testified before Congress during the impeachment inquiry of President Trump. Blackburn had no basis to question his honesty or his motives, and his testimony as a first-person witness to the phone call between Trump and Ukraine's President Volodymyr Zelenskiy was essential. 
Her comments have been called a shameless attack and a baseless smear against a man whose life history and military career read like an American Dream story. While many Tennesseans have disagreed with Blackburn's policy positions, I think most Tennesseans felt a bit of shame after reading her comments. It is simply un-American to attempt to discredit a man whose duty compelled him to testify — a testimony given in spite of his very real understanding of the dangers that telling the truth could have brought him. Vindman grew up in Ukraine when it was still the Ukrainian Soviet Socialist Republic. 
It's bad enough that Blackburn has taken to walking in lockstep with Trump's harsh policies on immigration and foreign policy. Now she is mimicking his harsh rhetoric via one-sided, rabble-rousing social media posts.
Vindman, who fled his native Soviet-controlled Ukraine as a young child with his brothers and father following the death of his mother, commented in his testimony that he continued to trust in America. He contrasted the dangers he would face for "telling the truth" in the Soviet Union with his security here in America. He expressed his trust that in the United States, he is safe and would be fine for speaking out, reaffirming his love of our country. 
Following his testimony and personal attacks from Trump, Blackburn and others, Vindman now has had to request protection for himself and his family. Shameful.
To have a Tennessean question the motives and make jabs at the personal character of a man who immigrated to America from a Soviet-controlled country and who has become a decorated U.S. Army officer is the very opposite of what Tennessee stands for. We are the Volunteer State. We go where help is needed when we are called. Despite any differences of political opinion, we have remained civil and focused on our commonalities. 
When Blackburn was sworn in as a member of the U.S. Senate, she said Tennesseans could continue to count on her to represent the issues that impact our lives. Besmirching the character of a war hero and working to turn his objective testimony before Congress into character assassination is not what Tennesseans would like to see from their members of Congress, no matter what political affiliation we hold. 
In her oath of office, Blackburn swore to uphold the Constitution of the United States. She swore to defend it "against all enemies, both foreign and domestic." It is highly ironic that one of the very few criticisms that Blackburn has ever had for Trump involved the president's social media comments, which she called "an example of the collapse of civil public discourse." Fast-forward two years, and Blackburn has sunk to Trump's petulant and unprofessional level by taking that very same page out of his playbook. 
Blackburn said in October 2017: "We are right to expect a higher level of civility, graciousness and diplomacy from our president. We expect the individual who holds the office and the title to rise above the hubris and noise of the day." 
We expect the same of our senators, Sen. Blackburn. 
Bill Freeman
Bill Freeman is the owner of FW Publishing, the publishing company that produces the Nashville Scene, Nfocus, the Nashville Post and Home Page Media Group in Williamson County.