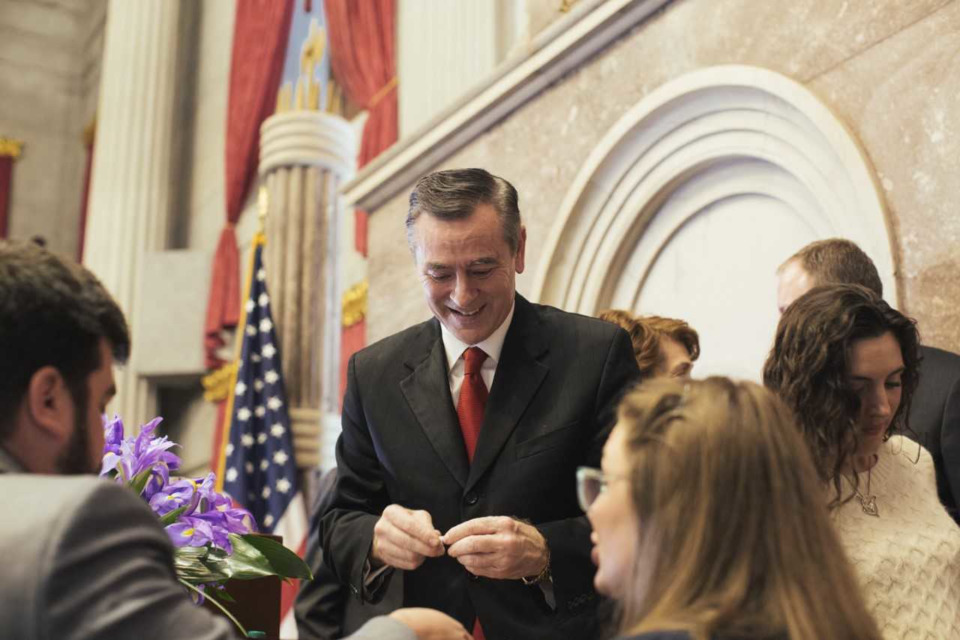 Every day in Tennessee and in America, we hope to see good things from our political leaders. 
When they take office, our elected leaders take an oath to uphold our constitutions, federal and state. So when they don't act in the best interests of the people they are sworn to represent, it is disturbing and shameful. 
These "lapses in judgment" or misguided mistakes are seemingly becoming the norm. What is truly infuriating is seeing those who've been involved in a whole series of mistakes literally laughing it off — as if their wrongdoing had little to no importance at all. One example is the recent laugh from former Speaker of the House Glen Casada. 
Casada lost his position as state speaker after he condoned horrific behavior from his former chief of staff, Cade Cothren, as well as fellow Reps. Jeremy Durham and David Byrd, who have each faced discipline for sexual harassment and misconduct. And now he is laughing in the face of the state board that oversees campaign spending. 
The Tennessee Registry of Election Finance felt it necessary to conduct two separate audits, one into Casada's personal campaign account and the other of his political action committee, specifically from January 2018 through June 2019. The Tennessean has reported that Casada originally "welcomed the investigation," saying it would prove him innocent of inappropriate spending — but the audits exposed failures in reporting contributions, itemizing expenses and providing receipts for expenses. Further, The Tennessean reported: "Casada and his political action committee had spent thousands of dollars on food and beverages, a membership to a Nashville restaurant's private club and travel in recent years."
NewsChannel 5 reported that the PAC audit revealed nearly 300 charges, totaling roughly $100,000, with no receipts or documentation. Casada initially said he had mixed up his personal campaign account and his PAC account. Then he said he thought if the expense was under $100 he didn't need a receipt. Many would find that reasonable, but I find it unrealistic. The man has been an elected member of the state House for nearly 20 years, yet he claims ignorance and that "it's been a learning experience." The Registry of Election Finance planned to fine Casada $10,500, but for now that has been delayed. 
Though reportedly "cooperative" with auditors, Casada in the end he comes off as insincere. When registry Chairman Tom Lawless asked, "You don't want to go through this again?" Casada reportedly laughed. Maybe that's because he feels he has gotten away with yet one more transgression. 
Sadly, Casada is not the only representative under suspicion of putting his hand in the proverbial cookie jar. Republican Sen. Steven Dickerson and a company he co-founded, Comprehensive Pain Specialists, were accused last year of defrauding government-sponsored insurance programs and named in a federal and state lawsuit with several other doctors. The former CEO of CPS, Dr. John Davis, has been convicted on federal criminal health care fraud charges in a separate case. 
It's worth noting that in September, the Nashville Post and others reported that CPS and its founders said the suit is without merit, and neither CPS nor its owners face any criminal charges. Though Sen. Dickerson has been "distancing himself" from his former colleagues, and his company was dissolved, the Post reported that Dickerson "submitted more than 750 false claims [himself] amounting to nearly $6.5 million for specimen validity, genetic and psychological testing as well as acupuncture." "Government officials allege Nashville-based CPS' fraud totaled $25 million," the report continues.
Like Casada, Dickerson denies and downplays his involvement, claiming he was dependent on the advice of his then-company's counsel regarding compliance issues. He noted that he was so busy with his senatorial duties that he spent minimal time at his company and was seldom involved in its day-to-day activities. Even so, it was reported that he did not attempt to stop or change the things he was aware of, and that he was financially benefiting from them.
Like Casada, Dickerson took an oath to serve the people, and voters may find themselves questioning the kind of person he might be. The senator has rightly earned the label of "most vulnerable incumbent."  According to the Nashville Post, Dickerson's opponent in District 20 will be the winner of the Democratic primary in August, which is between Oak Hill Mayor Heidi Campbell and Kimi Abernathy. Campbell has strong ties to Nashville along with good experience, and her platform includes homogeneity in our education system, Medicaid expansion and being a voice for better fiscal decisions. (Disclosure: Bill Freeman has made a financial contribution to Heidi Campbell's campaign.) Abernathy, a former schoolteacher, is running on similar platforms. "There is one more reason I am running," says Abernathy. "The Tennessee Senate is currently governed by a supermajority of Republicans. They do not have to, and indeed have not, allowed a voice to the minority. Consequently, no effort is made to be moderate. We need balance again."
All those in favor, say aye! 
Bill Freeman
Bill Freeman is the owner of FW Publishing, the publishing company that produces the Nashville Scene, Nfocus, the Nashville Post and Home Page Media Group in Williamson County.