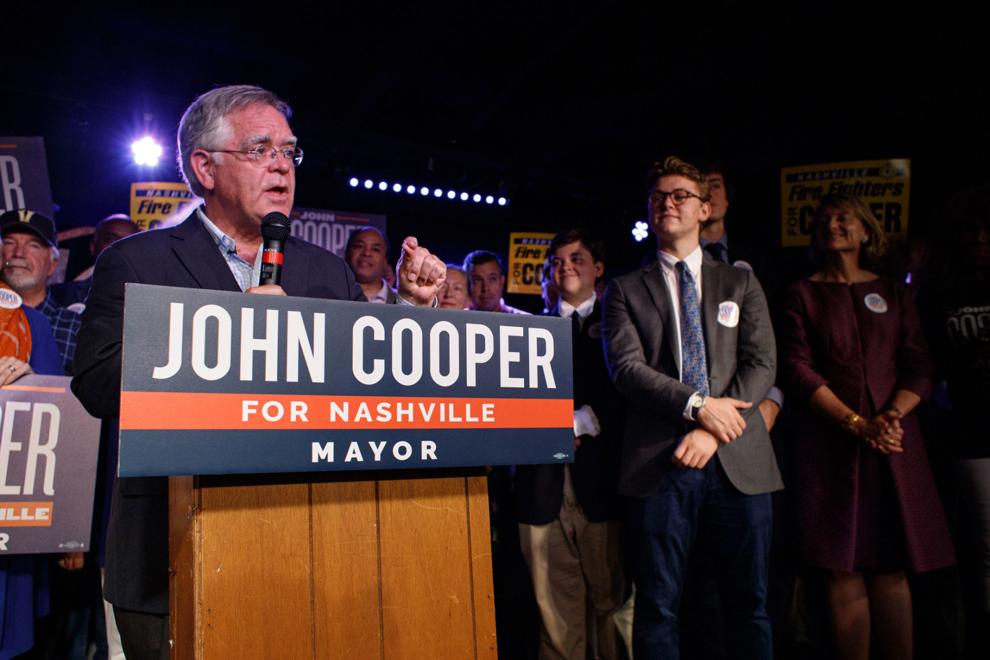 Before he's even taken office, Mayor-Elect John Cooper is already rolling up his sleeves and getting to work. In a city weary of campaigns, Cooper is showing that he has gotten the message: "Take care of Metro's neglected issues."
Within hours of the polls closing, Cooper was already meeting with key people and groups that he will need to make his administration, and Nashville, succeed. He met with At-Large Metro Councilmember Bob Mendes, the only at-large candidate who secured enough votes to avoid the runoff. Mendes will be key to ensuring a productive working relationship between the Metro Council and the Mayor's Office. 
Cooper also met with Gov. Bill Lee, seeking to build bridges and make clear that he understands cooperation with the state is vital to ensure Nashville's future growth and success. State dollars account for a substantial percentage of Nashville's budget, and it makes sense to develop effective working relationships with the state. 
I was encouraged that Cooper's first meetings were about getting down to business. He's already commented on pressing major issues — immigration, fiscal plans, public education and debt burdens are the first few he's already tackling. 
We're all glad to have these elections behind us, but there are aspects that are worth recalling. Cooper's campaign was run well without resorting to negative attacks. He stayed on point and continued to reinforce his message from day one: Nashville needs to reprioritize its budget, our neighborhoods and our methods of corporate development. Cooper's well-run campaign struck a chord, and he was elected by people who feel left out of today's Nashville. 
We need a 'Get it done' mayor
Those rolled-up sleeves can't come soon enough! Our short-term budget problem is just the tip of the iceberg with regard to our budget issues. Cooper has been vocal for years about how Metro handles its budget, the exploding cost of debt service and the city's overall debt burden. The election made perfectly clear that many Nashvillians agree. 
There is already a spirit of competence and determination coming from Cooper's team. That is a cool breeze to Nashvillians who are weary of campaigns, and ready for a little less talk and a lot more action. We've endured five mayoral elections in the past four years. It is fair to say that we're worn out from all these campaigns.
You can see this weariness in the election results. While the voters overwhelmingly chose Cooper over incumbent David Briley, it was not a busy Election Day. It's clear Nashvillians are tired of the rhetoric and the campaign trail. We are ready for progress. 
I think Cooper is demonstrating that he is for all of Nashville by working cooperatively on every level. He isn't trying to shove a city of many opinions into a single ideological hole; he acknowledges there are people from different walks of life and many different and contrasting opinions. It's our unique combination of plainspoken and creative, down-home and citified that makes Nashville so special. Cooper recognizes that we need everyone to make this city vibrant. 
Cooper's message resonated during the campaign, and his efforts will continue to resonate if he makes sure he has public buy-in on all issues. Looking back at Mayor Briley's tenure, it seems that was his most glaring failure — the issues that most upset voters were ones where we felt left out of the decision-making process. Cooper can't make the same mistake. He must be out in front loudly and clearly, letting Nashvillians know what the problem is, the possible solutions, and the steps being taken to fix it. 
I have confidence in John Cooper. If his first 24 hours after the polls closed are any indication, he is already hard at work, and Nashville is in good hands.
Bill Freeman
Bill Freeman is the owner of FW Publishing, the publishing company that produces the Nashville Scene, Nfocus, Nashville Post and Home Page Media Group in Williamson County.