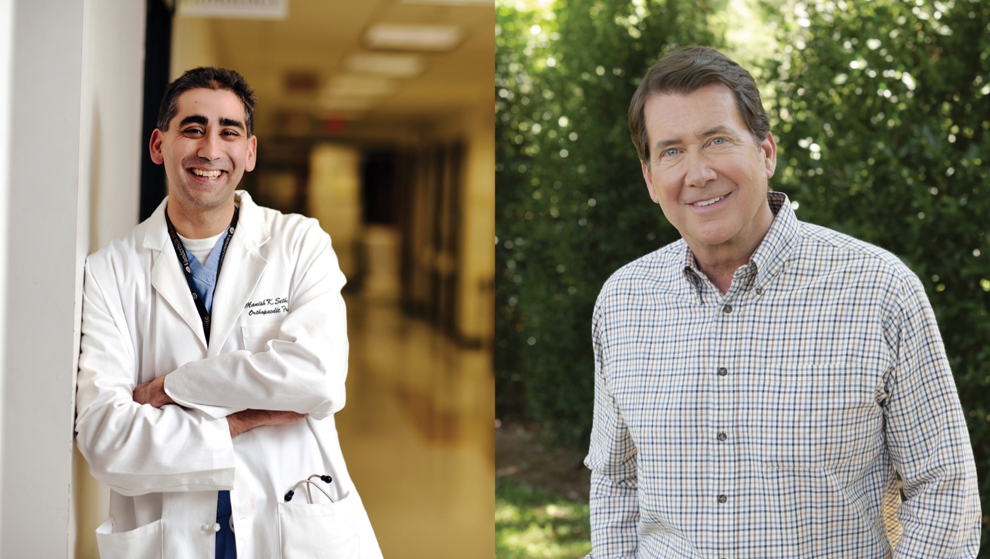 The gloves are off in Tennessee's GOP Senate primary race.
Bill Hagerty in particular has come out swinging with the kind of exaggeration and bad-mouth tactics that backfired in recent campaigns — those of Diane Black and Randy Boyd in the 2018 gubernatorial election are just two examples. The lopsided mudslinging isn't surprising. The new GOP establishment has invested millions, and President Donald Trump bestowed one of his "bulletproof" endorsements on Hagerty before the former ambassador to Japan even declared his candidacy.
The increased negativity reflects the surprising rise of Manny Sethi, a medical doctor who has rapidly gained ground against Hagerty. According to a recent Trafalgar poll that has received national attention, just three percentage points separate them. That's a considerable feat — earning that much trust against a well-funded, Trump-endorsed GOP establishment candidate who has been a fixture in the backrooms of Republican politics for years. 
Complicating the race, of course, is what COVID-19's impact on voter turnout will be. 
Many potential voters might decide it's not worth the hassle or risk, so candidates can rely only on committed voters who are earnestly seeking change. The nod would go to Sethi if we're identifying the GOP candidate who's built the most organic and sincere support base among voters. His old-fashioned grassroots campaign, done without the establishment support Hagerty depends on, has crisscrossed Tennessee in his big orange bus, meeting people from Memphis to Kingsport and all towns in between.
Likability also seems especially important in this primary. Sethi's commendable attributes have successfully identified him as the intelligent, sincere and hard-working candidate. He's supported the GOP platform, yet also positioned himself as the candidate promising change against establishment politics. 
Hagerty has not done the same. He was amusingly termed the "Thurston Howell III" candidate by Sethi's chief strategist — a tongue-in-cheek reference to the Gilligan's Island snooty millionaire. Indeed, Hagerty may very well have banked too much on Trump's endorsement. This election season's impact on Trump's supposed "golden touch" is noteworthy. Trump's endorsement helped wash Marsha Blackburn back into the D.C. swamp and straight into the U.S. Senate in 2018, for example. 
Recent primaries, though, indicate that Trump's endorsement power may be waning. The human toll from the virus and its economic woes may have made even more voters fed up with Trump's brand of politics. Two GOP candidates in neighboring Kentucky and North Carolina who proudly displayed their "endorsed by Trump" badges were defeated in their primaries in recent weeks. Tennessee's GOP Senate primary has been identified by national media as an example of where it could happen again. 
Perhaps a Trump endorsement should not be called a wave anymore. The term "whirlpool" might be more accurate — once candidates are sucked into the Trump whirlpool, they're stuck. These elections are showing us that voters want a likable, trustworthy candidate who will fulfill campaign promises efficiently and thoughtfully.
Once the chosen candidate emerges from the Republican primary, the race between the GOP winner and the chosen Democratic candidate will be closely watched. On the Democrats' side, the capable James Mackler is currently in the lead. Mackler is a U.S. Army veteran, and his stated mission is "to restore respect, honesty, and, most importantly, integrity in Washington." The campaign for the full November election will be Tennesseans' opportunity to weigh these candidates against their party platforms and campaign promises. 
Despite years with a thriving economy at his disposal, Trump has completely failed on his grandiose campaign promise to eliminate our national debt, instead ballooning it to extreme levels. Washington continues to take on more debt, with apparently no regard for the damage it's bound to cause down the road. Conservative GOP candidates — from the local level all the way to Washington — scream about fiscal discipline, yet they spend like there's no tomorrow. As Ralph Waldo Emerson once wrote, "What you are stands over you the while, and thunders so that I cannot hear what you say to the contrary." Put simply: Your actions speak so loudly, I cannot hear a word you say.
Our country's Monthly Statement on Public Debt from the U.S. Department of the Treasury puts our debt at a staggering $26.5 trillion as of June 30. No matter how you slice it, Trump has completely reneged on his promise to eliminate our national debt. He hasn't even chipped away at it, instead adding $5.2 trillion in debt, according to a Newsweek story published in May. Trump is on par with the most debt-increasing presidents in history, Republican or Democrat. 
Voters who are constantly worried about their jobs, homes, families and health don't have the patience for snide political tricks. Trump manipulated people's desire for change to his advantage when he vaulted into office in 2016. That same desire for change is coming full circle, with many who once supported him waking up to realize that Trump's vision of America isn't all it's cracked up to be. 
Republican voters in Kentucky and North Carolina realized it. Tennesseans may realize it too.
Bill Freeman
Bill Freeman is the owner of FW Publishing, the publishing company that produces the Nashville Scene, Nfocus, the Nashville Post and Home Page Media Group in Williamson County.