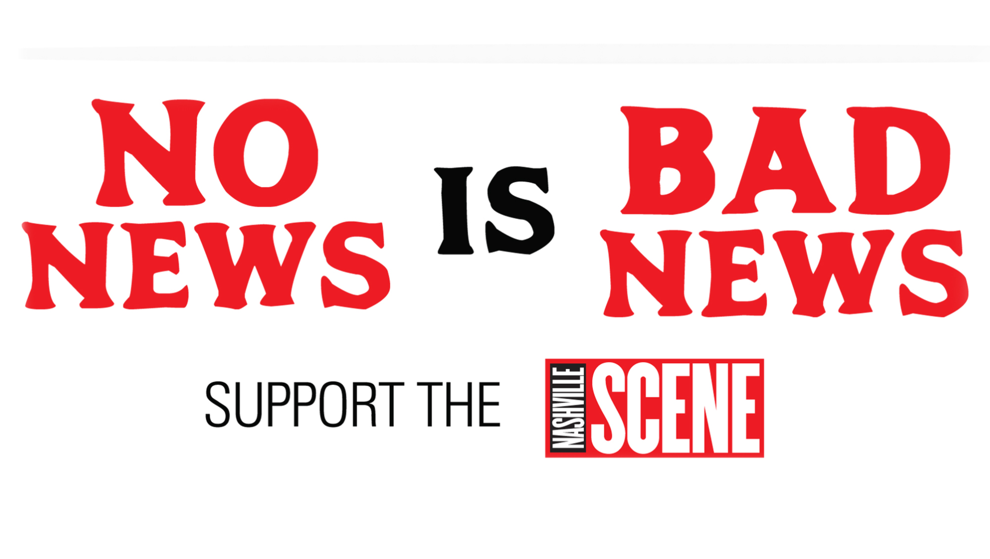 I've always been proud of the fact that the Nashville Scene is a free publication. It's been that way for the 12 years that I've been a staffer here, and for two decades before that.
Thanks to revenue we generate through both ad sales and events, we have been able to bring news, analysis, criticism and arts coverage to the greater Nashville area in print — and for much of our existence, online — at no cost to the reader. But in the wake of COVID-19's arrival in the United States, and due to the necessary and responsible institution of social distancing practices like Metro Nashville's "Safer at Home" directive, we've seen an immediate and significant drop in revenue. Most of our ads center on events and gatherings — concerts, restaurants, clubs, various services — and obviously, a great deal of those vanished overnight.
It's been a tough time for alternative-weekly newspapers like ours across the country. In mid-March, essential publications the Portland Mercury and Seattle's The Stranger were forced to go online only and temporarily lay off much of their staffs. Long-running papers like the Riverfront Times in St. Louis and DigBoston took similar steps not long after. Thankfully, we at the Scene have not had to follow suit, and we intend to keep bringing you the same news and arts coverage, both in print and online, for the foreseeable future.
As a matter of fact, I'm proud to say that my staff is working harder than ever to keep Nashville updated with news about how COVID-19 is affecting our city. Our reporters are covering the effects of the virus on our government, our community and our economy. Our food writers are working hard to keep us updated on how the restaurant scene is being affected, and how Nashvillians can still support their favorite establishments. Our critics and other contributors are filling the paper and the website with recommendations of what to do while we all practice responsible social distancing — films and TV to watch, musicians' livestreams to tune into, artists to check out, causes to support.
That being said, the Scene is hurting. Management at the Scene and our sister publications, Nfocus, the Nashville Post and the Williamson Home Page, have taken pay cuts and furloughs in hopes of preventing more significant cuts in the future. The simple fact is this: None of us knows how the coming weeks and months are going to unfold, but the Nashville Scene intends to be here for our community throughout all of it.
We have long considered the possibility of instituting a membership-and-support initiative, much as weeklies like the indefatigable Austin Chronicle and the storied Chicago Reader have done in recent years. (The latter of those, I should note, has since moved to a nonprofit model.) Because of our difficult times and the aforementioned extenuating circumstances brought about by the COVID-19 pandemic, we decided to fast-track and institute just such a membership program last week.
Our friends at the Austin Chronicle were kind enough to lend us their membership slogan, "No News Is Bad News." Under that banner we are offering readers the opportunity to become members at two separate levels (each with perks for joining our team), or to make a one-time-only contribution. All of the pertinent information is available at support.nashvillescene.com, and I ask you, humbly: If independent local media matters to you, if you've ever read anything in our pages or on our site that you've been informed or entertained by, please consider visiting that link and supporting us.
As a native Middle Tennessean, I cannot begin to tell you how proud Nashville has made me over the past month — from the recovery efforts in the wake of the March 3 tornadoes to our local medical professionals' response to COVID-19. It is the privilege of a lifetime to serve as the Nashville Scene's editor-in-chief, and to guide its coverage of our city and its citizens through this time. I am blessed with an exceptionally gifted and hard-working staff, and I know I can speak for them all when I say that I am grateful for your readership, and for any consideration you can give to supporting our cause.
Thank you for reading, and thank you for your support.
D. Patrick Rodgers
Editor-in-Chief, Nashville Scene