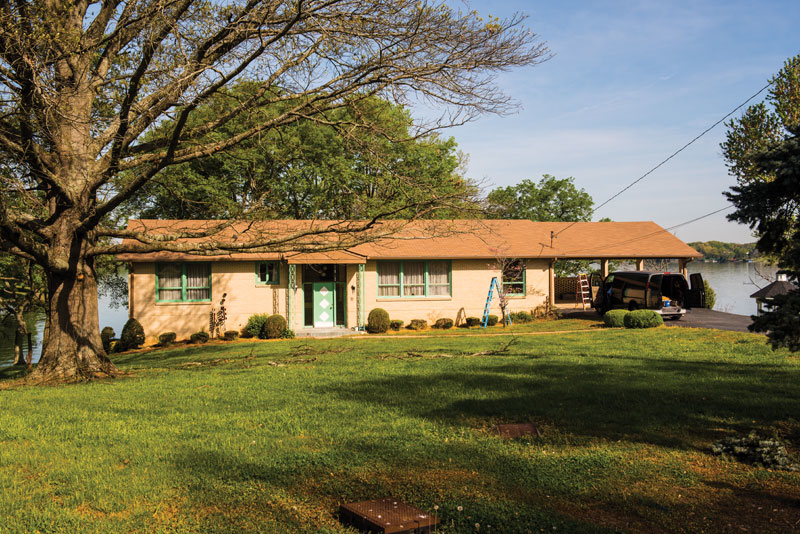 This month's list has a curious mixture of brand-new homes and some classics, and — this is a rarity — includes a pair not just on the same street, but right next door to one another. The buyers and sellers are a fun group, too. There is a swap between the families of two venerable Nashville insurance companies. A country star sells her century-old farmhouse. A Hardee's exec gets ready for his employer's relocation. 
As always, what follows is the list of the top 10 (though in this case, the list goes to 11) single-family home sales in Nashville and surrounding counties, ranked by price.
---
1. 17 Oxmoor Court, Brentwood, 37027
Buyer: Joanne M. Cucci
Sale price: $3.346 million
Seller: Schumacher Homes LLC
Seller's agent: Unknown
Buyer's agent: Erica Taylor, Benchmark Realty This new build in the Governors Club has 12-foot ceilings and reclaimed hardwoods throughout, presumably including in the "daylight walkout basement," whatever that is.
There are also five fireplaces, an elevator, a billiards room, a theater and a wine cellar. No word on whether there is a conservatory or if Colonel Mustard is expected to visit.
---
2. 43 Bancroft Place, Nashville, 37215
Buyers: Paul and Carol Ciolino
Sale price: $2.12 million
Sellers: Mark F. and Mary Ellen Thompson
Sellers' agent: Richard B. French, French King Fine Properties
Buyers' agent: Nancy Tice, Fridrich & Clark Tired of all those houses with artificial stucco? This one promises "true stucco." 
Sitting on a hilltop in Bancroft, the nine-year-old, 6,300-square-foot home has "spectacular views" to go with its bona fide stucco.
---
3. 2485 Old Natchez Trace, Franklin, 37069
Buyers: Bart E. and Mandi Anna Ashley
Sale price: $2 million
Sellers: Lisa and John T. Hasty
Sellers' agent: Steve G. Fridrich, Fridrich & Clark
Buyers' agent: Unknown Unusual for this particular stretch of Natchez Trace, this home is only 23 years old, though the guest house is made from 200-year-old reclaimed logs. The home, like its much more antiquated neighbors, does hint at the past with an antebellum style, featuring columns and plenty of forward-facing windows.
Sitting on 14 acres, the property has plenty of room for horses, which are allowed, per the listing. 
---
4. 700 Pendragon Court, Franklin, 37067
Buyers: Thomas and Michele Onken
Sale price: $1,950,514
Seller: Ole South Construction
Seller's agent: McClain Holloway Franks, Battle Ground Realty
Buyers' agent: Denise Cummins, Zeitlin & Co. Another new build, this time in the Avalon subdivision, this six-bedroom, 8,220-square-foot home sits on just under 2 acres. 
Seller Tom Onken is the senior vice president of lodging development for Marriott International.
---
5. 323 Walnut Drive, Belle Meade, 37205
Buyers: Mary and Alex Wade
Sale price: $1,428,300
Seller: Nancy J. Weaver
Seller's agent: Pamela Davis Needham, Avenue Real Estate
Buyers' agent: DeeDee Wade, Fridrich & Clark Nearly every dead end in Belle Meade is described in listings as one of the tony suburb's most desirable, and this one is no different. The home, built in 1961, is a "rarity" with three first-floor bedrooms. 
Alex Wade is chairman of venerable Nashville insurance company Wade and Egbert, founded more than a century ago and bought three years ago by AssuredPartners. Weaver is the widow of the late William C. Weaver, who worked for National Life and Casualty, his family's own venerable insurance company, until it was sold in the 1980s. The Weavers are well-known philanthropists.
---
6. 7 Carmel Lane, Brentwood, 37027
Buyers: Elsa C. and John J. Dunion IV
Sale price: $1.755 million
Seller: Jake Leduc LLC
Seller's agent: Ryan Miller, The Lipman Group Sotheby's International
Buyers' agent: Jeff Checko, The Ashton Group The second Governors Club entry this month, the listing for this 7,900-square-footer begins "Wow." The home has a full recording studio in the basement and is just steps from the golf course's first green.
Seller Jake Leduc LLC is just as much a mystery now as it was when this home last appeared on Headline Homes in May 2014. The address for the LLC matches that of Adeptus, an Ocean City, N.J., accounting firm, and its registered agent is Nashville-based National Corporate Research. As for "Jake Leduc," there are a handful of them out there, but none appear to have any connection to Middle Tennessee.
Buyer John Dunion is an executive vice president with Hardee's corporate parent CKE, which announced it is relocating from Anaheim to Nashville last month. 
---
7. 5 Carmel Lane, Brentwood, 37027
Buyers: Britt and Laura Jill Reynolds
Sale price: $1.68 million
Sellers: Jack and Verena S. Bruner
Sellers' agent: Judy and Richard Williams, Crye-Leike
Buyers' agent: Rick Sears, Crye-Leike
Right next door to No. 6 is No. 7 (or right next door to No. 7 is No. 6, if you want to confuse the matter). 
The three-story home includes a terrace level that has all the furnishings of a home of its own — its own kitchen, living room, bedrooms and so forth. The home, as is its neighbor, is just steps from the first Governors Club green and has a private backyard with waterfall and koi pond.
Britt Reynolds is the president and CEO of Medical Facilities Corp.
---
8. 100 Rolling Mill Drive, Old Hickory, 37138
Buyers: John D. Lanier and Leslie Butler
Sale price: $1.6 million
Seller: The estate of Adelaide Neiderhauser
Seller's agent: John Hobbs, ReMax
Buyers' agent: Matt Brown, Keller Williams Mrs. Neiderhauser died last summer at the age of 105. She was the widow of Ernest Neiderhauser; the couple owned Swiss Farm Dairy, which they sold to Purity in 1965. The couple then retired to this home, Brandywine Farm.
Jay Lanier is a retired software developer. Among his work is the first missing-and-exploited-children's program. Leslie Butler is a retired co-founder of a computer networking and programming company.
---
9. (tie) 4013 Vailwood Drive, Nashville, 37215
Buyers: Edwin and Elizabeth Vickery
Sale price: $1.5 million
Seller: 1125 Ridgeview Drive LLC
Seller's agents: Jonathan Heard and John G. Brittle Jr., Parks
Buyers' agent: Whitney Musser, Worth Properties This new construction in Green Hills has "immaculate trim" and "soaring ceilings" throughout its 5,000 square feet.
Buyer Edwin Vickery is a sales representative for Mercedes-Benz of Nashville.
---
9. (tie) 1572 Old Hillsboro Road, Franklin, 37064
Buyer: Kelly Wahl
Sale price: $1.5 million
Seller: Mary Ann McCready, trustee
Seller's agent: Dan McEwen, McEwen Group
Buyer's agent: Catherine Hawkins, Benchmark Realty Sitting on 10 acres, this home was built in 1910 and was most recently the home of country star Jo Dee Messina. The spread also includes a guesthouse, barns and a pool next to a spacious porch.
---
9. (tie) 6 Strawberry Hill, Nashville, 37215
Buyers: Michael J. and Teresa Y. Millsopp
Sale price: $1.5 million
Sellers: Barbara and Michael W. Barton
Sellers' agent: Christy Reed, Christianson, Patterson, Courtney & Associates
Buyers' agent: Susan M. James, Viva Properties This French-style country home in Northumberland is constructed of brick and hard stucco. Is it true stucco though? The mind races for answers. It includes a wine room, billiards room and gym.
Michael Millsopp is the founder of Link Payroll.