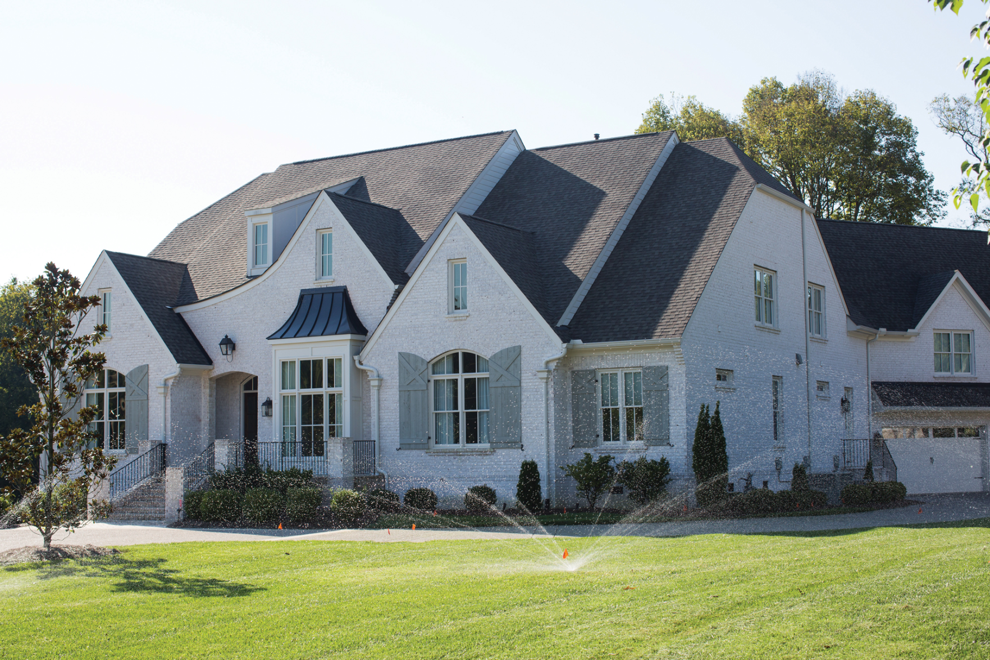 Top-flight pro athletes — a former Titans Pro Bowler and a current Los Angeles Angel who was once an All-Star — bought the top two homes on this month's list, and a former Kansas City Royals farmhand turned high-powered health care attorney comes in at No. 4.
Breaking up the sports party? Winners of one of the largest lotto jackpots in history. Also featured this month: an incredibly detail-oriented listing that apparently caught the eye of a Nashville restaurant power player.
Below are the top 10 homes sold in Nashville and surrounding counties in September, ranked by price.
1. 1020 Vaughn Crest Drive, Franklin
Buyer: Christopher P. Hope Revocable Trust
Sale price: $3.19 million
Sellers: Jose and Alina Orozco
Sellers' agent: Wallace Cartwright, Keller Williams
Buyer's agent: Lisa Culp Taylor, Parks
Former Tennessee Titans Pro Bowl safety Chris Hope is the owner of this home in the LaurelBrooke subdivision, buying the new home from builder Jose Orozco.
The six-bedroom, 11,965-square-foot Mediterranean-inspired manse features all the accoutrement one would expect in LaurelBrooke: wine cellar, oversized rooms, top-line kitchen appliances, travertine and marble. Out back, there's a cabana alongside the zero-entry, disappearing-edge pool, which also includes a waterfall.
2. 1468 Witherspoon Drive, Brentwood
Buyers: Zachary and Chelsea Cozart 
Sale price: $3,136,091
Seller: Stonegate Homes LLC
Seller's agents: Mary Kocina, Fridrich & Clark
Buyers' agent: Charyl Dew, Crye-Leike
Zack Cozart signed a three-year, $38 million contract to play shortstop for the Los Angeles Angels in December 2017, and a big chunk of that first-year salary is now invested in this newly built Brentwood home.
After making the All-Star team as a Cincinnati Red in 2017, Cozart had a disappointing 2018 — he batted just .219 in 58 games before undergoing a season-ending surgery on his shoulder. He'll complete his recuperation in style, however, as his new home, which includes a normal den, a kids' den (with built-in bunks, which frankly sounds pretty rad) and a bonus room, along with six bedrooms and the increasingly common dual laundry rooms.
3. 5017 Native Pony Trail, College Grove
Buyers: John and Lisa Robinson
Sale price: $2.95 million
Seller: Gilbert McCarter
Seller's agent: Paula Hinegardner, Keller Williams
Buyers' agent: Morgan Gilman, EXP
What does winning one of the largest lottery jackpots of all time get you? National attention, emails from relatives you never knew you had and, apparently, a six-bedroom, 9,000-square-footer in The Grove, for which the listing insists "there are just no words to describe" before offering 75 words of description.
Munford, Tenn., couple John and Lisa Robinson won one-third of the massive $1.8 billion Powerball jackpot in January 2016 and famously announced they'd continue living in their modest West Tennessee home despite their new largesse. That lasted about six months, as in July of that year, they bought a $6.2 million home. Now, two years on, they've got another seven-figure house.
While wine cellars are de rigueur to the point of banality in luxury, the lucky Robinsons' new spread includes "a custom spirits room," which is presumably a place for high-end distilled beverages and not a Ouija venue.
There's a kitchen by the pool, and the front porch swings overlook "the equestrian fields," if the Robinsons decide to give polo a go.
4. 3801 Mistico Lane, Franklin
Buyers: Scott and Kristin Kortmeyer
Sale price: $2.925 million
Seller: Alex Loyd
Seller's agents: Jane Hunter Hicks and Kim Brogli, Jane and Kim Land and Home
Buyers' agents: Caroline Kaeser Lutz and Eric Lutz, Reliant Realty
Like the first two buyers on this month's list, Scott Kortmeyer has some pro sports experience. Drafted in the 31st round of the 1995 Major League Baseball draft by this reporter's beloved Kansas City Royals, the former Arizona State Sun Devil outfielder hit a-buck-41 with 26 strikeouts in 64 at-bats for the Spokane Indians in the short-season lower-A Northwest League. 
Sensing, perhaps, that baseball wasn't going to finance a 9,900-square-foot home on 10 acres in bucolic Leiper's Fork, Kortmeyer earned a bachelor's in pre-med biology from his alma mater in 1997 and graduated from ASU's law school in 2001. He's now a partner at Norton Rose Fulbright, focusing his practice on health care (that pre-med BS did come in handy!).
5. 1314 Chickering Road, Belle Meade
Buyer: Pork Revocable Trust, John Menefee, trustee
Sale price: $2.9 million
Sellers: Dennis C. and Jean B. Bottorff
Sellers and buyer's agent: Starling Davis, Fridrich & Clark
Bucking the trend of boring trust names, the Pork Revocable Trust is the buyer of record for this home sitting on five acres in the heart of Belle Meade. Clocking in at more than 10,500 square feet, the five-bedroom house has a gazebo and vaguely described "water feature" out back.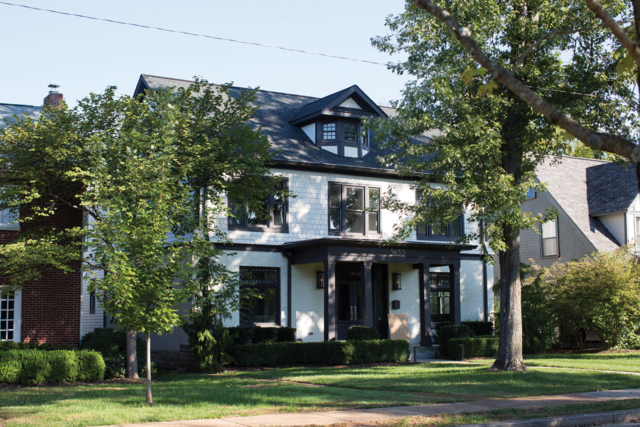 3630 Richland Ave.Photo: Daniel Meigs
6. 3630 Richland Ave., 37205
Buyer: Richland Avenue Trust
Sale price: $2.4 million
Sellers: William J. and Bonnie T. Mitchell
Sellers' agent: Bonnie Mitchell, Reliant
Buyer's agent: Justin Miller, Benchmark
Built in 1920 but recently renovated, this Richland Avenue classic is now owned by the aptly named Richland Avenue Trust (back to the boring trust names). The Mitchells turn a tidy profit on the 6,645-square-footer, having purchased it for $400,000 in 2012.
7. 6024 Hillsboro Pike, Forest Hills
Buyers: Christopher and Taryn Ward
Sale price: $2,284,317
Seller: Peace Properties LLC
Seller's agent: Marsha Simoneaux, Fridrich & Clark
Buyers' agent: Steve Fridrich, Fridrich & Clark
Christopher Ward (son of Nashville Sounds owner Frank) and wife Taryn (a former Miss Mississippi, third runner-up in the 2007 Miss America pageant and founder of WomenCanTalkSports.com) are the new owners of a spacious home on 2.2 acres on Hillsboro Pike.
The home's ground floor includes a large master suite and three of the five other bedrooms, all en suite of course. 
8. 919 Waterswood, 37220
Buyers: Howard Greenstone and Grace Hu
Sale price: $2.15 million
Seller: Wendell P. Baugh III
Seller's agent: Laura Baugh, Worth Properties
Buyers' agent: Price Lechleiter, Pilkerton
Let's talk hot water heaters. First of all, if the water is hot, there's no need to heat it, so "hot water heater" is up there with "hamburger meat" as one of those strange tautologies that Middle Tennesseans use without much thought.
Anyway, this home's hot water heater is tankless. Among the other features detailed in the listing: epoxy finish on the garage floors and nickel plating on the door hardware.
With that sort of listing, the home was bound to end up with someone detail-oriented (or someone who likes nickel-plated door hardware) like Howard Greenstone, the restaurant impresario behind Adele's and The 404 Kitchen.  
9. 31 Inveraray, 37215
Buyers: Christopher and Karmyn Conk
Sale price: $2.1 million
Seller: The Brick Family Trust
Seller's agents: Richard Courtney and Stephanie Tipton Soper, Christianson, Patterson, Courtney & Associates
Buyers' agent: Lori Conk, Coldwell Banker Barnes
Despite its Italianate architecture, its street named for a Scottish castle and its subdivision named for an English county, this Northumberland stunner was built for an Ulsterman.
The late Ian Brick, whose estate sold the home, was born in East Belfast, Northern Ireland, U.K., and settled in Nashville in 1987. He started a pharmaceutical company three years later, selling it four years after that, and then he retired. He spearheaded the effort that twinned Nashville and Belfast as sister cities. Moreover, he made a $1 million donation to Queen's University Belfast, where the student union bar is named "Brickie's" in his honor, and he added a prestigious acronym after his name when Her Majesty made him an Officer of the Order of the British Empire. Brick died in 2015.
Chris Conk is the senior vice president of Montecito Medical Real Estate, the largest privately held owner of medical real estate in the country.
10. 858 Windstone Blvd., Brentwood
Buyer: Carmen R. Moseley
Sale price: $1.9 million
Seller: Wolf Living Trust
Seller and buyer's agents: Patti Wolf and Michael Cadle, Benchmark Realty
As if getting a 6,100-square-foot home in Windstone (or as the listing calls it, "WINDSTONE!") nearly $150,000 below list wasn't good enough, this one comes fully furnished. In addition to a standard-issue pool (or as the listing calls it, "POOL"), there's a waterfall and a kiddie pool, too.
The home also includes an "ELEVATOR" and has its "MASTER, GUEST SUITE, AND STUDY ALL ON MAIN LEVEL."