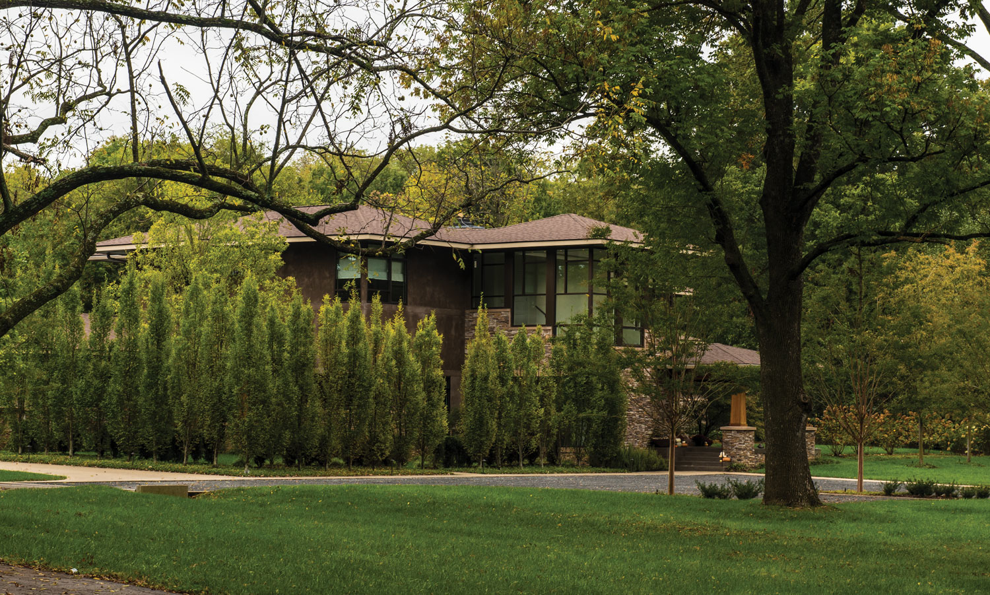 Last month in area home sales, Reba's ex-husband got his own treehouse, Preds star Ryan Johansen turned his mega contract into a mega home, and a bunch of non-stars bought big houses — basically, a pretty normal month for Headline Homes. Big sales in Brentwood, Belle Meade and Franklin make up the bulk of the list, with swimming pools, equestrian estates and cozy in-town mansions.
Below are September's top 10 home sales in Nashville and the surrounding counties, ranked by sale price.
1. 502 Park Hill Drive, Nashville 37205
Buyer: Park Hill Drive Land Trust
Sale price: $4 million
Sellers: Susan W. and W. Lucas Simons, trustees
Sellers' agent: Richard B. French, French King Fine Properties
Buyer's agent: Unknown
The Simons — Susan is an artist and art collector and Lucas is a longtime health care banker — sold this five-bedroom, seven-bathroom home, which spans nearly 9,000 square feet. The Belle Meade house comes complete with a swimming pool and three fireplaces.
2. 4400 Franklin Pike, Nashville 37204
Buyer: Ryan B. Johansen
Sale price: $3.85 million
Sellers: Kimberly and James D. Lewis
Sellers' agent: Lisa Fernandez-Wilson and Timothy King, French King Fine Properties
Buyer's agent: Carrie Zeier, RE/MAX Elite
Unlike many other stars in the market for a new home, Nashville Predators center Ryan Johansen did not hide behind an anonymous trust when buying this 7,635-square-foot Franklin Pike abode. Instead, he signed his name on the dotted line, just as he did earlier this summer when he signed a new $64 million contract with the Preds. The four-bedroom "architectural and interior design masterpiece" cost a pretty penny, but Johansen will make more than twice the cost of the house this season alone.
3. 409 Ellendale Ave., Nashville 37205
Buyers: Gregory L. and Andrew W. Powell
Sale price: $2.55 million
Seller: The 409 Ellendale Avenue Land Trust
Seller's agent: Anne A. McGugin, Fridrich & Clark Realty
Buyers' agent: Unknown
With a "stunning European design," this nearly 8,000-square-foot home comes complete with five bedrooms, three fireplaces and a connected guest house. The wine cellar, elevator and screened-in porch help make the Belle Meade home "perfect for entertaining and family living," as the listing put it.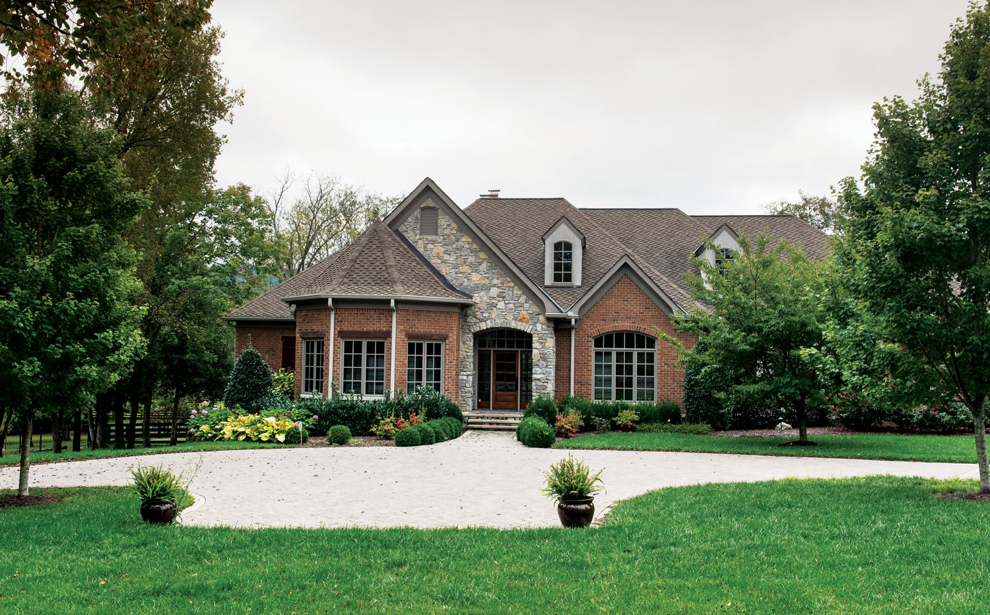 4. 1139 Battery Lane, Nashville 37220
Buyers: Mickey L. and Jan Harlow
Sale price: $2.395 million
Sellers: Victor E. and Katherine E. Giovanetti
Sellers' agent: Molly McAllester Tarpy and Susan Harris, Realty Trust Residential
Buyers' agent: Hannah Stephenson, King Realty
The sellers of this "custom gated estate" are Katherine and Victor Giovanetti, the latter an executive at Brentwood-based LifePoint Health. With a chef's kitchen, open layout and outdoor pool and fire pit, it's described in the listing as an "entertainer's home."
5. 1150 Travelers Ridge Drive, Nashville 37220
Buyer: Narvel W. Blackstock
Sale price: $2.25 million
Sellers: Thomas and Tammy Olin
Sellers' agent: Stephanie Brooks and Annie Hickerson, Zeitlin & Co., Realtors
Buyer's agent: Laura Stroud, French King Fine Properties
Reba McEntire's ex-husband Narvel Blackstock bought this "soft contemporary tree house" with the help of agent Laura Stroud, a friend of the couple's to whom Blackstock was linked by gossip rags after his 2016 divorce from the country superstar. McEntire herself graced the pages of Headline Homes back in July when a trust controlled by Blackstock and herself sold their 83-acre property in Lebanon. Blackstock's new home includes four porches and five decks and was designed by Nashville architect Robert Anderson.
6. 4215 Two Rivers Lane, Franklin 37069
Buyers: F. Shane and Angela J. Alexander
Sale price: $2.2 million
Sellers: Kaylene J. and Chine Logan
Sellers and buyers' agent: Judy Williams and Richard Williams, Crye-Leike
This 10,000-square-foot "Equestrian Estate" in the Two Rivers neighborhood of Franklin comes complete with a saltwater pool, a gate to keep out intruders and a framed Confederate flag. While it's unclear whether the flag will survive the ownership transfer, the poolside pavilion, home gym, wet bar and water slide surely will.
7. 9218 Concord Road, Brentwood 37027
Buyers: Raman G. and Suresh G. Dayal
Sale price: $2,025,000
Sellers: Karen F. and David Andrew Slusser
Sellers' agent: Cindy Looney, Pilkerton Realtors
Buyers' agent: Unknown
Situated on 10 acres within Brentwood city limits, this 1968 construction has been "renovated to the studs." The large open floor plan features a wall of windows overlooking a pool and spa area, and there's a "meticulously maintained" yard. The listing touts the development potential of the large property.
8. 1204 Round Grove Court, Brentwood 37027
Buyer: The 1204 Round Grove Trust
Sale price: $1,924,900
Seller: Trace Construction Inc.
Seller's agent: John Spoon and Matt Burhart, PARKS
Buyer's agent: Janet Denton Gatewood, Pilkerton Realtors
The trustee for the entity that bought this "custom modern farm house" is a California-based talent manager who has represented Meat Loaf and Seether. While it's unclear if either of those superstars is behind the purchase, we would do anything for this home "loaded with tons of custom designer features," including two separate "powder rooms." As one of the first homes in Brentwood gated community Cartwright Close, it's "an extremely desirable place to call home."
9. 1 Carriage Hill, Nashville 37205
Buyers: Kevin H. and Jessica Douglas
Sale price: $1,825,000
Sellers: Ann K. and H. Rex Hammock
Sellers' agent: Elaine Reed, Worth Properties LLC
Buyers' agent: Cathie Cato Renken, French King Fine Properties
This is a rare find, the listing says, "integrating yesterday's character with today's standards." The home is located on a corner lot in Belle Meade and includes a carriage house and garage. With original hardwoods and tall ceilings, this 4,410-square-foot home is "lovingly maintained."
10.  827 Tyne Blvd., Nashville 37220
Buyers: Victor E. and Katherine E. Giovanetti
Sale price: $1.8 million
Sellers: Gary T. and Suzanne S. Byrd
Sellers' agent: Betsy Peebles, Pilkerton Realtors
Buyers' agent: Susan Harris, Realty Trust Residential, LLC
The Giovanettis traded their Battery Lane home (see No. 4) for this one, with a "gorgeous back yard," pool and "stunning" pool house. It has extensive millwork, hardwood floors and a "wonderful floor plan" with an open kitchen. As the listing so succinctly describes the 8,250-square-foot residence, "this home has it all."