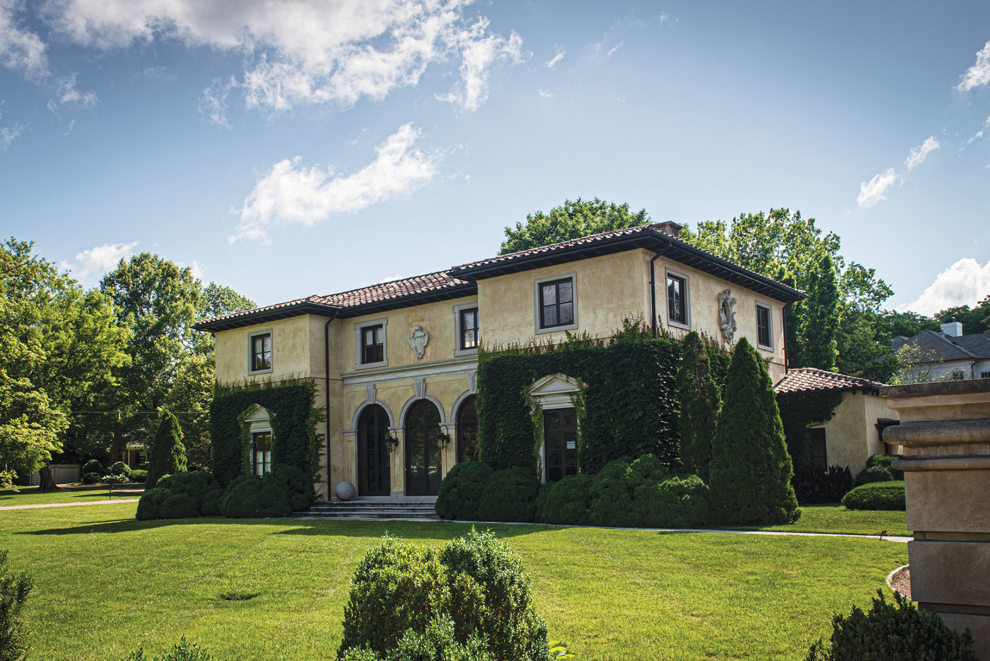 Franklin: Where are you?
For the first time in recent memory, Williamson County's seat makes nary an appearance on our monthly list of high-end home sales. Indeed, all 10 entries make a pleasant little cluster of Brentwood and southwest Davidson County's usual suspects.
Among the buyers and sellers: the scion of a pair of wealthy Nashville families (in fact, she appears on both sides of the ledger); the scion of country music royalty; a former Nashville Predator; roofing magnates; and a couple of well-known men on the business side of music. Not making an appearance: the airport.
1. 4333 Glen Eden Drive, Belle Meade
Buyer: 4333 Glen Eden Trust 
Sale price: $5.25 million
Seller: Caroline Cooke Wilson
Seller's agent: Steve Fridrich, Fridrich & Clark
Buyer's agent: Whit Clark, Fridrich & Clark
The home currently at 4333 Glen Eden is less than 20 years old, built after the property's longtime owner — the Board of Trustees of the University of Nashville, which is better known as Montgomery Bell Academy — sold it back to the descendants of the folks who sold it to MBA in the first place some 45 years earlier.
That family was the powerful and wealthy Potter-Wilson clan. David K. Wilson founded the Cherokee Equity Association in the 1940s and was later chairman of Genesco, while also sitting on the boards of numerous local banks and Cumberland University, and serving on Vanderbilt University's Board of Trust. He was one of the founders of the Tennessee Performing Arts Center and endowed numerous professorships at Vanderbilt. He was also one of the state's prominent Republican donors at a time when such a thing was unusual. He married Anne Potter, daughter of Jet Potter, owner of numerous coal concerns and a famous opponent of the Tennessee Valley Authority, which he called "a communist rathole." Among the Wilsons' children: Justin Wilson, Tennessee's current Comptroller of the Treasury.
The new owners could certainly be just as prominent and are certainly wealthy, having paid more than $5 million for the 10,000-square-foot home. But they chose to hide behind a boringly named trust.
2. 700 Belle Meade Blvd., Belle Meade
Buyer: Caroline Cooke Wilson
Sale price: $3.9 million
Sellers: Michael J. and Mary C. Spalding
Sellers' agent: Jennie Garth Lovvorn, Fridrich & Clark
Buyer's agent: Steve Fridrich, Fridrich & Clark
Congratulations to Caroline Cooke Wilson, who pocketed $1.35 million by selling the home at No. 1, moving a mile south to the corner of the Boulevard and Iroquois Avenue and "downsizing" to "just" 6,500 square feet.
Built in 2004, the home evokes Italian villas (villae?) and has a 14-foot ceiling actually shipped in from Italy. There are "lush" gardens out back along with a conservatory.
Seller Michael Spalding is a retired Nashville urologist and Republican donor who earned headlines in 2014 for starting a foundation that provided financial aid to the children of undocumented immigrants.
3. 5223 Lysander Lane, Brentwood
Buyers: Vincent S. and Aimee R. DeCamillo
Sale price: $3.7 million
Seller: Moe Lytle
Seller's agent: Mike Lytle, Foxview Realty
Buyers' agent: Dorothy Curtis, Zeitlin/Sotheby's International
Let's hope Aimee DeCamillo — Jackson National's new chief commercial officer and president of its marketing arm — and her husband Vincent are the partying type. The listing for this 14,680-square-footer says it's a "the ultimate estate for entertaining."
At nearly 15,000 square feet, in fairness, it's probably the ultimate estate for most anything.
In addition to its six bedrooms and seven baths, the home features a climate-controlled six-car garage.
Seller Moe Lytle is a songwriter and owner of King Records, originally Gusto Records, a label that specializes in licensing and re-releasing classic songs. King/Gusto made headlines a number of times, first in the 1990s when the label was sued by The Kingsmen. Gusto owned the original recordings of "Louie, Louie" made for Wand Records, and the band claimed they hadn't been paid royalties in more than 30 years. Eventually, a court gave ownership of the recordings to the band. Later, King/Gusto was ordered to pay back royalties to scores of other artists — a large portion of the company's catalog consists of recordings made in the 1970s by artists who had previously recorded the same songs for other companies.
4. 1200 Round Grove Court, Brentwood
Buyers: Tammy Wilson and Mike T. Ribeiro
Sale price: $2,774,900
Sellers: Trace Construction
Sellers' agents: John Spoon and Matt Burhart, Parks
Buyers' agent: Chris Mannino, Re/Max Homes and Estates, Lipman Group
Former Nashville Predator center Mike Ribeiro doesn't pass on this new build, a custom five-bedroom, 6,500-square-footer from Trace. Sitting on nearly four acres, the home has two garages and a custom pool.
5. 862 Windstone Blvd., Brentwood
Buyers: Scott G. and Jennifer S. Blackman
Sale price: $2.75 million
Seller: Cary I. Glotzer
Seller's agent: Carie Zeier, Re/Max Homes and Estates, Lipman Group
Buyers' agents: Caroline Cook and Melanie Jeansonne, Worth Properties 
Cary Glotzer, CEO of sports and entertainment production company Tupelo Raycom, sells his home for a meager profit — he paid $2.725 million for it in 2015 — to orthodontist Scott Blackman.
The home, originally built by builder Justin Davis for himself, includes a glass wall overlooking a heated pool.
6. 9233 Old Smyrna Road, Brentwood
Buyer: Janay S. Jones
Sale price: $2.65 million
Sellers: Gary B. and Tina M. Ferguson
Sellers' agent: Loy Hardcastle, Parks
Buyer's agent: Leigh Ann Cyphers, Weichert Realtors/The Andrews Group
Brentwood's Greystone Farms, a 10-acre equestrian spread with three paddocks, comes in at No. 6 on the list this month. Included alongside the 8,200-square-foot farmhouse: a pond, a saltwater pool and a "bath" (presumably for the horses?).
7. (Tie) 3910 Wayland Drive, 37215
Buyer: BNA Holdings LLC
Sale price: $2.6 million
Sellers: Chase and Angela Myers 
Sellers and buyer's agent: Beth Molteni, Fridrich & Clark
This acre lot is in that weird pocket between Belle Meade and the Hills both Oak and Forest that to a casual cartography enthusiast seems like it could be part of any one of the three tony satellite cities — but is actually not part of any of them. Fun fact: In the parlance of the Census Bureau, those living in Metro but not in a satellite city are residents of "Nashville-Davidson (balance)."
And despite the name of the buyer, this will not be the new location of the airport, what with all the hills and trees and the fact it's only a single acre. (Fun fact: The Metro Nashville Airport Authority is the largest landowner in Davidson County; the largest private landowner is the Andrew Jackson Foundation, formerly known as the Ladies Hermitage Association.)
7. (Tie) 6129 Hillsboro Pike, Forest Hills
Buyer: 6129 Hillsboro LLC
Sale price: $2.6 million
Seller: Holly A. Williams
Seller's agents: Laura Stroud and Lisa Fernandez-Wilson, French King Fine Properties
Buyer's agent: Laura Stroud, French King Fine Properties
Built in 1940 by famed Nashville architect Edwin Keeble, this 6,347-square-foot house was the longtime home of car sales magnate Bill Trickett. Sitting on 5.5 acres in Forest Hills, the home includes "embassy-sized bedrooms" and "tons of storage." There's a barn out back that is used as an entertaining venue.
The purchasing LLC has an address in a Key Biscayne, Fla., strip mall. Seller Holly Williams is the daughter of Hank Williams Jr. and thus the granddaughter of Hank Sr. She's also a gifted singer-songwriter in her own right.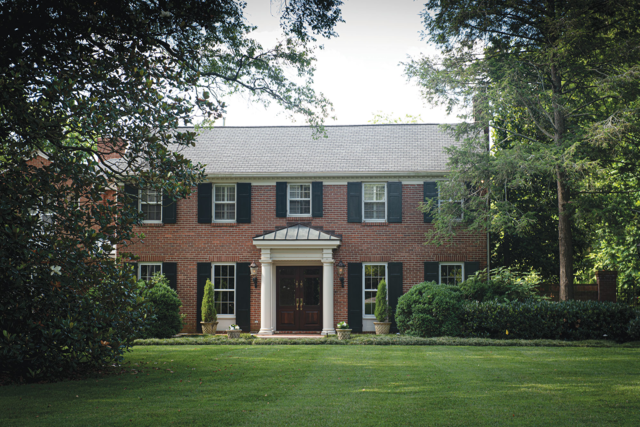 2303 Hampton Ave.Photo: Eric England
9. 2303 Hampton Ave., 37215
Buyers: Damon and McLean Barbieri
Sale price: $2.495 million
Sellers: David and Karen Conrad
Sellers' agent: Amanda Bates, Keller Williams 
Buyers' agent: Mary Brooke Bonadies, Village
Built in 1930 but recently renovated and expanded, this home's open floor plan, large lawn, gardens and heated pool make for "an entertainer's dream."
Damon Barbieri is a local orthodontist, and McLean Barbieri is an interior designer and partner at Annali Interiors. David Conrad is a music publisher and was, among other things, the A&R chief at Mercury Nashville.
10. 8905 Palmer Way, Brentwood
Buyers: Roger S. and Penny S. Austermiller
Sale price: $2.335 million
Seller: Arnold Homes LLC
Seller's agent: Laura Baugh, Worth Properties
Buyers' agent: Amanda Morris, Keller Williams
The Austermillers will be the first owners of this home, completed late last year in a gated 10-home development tucked between Interstate 65 and Wilson Pike.
All six bedrooms are en-suite, the children's bedrooms come with pre-installed bunk beds, and the rec room already has a bar.
The Austermillers own an eponymous Wilson County roofing business.