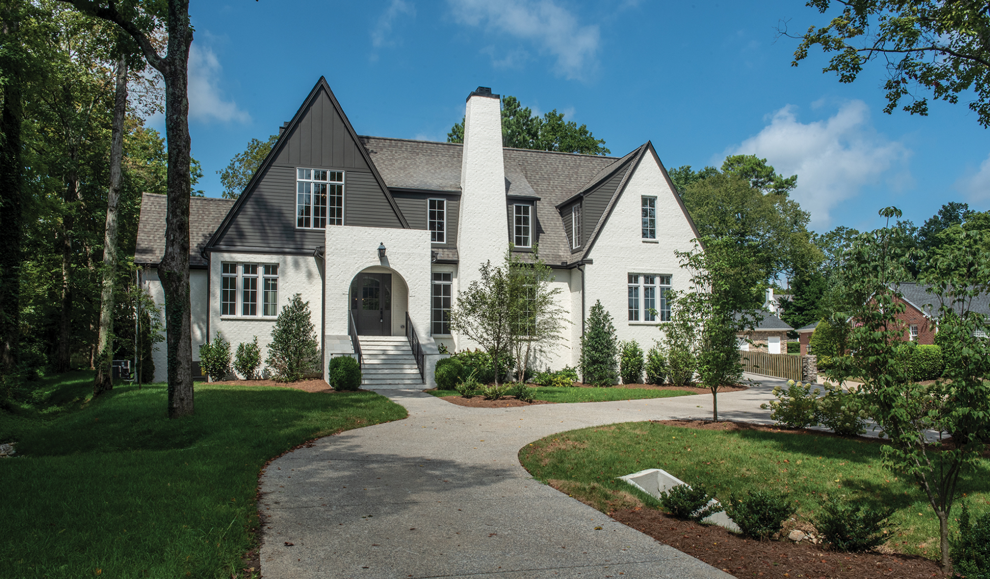 It takes more than half the list — including a stop in Hurricane Mills, of all places — before the first Davidson County property shows up in this installment of our monthly rundown of high-dollar home sales.
Dominated again by Brentwood, as it has been frequently since the spring, the list features as many entries from the aforementioned Humphreys County jerkwater and the similarly sized hamlet of Hampshire as it does from Belle Meade.
Beyond the wooded retreats from the far-flung burgs, this month's Headline Homes includes a spot that was in the supporting cast of a cooking show, an unusual auction and some relocating executives.
1. 700 Brass Lantern Place, Brentwood
Buyers: Ronald K. and Sharon C. Jones
Sale price: $2.825 million
Seller: Kevin Griggs
Seller's agent: Janis J. Martin, Keller Williams Buyers' agent: Brandon Jones, Exit Realty Music City
Nashville attorney Ron Jones and his wife Sharon are the new owners of this month's top home: a 9,561-square-foot, five-bedroom house on two acres in Brentwood's tony Brass Lantern Farm development. The house includes balconies and porches galore and a saltwater pool.
It also seems to revel in redundancy: two staircases, two laundry rooms, two outdoor fireplaces, two tankless water heaters and, for some reason, four dishwashers. It does not, however, have a well. There is a wellhead drilled, which makes some sense, as the seller is Petroleum Exporters Inc. owner Kevin Griggs.
2. 920 Tumbling Creek Road, Hurricane Mills
Buyer: Patricia Ligon
Sale price: $2.7 million
Seller: Tumbling Duck Farm Partners LLC
Seller's agents: Don McEwen and John McEwen, McEwen Group 
Buyer's agent: Walker Hoye, McEwen Group 
Tumbling Duck Farm — named for Tumbling Creek and the Duck River, not for the unacrobatic action of anatines after finding themselves on the wrong side of a shotgun shell — gives Hurricane Mills, best known as the home of Loretta Lynn, a rare Headline Homes entry. The custom home is a charming 4,400-square-footer overlooking a spring and a valley, but the appeal here is the land. There's 600 acres of it, crisscrossed by the aforementioned waterways and their tributaries, all teeming with bass and trout.
 3. 611 Fair St., Franklin
Buyer: Sarah Lisa Palmer
Sale price: $2.6 million
Seller: Garden Gate Development LLC
Seller's agents: Danny R. Anderson and Lisa Culp Taylor, Parks
Buyer's agent: Reid Anderson, Parks
Anyone who has watched Food Network's Martina's Table — featuring country star and Tennessee Titans lucky charm Martina McBride — should recognize this home (and also harangue the cable station into giving the program a second season). The "farmhouse" that serves as the setting for McBride's culinary adventures is actually in the thick of downtown Franklin.
Built in 2017, the 7,500-square-foot home includes a small apartment, plus "antique doors" and "classic finishes." Presumably, it also has a nice kitchen.
4. 28 Governors Way, Brentwood
Buyer: Distinctive Design Homes
Sale price: $2,524,500 
Seller: The Estate of Jerry Matthews
Seller's agent: Laura Baugh
Buyer's agent: Paula Duvall, Benchmark
An unusual one here, as Jerry Matthews' estate was ordered to sell this 25-room Governors Club home at auction after his death. At the May 25 auction, Distinctive Design Homes — which actually built this and many other homes in the subdivision — paid $3.4 million for it, though the sale is listed at the above price.
It doesn't appear to have sold again, and in any case, DDH took out a construction loan against the property.
5. 9240 Lehigh Drive, Brentwood
Buyer: Dan Schneider
Sale price: $2,360,725
Seller: Legend Homes LLC
Seller's agent: Mary A. Kocina, Fridrich & Clark
Buyer's agent: Nik Shewmaker, Parks
Schneider is the first owner of this home, completed July 20 in Brentwood's Witherspoon subdivision. Sitting on a three-quarter-acre corner lot, the 6,840-square-footer (with a 1,936-square-foot basement) features two covered porches, including one with an outdoor kitchen, and a four-car garage.
Deed geeks might notice that Schneider's mortgage came from the Bank of England. No, it is not the United Kingdom's central bank issuing home loans from its famous offices on Threadneedle Street. It's the Bank of England founded in England, Ark.
6. 4217 Lindawood Drive, 37215
Buyers: Andrew R. and Brittany Boll
Sale price: $2.2 million
Seller: The Baird Graham Co. LLC
Seller's agents: Lacey Newman and Jonathan Heard, Compass Real Estate
Buyers' agent: Whit Clark, Fridrich & Clark
Andrew Boll, chief financial officer of Harrow Health — a company with numerous health care holdings that recently announced it is relocating from San Diego to Nashville — and his wife Brittany are the new owners of this new home built by Baird Graham. It's also our first Davidson County entry this month. The five-bedroom, five-bath house checks in at 5,910 square feet.
7. 4031 Sneed Road, 37215
Buyers: Dorothea R. and Charles W. Fawcett III
Sale price: $2,182,500
Seller: Oxford Blues LLC
Seller's agent: Allen Huggins, WH Properties
Buyers' agent: Leigh Ann Cyphers, Weichert Realty — The Andrews Group
A tear-down on Sneed Road was replaced by this white brick home completed in late June.
The five-bedroom, five-and-a-half-bath 5,900-square-footer includes a built-in sound system and a three-car garage.
New owner Chuck Fawcett founded Animax Designs in 1989 when he was 21. It's now one of the world's leading puppetry and animatronics companies.
8. (Tie) 107 Treemont Lane, Franklin
Buyers: Richard and Elizabeth Wiggington
Sale price: $2.15 million
Seller: McKeller Real Estate Investment Co. Ltd.
Seller's agent: Corbi Parker, Corbi and Company
Buyers' agents: Mara Thompson and Tim Bennett, Fridrich & Clark
On a three-acre lot stretching to the top of a ridge sits this "heirloom worthy" home near Cool Springs. The house includes "gorgeous formal areas" and a "chef's kitchen," plus a dog-washing station. There's a saltwater pool out back that, like the formal areas, is "gorgeous."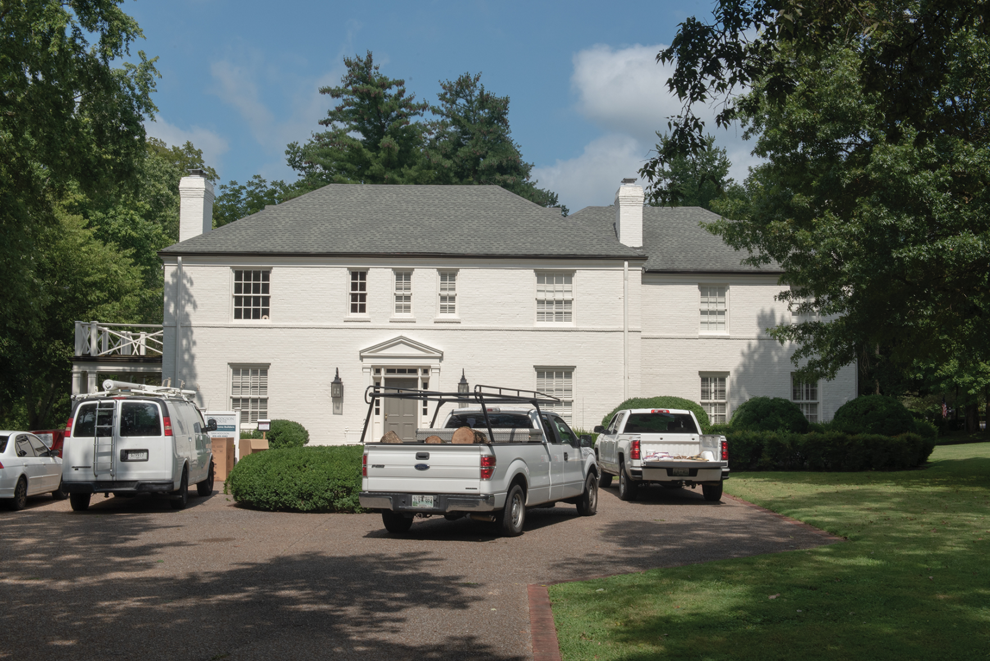 8. (Tie) 301 Belle Meade Blvd., Belle Meade
Buyers: Lynde E. and John H. Pontius Jr.
Sale price: $2.15 million
Sellers: Alvie C. and Kelly K. Richardson
Sellers' agent: Anne McGugin, Fridrich & Clark
Buyers' agent: Shelly Bearden, Worth Properties
It seems the past few months have seen a run of stately old homes on Belle Meade Boulevard. This month's entry was built in 1939, but it recently received an update, particularly in the kitchen. There are five bedrooms and two laundries, and multiple terraces overlook the backyard pool.
Successful (and extremely wealthy and well-connected) businessman John H. Pontius Jr., formerly Memphis-based, is the buyer.
10. 658 Catheys Creek Road, Hampshire
Buyer: William B. Kent
Sale price: $2.143 million
Sellers: Johnnie M. and Bryan Godwin
Sellers' agent: Lisa Peebles, Benchmark 
Buyer's agent: Unknown
Rare indeed is the Headline Home address in Hampshire (like Hurricane Mills, it hardly happens). This one, though, gets a little rarer in that it is not even in Hampshire proper, which is in Maury County; 658 Catheys Creek is across the line in Lewis County.
The big attraction is that the 13-year-old home sits on 670 acres, a property that includes numerous riding trails, a stocked pond and a 20-foot waterfall.