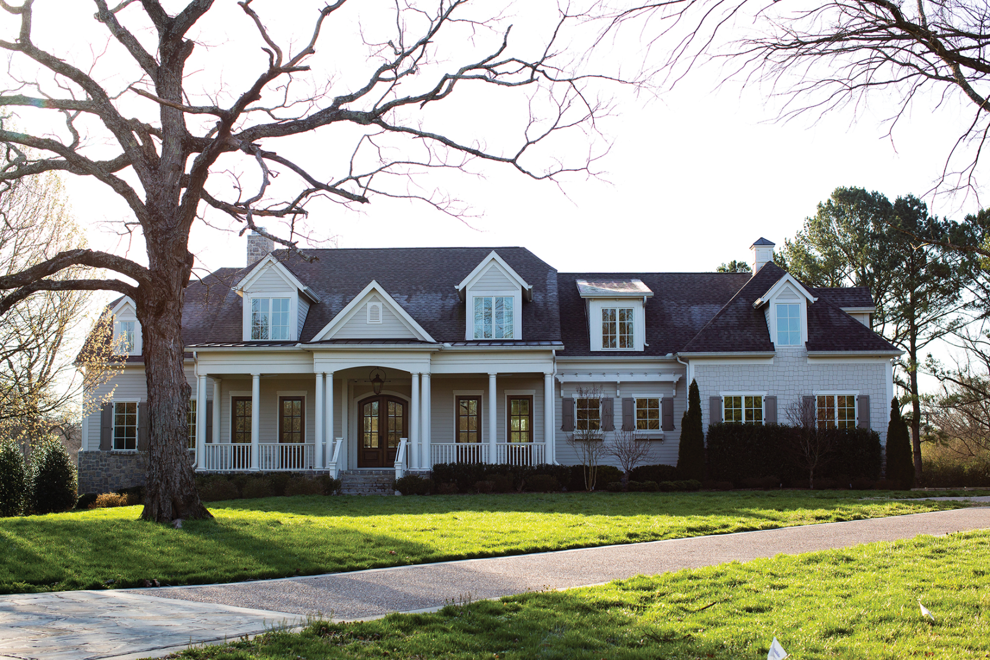 An eclectic collection of homes features in this month's countdown of the area's top real estate sales. There's a relatively new log cabin made from a trio of very old log cabins, a couple of farmhouses that aren't on farms, a house that is on a farm but doesn't call itself a farmhouse, a recognizable West Nashville home and a record-setting condo.
As always, the following is a list of the top 10 homes sold in February in Nashville and surrounding counties ranked by sales price.
1. 4498 Dyke Bennett Road, Franklin
Buyer: 4498 Dyke Bennett Trust; William T. Chapman IV, trustee
Sale price: $3 million
Seller: Denise A. Thomas
Seller's agent: Loy Hardcastle, Parks
Buyer's agent: Richard B. French, French King Fine Properties
Though the home itself is just 13 years old, the guts of this month's top seller go way back, as the 2,700-square-foot log cabin is built from logs reclaimed from a trio of early 19th-century log cabins. 
Sitting on 126 wooded acres, the home features reclaimed poplar flooring, two stone fireplaces, double porches, and copper roof and gutters. Included on the land is a 2-acre spring-fed pond surrounded by charming knolls.
2. 1465 Witherspoon Drive, Brentwood
Buyer: LCCM Trust; Charles Robert Bone, trustee
Sale price: $2.725 million
Seller: Keith Schumacher
Seller's agent: Mary Kocina, Fridrich & Clark
Buyer's agent: Steve Fridrich, Fridrich & Clark
This new build in Brentwood's tony Witherspoon subdivision clocks in at a smidge north of 8,000 square feet and sits on an acre lot providing a view of the surrounding neighborhood and park.
The home features five fireplaces, 12-foot ceilings, a climate-controlled wine room, a stunning circular staircase (plus an elevator for those uninterested in climbing stunning circular staircases) and floors of reclaimed oak barnwood. The kitchen is preloaded with all the usual high-end appliances, and there's room for a pool out back, beyond the four-car garage.
3. 4032 Overbrook Court, Oak Hill
Buyer: 4032 Overbrook Court Trust; Warner Jones, trustee
Sale price: $2.375 million
Seller: 4032 Overbrook Court Nominee Trust; Michael Sontag, trustee
Seller's agent: Richard F. Bryan, Fridrich & Clark
Buyer's agent: Leslie Hill, The Wilson Group
Spend enough time with listings for luxury homes and it becomes apparent that even with seven-figure transactions, it's the little things that make a difference. For example, if a home in Oak Hill is on a flat piece of property, it's a guarantee the real estate agent is going to note it in the listing, usually in all-caps: "RARE LEVEL LOT IN OAK HILL." On the one hand, it might seem odd that someone spending a couple mil on a house would care all that much. On the other, someone shelling out that kind of dosh might as well get a piece of property that doesn't require the sure-footedness of a mountain goat to navigate.
In any event, in addition to the aforementioned rare level lot, this 3-year-old, 7,100-square-foot home has a pair of wood-burning fireplaces and a kitchen with a pair of islands, plus an outdoor kitchen with a fire pit. And yes, the lot is level enough that a pool is a possibility.
4. 1204 Round Grove Court, Brentwood
Buyers: Christopher and Gina Drazan
Sale price: $2.3 million
Seller: 1204 Round Grove Trust
Seller's agent: Janet Denton Greenwood, Pilkerton
Buyers' agent: Kim Brogli, Jane and Kim Land and Home
Disappointingly for all the Middle Tennessee followers of the Austrian Erste Liga, buyer Christopher Drazan is not the midfielder for SC Austria Lustenau. This Christopher Drazan has not been capped three times for Österreichische Fußballnationalmannschaft, though he is a founder and managing partner at Radian, a business consultancy.
This two-year-old "farmhouse" in the heart of Brentwood (can it be a farmhouse if it's in the heart of Brentwood and isn't on a farm?) includes all the mod cons, plus a dog run off the back porch. The wine fridge, however, did not come over in the purchase.
5. 215 Arrowhead Road, Franklin
Buyers: David Frank Alfonso and Susan Singer-Alfonso
Sale price: $2.25 million
Seller: Walk the Walk Family Trust
Seller's agents: Tim Thompson and Tess Thompson Singer, Tim Thompson Premier Realtors
Buyers' agent: Tim Thompson, Tim Thompson Premier Realtors
We have back-to-back dubious claims to farmhouse status, though this "farmhouse" at least sits on 6 acres and, at least, is in a relatively bucolic setting compared to its colleague at No. 4. Though, again, there's no indication any crops are being grown nearby.
This home does have a mudroom, though, and a kitchen with marble countertops and luxury appliances. So on the off chance someone wanted to do farming, there would be a place to drop off dirty work boots and a place to cook up all the fresh produce.
6. 3120 Forrest Park Ave., 37215
Buyers: Benjamin L. and Andrea Hickok
Sale price: $2,204,640
Sellers: Edgar and Mary Lou Johnson
Sellers' agent: Steve Fridrich, Fridrich & Clark
Buyers' agent: Wanda Maynord, First Realty
Even with the area's boom-boom growth and the proliferation of high-end subdivisions, the neighborhoods around Bowling Avenue remain desirable enough that the homes practically sell themselves. As an example, the listing for this 22-year-old, 6,500-square-foot home is devoid of all but the most basic information. It does note it has four bedrooms and four-and-a-half bathrooms, with the master bath featuring double vanities. The home includes an office, exercise room and a formal dining room.
Buyer Benjamin Hickok is assistant vice president for internal audit at HCA. Andrea Hickok is the district manager for Aldi.
7. 1212 Laurel Ave., Apartment 2307, 37203
Buyer: 2307 Laurel LLC
Sale price: $2.125 million
Seller: John E. Murdock III, trustee
Seller's agents: Laura Stroud and Lisa Fernandez-Wilson, French King Fine Properties
Buyer's agent: Jennifer Cooke and Laura Baugh, Worth Properties
When it first sold in 2015 for $1.5 million, the penthouse at Gulch tower Twelve Twelve was the most expensive condo deal in Nashville history. It breaks its own record with its latest transaction, a boffo deal topping $2 million.
Whoever is represented by 2307 Laurel LLC — the mailing address matches Malibu Management, a management firm in, uh, Malibu — picks up a nearly 2,000-square-foot condo with two bedrooms and two-and-a-half baths and, of course, stellar views of the city. Among the high-end features: motorized drapes, a floating bar and — brace yourselves — dual-flush toilets.
8. 3243 Kinnard Springs Road, Franklin 
Buyers: Steve and February Wyse
Sale price: $2.025 million
Seller: Craig Andrews
Seller's agent: Heidi Green, Synergy
Buyers' agent: Brent Thompson, Tim Thompson Premier
Sitting on 15 acres prime for equestrian uses, this 2-year-old, 3,500-square-footer has reclaimed hardwood floors and two stone fireplaces inside and a half-acre pond and saltwater pool out back.
Steven Wyse — founder of scaffolding company Granite Industries and a car collector whose collection often shows up on the bingeable broadcasts of Mecum Auto Auctions — first showed up in Headline Homes four years ago with the purchase of another rural Williamson County escape.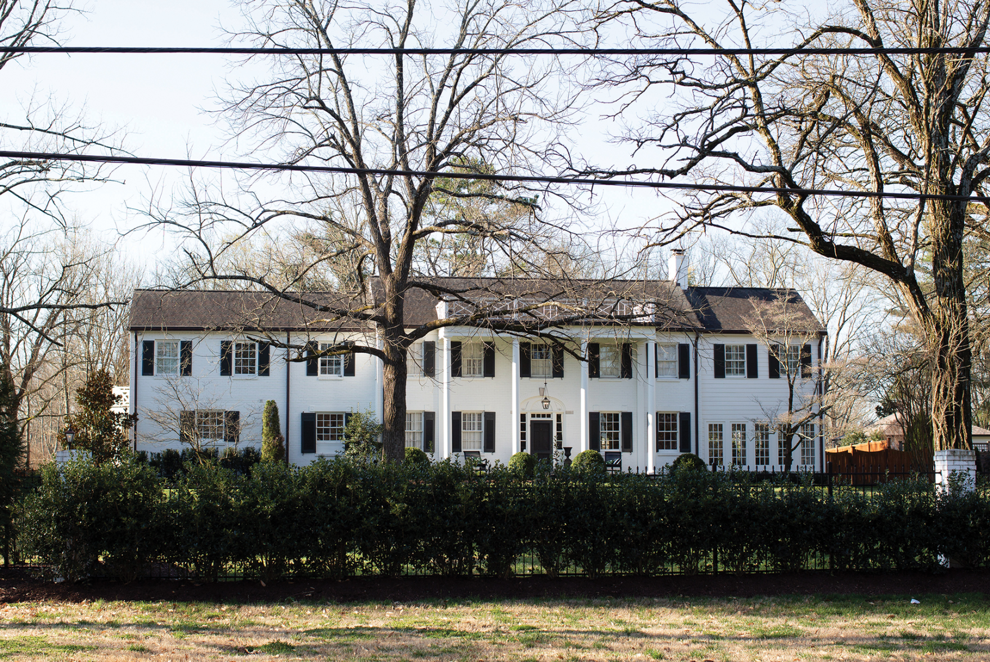 3517 Woodmont Blvd.Photo: Daniel Meigs
9. 3517 Woodmont Blvd., 37215
Buyers: Wade and Erinn Bushman
Sale price: $1.645 million
Sellers: Christopher and Karmyn Conk
Sellers' agent: Lori Conk, Coldwell Banker Barnes
Buyers' agent: Mike Conrad, SilverPointe
Anyone who traverses the back way to Green Hills knows this home: the big white colonial at the top of the Bowling Avenue-Woodmont Boulevard T.
Built in 1935 and checking in at 6,000 square feet, the West Side classic features a covered back porch, lush yard and a spacious Florida room.
10. 507 Rochester Close, Franklin
Buyers: William and Holly Watson
Sale price: $1,639,949
Seller: Montgomery Classic Construction
Seller's agents: Lisa Cahalan, Westhaven Realty
Buyers' agent: Kelly Dougherty, Village
This month's list wraps up with a new build — check out the highly specific price — in Franklin's Westhaven development. In addition to the four-bedroom, 5,500-square-foot house, the Watsons get access to the subdivision's common amenities: clubhouse, fitness center, pool, tennis courts and so on.