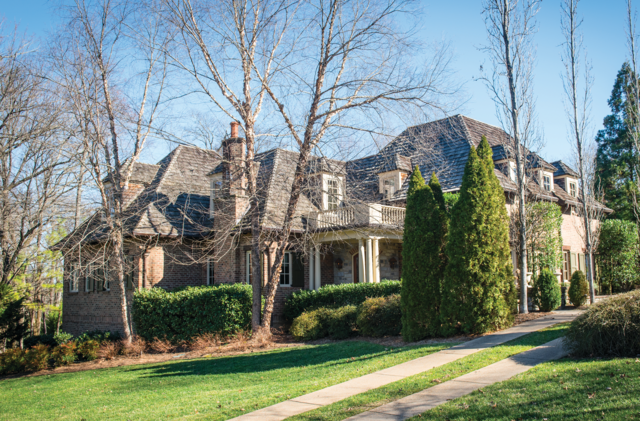 504 Westview Ave.Photo: Eric England
This month's list of the priciest Middle Tennessee home sales includes connections to two men named William Edmondson. That's the kind of Midstate nerd-out moment only Headline Homes can provide. But it also features one of Williamson County's oldest homes, Belle Meade's highest-altitude home, an Olympic gold medalist and "interactive chairs."
As always, below you'll find the top 10 homes in Nashville and the surrounding counties sold last month, ranked by price.
1. 9571 Liberty Church Road, Brentwood
Buyers: David P. and Katherine C. Market
Sale price: $3.1 million
Seller: Mark S. Finkelstein
Seller's agent: Leslie Siers Finkelstein, Keller Williams
Buyers' agent: Daren K. Rippy, Keller Williams
Liberty Hill Farm, one of the oldest homes in Williamson County, tops December's list. Its oldest extant structure — a log cabin built in 1796 — is now a breakfast nook. The property was originally a land grant for a North Carolina Revolutionary War veteran who sold it to a speculator who died before he could subdivide and resell the land. Depending on whose account one believes, that log cabin was built by either William Edmondson (he of the prominent Middle Tennessee family for whom the pike is named, not the outsider/folk artist sculptor) or John Hamer. In any event, the latter's family held the property well into the 19th century. Hamer had three daughters, but only one, Jane, survived to adulthood, and though she never married, she was called "the Widow Hamer" until her death in 1879. She was known to lend money to neighbors, but was also known to foreclose on them if they defaulted on their debt. After the Emancipation Proclamation, Hamer gave land to five former slaves.
Much of the existing home was built in the 1850s, though it has been extensively renovated throughout its history. The 15-acre property also includes a barn, which serves as a guest house, and riding stables.
2. 785 Plantation Blvd., Gallatin
Buyers: Susan L. and Monty Steen
Sale price: $3 million
Seller: Cynthia Harrington
Seller's agents: Stacey Graves, RE/MAX Elite, and Mark Scott Flick, Reliant
Buyers' agent: Stacey Graves, RE/MAX Elite
This massive, 17,000-plus-square-foot manor sits on three lakefront acres in Gallatin's luxury Fairvue Plantation development.
Each of the five bedrooms offers sweeping views of Old Hickory Lake. The home wraps around a pool and features a 4,000-square-foot gymnasium. When the house was built in 2004, it used more structural steel than any other house in Middle Tennessee — good news if the New Madrid Fault starts getting frisky again.
New owner Susan Steen is the CEO of Servpro, a company founded by her parents.
3. 621 Westview Ave., Belle Meade
Buyers: Adrienne and Richard D. McRae III
Sale price: $2.7 million
Sellers: Owen D. and Lydia Jones
Sellers' agents: Michelle Maldonado and Amanda Gleaton, Parks
Buyers' agent: Allen Huggins, WH Properties
Built in 1937 atop Belle Meade's highest point, this 7,000-square-foot home on two acres spent more than three decades in the Bruno family — John Bruno III, a respected orthopedic surgeon, sold it in 2005. Before that, it belonged to the Starr clan. Among other things, the Starrs helped bring national attention to William Edmondson (the outsider/folk artist sculptor, not the guy who may or may not have built No. 1 on this month's list).
Buyer Richard McRae was a vice president at Dollar General until 2016. He now serves as managing partner for an eponymous investment shop.
4. 5113 Annesway Drive, 37205
Buyers: Matthew and Paige Kisber
Sale price: $2.625 million
Seller: Joseph D. Freedman
Seller's agents: Steve G. Fridrich and Trish Woolwine, Fridrich & Clark
Buyers' agent: Beth Molteni, Fridrich & Clark
Matt Kisber, former commissioner of economic and community development under Gov. Phil Bredesen and current CEO of solar-power venture Silicon Ranch, is the new owner of this Hill Place home. It's a recently renovated 7,900-square-foot, five-bedroom home that in addition to all the usual high-end bells and whistles, promises "long range and fast WiFi."
Seller Joe Freedman is a longtime Nashville entrepreneur and venture capitalist once described by the Nashville Post as the city's "serial-est entrepreneur."
5. 1765 Warren Hollow Road, Nolensville
Buyer: Jane Elizabeth Clement
Sale price: $2.4 million
Sellers: Malcolm E. and Chris E. Baxter
Sellers' agent: Thomas Summers, Scout
Buyer's agent: Kennette Sweeney, Village
This entire 61-acre spread in Nolensville was on and off the market a handful of times in the past two-plus years. The listing says a $3.4 million contract fell through, leading the Baxters to opt for a reduction, eventually selling the six-bedroom home and 15 acres of the property for $2.4 million, taking quite a bit less than the nearly $4 million they wanted back in 2016.
As one might expect given its secluded, bucolic location, the property includes a horse barn.
6. 2021 Fransworth Drive, 37205
Buyer: Born in Music City LLC
Sale price: $2.375 million
Sellers: J. Blair and Christina Hollis
Sellers' agent: Richard B. French, French King Fine Properties 
Buyer's agents: Franklin and Lana Pargh, Compass Tennessee
December's second Hill Place entry comes with a bit of a mystery on the buyer side. The LLC titled Born in Music City was, in fact, born in Delaware, and its registration in the First State provides precious little information. The Nashville attorneys who handled all the paperwork locally are the types with client lists that run the gamut from rich to powerful to rich and powerful to rich and famous. So who knows?
Whoever it is gets a five-bedroom, 10,000-square-foot Tudor with just one previous owner since its construction in 2000.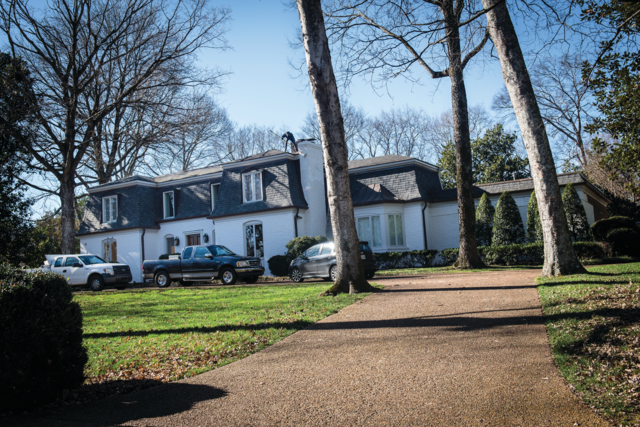 9 Lynnwood LanePhoto: Eric England
7. 9 Lynnwood Lane, Belle Meade
Buyers: Catherine E. and Toby S. Wilt Jr.
Sale price: $2.35 million
Seller: Robert A. Milton
Seller's agents: Katelyn Hamby and Scott Layson, Keller Williams
Buyers' agent: Steve Fridrich, Fridrich & Clark
His-and-hers bathrooms in the master suite are just one (two?) of the many luxuries in this half-century-old home on a coveted Belle Meade corner. 
During the winter, the Wilts will enjoy the four fireplaces. For warmer days, there's a pool and a "stunning sunroom" in this "French-inspired" house with professional decoration by Susan Richardson of various HGTV programs.
8. (tie) 4513 Harpeth Hills Drive, 37215 
Buyers: Andrew D. and Shawn M. East
Sale price: $2 million
Seller: Chandelier Development Inc.
Seller's agent: Margie Lusky, Exit Realty
Buyers' agent: Matt Kirkegaard, Keller Williams
Surely there will be space somewhere in this 5,259-square-foot new-build for buyer Shawn East to display her one gold and three silver medals, won at the 2008 Olympics. She should also find space for her Mirrorball Trophy, won in the 2009 season of Dancing With the Stars.
Before her 2016 marriage to former Vanderbilt football player and NFL journeyman long-snapper Andrew East (he ended the 2018 season with the Washington, D.C., franchise, signing about a week before closing on the home), Shawn East was Shawn Johnson, America's bubbly sweetheart gymnast.
8. (tie) 504 Westview Ave., Belle Meade
Buyers: Matthew and Emily Cook
Sale price: $2 million
Seller: Cheryl Glass Smith
Seller's agent: Suzanne T. Lewter, Fridrich & Clark
Buyers' agent: Eve R. Stuart, Zeitlin
Inspired by French country homes, this four-bedroom 6,100-square-footer sits on a "lushly landscaped" lot on a coveted Belle Meade street.
8 (tie). 43 Governors Way, Brentwood
Buyer: The 5 Seasons LLC
Sale price: $2 million
Seller: Beverly Miller
Seller's agents: Gena and Keith Sefton, Legacy
Buyer's agent: Jay Nelson, EXP
It wouldn't be Headline Homes without a Governors Club entry, and luckily this one snuck in the Top 10 with its $2 million price tag, wrapping up 2018 with a three-way tie.
As per usual for the subdivision, the Tuscan-inspired 9,500-square-foot home is chockablock with high-end add-ons, including "interactive chairs" in the movie theater.