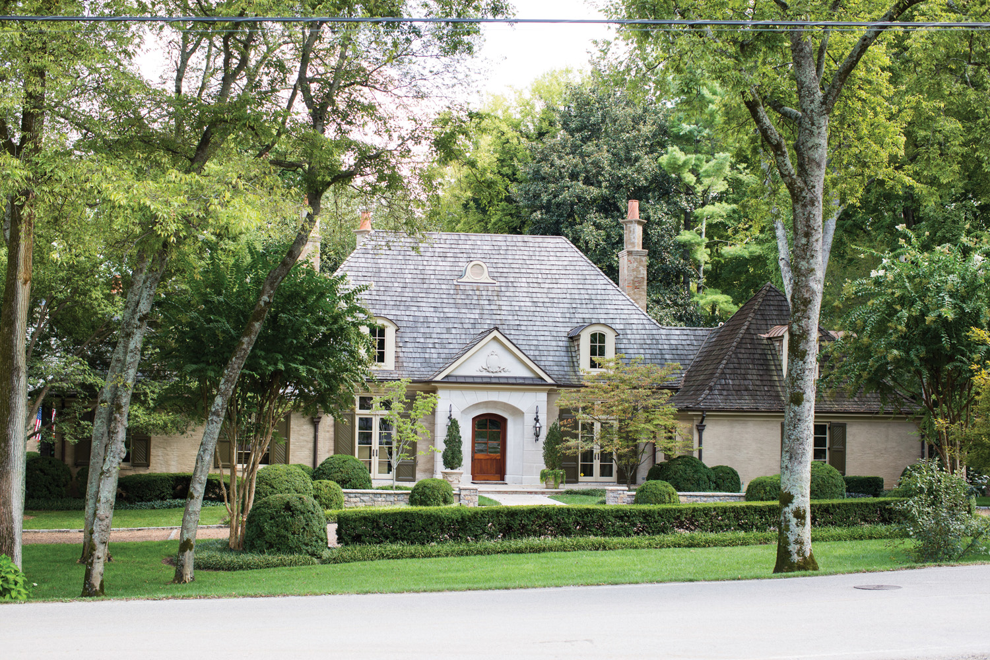 There were nearly 100 homes in the Nashville area selling for seven figures in August, proof again that the high-end market in Middle Tennessee still has legs. This month's list features three houses in the same gated Franklin subdivision — a rarity. Even rarer: The No. 2 home this month is in Franklin County.
Among the buyers and sellers: an Olympic gold medalist, a hockey player who never laced them up for the Predators, a country music producer, a Country Music Hall of Famer and Vandy's hoops coach.
Below are August's top 10 home sales in Nashville and the surrounding counties, ranked by sale price.
1. 428 Westview Ave., Belle Meade
Buyer: Robert Douglas Trust
Sale price: $3.6 million
Sellers: Earl W. and Janice W. Wendell
Sellers' agent: Tricia C. Ericson, Worth Properties
Buyer's agent: Beth Molteni, Fridrich & Clark
Country Music Hall of Famer E.W. "Bud" Wendell is the seller of this month's No. 1 home. Wendell, who worked his way from manager of the Grand Ole Opry to CEO of WSM and later Gaylord Entertainment, purchased the property for $695,000 in 2001 and built the home in 2003.
The four-bedroom, 6,095-square-foot French-inspired home features vaulted cedar ceilings, black walnut floors and portoro marble. The home's living space is all on a single floor with the notable exception of a wrapping room — the sole raison d'etre for the second floor.
2. 839 Beech Hill Drive, Winchester
Buyers: Aaron and Laura Cicchelli  
Sale price: $3.55 million
Sellers: Elaine & F. Perry Ozburn Jr.
Sellers' agents: Dianne Daniel Christian and Matt Daniel, Daniel-Christian Real Estate
Buyers' agent: Unknown
A stunning lake house on Tims Ford Lake brings a rare visit from Franklin County to Headline Homes. The Cicchellis picked up not just 12 gated acres and the 5,739-square-foot main house, but also a guest house, a boat barn and the boats inside said barn. 
Aaron Cicchelli is a tech entrepreneur and makes semi-regular appearances on Headline Homes, previously making the list in April 2009 and May 2012. Perry Ozburn is another frequent Headline Homes name — the former head honcho of what is now OHL now dabbles in real estate. 
3. 2460 Hidden River Lane, Franklin
Buyers: Ryan A.B. and Stacey Dawn Smyth 
Sale price: $3.225 million
Seller: Meandering Meadows LLC
Seller's agent: Bill Henson, SilverPointe Properties
Buyers' agent: Holly Black, Parks
Ryan Smyth, the man they call "Captain Canada," never played a minute for the Nashville Predators in his 19 years in the NHL. But apparently all those trips to town with the Edmonton Oilers, New York Islanders, Colorado Avalanche and Los Angeles Kings impressed him enough that he was willing to lay down $3.225 million for this 8-acre estate in Hidden River. This is the first of three properties in the gated, horse-heavy Franklin subdivision on this month's list.
Among the numerous high-end features of the home: two master suites, which doesn't really make any sense, because the master of the house can only be in one suite at a time.
4. (tie) 478 Cotton Lane, Franklin
Buyer: Stewart Campbell Jr.
Sale price: $3.1 million
Seller: Ronald G. Smith
Seller's agent: Heidi Green, Synergy Realty Network
Buyer's agent: Laura Clay, Christianson Patterson Courtney & Associates
This 6,017-square-foot home on 18 rural acres was once owned by former Tennessee Titan Kevin Mawae. Precious little more information was provided about the home, beyond that it has five bedrooms.
4. (tie) 2451 Hidden River Lane, Franklin
Buyers: Robert J. and Annie T. Joubran
Sale price: $3.1 million
Seller: Scott Hamilton
Seller's agent: John Hendon, Coldwell Banker Barnes
Buyers' agent: Alicia Lange, Coldwell Banker Barnes
The Hidden River/ice sports connection from our No. 3 home continues here, as Olympic-medalist figure skater Scott Hamilton sells his estate to private equity giant Robert Joubran.
The seven-acre property includes a saltwater pool, but no rink (unless the on-site pond freezes).
6. 129 Steeplechase Lane, 37221
Buyer: James David
Sale price: $3 million
Sellers: Joe Carlos Scaife and Danielle Scaife
Sellers' agents: LaRawn Rhea and Marsha Simoneaux, Fridrich & Clark
Buyer's agent: Pat Rogers, Parks
Joe Scaife, a music producer of some renown — notably, he was behind virtually every Billy Ray Cyrus song anyone's ever heard of — sells the 5-acre Between the Harpeths estate he bought in 2011, pocketing a cool million in profit.
The Tuscan-inspired home includes a tennis-and-basketball court, a "gathering room" and high, coffered ceilings in the library. Of note to post-office enthusiasts: The address puts the house in Nashville, though the property is, in fact, in Williamson County.
7. 1004 Cartwright Close, Brentwood
Buyers: Donna and Lee Thompson
Sale price: $2,928,711
Seller: Trace Construction
Seller's agents: John Spoon and Matt Burhart, Parks
Buyers' agent: Unknown 
As the charmingly specific price suggests, the Thompsons are the first owners of a new build in Cartwright Close. Luxury home-builder Trace put the finishing touches on the 7,100-square-footer, which sits on nearly two acres, back in May.
8.  2710 Sewanee Road, Oak Hill
Buyers: Bryce and Tara Drew
Sale price: $2.7 million
Seller: Thomas M. Bronson III
Seller's agent: Richard Bryan, Fridrich & Clark
Buyers' agent: Michael Cadle, Benchmark
Vanderbilt head men's basketball coach Bryce Drew finds his Nashville home in Oak Hill. The new build, finished in July, includes a private master suite, a full-size finished basement, an outdoor kitchen and a four-car garage, all coming in at a shade over 7,900 square feet.
9. 2439 Hidden River Lane, Franklin
Buyers: Robert A. and Kathleen L. Lyons
Sale price: $2.5 million
Seller and agent: Andrea R. Baker, Keller Williams
Buyers' agent: Richard Bryan, Fridrich & Clark
The third of August's Hidden River Hat Trick has no apparent connection to winter sports. (Maybe the Lyonses are secret curlers?)
In addition to the Colonial-style home, the property includes a pavilion with an outdoor kitchen, saltwater pool, a 6,000-gallon koi pond and four waterfalls. Four, because five would just be ostentatious.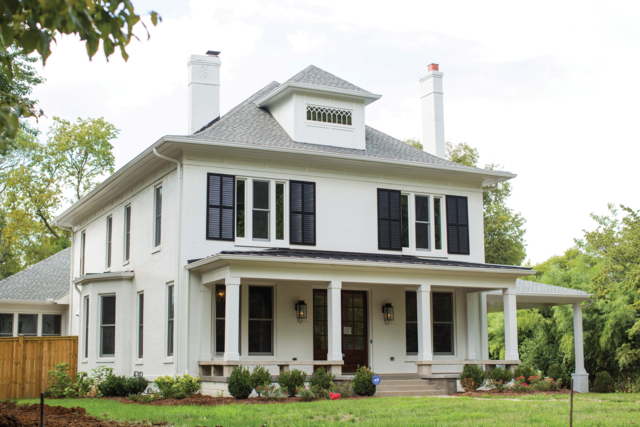 904 Estes RoadPhoto: Daniel Meigs
10. 903 Estes Road, 37215
Buyer: Zachary Boca
Sale price: $2.395 million
Seller: 114 Property
Seller's agents: Kimberly Dougher and Stephanie Lowe, Zeitlin
Buyer's agent: Allyson Woosley, Parks
Stripped to the studs and restored and expanded, this Estes Road home now comes with all the accoutrements: elevator, full-home audio, marble, quartz, private bathrooms in every bedroom, two laundry rooms and two wet bars. The home in its new life belongs to Zak Boca, the CEO of SingleHop, a private cloud-server provider that sold to INAP for $132 million cash earlier this year.