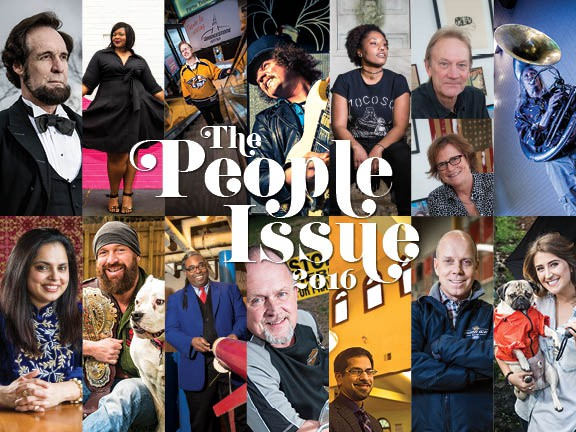 Our annual People Issue is out this week, with profiles of various interesting people (and a dog) from around town. Check it all out here. 
Here's what's in the front of the book:
On the eve of President Obama's historic visit, a Nashvillian checks out Cuba for himself, by John Spragens:
We had not set out to walk halfway across Havana. It was a humid Friday evening in January, and my wife Claire and I had changed into our Cuban tourist formalwear: she in a spring dress, and I, unshaven, wearing flip flops and a crimson guyabera I had brought from home. (Consider this the dorky Anglo tourist version of wearing your favorite band's T-shirt to the concert.)

We had watched dusk fall over the bay, sipping mojitos at the famed Hotel Nacional de Cuba, then loaded up a shopping bag with as many commemorative contraband goods as U.S. law would allow. We were planning to hail a 1950s-era taxi and drop off the loot at our Airbnb rental, then head out for a nice dinner in Old Havana.

On our last night in Cuba, in other words, we were embracing our role as bourgeois American tourists.
A run to win the division is unlikely for the Predators — but don't count them out just yet, by J.R. Lind:
Now, a miraculous run to win the division would be just that — it's unlikely. Even catching Chicago for third is probably a deep-dish-pie-in-the-sky dream, but that's not necessarily a bad thing. The NHL's byzantine playoff system, inspired in part by the crossover system used in the Canadian Football League (no, seriously), would essentially make Nashville part of the Pacific Division for the post-season. While none of the Anaheim Ducks, Los Angeles Kings or San Jose Sharks are pushovers, that's a trio of los minis compared to the tecnicos in the Central.

Ultimately, the question is which Predators team demonstrates the actual talent value David Poile has assembled. Winning hockey requires a great deal of luck. It's not completely random, as FiveThirtyEight data oracle Nate Silver pontificated (Silver, it should be noted, once said his data suggests the NHL should expand to the Sudbury-Thunder Bay area; those two cities are separated by more than 600 miles and a Great Lake), but the kind of people who casually use the phrases "recursive analysis" and "Bayesian inference" peg the level of "luck" around 38 percent.

The difference between great teams and good teams (and mediocre ones and bad ones) is the ability to seize the luck when it's there and ride the bad beats when they come. Even during the doldrums, the Predators weren't playing badly. The team controlled possession more often than not and outshot their opponents more often than not. The problem was that the Preds' many shots were not going in the net, and their opponents' few shots were, putting fans in the very unusual-for-Nashville place of turning a blaming look toward goaltender Pekka Rinne.
Also, don't miss Headline Homes: 
The list of last month's top home sales features the Frists, a heated four-car garage and whatever a "friends' entrance" is