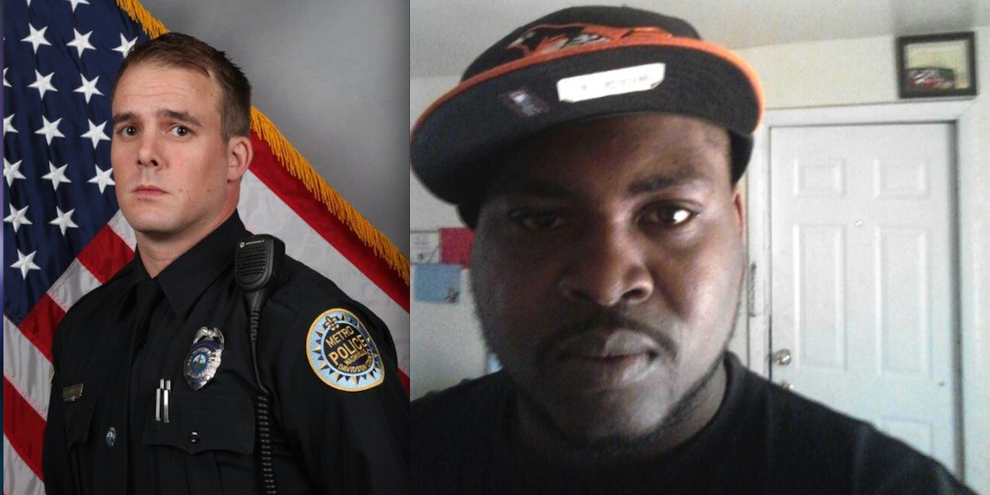 In recent years, as cities around the country occasionally erupted after fatal police shootings of black men, Nashville officials could often be heard prefacing their contributions to the national conversation by noting that, fortunately, such ugliness had not been visited upon our fair city. That sentiment was typically followed up by a call to be vigilant, lest it ever should.
But the suggestion that it hadn't happened here was also wrong. In the early '90s, the city was roiled by the beating of Reggie Miller, a black undercover officer who was attacked by three white officers who had stopped him for a traffic violation. In early 2000, the Scene reported on tensions arising from the shooting deaths of three minorities by white Metro police officers. And in 2010, Reginald Dewayne Wallace, a black man, was shot and killed by an officer who was chasing him after Wallace had allegedly attempted a burglary. Wallace was shot when he reached into his pocket and pulled out a shiny object that turned out to be an iPod. 
It has happened here. And it happened here again last week. 
Each incident, of course, has its own particular set of circumstances and details. On Friday, as seen on surveillance video, Jocques Scott Clemmons, a 31-year-old black man, ran a stop sign as he drove his car into a parking lot in East Nashville's James A. Cayce Homes. Metro Police Officer Josh Lippert, a white officer who has been with the MNPD for five years, was parked nearby in an unmarked car and pulled in after him to make a traffic stop. As Lippert gets out of his car, Clemmons runs toward the car, apparently trying to get around the officer. Unable to, he cuts back and begins running the other way. Lippert gives chase and catches Clemmons at the other end of the parking lot. 
It's at that point, with the two flailing around, that police say a gun Clemmons was carrying fell to the ground. They say Lippert tried to kick it away from Clemmons but that Clemmons picked it up. On the surveillance video, Clemmons can be seen turning his back to Lippert and running in between two parked cars when Lippert raises his gun and fires. The medical examiner's office would later determine that Clemmons was hit once in the left hip and twice in the back. He would later be pronounced dead at Vanderbilt University Medical Center. 
It must be said that the MNPD has not appeared to be playing keep-away with information the way some departments have in similar situations. Within two hours of the shooting, the department had identified Lippert as the officer who pulled the trigger, and by Friday evening they had released a full surveillance video of the incident. Days later, when video from a new angle showed that Clemmons had not attacked Lippert when the officer got out of the car — as the department's account of the first video had suggested — they released the new video to the public with an explanation. 
Although the FBI will be monitoring the investigation and submitting its own report to U.S. Attorney David Rivera, the Metro police department will be leading the investigation of its own officer — a concerning fact for groups like the NAACP, who have called for an independent investigation. Family members and community leaders have also criticized the department and the media for criminalizing Clemmons upon his death. "He's not a gunman!" Clemmons' brother declared to reporters at a press conference earlier this week, decrying a label that was used by police immediately after the shooting and that made its way into headlines above a mugshot of Clemmons the department had sent out. 
For now the investigation continues. But regardless of its outcome, Lippert and Clemmons and the histories that brought them to a fatal collision last week shed light on the atmosphere from which so many of our contentious criminal justice discussions emerge. 
Clemmons' criminal record includes 19 arrests or citations for driver's license violations in less than 10 years, a fact that makes him seem like he walked right out the Gideon's Army's "Driving While Black" report released last year, which highlighted the disproportionate attention African-American drivers receive from Nashville police. As for Lippert, his record with the MNPD includes 20 days of disciplinary suspension over five years, some for infractions involving poor judgment leading to unnecessary use of force. 
The coming days and weeks will reveal whether or not Nashville and its officials handle such an incident with transparency, accountability and empathy. But we can never allow ourselves to indulge the illusion that the ingredients required for such an incident are foreign to our streets.