Scottie Nell Hughes does not give a damn what you think about her.
To be clear, she probably wouldn't phrase it like that. Unlike most of the journalists you'll meet, Hughes does not swear like a sailor. But spending time talking with Hughes — and interviewing some of the people who know her best (on and off the record) — makes it clear that the only opinions that matter to her are those of her husband, her two children and a small circle of friends and family. 
Mock her all you want. Troll her all you want. Hughes knows who she is, and she radiates confidence, despite repeatedly proclaiming she has self-esteem issues. She's been through hell and back, and she is done faking it. 
She is done.
Hughes knows what you probably do think of her, of course. To liberals she's that ditzy blonde defending Donald Trump on Fox News and CNN, the younger one who isn't Kellyanne Conway. To many conservatives, she's a tea party star who betrayed her own conservative religious values by cheating on her husband to advance her career. 
In truth, the 37-year-old Hughes is none of the above. She's smart, she's funny, she doesn't think Democrats are the devil, and, in her telling, every sexual encounter she had with Fox Business anchor Charles Payne was unwanted.
Hughes sued Payne and Fox News in September, alleging rape, coerced sex, sexual harassment and general discrimination she endured in order to maintain her appearances on the network over a two-year period. The details of the events first came out in July, as Fox suspended Payne to investigate Hughes' claims — claims she says became public only because Fox, in order to damage her name, leaked a story to the National Enquirer alleging that Hughes and Payne had a consensual affair.
Payne returned to the air after the investigation, which Fox claims found no evidence of wrongdoing. He continues to maintain that his involvement with Hughes was consensual, and Fox continues to support him. But Hughes says she has evidence — mountains of evidence — that it was not, that Payne raped her and then harassed, manipulated and physically abused her for the next two years, and that Fox's legal team has seen this evidence and is determined to throw her under the bus anyway.
When Hughes tells her story (or at least the only parts of it she can due to the pending litigation), she is convincing. Her voice rises in emotion. She tears up. She chokes up. She rages. If she is lying about this, her performance is Oscar-worthy.
But unlike in the cases of Gretchen Carlson or other Fox journalists who have spoken out about harassment at the network — or the actresses who have called out Harvey Weinstein and others in Hollywood, or women whose voices have led to editors at NPR, The New Republic, Vice and more being fired — almost no one is publicly jumping to Hughes' defense. There has been silence or skepticism from many of the same liberal feminists who talk about believing victims. On the right, the reaction has been even worse.
Why don't people believe Scottie Nell Hughes? It's complicated. But one thing's for sure: She's not giving up her fight against Fox until she feels her name has been cleared.
---
The day I meet Hughes for an interview, two new stories about men behaving badly have broken by the time I show up at her Hendersonville home. Alabama Senate candidate Roy Moore has been accused of molesting a 14-year-old girl, and comedian Louis C.K. has been accused of repeatedly masturbating in front of women who were not interested in seeing his dick. By the time this story goes to print weeks later, I've lost track of all the men who've been forced to resign or are under investigation for their harassment of female colleagues. 
"On one hand, I'm glad this is all starting," Hughes tells me with a sigh. "I'm glad that we're identifying it in every industry. On the other hand, it's so sick. It is sickening."
Sitting in her kitchen, which is already decorated for Thanksgiving weeks early with glittery gourds and owls — "Glitter hides dust," she says with a laugh — Hughes seems like a totally different person from the pundit caricatured by Saturday Night Live last year.
"I'm totally not the image that people make me out to be, this mean, angry person," Hughes says.
In person, Hughes is funny, almost goofy. She suggests that our photographer take shots mocking her as a "Stepford Wife," with her setting a pan of food on fire. (This does not happen, but a parodic shot of her pouring tea does.) She jokes about her her height — she stands just under 5 foot 11 — laughing that she often has to take off her high heels in photo shoots.
"There are a lot of pictures of me barefoot in politicians' office — not for any scandalous reasons, but because I'm taller than them," Hughes says, joking that photos with U.S. Sen. Bob Corker (5-foot-6) are "the worst."
Still, it's obvious Hughes is nervous, and you can't really blame her. To invite a complete stranger into your home and tell her about your rape and ensuing coerced affair is to make yourself incredibly vulnerable. And when that person is a reporter with a publication that has repeatedly mocked you in the past, even your incredibly supportive manager will try to talk you out of it.
"Everybody's like, 'You're doing this with them?' And I said, 'For some reason, I have faith, and I trust.' " 
To be clear, the Scene, and this reporter, have mocked Hughes, perhaps excessively, for her malapropisms, some of which went viral during the 2016 presidential campaign. There were lines like "mazel tov cocktail" and "riots aren't necessarily a bad thing" and "there's no such thing as facts." The Scene even named her in our annual Boner Awards issue last year. Hughes jokes that she was disappointed the award didn't come with a physical trophy.
We weren't the only ones, of course. There was SNL, the blog posts, the scornful tweets, the (faux) White House Correspondents' Dinner. Hughes was everywhere in 2016 and 2017, and not always in the best way. But she says she was able to laugh off most of the ridicule. (Her friends confirm this.)
"I admit, there definitely were some exhausted blunders that I made," she says. "I was OK with it. I really was. I was fine with it, until my daughter [said], 'Mom, why are they making fun of you as being dumb?' "
Hughes' children, whom she has long referred to in public as "Chicken and Biscuit" to protect their privacy, are in the fourth and fifth grades. They are sweet, funny, charming kids, at least to a visiting reporter. And they are a big reason why she decided to file suit, because she is enraged, utterly and completely enraged, that tabloid websites have dragged her kids, her family into this.
"We got away, and then Fox raped me again in July, and they did it to my family," Hughes says with anger. "They've tried to destroy my family, and then people actually wanted to celebrate a family being destroyed."
---
Family has always been important to Hughes, even before she had kids, even when she was still Scottie Nell Semler, a self-described "band geek" at Brentwood High School. She was a flag girl; her home office displays a proclamation from Gov. Don Sundquist honoring the band for its appearance marching in the 1995 Macy's Thanksgiving Day parade. And Scottie Nell is her given name, not a nickname — Hughes says her mother, who she says was the first female polygrapher in the country, wanted to make sure her daughter wouldn't face the same discrimination she had.
"Her name was Linda, and she was passed over for jobs all the time because of her female name," says Hughes. "She wanted [future employers] to look at the résumé and judge me based on my merit, not based on the fact that I was male or female."
Family is the reason Hughes says she studied journalism at the University of Tennessee at Martin instead of Knoxville or further abroad. Family is the reason she moved back to Nashville after college and took a sales job at WZTV Fox 17 instead of a reporting job in another state.
But she wasn't in sales for long. She met conservative talk-radio host Steve Gill at a Rotary event and started talking to him about George W. Bush's re-election strategy.
"He looked at me, and he was like, 'You're not going to make it without being in biased media,' " she says. " 'You're going to have a hard time keeping your opinion out of it. … Why don't you come over, learn talk radio.' And so I did."
Although Hughes says she had wanted to be on television since she was 11 and watched CNN's coverage of the Gulf War, her ability to talk a mile a minute didn't hurt her in radio. Gill calls her a "superstar" at booking guests.
"She worked magic," Gill says. "She was competitive as can be. She wanted the big get, and whoever it was, she'd somehow get them on the show." 
Hughes says she felt compelled to work twice as hard to counter dismissive attitudes telling her, "Oh, you're just Tennessee." During her years with Gill, she booked all the biggest names in politics. She also traveled to Iraq and to Guantanamo Bay for broadcasts. 
In 2005 a mutual friend set her up with Chris Hughes, a custom-home builder, and they immediately connected over their love of politics. (He has since served on the Sumner County Commission.) The next summer they were married on the steps of the Tennessee Capitol, and their two children soon followed.
Hughes hit pause on her career for a time — toddlers can have that effect. But after the tea party wave of 2010, she jumped back into the thick of things, doing an online show called Politichicks, and then writing for conservative websites Townhall and Tea Party News Network. It was on Townhall that Hughes wrote the column that would change her career.
Hughes' brother Cliff was killed when he was 8, before Hughes was born, shot by his nanny's 12-year-old son. After the mass shooting at Sandy Hook Elementary School in late 2012, Hughes wrote a column opposing gun control, saying that it was "evil" that killed her brother, not a gun. Piers Morgan, then a CNN host, noticed, and invited her on his show for a live debate with several other panelists — and with several parents of dead Sandy Hook students in the audience.
Hughes' impassioned defense of the Second Amendment went viral. Conservatives loved it. Liberals thought she was insane. A star was born.
---
After that CNN appearance, Hughes' career took off. By early March, Fox flew her to New York for a test run — on a Saturday morning, at 5 a.m.
"That had always been my dream since college," says Hughes. "My father held up a sign in college, my graduation day, 'See my daughter one day on Fox.' Walking into that building that first time was just overwhelming. It was like a goal achieved. Not only did I achieve this goal now, I achieved it as a mother, as a wife, as someone over 30? And with a Southern accent? And I'm not a size 2? I did it! Everybody told me I couldn't do it, because I didn't have an Ivy League education, I didn't have millions of dollars behind my name with a big PR firm. I did it just based on my merit, hard work and actually being really good."
By April, Hughes was appearing regularly on the network. Then she met Charles Payne.
Payne had been at Fox since 2007 and was considered a rising star by Bill Shine, then the network's senior vice president of programming. Payne first appeared with Hughes on air when he guest-hosted Neil Cavuto's show. Shortly thereafter, they both showed up as panelists on Sean Hannity's show.
Payne began emailing Hughes, offering to mentor her. She considered him a friend, although she could tell he was romantically interested in her. The feeling, however, was not mutual.
"I had kept my distance," Hughes says. "I had tried to avoid [him] without being rude. You know, and I'll say this as — especially Southern women, we are really good at being nice and kind and putting a smile on our face when red flags are going off. In this case, I was very nice, and my kindness was taken advantage of, but was also, I think, misconstrued."
On July 9, 2013, Hughes went to a museum with Payne. During the taxi ride back to Fox offices, she says, he pressured her for her hotel room information. At first, Hughes refused to give it him, but several hours later, she finally gave in. It was then, Hughes says, Payne raped her.
Due to the pending litigation, Hughes is reluctant to share specifics of the encounter. But here's how the lawsuit describes what happened that night:
Ms. Hughes clearly told Payne to "stop," and that she was not willing to have physical contact with him. Not willing to stop when she said "no," Payne forced her to engage in sexual intercourse against her will. 

During his violent tirade, Payne said, "you know you want this," and "you've been teasing me since that first time on set, wearing those short dresses over those long legs with your big boobs hanging out." When Ms. Hughes again said, "no," and said that she just "wanted to be friends," Payne became more incensed, tightened his grip on her and angrily said, "You have a bright future but you're not acting like you have the priorities I thought you did; come on girl, you know you want it."

She tried to push him away but Payne was too strong. Fearing that he would cause her irreparable physical harm, Ms. Hughes stopped physically fighting back. After he raped her, Payne disturbingly announced on his way out, "This changes things."
Over the next two years, Hughes says, Payne coerced her into a physical relationship, threatening to derail her career if she stopped sleeping with him. In the meantime, Hughes' appearances on Fox News and Fox Business increased dramatically. When Payne was given his own show, Making Money, on Fox Business in June 2014, Hughes became a contributor four nights a week, splitting her time between Hendersonville and an apartment in New York.
Here's how the lawsuit describes that period of time:
Payne did little to hide his romantic interest in Ms. Hughes and Fox employees were aware of his sexually motivated favoritism. … In an effort to convince Ms. Hughes to submit to his advances in exchange for increased on-air visibility, Payne often cited to [sic] other "relationships" between certain Fox male hosts and subordinate female employees to suggest that such conduct was acceptable. Payne said that, as a female, it was important to have a male host who would "go to bat" for you. ...

Because of Payne's authority and power over Ms. Hughes, his acts of favoritism and preferential treatment affected her work assignments, compensation, treatment at Fox and evaluations of her performance. Ms. Hughes's willingness to engage in sexual conduct with Payne translated into tangible employment benefits that would have been withdrawn from her had she refused Payne's sexual advances. Indeed, each time that Ms. Hughes attempted to sever the sexual relationship, Payne refused and responded angrily and violently. 

In addition to being prone to angry outbursts and profanity-laced tirades, on several occasions, when Payne was angry with her, he forcibly grabbed Ms. Hughes in such a way that bruises were left on her arms. … On another occasion that occurred in Payne's office, by way of example only, he burst into anger and yelled at Ms. Hughes, "Get the fuck out of my office … if you think someone else can get you the contributorship!" As such, Ms. Hughes knew that if she wanted to continue to appear on Fox programs, and potentially receive a contributor contract, she must continue to submit to Payne's sexual advances.
During those two years, Shine never offered Hughes a contributor contract. Meanwhile, according to Hughes, her mental health was rapidly deteriorating. She
got a book deal
, but couldn't make herself write, finally resorting to Skype sessions with her mother to talk out the chapters. She had not told anyone about the rape or the demands from Payne, and the secrets were taking a toll.
"I would go there, and I'd come home, and the reason I could put a smile on my face and why I could hide it is because I'd come home, and I'd heal for 48 hours," Hughes says. "I was reminded as to why I was keeping working so hard, was because I had this amazing, phenomenal life here."
But back in New York, Hughes says, Payne worked hard to keep her isolated.
"I was so lonely," she says. "I used to tell people, 'I'm in the biggest city in the country, and I'm the loneliest soul ever.' Because any time I would ever get close to somebody, he would make sure that friendship was devastated. He would kick them off air, he would make them angry at me, he would make sure that I was the only — I didn't have anybody in New York, or in this business, to reach out to. But the bruises were there. My friends saw the change in personality."
And it was literal bruising inflicted by Payne in late spring 2015 that finally prompted Hughes' husband Chris to ask her what was going on.
"He figured it out to a certain extent because of the bruises on me," Hughes says. "He said, 'Something is going on, something is not right.' By the time I came home in May, I had to tell him everything that happened, because I needed help. I just needed somebody to — I needed him to tell me, 'We're going to make it, even if we financially cannot afford it, even if hellfire condemnation comes down on you, we're going to do this, we're going to do it.' I just needed somebody to tell me I wasn't alone anymore."
Hughes says she and her husband had an agreement that if he ever asked her to leave New York, she would. And after he saw the bruises, he started packing up the apartment. Hughes finally cut things off with Payne. Then, as the lawsuit states, "After months of appearing four or five times a week on Making Money, plus regular and weekly appearances on other Fox programs, suddenly Ms. Hughes's appearances were reduced to a mere five appearances on The O'Reilly Factor over the course of the following ten months."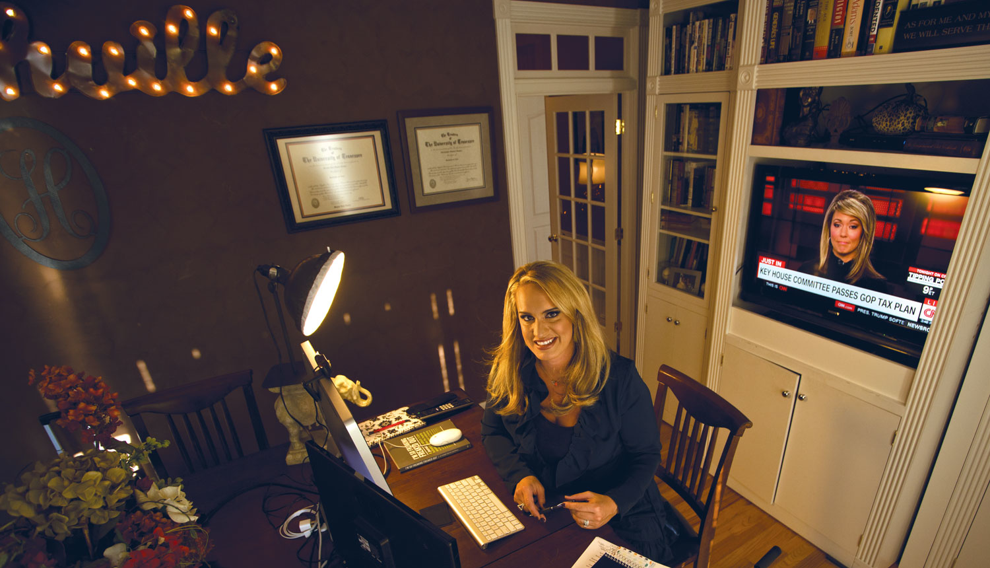 ---
Hughes says things were rough after she walked away. 
"When I left the show, Payne put on almost every single one of my closest friends in those months following. People who had never been on TV before. He even booked my former booking manager. He wanted to make sure I knew their careers were going to flourish at Fox, and mine was not because I got away. He also wanted them to turn on me, as several obviously did."
"It's been a complete nightmare," says Shandra Blackwell-Rock, who's been friends with Hughes since college. "She wanted to move on and just do her job, and she wasn't allowed to. She's been a hot mess for a hot minute."
Hughes says she contemplated legal action in 2015 but ultimately decided against it.
"I was faced with two choices," says Hughes. "One, my attorney's going, 'We can file, we can put a restraining order on him.' Because we were at that stage. Because it got to be such a nightmare situation — horrible, horrible situation where my family's being threatened, I'm being threatened, my safety, their safety. The details have not even begun to come clean of what those months in 2015 were like for us. Or I can get away, and heal on my own, and Chris and I decided together that for the good of our family, we were going to get away. We had to. Because nobody knew the hell that was going on in that building at that point. 
"This was 2013, this was 2015 — nobody knew what was going on there," Hughes says of the reported systemic harassment at Fox. "I was a bottom-feeder on the food chain there, but I was on air all the time, but they were going to bury me. I had been told stories of what they did to women that reported. That they were never heard of again. Here I've worked since I was 11 years old to get there, and I was told, 'You will be buried, you will never work in this industry again.' "
Hughes says she tried to privately talk to Shine about the situation, but he refused to meet with her. Eventually she just dropped it, worried it would hurt her further to press her case.
"Because no one will touch me again. And how am I going to provide for two children, two elderly parents, a small business that my husband's a part of? I didn't have a choice. People who say you have a choice — unless you're there —"
Hughes has a barely controlled rage in her voice.
"Because the pain was in me, it was happening to me, nobody else. OK, women go through pain all the time, and they suffer through it, and they handle it, they put a smile on their face, and they cry in the shower, and they put a smile on their face, and they go out in the public, and nobody ever knows the hell they're going through. And that's what I did for two years."
Hughes did get work in 2016 on CNN, becoming such a prominent Trump surrogate that she says the president-elect called her after the election, promising a job in the White House. That job didn't materialize, and other network appearances have dried up, something the lawsuit attributes to industry blackballing spawned by whispers from Fox.
"I think Fox can be very effective at creating narrative in media," says Sally Kohn, a regular liberal commentator on CNN who formerly worked at Fox and has become good friends with Hughes.
That narrative came to a head this summer, when Hughes says Fox's executive vice president of corporate communications, Irena Briganti, leaked allegations that she had a consensual affair with Payne, after Hughes approached Fox's legal team to belatedly report her sexual harassment. She contacted them as news broke of multiple sexual harassment settlements by the network on behalf of Bill O'Reilly — news that resulted in the star anchor losing his show, and Shine, by then the co-president of the network, losing his job.
Also leaked? A handful of risqué emails that seemed to show Hughes was happy to be having sex with Payne. As the news spread through the tabloids, a couple of outlets cited former colleagues of Hughes, almost all anonymous, claiming she had regularly slept with powerful conservative men in the industry to work her way up the ladder. Similar rumors, especially about Gill, had long dogged Hughes prior to the Payne revelations.
Hughes flatly denies ever having a romantic relationship with Gill, and she says all the tabloid gossip is inaccurate.
"I​ will not dignify attacks from bitter, disgruntled ex-colleagues, especially attacks which don't pass the smell test," Hughes says. "​​To call the error-filled Huff Post piece irresponsible, sloppy 'journalism' would be an understatement."
It was the Huffington Post that first named Hughes in July, when other news outlets declined to print her name, the usual journalistic practice when it comes to alleged victims of sexual assault. The Tennessean quickly followed suit, ensuring everyone in Nashville knew about the case.
Hughes rages at anyone who thinks she slept her way anywhere — if she had, why would she have needed to work so hard over the years, she asks. But even if she had slept with her boss, whether she was single and in talk radio or married and on television, that would not be what happened with her and Payne.
"It doesn't matter, any of these outside cases. What happens in this case, is this situation. And what Charles — I don't want to say the name — what he did —" Hughes pauses, tearing up, "— on that horrible night and the two years that followed. That's what this is about."
When Fox put Payne back on the air in September after suspending him in July, that's when Hughes says she knew she finally needed to sue. 
"A lot of it has to do with Charles being put back on air, which, we scratch our heads, because he admitted far worse than the things Charlie Rose and Eric Bolling were fired for," says Hughes.
"I will say this: If Don Lemon was idiotic enough to write, 'I'm OK with this,' in an email to a co-worker with a photo of man wearing a Confederate flag Speedo, CNN would've dealt with that immediately," Hughes says, mentioning another leaked email in which Payne sent her pictures of a sexy blonde in a Confederate flag bikini — an email to which Hughes responded, saying it was problematic.
The federal lawsuit names 21st Century Fox, Fox News, Payne, Briganti and Fox's in-house counsel Dianne Brandi as defendants. Neither Fox, Brandi, Briganti nor Payne has filed a response to the lawsuit, although they are required to by next week. A pre-trial conference is scheduled for Dec. 18.
Jonathan Halpern, a lawyer representing Payne, told news outlets in September: "My client Charles Payne vehemently denies any wrongdoing and will defend himself vigorously against this baseless complaint. We are confident that when the evidence is presented in this case, Mr. Payne will be fully vindicated, and these outrageous accusations against him will be confirmed as completely false."
A spokesperson for Fox News said at the same time: "The latest publicity stunt of a lawsuit filed by Doug Wigdor [Hughes' lawyer, who has represented several women suing Fox] has absolutely no merit, and is downright shameful. We will vigorously defend this. It's worth noting that Doug is Ms. Hughes' third representative in the last six months to raise some variation of these claims which concern events from four years ago, since it apparently took some time to find someone willing to file this bogus case."
Fox sent an additional statement to the Scene for this story, saying, "It is entirely false that Fox News retaliated against anyone who complained of harassment. Instead, we proactively reached out to women across our company to address their concerns and where appropriate, compensated them."
---
Although she told GQ last year that she had never seen a therapist in her life, Hughes is now seeing someone to help her process everything she's been through in the past four years. Hughes says she's been diagnosed with post-traumatic stress from her rape and abuse, and that it was PTSD that led to one of her most infamous appearances on CNN during the campaign, when she yelled at commentator Ana Navarro to stop saying "pussy" during a discussion the day after Trump's Access Hollywood tape leaked.
"Will you please stop saying that word?" Hughes shouted. "My daughter is listening!"
"Don't tell me you're offended when I say 'pussy,' but you're not offended when Donald Trump says it!" Navarro snapped.
Hughes says she simply lost it after seven or eight hours on the air.
"When you go back and you read a lot of the derogatory emails that were sent [by Payne] to me — even today, hearing that word, it's just — I could not hold back anymore. ... That was the anger of that night, was hearing that word again, and it did finally come out, and I did lash out at Ana on it, because I just could not hear it anymore."
Hughes' defense of Trump's sexual harassment — she says her defense was prompted by the timing of the leaked tape, not his actions — is possibly part of the reason some have questioned her allegations. Because how could she defend those comments having gone through worse herself?
The people doubting Hughes also cite Occam's razor: What's the simplest explanation? That she had an affair and regrets it and wants to cover it up, or that she was raped and abused and harassed and extorted into continuing to have sex with her boss for two years? 
But if the simplest explanation is that she wants to cover up an extramarital affair, why would she file a federal lawsuit, knowing what discovery would prove? Her husband already believes her. Her friends — at least, the ones who stuck by her — already believe her. 
"Scottie's gutsy, but she's not so gutsy as to file a federal lawsuit full of lies," says Hayes Ledford, a longtime friend of Hughes. "It's a shame that she can't talk about more of the details because it's in litigation."
"The people close to her knew the hell that she was living, and we supported her," adds Blackwell-Rock. "I'm very proud of her, and I think she's a very courageous person. There's a lot more than people know, but I know that I can't comment on it."
Hughes laughs at being perceived as a "gold digger," trying to get rich off a settlement. She says when she first talked to Fox's legal team earlier this year, they asked her how much money she wanted to be quiet.
Says Hughes: " 'What's her price, what does she need?' they kept asking. I've never given them one. I've always said, 'Just make this right. Just make this right.' … There was no price in my world."
By "make it right," Hughes means she wants Payne off the air, fired from Fox. She wants him to pay — she wants the world to believe her, not him. She knows there will always be doubters, but she wants as much of her reputation restored as possible.
"I am determined that this will not be what I'm known for. This is not going to be the top of the Google search. I want to be known for taking this nightmare that's been unleashed on my head and making sure it doesn't happen to any other woman."
If Hughes has the evidence she says she has (but which she says she can't reveal due to the pending litigation), her case will be almost certainly be settled out of court. In the meantime, she's working on a master's in public administration from Liberty University. And when it's all over and done, Hughes says she plans to fight for other victims of sexual harassment, especially on the conservative spectrum.
"We've got to have the conversation," Hughes says. "The left at least is having a good job of having this conversation. The right is not."
Hughes says that since her allegations became public, she's been contacted by a number of women who have told her they are too scared to go public with their own claims of harassment because of the vile abuse heaped on Hughes online. Whether you believe Hughes or not, the Facebook comments, Instagram comments, tweets and emails she has received since the summer are some of the most disgusting things you will ever read.
"To think that now Republican women are even more pushed into silence because of the hell that's been unleashed on me?" Hughes says. "They're just going to take this? They're just going to take it, because they know what happens? I've got to fix it. I have to find something to fix this and to help these women and take care of them. It's what we do, we fix things. That's what women try to do."
After she fixes things, will she run for Congress, like she was openly contemplating this summer before everything became public? Hughes says she just might. Even knowing how ugly campaigns can get?
"A lot of people feel like if they take me out, they're going to rise up. A lot of people resent the fact that I live in Nashville, and I was able to make it to Fox News because they have not been able to," says Hughes. "I know people are going to judge me, and they're going to try to bring out everything. But it's not out there."
Her husband says whatever she does next, he'll still be by her side.
"I couldn't imagine going through that, the type of person that's she's been," says Chris Hughes. "But every day she gets up. She puts a smile on her face, and she charges forward. And for that, I'm truly amazed and proud of her."
As he's telling me this, his wife starts sobbing quietly across the kitchen. During the hours we've talked, she's choked up more than once, her eyes watering, but this is the first time she's lost it. We stop talking to ask if she's OK. She wipes away the tears from her dramatic lashes and nods for her husband to continue. 
"I think when you go through this, when you've been to hell and back, it brings you closer together," Chris Hughes says. "I think we grew stronger, and we grew tighter. … And I think when a lot of people would have quit, gone away. And like that, it brought us together. I love her more today than I did years ago. She's everything to me."
---
While reporting this story, I've asked people over and over why Scottie Nell Hughes has not gotten the support other women have. Is it because of her Trump support, or her strong personality? Or because she's in Hendersonville and not New York? Or because television and politics are cutthroat industries, and as many fans as Hughes has, she also might have as many enemies?
But the answer could be simpler than that: We don't believe Scottie Nell Hughes because it's the easy thing to do. 
It's so much easier to think that an attractive blond woman is sleeping her way to the top. Believing her claims against Payne means believing that she was forcibly raped and then forcibly coerced into having sex for two years to keep her job, that she cried in the shower and then wrote fake flirtatious emails because women write fake flirtatious emails every single day, because that is being a woman in America today.
Believing Scottie Nell means believing that women smile when men tell them to, not because they want to smile but because it is so ingrained to be polite that it's a default response. 
Believing Scottie Nell means believing that the power structure in this country, in this government, in this economy, in this justice system is so screwed up that there's no point in telling anyone about your rape for years, because no one would believe you.
Believing Scottie Nell means acknowledging things are complicated as hell, that harassment and sexual assault and abuse and manipulation and coercion aren't a clear-cut thing, that it's messy, that humans are messy and imperfect and flawed. That sometimes you get yourself into a situation, and you think that if you're smart enough and work hard enough, you'll get out of it, but sometimes, a lot of times, you can't.
Why don't people believe Scottie Nell Hughes? Because they are shitty humans, like me. I doubted her story. In July, when the news broke, I laughed about it with a couple of colleagues. 
Even women who have been through similar terrible treatment still align with the status quo, because it's easy, because we want approval, because we want to be cool girls, because we want to prove we're tough as hell and stronger than superglue.
We aren't.
It is exhausting to exist right now as a woman. Exhausting and draining and sad, no matter how strong you try to be. Me? I'm not tough. 
But Scottie Nell Hughes? She's titanium. And she's not going away.