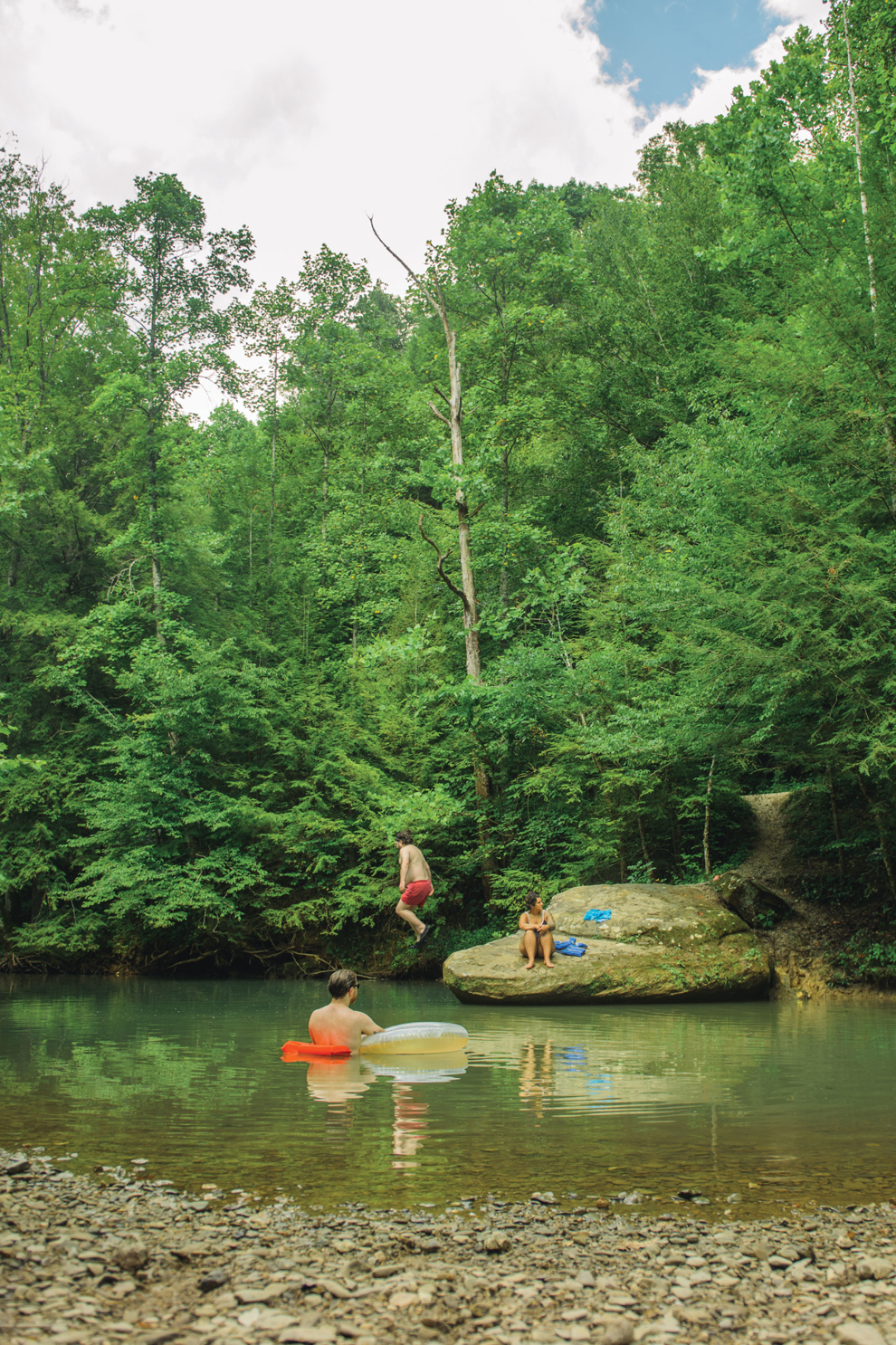 Four hours northeast of Nashville and an hour ahead of us in the Eastern Time Zone, Kentucky's Red River Gorge Geological Area spans roughly 45 square miles within the state's immense Daniel Boone National Forest. Dotted with remarkable geological formations and interwoven with dozens of miles of hiking trails, the destination is absolutely worth the drive, with plenty of opportunities to take in the majesty of the gorge while also staying fully socially distant from strangers.
On my recent fact-finding mission to the gorge, my traveling companions and I happened across an isolated local swimming hole. There we met Trenton — an area seventh-grader and self-professed "bad child" with a thick Kentucky accent and a pet raccoon named Tito — who, from a safe distance, told us about a mysterious, ghostly waterfall that sometimes appears like a mirage to lost hikers in the area. His park-ranger grandpa told him all about it.
Despite a bit of research, I never managed to find any evidence of a disappearing ghost waterfall in the area. Elusive mountain lore aside, Red River Gorge is a beautiful, spacious and geographically diverse part of the country that makes up just a sliver of the sprawling national forest's domain at the northern edge of the Cumberland Plateau. One day, when this infernal pandemic is in the rearview, I might encourage you to seek out colorful locals in the area — something tells me Trenton is just the tip of the iceberg in that department. But for now, read below for our tips on how to take a safe and pleasant road trip to Kentucky's Red River Gorge with minimal interaction with strangers.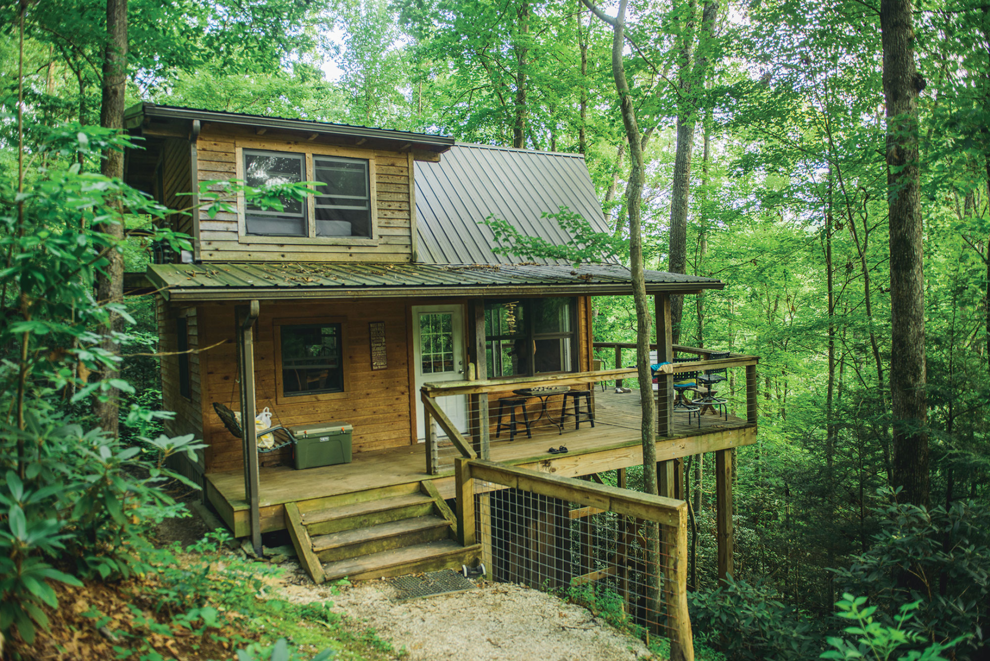 Stay
There is of course no shortage of cabin-rental companies peppered throughout and near Red River Gorge. To the south, near Deer Water Lake in Rogers, Ky., is Scenic Cabin Rentals, a company that boasts a few dozen placid-looking cabins with names like Valley View, City Slicker Hideaway and Wuthering Heights. Further west near Slade, Ky., are the properties of Red River Gorge Cabin Co., some of which — like the Butterfly Suite near the Powell-Wolfe county line — have amenities like cable and hot tubs.
My small party and I opted for Red River Gorgeous, whose cabins — further north than the aforementioned companies, much closer to the Red River itself — offer an experience that's less cushy by design. Up a steep incline, hidden away amid the beech, maple and eastern white pines, is Moss Rock Cabin. It has a small stove and a solar-powered generator that provides about enough juice to charge a couple of cellphones and run the ceiling fan on high for two or three hours. But like most of Red River Gorgeous' cabins, Moss Rock is less about amenities and more about location and design — cabins like this one, the Observatory Treehouse, and the two mirrored Looking Glass Treehouses are feats of engineering. Moss Rock Cabin even features a photo album documenting how workers managed to lug the building materials — including a large stone countertop — up the steep hillside during the cabin's construction process. 
Aside from a trip up the road to the rental office for clean linens (you'll need to bring your own or pay $10 to use the company's), our visit was entirely contact-free. Red River Gorgeous' properties offer quiet beauty and isolation, and an experience that falls somewhere in the middle of "glamping" and full-on roughing it. If you want a bed and a porch but don't mind using a composting outhouse (a rather nice one, all things considered), spots like Moss Rock and the company's domed Treehouse Village are the way to go. (A note: Pets and kids aren't permitted at the treehouses with suspended walkways.) 
Given the expanse and the beauty of Daniel Boone National Forest, you might prefer to bring along your camping equipment and pitch a tent. (See our tips for amateur campers on p. 11.) A permit is required for overnight camping in the Red River Gorge Geological Area, and those can be obtained via the U.S. Forest Service at $3 for a day pass and $5 for a three-day pass. Koomer Ridge Campground in Pine Ridge, Ky., has areas reserved for both tent camping and RVs — ideal for families who want to camp but might need access to a washroom here and there.
Do
My party's decision to stay in one of Red River Gorgeous' properties put us just east of the Nada Tunnel, a single-lane former railroad tunnel on Kentucky Route 77 that is 12 feet wide, 13 feet tall and totally unlit. As my road-trip passengers can tell you, the 109-year-old tunnel is a hell of a thing to roll through in the dark when entering the gorge area at 10 p.m. — especially if you enter to find headlights coming toward you from the far end. It's worth seeing if only for its spooky vibes, but be warned: Head through at a snail's pace, because you might find yourself playing slow-motion chicken with another motorist, meaning one of you will have to throw it in reverse and back out slowly.
Natural Bridge State Park, which is immediately adjacent to Red River Gorge, has cabins, lodges and campsites, but the main draw is its namesake geological formation — a natural sandstone arch, 65 feet tall and 78 feet across. Though it requires some interaction with employees, the Natural Bridge Sky Lift is a fun, touristy way to gaze across the majesty of the gorge. (The operators wore masks on our visit, and disinfected the sky-lift chairs after each use.) The lift is $10 one way if you'd like to make the moderate-difficulty hike back down from Natural Bridge, or $15 for a round trip — and this is the spot where you'll want to get all your selfies and landscape shots. It's also the best way to see what the Red River Geological Area has to offer if you're looking for vistas but are unable to or uninterested in doing much hiking.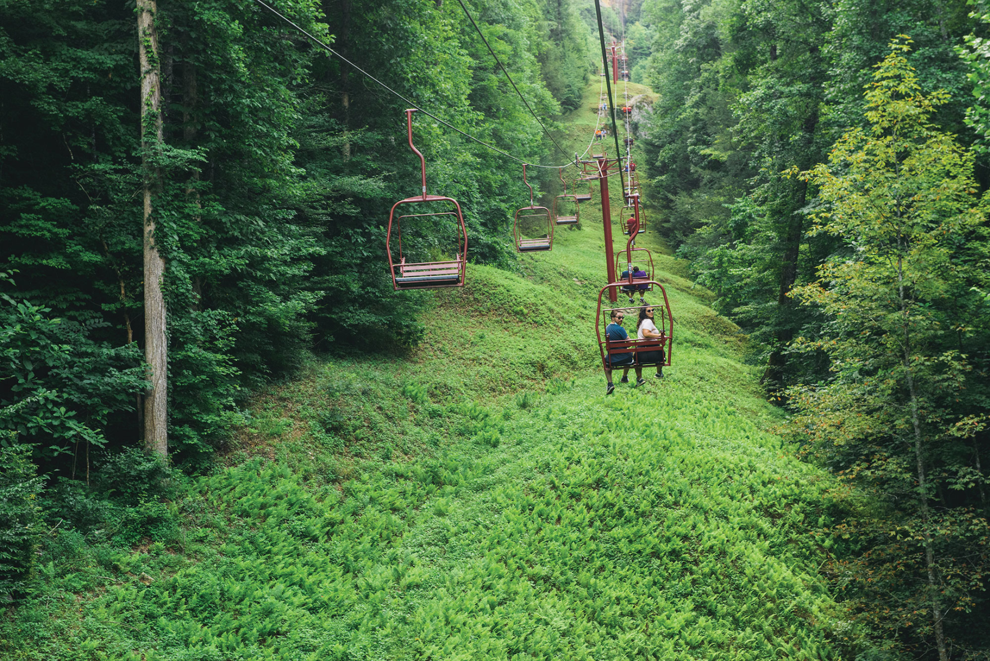 Those who are after a scenic hike, however, are spoiled for choice in Red River Gorge. There are scores of sandstone arches in the area, and one guaranteed to see less foot traffic and smaller crowds than Natural Bridge is Gray's Arch. As a friend of the Scene who is familiar with the area tells us: "The trail is technically an out-and-back, but you can make it a loop by adding a portion of Rough Trail and a portion of Rush Ridge Trail, the combination of which gives you an excellent snapshot of the geological diversity of the area." Our friend also recommends the popular Auxier Ridge Trail and the lesser-known Copperas Falls, the latter of which she describes as "a secret hideout/obstacle course/enchanted forest dreamland." More than 70 miles of trails wind through Red River Gorge, some more challenging than others. But if you're willing to do a bit of advance research and prepare accordingly, there's a Choose Your Own Adventure waiting for you. 
Kind of a wimp on the hiking front? That's OK too. My crew and I decided to drive north on Indian Creek Road until we happened across a secluded Indian Creek swimming hole (that's where we met the legendary raccoon-owning tween I mentioned in my intro). There are popular swimming spots tucked along the Red River — like the so-called Jump Rock — but I have to recommend sneaking off to find hidden gems. The extra time is worth it for guaranteed seclusion. If you want to paddle your way down the Red, the nearby Red River Adventure Campground & Canoe Rentals can make that happen. My party brought our own inflatable kayaks on the trip, but thanks to an especially hot and dry July, the river was too low for our liking. 
For the most part, the restaurant scene in Red River Gorge comes down to one establishment: Miguels. A rock-solid pizza restaurant that is currently closed to dine-in, Miguels is still open for carryout and features a 50-topping menu to quell the hunger you worked up after a day of hiking (or, you know, floating). Daniel Boone Coffee Shop has great coffee, good pastries and some savory breakfast sandwiches. The strawberry oat bar was delicious, as was an absurd peanut-butter doughnut construction topped with chocolate-covered pretzels.
Truth be told, you could spend two weeks in Red River Gorge and never experience the same day twice. More adventurous travelers can try out Red River Gorge Zipline or seek out one of the area's many rock-climbing destinations — the Red River Gorge Climbers' Coalition's website (rrgcc.com) is a great resource if you're interested in the latter. Or simply find a cabin or a camping spot that meets your needs, head there, and spend your days doing absolutely nothing. Whatever you do, take a moment while you're there to gaze up at the night sky. Completely untouched by urban light pollution, Red River Gorge offers the most breathtaking opportunity for stargazing I've had in many years.