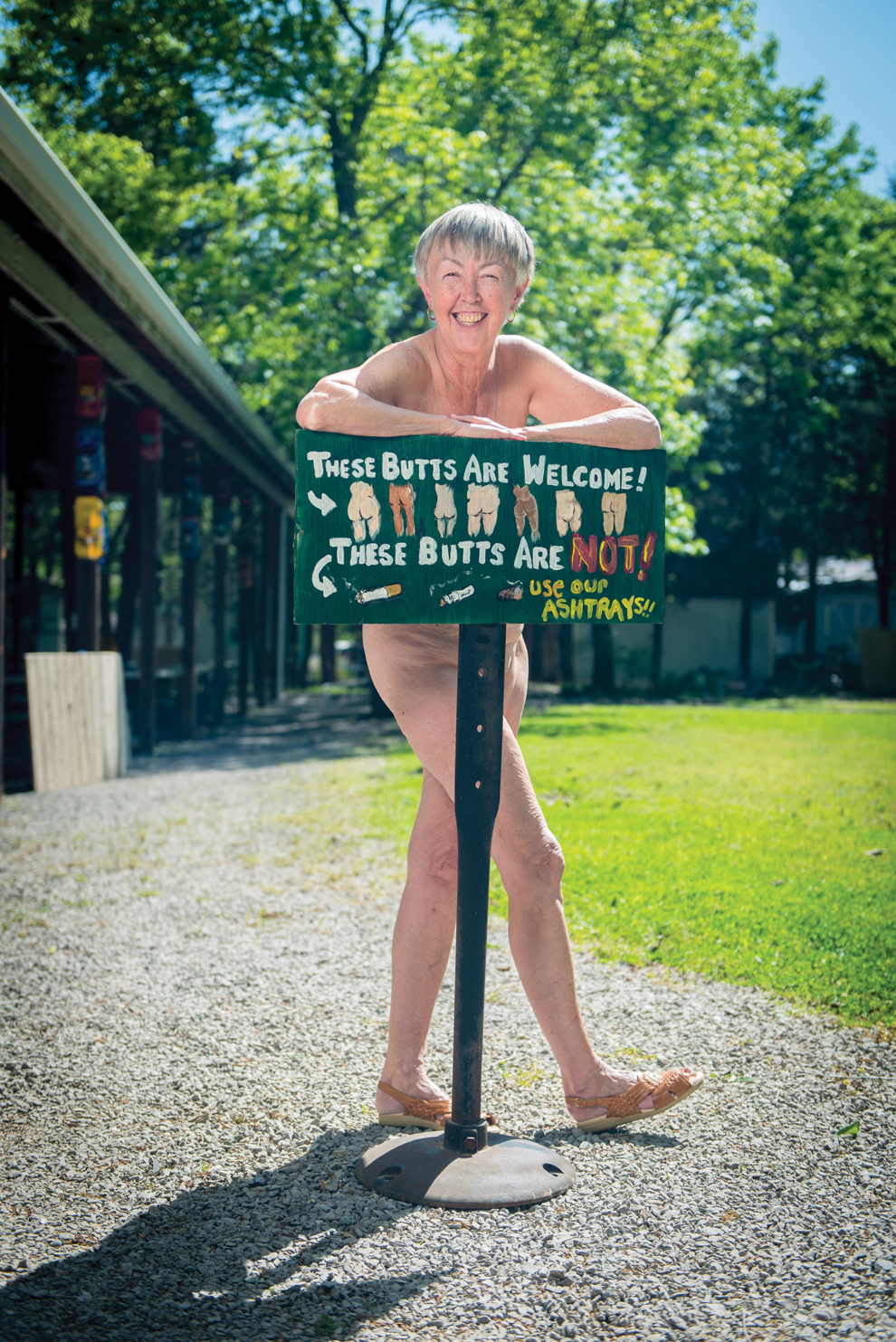 Down in Murfreesboro, there's a spot where you can play a game of tennis, race a remote-controlled car and take a ride on a miniature choo-choo train over to a hot tub, all in one day. That is, if you're willing to get naked.
Rock Haven Lodge has a distinct summer-camp vibe. Colorful cabins dot the 25-acre property, while winding trails and a spotless pool offer opportunities for respite from the daily grind. Families play volleyball, pickleball and shuffleboard. In the club house, you can play a game of billiards, choose a book from the shelf or pop in a VHS tape. 
Rock Haven Lodge is Tennessee's only member of the American Association for Nude Recreation. Susie Palmer and her late husband bought the nudist park in 2005 when its previous owners were ready to retire. Palmer is warm and friendly, with a short gray haircut and bright eyes. She says that the biggest myth regarding social nudism is that it's inherently sexual. In reality, it's just the opposite. Unless it's during sex, nudity isn't sexual to nudists. It's a social equalizer that promotes self-acceptance and tolerance of others. 
It doesn't matter what you look like, one Rock Haven member tells the Scene, because no one's looking. In fact, social-nudist etiquette is not to check out people's bodies any more than you would when clothed. Creating a safe environment is important to Palmer, and Rock Haven has a strict policy against sexual activity. It's not "clothing optional" — it's nude-only, unless the weather or extreme sunburn forces visitors to cover up. Palmer says this rule is a safeguard against those who would come to enjoy the view without embracing the camp's values. While some nudist resorts don't allow single men to visit, Rock Haven does. Palmer says it's discriminatory not to. But at the same time, she wants women and families to feel safe, so she's a strict enforcer of the rules. 
She tells first-timers, "You think the hardest thing you'll have to do today is take your clothes off, but really, the hardest thing you'll have to do is put them back on when it's time to leave." 
It's possible to never leave Rock Haven. There are about 30 private residences on the grounds, and many homeowners keep lovely gardens in their yards (although one displays a Confederate flag, which does kill the mood a little). You can also camp under the stars, hook up your RV or rent a modest cabin, the latter of which costs $65-$85 per night. 
There's something a bit libertarian about social nudism — you have the right to remain naked and make decisions for your family. The camp allows children to frolic in the buff as well, which is within state law, as long as they are accompanied by their custodial parents, but no families with children were present on my visit.
Taking the Plunge 
When I visited Rock Haven on a Friday afternoon, the crowd skewed middle-aged and older. What struck me most was that the camp visitors were doing regular, everyday activities — power walking, chatting poolside, working on a laptop under the pavilion. Susie entertained all of my naive questions. What do nudists do in the winter? "We're nudists," she said. "We're not stupid. We put clothes on!" What happens when men get erections? The answer: They can hide their boners with a towel, jump in the pool or hang out in the restroom until things die down.
As I waited for our photographer and art director to come photograph Susie, a member beckoned me over. "Are you coming to the pool?" he asked. I blushed. He was, after all, completely naked, but he greeted me with a warm handshake and introduced himself. He chafed a bit when I told him that I did not plan on getting naked. How could I write about something I had not experienced, he wondered. Indeed. 
Don't get me wrong — I love clothes. My wardrobe provides me with an ever-evolving sense of identity that I'll never shrug off as trivial. But like many American women, I carry in my body a lot of trauma and shame. When we asked Susie if she'd be OK with us photographing her nude, she stripped like it was nothing. She appeared unencumbered by the conformity of societal body standards, and I wanted what she had. 
So when my colleagues departed, I decided to get free. My unofficial nudist shaman — the guy who convinced me to take the plunge — walked with me around the camp and encouraged me to slow down and feel the breeze on my skin. My fears fell from me. Others at the camp nodded and smiled the same way they did when I was walking the grounds fully clothed an hour before. In fact, there's a pervasive sense of consent and acceptance that felt liberating. My boundaries were completely respected, and I didn't stop smiling until it was time to put my clothes back on, just as Susie promised. 
Tips for First-Timers 
If you're thinking of saying yes to getting undressed, here are some tips:
1. Wear sunscreen. Everywhere. And bug spray. Everywhere. 
2. It's a good idea to stay sanitary. Bring a towel to sit on. 
3. The trails are paved with gravel, so wear comfortable shoes. 
4. Photography is not allowed. Use your visit as an opportunity to leave your phone in the car. There's plenty to do at Rock Haven, and you can get snacks at the camp's convenience store. 
5. There are no changing rooms at Rock Haven (change into what?!), so after you check in with Susie's staff in the office, just leave your clothes in the car. 
6. As you get your gumption up, go for a stroll along the yellow brick road. It's a short distance away from the pool and pavilion, and a good place to get a feel for being naked outdoors before interacting with other guests. 
7. The cost is $30 per person (couple or individual). To help diversify the crowd, the park charges people younger than 30 just $5, and unaccompanied women can enjoy their first experience on the house. 
8. Review the rules at rockhavenlodge.com.
9. Don't forget to slow down, close your eyes and practice some self-acceptance. You deserve it.