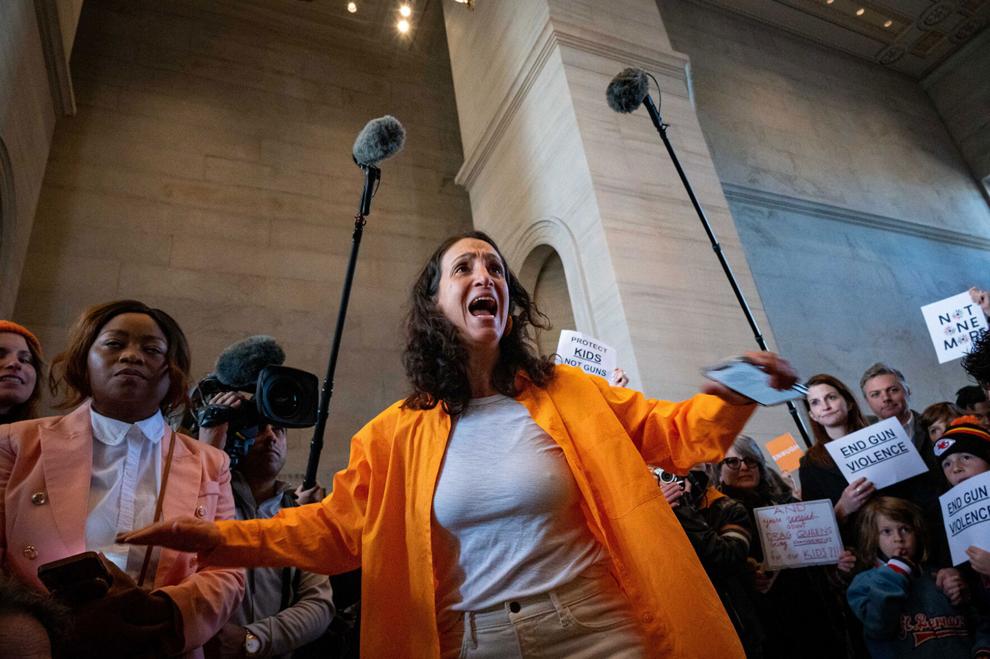 Maryam Abolfazli is an increasingly vocal presence in Nashville. The Iranian American and native Nashvillian is a writer, mother, organizer, self-described "agitator" and chair of the Metro Human Relations Commission, among other roles. She speaks out on issues like reproductive rights, economic development, school safety, protests against the Iranian government and more, and she's fostered a meaningful community in the process. 
"If you come to people with your heart, they come back usually with their heart," says Abolfazli of Nashville and Tennessee. "I lived in D.C. for 12 years. I love that progressive city, but it was really hard to connect to people. But here, it's easy." 
Recently, Abolfazli arranged one of the many protests that followed the Covenant School shooting. On March 30, just three days after the tragedy, thousands of protesters gathered in and around the Tennessee Capitol to demand gun reform from state leaders. While Abolfazli spearheaded the organization of the protest, an event of that magnitude took immense collaboration to pull off — and a lot of that happened on social media. "People would message me and [ask], 'Have you thought about this?'" Abolfazli tells the Scene. "[And I would say] 'Nope, thank you, can you handle it?' …The whole thing was like a people's rally. … It was totally decentralized."
For better or for worse, social media is a powerful tool in facilitating these kinds of events and conversations. It's one that Abolfazli uses alongside op-eds, newsletters and her 2020 novel, Red Red. While she describes the community she's found on Twitter and Instagram as "beautiful," she also acknowledges how divisive social media can be.
A 2022 study by the Pew Research Center considers the relationships of social media and democracy in multiple countries. The report indicates that, while some experts consider social media harmful to the health of democracies, the majority of international respondents believe it has a positive effect on democracy and keeping people informed — even as they recognize that it presents dangers such as division and misinformation. In the United States alone, however, respondents' sentiment is different — 64 percent of Americans say social media has a negative impact on democracy. 
"I always ask myself, 'Is this [post] forwarding us toward change?'" says Abolfazli. "'And what change in particular?' For me, a bunch of division and separation is not going to get us where we need to go. And there's so much of that. … Is it a good place for city conversation? I think so. Is it totally inclusive? I would say no."
Even still, social media provides a valuable arena for folks to stay educated and engaged. Following the March rally, Abolfazli noticed continued energy from folks who wanted to stay involved around local issues including but not limited to gun reform. Responding to that demand, she co-created Rise & Shine Tennessee, a grassroots volunteer group that aims to, as she puts it, unify, engage and economically secure Tennesseans. A linked signup sheet allows people to opt into receiving information about continued action and the state legislature's forthcoming special session, and share ideas about gun reform.
"We live in this city that largely is considered this progressive city in a state that's considered really, really the opposite of progressive," says Abolfazli. "And it's been like we live in a bubble, and they live in a bubble, whoever they are, and there's not been a lot of communication or connection. And that is what has kept power in its place. And even in Nashville, if you're in this neighborhood or that neighborhood — the bubbled world has just expanded with social media. And I can be on my screen and you can be on your screen, we can be sitting next to each other and watching completely different things in our bubbles. But I think our future is in the bubbles breaking down. I've said it before — it's really important that we get to know each other." 
From Nextdoor drama and TikTok bans to broadband access and beyond, here's a look at Middle Tennessee's internet footprint