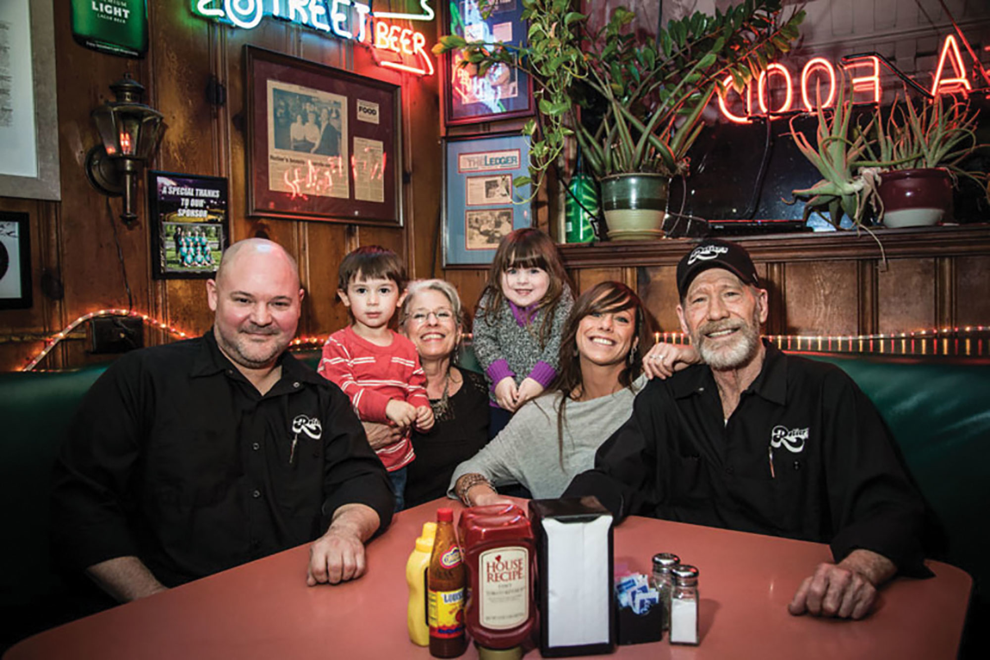 Charlie Rotier
Rotier's proprietor
As part of the second generation of the Rotier family to operate their iconic eponymous diner, Charlie Rotier was personally responsible for feeding decades' worth of Vanderbilt and Father Ryan students (before the high school made its way out to the 'burbs in the early 1990s). Rotier's signature French-bread burger has probably also been responsible for part of the earnings of some of those Vandy students who went on to become cardiologists, but it remains a beloved part of the city's culinary history from long before retro "smashburgers" began to appear on the menus of fine-dining establishments.
"Big Charlie" (his daughter "Little Charley" followed him into the business) prided himself on how little his restaurant — in a building that was once the carriage house of the Elliston Mansion — had changed since the days when it was a beer joint and pinball hall. The restaurant's roster of burgers, fried chicken livers and gizzards has been on the menu for decades, with Charlie teaching the recipes to a long progression of cooks in the kitchen. Restaurants that offer little in the way of parking and don't own their buildings have tenuous lifespans in the urban core, and Rotier's may someday fall victim to "progress" — or perhaps the insatiable land lust of its university neighbors. Big Charlie likely wouldn't be happy to see the business close or be forced to move into some new strip mall location. He liked things exactly the way they've always been. —Chris Chamberlain
Frank Henry "Nicky" Becker Sr.
Becker's Bakery owner
 Once upon a time, in a Nashville long, long ago, one family-owned bakery in an unassuming cinder-block building at the corner of Montrose and 12th Avenue South was the source of white-on-white layered birthday cakes for countless Nashvillians. Becker's Bakery was so famous for its cakes that in 1963 it was commissioned by another Nashville institution — the Life and Casualty Insurance Company — to create a scale replica of Nashville's first downtown skyscraper to celebrate the company's 60th birthday.
 Frank Becker Sr. and his brother Tom Becker, the second-generation operators of the bakery opened by their parents in 1925, oversaw the six-day construction of the 18-foot-tall, 5,400-pound model of the 31-story building. Frank — known as Nicky — and Tom started working in the business as children, picked up after school by the Beckers' truck to help deliver loaves of bread to wholesale accounts. In 1964, they took over the business from their parents.
Though the small building never expanded, the operation did, adding cupcakes, pies, tarts, pastries and cookies. Bread loaves were phased out, replaced by dinner rolls that became as iconic as the cakes. You are so Old Nashville if you stood in the line that stretched around the block from 8 a.m. until closing time on the Wednesday before Thanksgiving or on Christmas Eve to buy bags of Castleberry and Parker House rolls. Tom Becker died in 1993, and Frank Jr. began helping out, eventually taking over with wife Bethe in 1995. Nicky still stopped by for his usual: a chocolate meringue tart.
On Jan. 6, 2004, when the bakery was supposed to reopen after its traditional winter break, customers found a sign posted on the door that sent shockwaves through the neighborhood: "After 79 years, we are closing our doors. We have loved being part of your lives." In an area of town rapidly transitioning into sizzling 12South, the building and land went for what in hindsight was a bargain at $705,000. 
Summer Classics has been selling "meticulously crafted outdoor furniture" from that address for more than 15 years, but for a vanishing sector of Nashville, it will forever be known as the corner where Becker's used to be. —Kay West
Robert Baldwin
Pancake Pantry founder
There are very few Nashville restaurants as iconic — and as perennially packed — as the flapjackery Robert Baldwin opened in 1961 on 21st Avenue South. After growing up in his family's diner business in Florida, Baldwin graduated from the hospitality and restaurant program at Cornell University. When he heard about a new concept called Pancake Pantry opening in Gatlinburg, Baldwin struck up a deal with the owner to open a location in Nashville.  For more than 25 years he operated the restaurant, ultimately retiring after selling the business to his son David.
Tourists and locals alike lined up along the sidewalk around that corner of Hillsboro Village, keeping warm with cups of hot coffee graciously supplied by Baldwin and his staff. While some may have made the pancake pilgrimage due to the legends of country music stars who could be spotted eating there (yes, Garth Brooks did eat here, but probably not this morning), longtime fans returned to interact with the amiable staff, who reflected Baldwin's impish sense of humor. Customers could choose from the almost two dozen internationally inspired varieties of pancakes — not to mention the cinnamon cream syrup that elevated simple dough cakes beyond the ordinary.
The Baldwin family sold the Pancake Pantry to new owners in 2017, and recently the restaurant has begun to stay open for dinner service. But it will always be Robert Baldwin's spirit that makes the business so sweet. Well, that and the syrup. —Chris Chamberlain
Ben Malone
Cook, friend, patriarch
Vandy kids, Parrotheads and old-school Nashvillians all agree — Rotier's is an institution. That isn't an easy status to obtain, but the Rotier family made it look easy, and they did it while raising a family, meeting payroll and doing the work it takes to operate a restaurant.
Everyone knows how Miss Evelyn held down the cash register and Big Charlie worked the bar. But there was always another kindly, funny figure working back in the kitchen — Ben Malone. If you've eaten a cheeseburger at Rotier's in the past 30 years, there's a good chance Ben made it for you. (If you were really lucky, at some point you got some of Ben's hot-water cornbread, an occasional special on the best meat-and-three menu in Nashville.) Grabbing a bite before countless basketball games and high school dates, or just quick burgers with my dad — those were all moments made better by Ben and the rest of the extended Rotier's family.
Ben worked two jobs to provide for his family, also cooking at the Hooters on Second Avenue for many years — a reminder that it's not the buildings but the people who make Nashville so great. Ben is survived by his wife Deborah, eight children and a host of grandchildren, nieces and nephews. As Ben used to say, "Nobody better than me." —Andy Moore
Tom Loventhal
Founder of Noshville, Tin Angel and more
When Tom Loventhal died in early November, he left a venti-sized hole in the Nashville restaurant scene. A member of a family that has been instrumental in the local insurance industry since the 18th century, Loventhal chose restaurants as his vocation and was instrumental in the founding of some of the city's most beloved establishments, including Tin Angel, Noshville and Blue Moon Waterfront Grille.
A champion for independent restaurateurs, Loventhal was among the founding members of the Nashville Originals collective of local restaurants in 2006. His friend and fellow Original Randy Rayburn recalls Loventhal this way: "He was a unique character on the stage of the hospitality industry, with an all-encompassing presence, his fondness for food, the Predators and his latest moonshine find. Noshville became an iconic gathering spot for groups, and Blue Moon became Nashville's warm-weather hot spot with an environment that suited Tom's relaxed lifestyle."
An active volunteer both inside and outside of the industry, Loventhal served as president of the Tennessee Hospitality Association and was on the boards of the Nashville Zoo, Special Olympics Tennessee, the Montgomery Bell Academy Alumni Association and more.
The next time you crack the lid on a mason jar of moonshine, pour one out for Tom. —Chris Chamberlain
Steve Muller
Margot sous chef
Steve Muller's last job was as the a.m. sous chef at Margot Cafe & Bar. It was the sort of position where a chef could toil away in anonymity starting the long, slow cooks that were integral to Margot McCormack's European menu, baking the bread for dinner service and disappearing before the first diners arrived. But you might remember Muller from his own restaurant, which he and his wife Shelley opened on the other edge of Five Points in 2003 — the gone-but-not-forgotten Alley Cat Lounge.
Although that restaurant closed in 2009, East Nashvillians who arrived prior to the It-Cityfication of the neighborhood might recall his signature fried avocado dish, aka "The Fat Ball." The chef explained the rationale behind his Fat Ball in a 2003 Scene article by Kay West this way: "I figured I'll take nature's highest-fat-content product and make it even fatter."
McCormack shared her memories of Muller in a Facebook post the day after his passing. "If you ate our pasta or braised pork or duck confit or the focaccia bread and so many other things, then you knew Steve," she wrote. "He was a talented man with years of experience, and he understood how to be a valuable member of the team after having owned his own business, the Alley Cat. We were all very fond of Steve and his many contributions. He will be sorely missed."
In an email, McCormack explains the strangely close-but-distant relationship that exists between chefs working different shifts: "I think the thing I appreciated about Steve the most was his experience not just in the kitchen, but in life. He also owned a restaurant, so I knew he had my back. He was not showy and always wanted to know how I wanted him to do things and not plow ahead with his own assumptions. He was quirky, as we all are, and very lighthearted. We spoke every morning and saw each other for only about an hour every afternoon. His absence leaves a void." —Chris Chamberlain