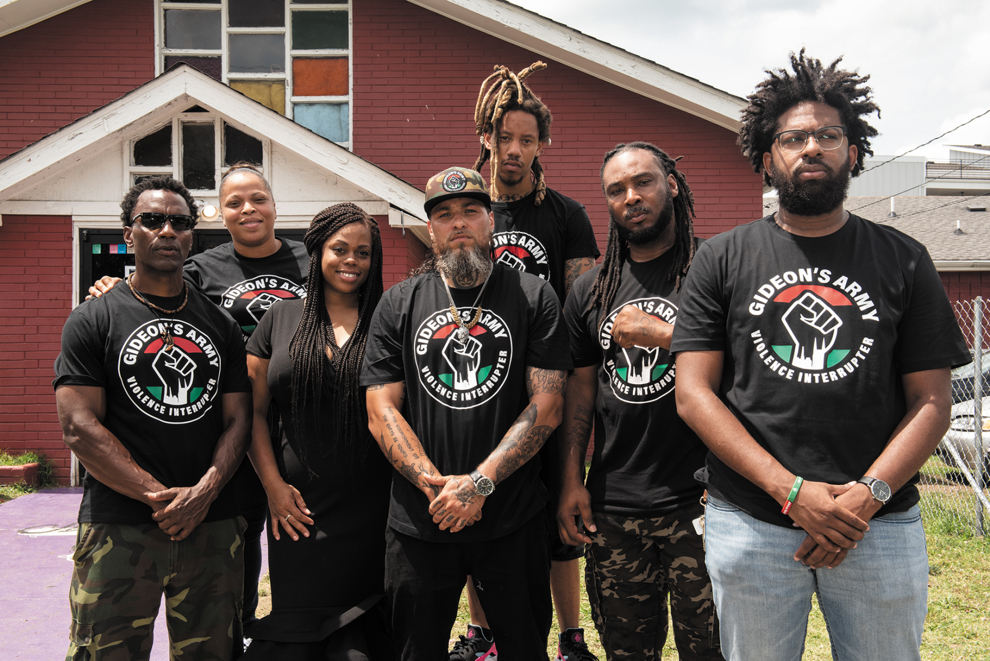 When Mariyo Deon heard that 19-year-old Charlie Easley had been shot and killed overnight in North Nashville, he left work immediately and drove to Easley's grandparents' house, where the teen had been living. At that point, on the morning of April 10, Deon didn't yet know if it was true. But he had to find out. 
Deon, a local hip-hop artist with a master's degree in education, had been mentoring Easley for more than eight years. He'd watched Easley grow up all too fast. It was widely known that Deon had been mentoring Easley, and an area school principal sent him a text message saying students were crowding the guidance counselors, telling them Easley had been gunned down. 
"I was broken," Deon says. 
But as he sat in his car outside of Easley's grandparents' home, he felt paralyzed. 
"Once I got by the house, I didn't really have the courage or the power to go knock on the door," he tells the Scene. "So I just went around the corner."
That's where he ran into a group of people in black T-shirts bearing the emblem of a raised clenched fist — members of the local activist organization Gideon's Army. 
The group, which describes itself as a "grassroots army for children," was founded several years ago by Rasheedat Fetuga, a former Metro schoolteacher turned indefatigable community activist. Since then, Fetuga and Gideon's Army have employed a number of strategies to break the cycles that lead to death or incarceration for too many black youth, particularly in North Nashville, a community with one of the highest incarceration rates in the country. Sometimes that work is relatively quiet, like the restorative justice program Fetuga runs at Pearl-Cohn High School to divert students from suspension and expulsion and disrupt what's known as the school-to-prison pipeline. 
Other times the group's efforts have redirected the attention of citizens and elected officials across the city. In 2016, Gideon's Army spearheaded the "Driving While Black" report, which showed that black drivers were disproportionately stopped and searched by Nashville police in all areas of the city. It provided statistical backing for the anecdotal evidence black Nashvillians had been discussing for years, and it fundamentally changed the conversation about policing in the city.
The newest prong in the Gideon's Army offensive is a crew of community members called Violence Interrupters. Based on the model used by a Chicago-based organization called Cure Violence, which frames violence as an infectious disease, the mission of the Violence Interrupters is as high-stakes as it gets, but relatively straightforward. The Violence Interrupters are in the streets of North Nashville most days, looking to establish an omnipresence in the community that enables them to de-escalate potentially violent situations and offer support to victims in a way that diminishes the likelihood of retaliatory shootings. Sometimes they find themselves standing between two people ready to do each other harm; other times they act as a first-response unit to offer families some stability in the wake of unfathomable trauma.
"I saw them, and I immediately felt relief," Deon says of seeing the Violence Interrupters on that day. "I felt like they could do something. I felt like if anyone knew anything, it would be them."
Quickly, the members of Gideon's Army started working the phones, and soon they had a general sense of what had happened. Police later confirmed that Easley had been killed in what they believed was a targeted shooting. 
Gideon's Army went to Easley's family home, offering what Deon describes as a therapeutic presence. Then they saw to funeral arrangements and ensured there would be food for the family afterward. But far from parachuting in and moving on quickly, Gideon's Army members stayed close. Deon says that a week later, when Easley's grandmother died of complications from a heart attack, the group was at the hospital with the family, helping arrange another funeral. 
When local news outlets ran the story of Easley's death accompanied by the teen's mugshot, a frustrated Deon became eager to do interviews about the shooting so he could offer a fuller picture of his protégé. Gideon's Army offered him support when it came to dealing with the media, he says, helping him advocate for Easley and other young people like him. 
"I do not know how I would've dealt with it had Gideon's Army not been in the park that day," Deon says. "Had they not been in the community doing the work they were doing, because I didn't know where to go, who to call."
---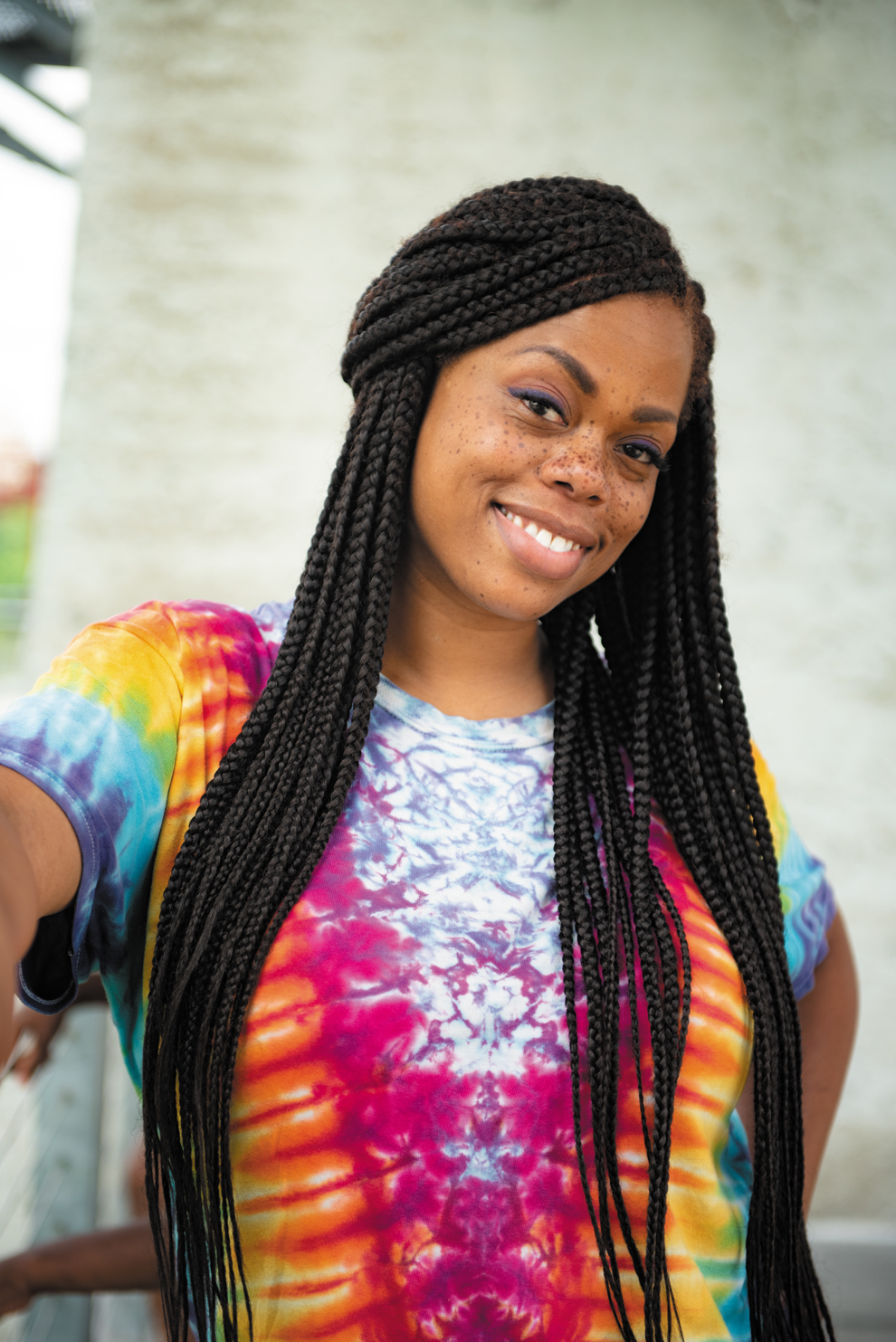 Rasheedat Fetuga's radical work can be traced back to a dark prediction told to her by a third-grade boy. 
Fetuga was a teacher in the early 2000s at Carter-Lawrence Elementary School in Nashville's Edgehill neighborhood. A student named Lamar Hughes told her matter-of-factly that he would be dead before he turned 18. 
Growing up in Cincinnati, Fetuga was not exposed to much violence. She lived in a safe home, in a relatively safe neighborhood. Her parents were deeply interested in the story of apartheid, and opposition to it, in South Africa. Fetuga's social consciousness was first awakened by the anti-apartheid songs of Hugh Masekela and the Academy Award-nominated 1997 documentary Mandela, which were played often in her home. 
As a teenager, Fetuga started going to the Haley Farm in Clinton, Tenn. Formerly owned by Roots author Alex Haley, the farm was purchased by the Children's Defense Fund in 1994 and turned into a retreat for longtime activists and future movement leaders. There, Fetuga came under the tutelage of then-CDF president Marian Wright Edelman and learned at the feet of civil rights activists like the Rev. James Lawson and the Rev. C.T. Vivian. 
But her first brushes with the buzzsaw of violence that ravages so many marginalized and poor communities came when she began teaching at Carter-Lawrence.
"The kids living in Edgehill would come in and talk about these shootings, walking over crime-scene tape and bodies," she says. 
At the Haley Farm, she'd learned about the school-to-prison pipeline. The term describes the phenomenon whereby disadvantaged students are disproportionately affected by harsh school discipline policies. Expulsion and suspension put them out on the streets, which makes them far more likely to end up incarcerated. But Fetuga says for her, this was just a concept until she met young Lamar Hughes. 
After Lamar left her class, Fetuga watched as he was routinely sent out of class and pushed out of school. Eventually, she says, he disappeared from her life. Years passed, but Fetuga doesn't forget a student. 
"I looked for him," she says. "I looked for him, every year, I looked for him."
 She even took to knocking on doors in the Edgehill neighborhood, hoping someone might know the whereabouts of the little boy who'd predicted his own premature death. 
One night, while she was attending a Night Out Against Crime event in Edgehill, Fetuga finally saw him. He was older, she says. "Just beautiful." She smothered him, kissing his face, running her fingers through his hair and marveling at how he'd become a young man. 
They exchanged numbers and made plans to be in touch. And as she left, she remembered what he'd told her all those years before — that he'd be dead before he turned 18. She shouted across the street, asking how old he was. His reply landed hard. He told her he was 16 years old. 
"My heart dropped," she says. 
A few weeks later, Fetuga was on a trip to Chattanooga with her own children when she got the phone call. Lamar Hughes had been shot and killed on Sept. 5, 2010. 
As Fetuga tells Lamar's story almost nine years later, she starts to cry. She'd visited his grave just a day before this conversation with the Scene. She remembers how local media outlets — as with the story of Charlie Easley and so many other victims — ran Lamar's mugshot, "not even understanding that he's a whole person." A person's criminal history, evidence of their lowest moments, is easily obtained. But Fetuga remembers what women in the community told her after Lamar's death — how he liked to shoot dice and would often use his winnings to buy groceries for single moms in the neighborhood.   
To speak to Fetuga is to tap into an immense well of compassion and empathy. Behind her welcoming smile rests a radical imagination about how Nashville could be. The resiliency with which she has pressed on despite proximity to such trauma is combined with a sensitivity that hasn't been dulled. Soon after Lamar, she would lose more students, and their names pour out of her in a devastating stream. Lamar, Tevin, Mikal. The list goes on.  
"These are kids," she says. "I wiped their noses. I tied their shoes. I held them, and I sang to them. I taught them to read and to write and to dream. And they're just getting gunned down.
"That's really when the work started," she adds. "The work started with me triaging families that I had taught."
For Fetuga, though, the work is not a job — it's life. Apart from her work with Gideon's Army over the years, she's also been a foster parent in both official and unofficial capacities. She's taken in children through the Department of Human Services, but also provided a home for students and their families, as well as teen mothers in the community. She estimates she's had more than 100 kids come through her house for various amounts of time over the years. Once she took in a mom, her three kids, two cats and two dogs. 
She has three children of her own, but she declines to say how old they are. "I can't tell you their ages, because then people are going to be calculating my age!"
With Gideon's Army, Fetuga had always envisioned the mission playing out in four areas: the schools, the courts, policing and the community. At Pearl-Cohn she has brought the philosophy of restorative justice — which aims to repair the harm caused by crimes or misbehavior, and address the root causes, more than solely punishing the offender — to a classroom setting. The organization has also worked on restorative justice initiatives through Metro Arts and Judge Sheila Calloway's court. And they've been a constant source of pressure when it comes to policing reform. 
Fetuga says she'd always dreamed of eventually getting to the fourth piece, the community, by bringing the violence interruption model to Nashville. Now it's up and running. 
---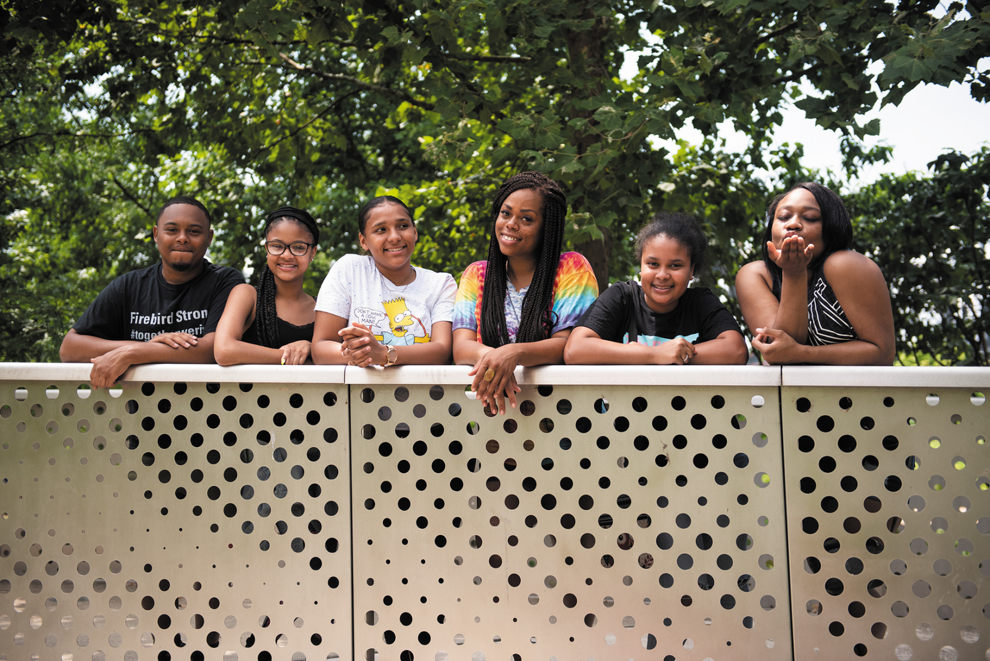 On a recent Wednesday afternoon, dozens of young kids are running around Monroe Park, across the street from Mt. Carmel Baptist Church in North Nashville. Among them are the Gideon's Army Violence Interrupters. Chef Mic True plays basketball with a group of kids; Larry Turnley (known as L.T.) directs traffic as others cross the street. The church and the park are surrounded on all sides by signs of the kind of new development that is destabilizing this historically black neighborhood, and displacing so many of its residents. 
True crosses the street to introduce himself. Standing on the hot sidewalk, he breaks down what violence interruption looks like. Within 24 hours of a fatal shooting, for instance, they send in Gideon's Army member Deirdre Nicole to make contact with the family of the victim. She works to figure out what needs the family might have and how Gideon's Army can work with partners in the community to meet them. 
"Then we start trying to de-escalate the situation, find out who the key players are, find out exactly what's going on," True says. "From our in-depth knowledge in the streets and from where we've been, usually everything that happens we can find out about it. We don't work with police officers — we work with the community. We're all about conflict resolution within the community, creating solutions to keep people from killing each other." 
The strategy relies on the credibility of the interrupters themselves. Everyone here today — True and Turnley among them, as well as fellow Violence Interrupter Hambino Godbody — is originally from Nashville and has come out of the situations they are now trying to change. True says he was associated with gangs in his younger years, applying natural leadership skills to the world around him; Godbody has done prison time and says, "I know the solution because I used to be the problem"; and Turnley got out of prison in 2016 after serving a 20-year drug sentence. He quickly became a leader on the inside, and he is the "general" of the Violence Interrupters.  
The confidence that comes with experience and a clarity of purpose gives these men an undeniable charisma. It's not that their presence is intimidating, but it is commanding. By the time they joined Gideon's Army, they were all already doing this sort of work, albeit informally. 
"We basically became Voltron," True says. "We put all the pieces together and we're the 'hood superheroes." 
On this particular Wednesday afternoon, the whole crew is sitting in a circle inside Mt. Carmel Baptist Church's fellowship hall. Fetuga is there too, along with some other Gideon's Army members, including some recent Pearl-Cohn graduates who were a part of Fetuga's class. A girl named Ma'aiah says bluntly that Fetuga "saved" her. 
These very kids were the ones who interviewed the prospective Violence Interrupters. The idea is that the organization can't be successful unless the youth of the community — the youth for which they are trying to provide a safety net in a variety of ways — sees them as credible and trustworthy. 
"It was more pressure than an adult," Godbody says. "Children are brutally honest. I know if I passed the test with the kids, then I'm vouched for."
The job can be dangerous for obvious reasons. Godbody says there have already been multiple occasions when he's found himself, as the job title suggests, working to literally interrupt a violent situation. One such instance came in the immediate aftermath of a recent shooting. 
"There was another brother there who was upset about that, who wanted to shoot somebody because of that, but a conversation that we had stopped the retaliation," says Godbody. "Whereas they would have never talked to the police."
In a community where there is a pervasive lack of trust in the police, groups like Gideon's Army and the Violence Interrupters — groups seeking to protect and serve the community from within — can accomplish things that armed officers likely never could. But owing to its grounding in restorative justice practices, the violence-interruption model also offers an alternative to the traditional criminal justice system, which is often a large hammer that can make everything look like a nail. 
"Once you call 911 it's pretty much out of your hands, even if it was something you felt was minor and you might just call 911 out of habit," says Jamel Campbell-Gooch, a Gideon's Army staffer who also serves as vice chairman of Metro's new Community Oversight Board. "So what the violence interruption team allows to happen is shared power. You call somebody that you know and you have a conversation with them, and you don't have to worry about someone losing their life on the back end, because honestly, whenever you call the police that's a possibility."
For Fetuga, sitting in this circle with these people wearing shirts that say "Gideon's Army Violence Interrupter" is a major accomplishment, though she hopes it's just the beginning. Gideon's Army would love to spread the model to other parts of the city.
"It feels very surreal, because it's been years of work and a vision that not a lot of people shared or really believed in when I would talk about it," she says. 
It's a radical vision based on the idea that peace is not defined just by the absence of violence, but the presence of a community that wipes away tears and binds up wounds.