In a bare room on the fourth floor of the Stadium Inn, the featureless white hotel tucked beside I-24 near Nissan Stadium, a 64-year-old man named Darrell Mullican sits on a sunken bed. A nearly empty bottle of Skol Vodka stands watch on a nearby dresser. An unlit cigarette is in his mouth, but a thin haze of smoke in the room, and a stronger smell, suggest it's not his first of the day. 
On this recent Friday afternoon, the temperature is hovering just above freezing outside. Darrell paid $250 to rent the room for the week. For that he gets a warm place to stay, a bed and a television, but that's about it. He says the hotel did not provide towels or toilet paper. Asked whether there appeared to be new sheets on the bed when he checked in, he answers in a low, gravelly voice.
"Ask the bed bugs." 
Darrell has been on and off the streets in recent years, and local outreach workers are trying to get him into more permanent housing. A retired construction worker, he proudly cites his membership in a local union, Iron Workers Local No. 492, more than once during the conversation. His last job? The $250 million Omni Nashville Hotel, the luxurious companion to the Music City Center and a shimmering monument to New Nashville.
"I welded that son-of-a-bitch up," he says.
For now, for this week anyway, he lives here.
The Stadium Inn, which has stood at this location under various names for more than 50 years, can signify a number of things, depending on one's vantage point. To the driver passing by on the interstate, perhaps it looks like one of a million grungy exit-ramp hotels that's best avoided — one TripAdvisor review from December 2017 describes it as "hell on earth." To folks like Darrell, it functions essentially as a flophouse, a place to stay when a check comes in, a respite from life on the streets. To those who rent rooms for months and even years, it is home. If the Omni, just a mile-and-a-half away, rose as a sign of a burgeoning Southern metropolis, the Stadium Inn stands as a decaying reminder of who's being left behind. One longtime resident of the hotel calls it "the last bastion of poor people in the downtown area." 
The Inn has also been used as a symbol of a gritty Old Nashville that dies a little more with every dive bar that closes and project that begins construction. The hotel has served as the backdrop for music videos by Nashville artists like Caitlin Rose and Lambchop. It also famously hosted a now-defunct wrestling circuit that was briefly a local underground craze. 
But it's not all romantic, divey charm. A lawsuit filed against hotel owner Thomas Throneberry last year, stemming from the alleged rape of a guest by a maintenance worker in 2017, described the Stadium Inn as "a hotbed of criminal activity." Citing police records, the suit highlighted a litany of disturbing incidents at the hotel between 2015 and 2017. Among them: domestic disturbances, criminal vice activity (which typically includes prostitution), four deaths and two alleged rapes, including the one that prompted the lawsuit. Prosecutors dropped criminal charges against the maintenance worker, James Hurt, in January, but the lawsuit is ongoing.
The police continue to make regular visits to the hotel. Officials with the Metro Nashville Police Department's Central Precinct say their officers have responded to 94 calls for service at the Stadium Inn since January 2018. Based on records requested by the Scene, the list includes a number of domestic disturbances, disorderly conduct and reports of theft. 
Back on the fourth floor, Darrell welcomes a return visit. 
"You can come by any time," he tells me. "I don't know how long I'll be here."
Down in the parking lot, a man and a woman with children in tow load up a car with trash bags full of belongings. 
---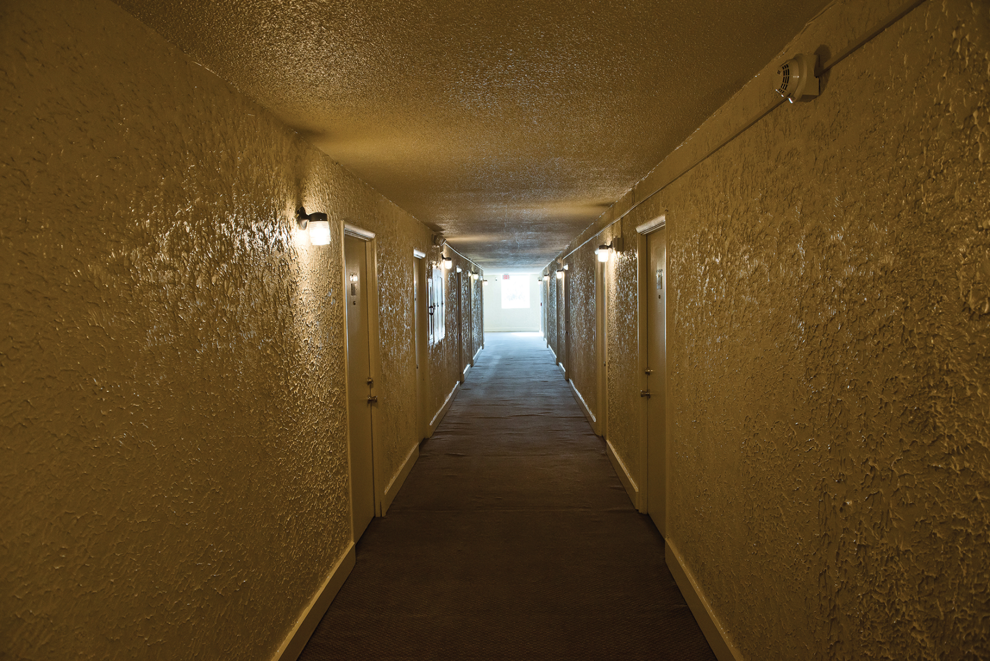 The Stadium Inn has had a variety of different names over the years. In 1983, then called the Quality Inn Parkway, the hotel was the site of the 37th Tennessee Open Chess Tournament. In the 1990s, it did stints operating as the Best Host Inn and the Budget Host Inn. By 2004 it had become the Stadium Inn, and a newspaper ad at that time announced it as the host of an apostolic/prophetic gathering. 
From 2005 to 2013, it was the host of the United States Wrestling Organization's weekly matches in a small banquet hall off the hotel's lobby. (If you want a picture of New Nashville colliding with an old haunt like the Stadium Inn, consider the sign on the front door that reads "No scooters allowed inside the building.")
On a recent afternoon, an older man smoking a cigarette outside the hotel's entrance declines to be interviewed but notes he's stayed at the hotel a number of times over the years.
"You could write a damn book about this place," he says.
When I call about getting a room, a woman working the front desk says to come by in person with $100 cash and an ID. A day later in the lobby, the attendant's question succinctly sums up the spectrum of experiences represented by Stadium Inn residents. She asks if I want a room "for a night, a week, a month or a year?" A night will cost $100, while a week will run you $250. If you can pay up front, $12,000 will get you a room for the year. 
Inside, it's clear there's been a bit of work done. The stairwells have been freshly painted, for instance. 
Room 313 is spare and showing its age, but it's not quite the hellhole described in numerous negative online reviews. The sheets seem clean. There is one roll of toilet paper and one towel in the bathroom. On a bedside table, there are several disembodied insect legs, and on the floor there is one dead stink bug. 
Records from the Metro Health Department show that a guest who filed a complaint in March 2018 reported seeing mice in her room and hallway, as well as cockroaches. The hotel responded by putting out mouse traps and calling in a pest service. On its most recent health inspection, in August 2018, the hotel received a score of 84 out of 100. The inspector makes note of mold on shower curtains and trash under the bed in one of the rooms, among other things. 
Metro Codes Department records include this note from January 2017, citing a report made to the city by a maintenance worker at the hotel:
"Former Maintenance employee reporting this ... Bug [infestation], electrical faulty going into rooms, outlets are arcing out? potential fire hazard, plumbing in basement where main water shutoff valve are at pipe leaks (reporter claims the hotel will try to keep you out and not let anyone look at them) Electrical wires close to where the leaks are, claims that they are doing only patchwork not fixing actual leaks. Ventilation in rooms don't work, only AC in rooms but no ventilation going out. Mold growing in some rooms due to pipes breaking (room # 105 & 205) Black mold growing in wall in room either 312 or 314 due to pipes breaking."
Subsequent records show the hotel was cited for several codes violations in September 2018 and was brought to environmental court in December for failing to address them. 
On this February afternoon, the hallways are mostly quiet save for the sounds of blaring televisions in several rooms. Outside, some people are walking back from work. One woman who just finished a shift at Shoney's says she's lived at the hotel for a year, and that it suits her just fine for now.
"I don't bother nobody, nobody bothers me," she says. "It works."
Across the street, Lionel Gadson is standing in a median near the I-24 overpass, holding a sign that reads, in part, "anything helps." He says he's in his third year living at the Stadium Inn and that its reputation as a dangerous place, or a den of criminality, is overblown. He's the one who referred to the hotel as the "last bastion of poor people in the downtown area," and he thinks the hotel's clientele is the reason behind a reputation that doesn't match his experience. If rich tourists drink or do drugs or even pay for sex at swanky hotels downtown, he reasons, it just doesn't register in the same way. 
"It's no different from any other hotel," he says of the Stadium Inn. "It's just poor people."
He goes on: "The [Drake Motel] is probably worse. Some of these places on Dickerson Road are a lot worse. I've been in all of them."
Gadson says he's lived in Nashville for nine years. For a while he stayed at the Nashville Rescue Mission, which is where he met his current roommate. After that, they lived at the Cumberland Inn on Trinity Lane for a bit — until an incident during which a police officer was shot while investigating drug activity. 
"You remember that police shooting at the Cumberland?" he says. "Yeah, we got out of there."
Now they split a room at the Stadium Inn for $950 a month. They're both on a fixed income, he says, and he sometimes works as a day laborer, along with some occasional panhandling. He points to a woman crossing the street, walking toward the hotel.
"Her husband has a job out in Mt. Juliet," he says. "One check and they're out of here. It's struggling people. It's working people."
As for his argument that the hotel is not infested with criminal activity, police officials do lend some credence to what he says. 
In a written statement, Cmdr. Gordon Howey of the MNPD's Central Precinct says, "The Stadium Inn hasn't been the problem it used to be; however, it is still an issue." 
The precinct community coordinator, Sgt. Rickey Bearden, added in his own statement that he "would not consider Stadium Inn an outlier of crime based on our calls for service at the location." 
That amounts to a little more than 1.5 calls to the police per week. 
The Stadium Inn is owned by Thomas and Beth Throneberry of Murfreesboro through a holding company called Parkway Associates. Their attorney, Gilbert Anglin, declined to comment on the lawsuit against the hotel. Thomas Throneberry did not respond to requests for comment on this story. 
The couple also own the Regal Inn on Church Street in Murfreesboro, an old hotel that has attracted scrutiny from city officials there. In 2015, according to a report in the Murfreesboro Post, Murfreesboro Mayor Shane McFarland wrote in a letter to the hotel's owners that "the amount taxpayers are having to pay to be your security service is unacceptable." In response, the Throneberrys announced they were implementing a "no-tolerance" policy toward illegal activity at the hotel.
---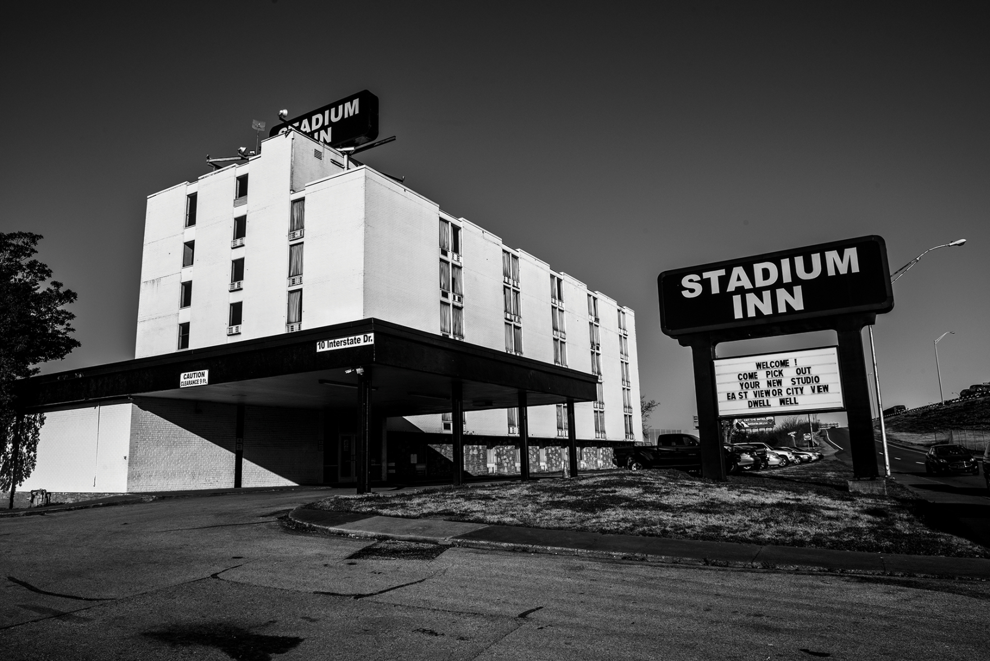 Until earlier this month, one of Nashville's largest homeless encampments sat just a few hundred feet from the Stadium Inn. A collection of tents had been arranged beneath the criss-crossing overpasses near the intersection of Fifth Street and Main Street for a year or so before the mayor's office ordered it cleared out. The camp closure brings Nashville's failure to address a growing affordable-housing crisis into sharp relief. 
For many people, hotels like the Stadium Inn are a way station, another stop in the precarious journey to find stable housing.
A man named Robert Brooks, who goes by "Country," tells the Scene he lived at the hotel for a few months, a stay made more difficult because he uses a wheelchair. A room at the Stadium Inn, to put it lightly, is not a model of wheelchair accessibility. Country says when he couldn't take out his own trash, the hotel wanted to charge him for having staff to do it for him. 
"I felt unwelcome there," he says, speaking by phone from the group home in Gallatin where he lives now. "They made everything hard."
The accessibility handrails you see in a typical hotel bathroom? Not at the Stadium Inn. 
"I had to get a milk crate, put it on the bathroom floor where the rug begins, get my wheelchair up there and lock the wheelchair down and ease myself down on the crate and scoot to the bathroom," Country says. 
Like Darrell, he mentions bed bugs and says he was charged for toilet paper. 
"It's a rip-off place, man."
Local outreach workers, who fight on the frontlines against poverty and homelessness, are intimately familiar with places like the Stadium Inn and the people who live there. 
"For over 10 years, I've worked with people who have stayed at Stadium Inn, and I am very familiar with the conditions inside the hotel," says Lindsey Krinks, the education and street chaplaincy coordinator for the local homeless outreach organization Open Table Nashville. "Over the years, I've come to know Stadium Inn as a dilapidated hotel that is riddled with roaches, poorly ventilated, and unclean, but that offers a place for people who are falling through the cracks in our system and are turned away by other hotels and housing providers. When I think of my experiences in Stadium Inn, I think of smelling smoke and urine, seeing mold in multiple bathrooms, and hearing toddlers crying, elderly folks coughing, and dogs barking through the halls."
The dilemma that Krinks and her colleagues face illustrates the dire, largely unseen circumstances facing the many Nashvillians who aren't able to keep up with the city's rapid growth and increasing cost of living. And for some of the people Krinks works with on a daily basis, the choice is either the streets or a room at a place like the Stadium Inn.
"When I was working with a 70-year-old woman in a wheelchair who drew disability and was told she couldn't stay in other shelters because she couldn't take care of herself, we turned to Stadium Inn until she got housing," says Krinks. "When there was an ice storm a couple years ago and I was working with a woman downtown with severe mental health issues who had no ID and refused to go to a shelter, we turned to Stadium Inn. It's a Catch-22 situation." 
She goes on: "If Stadium Inn closed tomorrow, it would create a silent crisis where dozens — if not hundreds — of vulnerable, economically disenfranchised people hit the streets in even more precarious conditions than they were in before."
The crowds partying at Topgolf down the street, the fans filling Nissan Stadium and the business people driving into downtown may see the Stadium Inn as an eyesore. But it's something else entirely. The hotel — and many others like it — acts as a veil, shielding an increasingly wealthy, growing city from seeing the people being discarded in its wake.