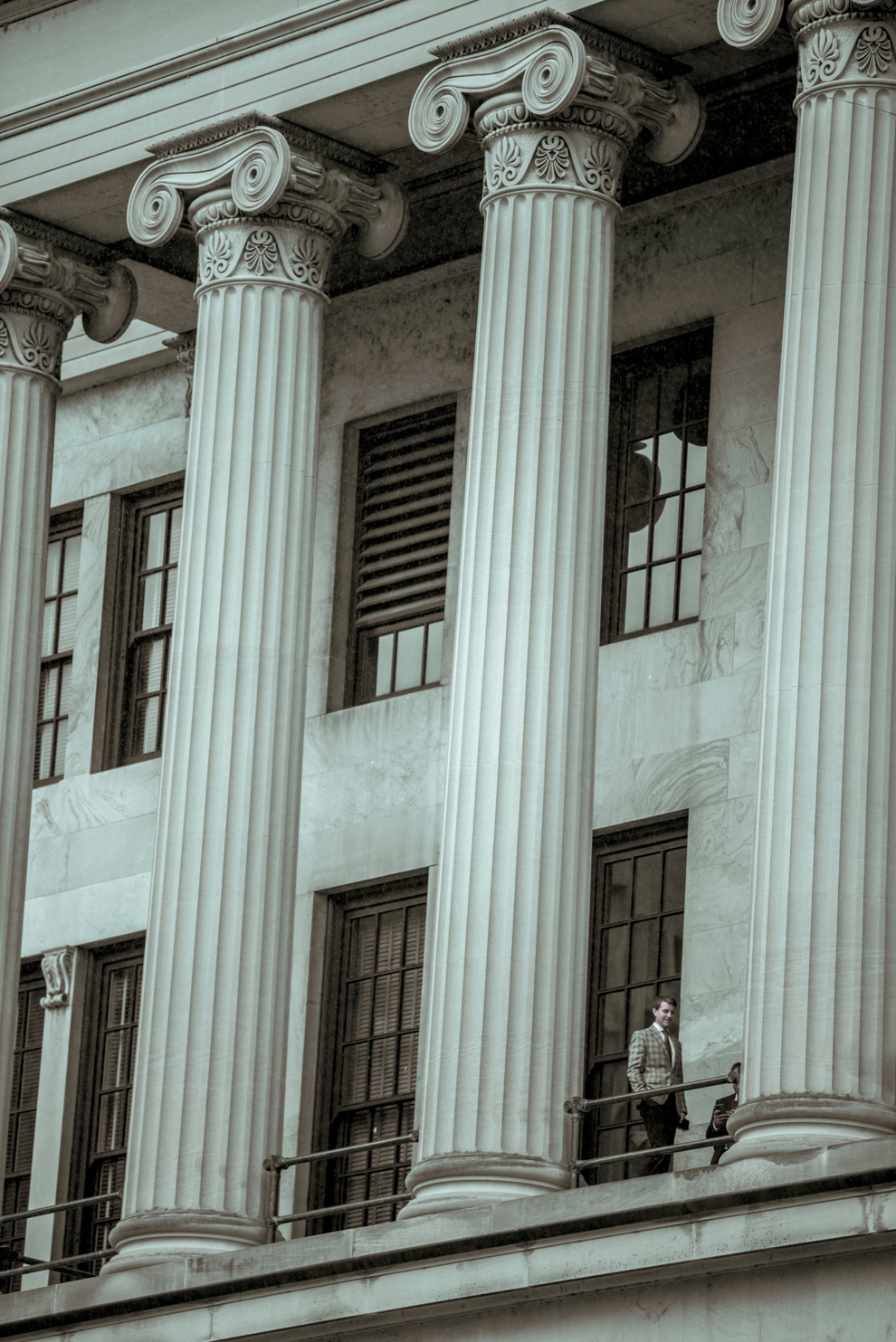 On two of the most hotly debated issues during the recently concluded session of the Tennessee General Assembly, two conservative Republican doctors stood on opposite sides. 
When lawmakers debated whether institutions should be allowed to require the new COVID-19 vaccine, Rep. Bryan Terry of Murfreesboro was in favor of banning such requirements. Rep. Sabi Kumar of Springfield, meanwhile, cautioned his fellow Republicans. 
"Public welfare is what we are here to do," Kumar said during a March committee debate. "We are allowing our quest for liberty to interfere with public welfare. … I don't think we should sacrifice anybody at the altar of our own personal liberty."
When the legislature took up various marijuana proposals, the two medical providers were again on opposite sides of the debate. Terry, an anesthesiologist, has long advocated for Tennessee — one of the few states that has no medical marijuana program — to develop a medical one. Kumar, though, is highly skeptical of regulating the plant in Tennessee before federal authorities give the go-ahead. 
Terry tried several angles and seemed to land on a limited decriminalization bill that frustrated people on both sides — the perfect compromise. But it failed by a single vote in a House committee, sending Terry and other medical marijuana advocates back to the drawing board. They were ultimately able to add many of the decriminalization provisions to another bill and quickly pass it in the final days of the session, acknowledging that they wished it went further while calming the concerns of marijuana opponents like Republicans Lt. Gov. Randy McNally and Gov. Bill Lee. What they accomplished on the final day of the session still leaves Tennesseans with less access to medical marijuana than residents of almost any other state, but it was the biggest step yet here. Now people with nine medical conditions — including HIV/AIDS, terminal cancer and ALS — can possess 0.9 percent THC oil obtained in other states, as long as their local doctor confirms twice a year that they have the qualifying condition. 
The bill was the rare example of true compromise conducted at least in part in the open. But that is not the normal order of things at the Tennessee legislature, whose Republican supermajority spent much of the past few months deploying its consolidated power to push through conservative vanity projects. 
---
This session, Tennessee's Republican lawmakers simped for right-wing pseudo-celebrities and Tennessee transplants Ben Shapiro, Tomi Lahren and Candace Owens, the latter of whom got a standing ovation when she visited the House floor. (Owens, for context, once said: "If Hitler just wanted to make Germany great and have things run well, OK, fine. The problem is that he wanted, he had dreams outside of Germany.")
They banned a nebulous theory related to racism from being taught in Tennessee schools, an effort that seemed to seep out of the national conservative media ecosystem down to Tennessee, where lawmakers had little evidence that it: A. existed in Tennessee schools; or B. was bad. They briefly debated retaliating against the commission that decided to move a bust of the enslaver and alleged Confederate war criminal Nathan Bedford Forrest from its honorary perch at the Capitol.
They appointed a 9/11 truther and 2020 election truther to the body that decides which textbooks can be used in schools. They named the stretch of street home to many of the most prominent Metro Nashville offices after former President Ronald Reagan — seemingly in retaliation for the city's honoring of Nashville civil rights veteran John Lewis and Martin Luther King on streets near the Capitol. One of the governor's stated top priorities this year was banning a type of China-backed research institute that is not operational at any Tennessee colleges, and the legislature obliged. They banned other stuff that isn't in Tennessee too, like vaccine passports. They didn't get everything they wanted, though: An effort to designate an official state tool (the ladder) passed in the House but faltered in the Senate. 
"We had opportunities to really do things that were innovative and transformative and could really move our state forward," says Senate Democratic Caucus Chair Raumesh Akbari (D-Memphis). "A lot of the culture-war-type legislation sucked the oxygen out of the room."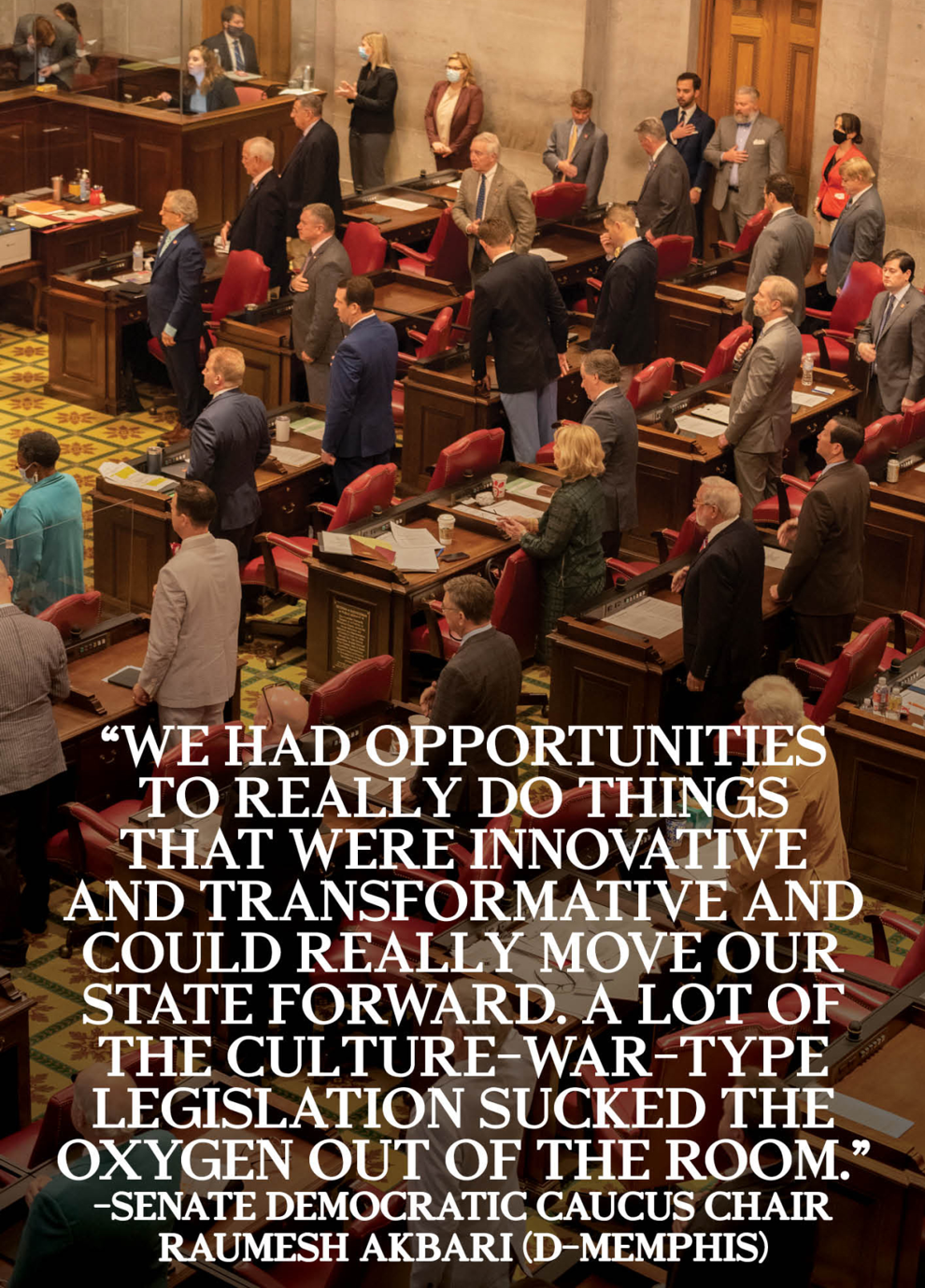 Other divisive legislation could prove to be more substantial. Another of the governor's top priorities — abandoning handgun permit requirements — passed both chambers relatively early in the session. House Majority Leader William Lamberth (R-Portland) called it "a massive step forward for freedom," but many conservatives wanted the bill to go further by applying to all guns and to people younger than the 21-year-old minimum in the bill. (The state has already been sued by a pro-gun group over the age minimum.) Law enforcement representatives across the state voiced their opposition to the proposal, but the typically pro-police caucus was not swayed. Rep. Jerry Sexton (R-Bean Station) even said he was offended by their audacity in calling it a bad idea. 
Since the legislature in 2020 passed a so-called heartbeat bill banning abortion as early as six weeks after conception, abortion was not at the forefront during the 2021 session. (That legislation, championed by Lee, was almost immediately declared unconstitutional by a federal judge.) But that didn't stop conservative lawmakers from seeking to further regulate the procedures. Overwhelming majorities in both chambers this year passed a bill requiring women who seek abortions to consider burying or cremating fetal remains. To supporters, it was a matter of dignity, but reproductive rights advocates declared it an attack.
"They want to chip away at our rights little by little, hoping we don't notice, until suddenly our bodily autonomy is banned completely," said Anna Flores, an organizer with Tennessee Advocates for Planned Parenthood, during a protest outside the Capitol.
Another issue that seemed pulled from a Fox News roundtable rather than actual problems in Tennessee was the push to require transgender students to compete in youth sports based on the sex listed on their birth certificate. The goal, one House supporter said, was to "maintain the competitive balance, the safety for girl athletes and opportunities for scholarships." No girl athletes, trans kids or parents were called to testify, and no backer of the legislation could come up with a situation in Tennessee in which this had been a problem. 
Adam Love, a professor of recreation and sport management at the University of Tennessee, said the legislation "further stigmatizes an already marginalized group of children."
One legislative effort certainly was grounded in reality. Tennessee Republicans have long chafed, especially recently, at Davidson County judges — elected by mostly Democratic voters in Nashville — who typically get the first crack at challenges to the constitutionality of laws passed by the legislature. Lawmakers were frustrated when in recent years one Nashville chancellor ruled their private-school voucher program unconstitutional because it was limited only to Memphis and Nashville, and another ruled that the state had to expand voting options amid the COVID-19 pandemic. But while these cases start out before locally elected Davidson County judges, the appellate process is controlled by Republican-appointed judges from across the state. 
The first effort at responding to that reality — attempting to forcefully remove the chancellor in the voting case, Ellen Hobbs Lyle, from the bench — was met with intense outcry from the legal community. Some legislative leaders, though sympathetic to the overall goal, saw it as ham-handed, and it was summarily killed. Then Republicans took up other efforts to reshape the judiciary, like moving original jurisdiction for constitutional challenges out of Nashville and to the plaintiff's home county, or by creating a new "super chancery court" to hear just those cases. After weeks of debate, Republicans crafted an entirely new concept in the final hours of the legislative session — so fresh that it was drafted with a typo and the governor had not seen it by the time he addressed the media after the session. The agreed-upon measure contains parts of several of the previous bills, including moving jurisdiction to a plaintiff's home judicial district, but it would also trigger the impanelment of a three-judge special chancery court to hear constitutional challenges at the trial level. The trial judges would be picked from the current roster of elected judges around the state, one from each of Tennessee's Grand Divisions. By giving judges from around the state first crack at constitutional challenges, it will bring "a certain sense of equity to the process," said Rep. Michael Curcio (R-Dickson). 
"Folks, this is madness," Senate Minority Leader Jeff Yarbro (D-Nashville) said. He was so frustrated that he moved to end the legislative session immediately, a symbolic effort that was quickly dispensed with. "We are in the last two-and-a-half hours of session, and we're lighting a bomb on fire and throwing it into the judiciary. We have no idea how this is going to work."
We'll see later this year when it goes into effect.  
Another bill that will have tangible effects in the state was designed as an aid to employers, whom Republicans claim are having trouble finding workers because the federal government boosted state unemployment payments during the pandemic. Republican leaders in the legislature came together to cut the number of weeks Tennesseans can draw unemployment from 26 to as few as 12 (and up to 20, depending on the unemployment rate). The bill also bumps the weekly payout by between $25 and $50. 
"It will help people because it puts more money in their pocket right up front," said Sen. Jon Lundberg (R-Bristol), the Senate sponsor, during committee debate. "For businesses it gives them an opportunity to hopefully attract some people and get people working." 
There are, of course, many other reasons why some people may not be returning to work — low wages, inability to find child care and a lack of training among them. Or they might have died from COVID-19. Opponents called the timing of the cuts, shortly after hundreds of thousands of Tennesseans unexpectedly found themselves without work, cruel. And the bill's start date is so far out — December 2023 — that it is not expected to do much to address any current issues. 
"I don't think anyone's trying to make a living off unemployment benefits — it truly does give folks an opportunity to find a job," Akbari said. "Coming out of something like the COVID pandemic, to reduce benefits at this point, I just don't know why we're moving in this direction."
---
Though Republicans in the supermajority did largely get what they wanted out of the session, a few efforts, particularly those related to criminal justice, attracted the support of Democrats at the Capitol.
That's not to say the two parties were in lockstep on criminal justice. Lawmakers moved to enhance penalties for some crimes, and one estimate found that the state would be spending tens of millions of dollars more on incarceration after this session — despite claims by Lee and some legislative leaders that the goal of their "criminal justice reform" push is to have fewer people in prison. Republicans also sought to make it a felony to block roadways and sidewalks while protesting, give immunity to drivers who unintentionally hit protesters blocking roadways and make it a crime to intimidate a bystander while participating in what is deemed to be a riot — all designed as responses to a summer of racial justice protests around the Capitol that made many lawmakers uncomfortable. Though the bill passed in the House, its Senate sponsor punted on it until next year. 
A headline-making reform effort that drew support from nearly everyone in the building was the institution of police use-of-force regulations, an outcrop of discussions between the governor's administration, lawmakers and law enforcement representatives that followed the police murder of George Floyd in Minnesota last year. The new policy, which passed easily in both chambers, bans chokeholds unless an officer believes deadly force is authorized, requires instruction on chokeholds at police academies, bans no-knock warrants and requires officers to intervene when witnessing excessive force by a colleague. Though some critics said it doesn't go far enough, that it was compromised by its reliance on law enforcement input and that it simply codifies policies that many agencies already have in place, it was a rare example of Tennessee lawmakers from both parties agreeing on something — and a rare if reserved critique of some law enforcement practices by typically supportive Republicans. 
There were other points of agreement too, including on the expansion of expungement eligibility and new approaches to judicial diversion. Superminority Democrats largely didn't have an issue with many of the items included in the $42.6 billion spending plan passed during the penultimate week of the session. They liked pay raises for teachers (though they wanted bigger ones), investments in the state's technical colleges and a new residency program for rural hospitals. 
But some of the largest line items in the budget left Democrats wanting, including the creation of a $250 million mental health trust fund, whose interest is expected to be in the seven-figure range annually. It's not that they opposed spending money on mental health services for kids, but many of them would have rather seen such a large pot of money put to more immediate use. They also questioned the need for funnelling hundreds of millions of dollars into the state's robust rainy day fund and stable pension fund. Republicans said both were necessary to keep the state fiscally sound long into the future. 
As they always do, Democrats pushed for Medicaid expansion under the Affordable Care Act. Since Republican then-Gov. Bill Haslam failed to accomplish the feat in 2015, efforts have continued annually with diminishing response from leaders in the legislature. Some advocates saw an opening this year after federal legislation further incentivized the few states who have not expanded the health care program for the needy. But when Democrats brought it up during this legislative session, it was dismissed out of hand. 
Representatives from each party chastised the other for making the budget process a political one, which of course it inherently is — Republicans were "disappointed" that many Democrats voted against the spending plan, while Democrats argued they were excluded from the process even more than they typically are. At the Tennessee legislature, performative defensiveness is the name of the game. When confronted with the fact that significant pieces of legislation were crafted in a backroom, leaders chafe. Everything of note was of course crafted in a backroom — how else could the conference committee tasked with rewriting the judicial bill have opened the public negotiating meeting with a plan already drafted? Of course Democrats, whose power in the legislature is at a low point, were mostly excluded from the process, and of course it was political, just as the Republican-controlled backroom crafting of new election maps will be. 
---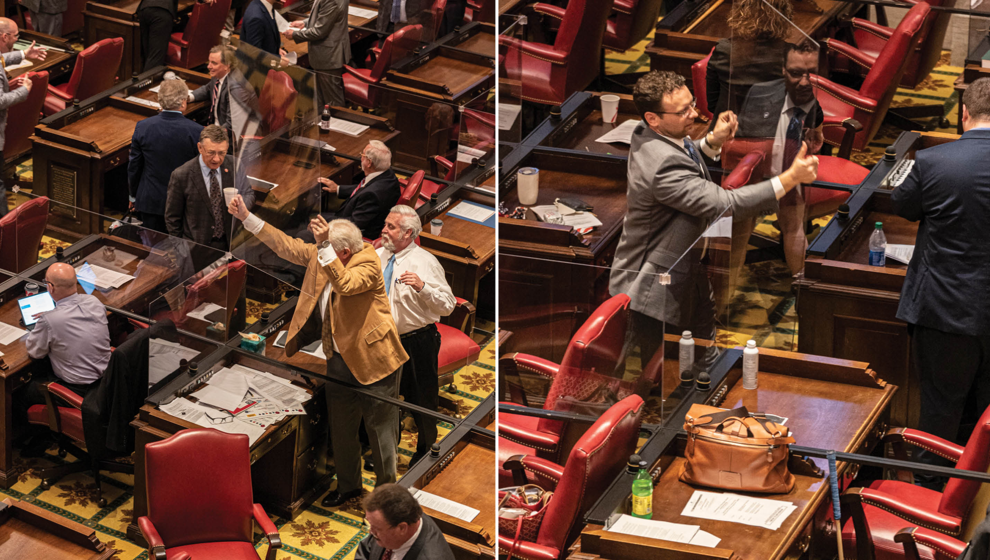 Before the lawmakers left town, they celebrated a symbolic, if optimistic, end to the pandemic. Many of them joyfully ripped down the clear plastic barriers that separated their desks on the House floor. Tape directing foot traffic in the Cordell Hull State Office Building was pulled up. And thermometers used to screen visitors entering the building disappeared. But the disease was not gone from their lives: Members spent part of their final week in Nashville gathering signatures on a get-well-soon card for a colleague, Republican Rep. David Byrd, who was first hospitalized with the disease nearly six months ago. Last week, as representatives prayed for Byrd, who missed the entire four-month session, he was transferred from a Nashville hospital to a rehab center, though he can barely walk after his bout with the disease and has lost more than 50 pounds. 
Still, said Sen. Janice Bowling (R-Tullahoma) on the Senate floor late last month, "This is now no longer a pandemic."