Before a mechanical shark chomped the summer box office, before One Flew Over the Cuckoo's Nest became the second movie in history to sweep the major Academy Awards, another movie seemed poised as the cultural sensation of 1975. Its director, Robert Altman, had already scored an era-defining hit five years earlier with the anti-authoritarian war comedy M*A*S*H, even if the sublime works that followed it — McCabe & Mrs. Miller, The Long Goodbye, Thieves Like Us, California Split — failed to connect with the same wide audience.
That March, The New Yorker's Pauline Kael saw an early cut of his new movie, Nashville. Arguably the most influential critic of the day, the ardent Altman admirer pronounced it "the funniest epic vision of America ever to reach the screen." Newsweek followed up Kael's rhapsodic advance review by featuring the still-unreleased movie on its cover. Others scrambled to catch up.
Not everyone shared Kael's enthusiasm. The movie traumatized many locals when it finally opened, two months after its premiere in New York and L.A. (See the sidebar on p. 18.) Music Row stalwarts in particular didn't find the movie funny — or more accurately, came away with a disgruntled sense the joke was on them.
"Nashville had a bit of a complex about being looked down on," explains Rick Sanjek, who spent the 1970s working in the Nashville offices of BMI and Atlantic Records. "A lot of people saw Nashville as just another example of people calling us hayseeds."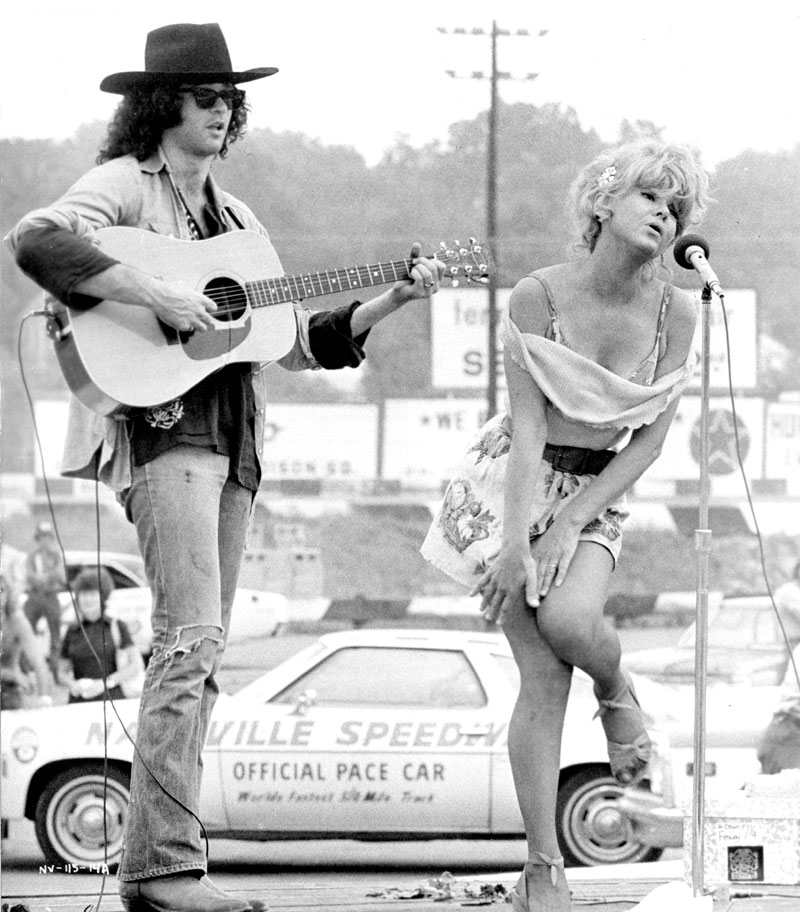 The movie's reputation has waned and waxed over the years. Left off the American Film Institute's inaugural list of the 100 best movies in 1998, it entered with a bullet at No. 59 when the list was revised 10 years later. Today, it is widely considered Altman's masterpiece, the direct antecedent for kaleidoscopic narratives such as Paul Thomas Anderson's Boogie Nights. Or even the current ABC series that shares the movie's name and locale — a setting that eclipses any single protagonist.
"Who the movie is about is the city of Nashville," screenwriting guru Syd Field writes in his how-to manual Screenplay. "Nashville is the main character because it holds everything together."
As Nashville the movie celebrates its 40th anniversary and headlines a major Altman retrospective starting Friday at The Belcourt, it is worth revisiting who and what that character is. In Altman's macrocosmic vision, it is a burgeoning metropolis with a touchy relationship to its roots; a population of insiders and outsiders in uneasy proximity; a looming shift from rural to suburban; and an emerging streak of what looks like red-state conservatism, in a swiftly changing South.
In short, four decades after the movie's release, it holds up. To be sure, it's a time capsule that shows how much has changed — the airport's bigger, the downtown's brighter, the skyline's higher. But if contemporary Nashville, now basking in "It City" triumphalism, looks very different from Altman's small town with big-time aspirations, it is also its heir.
Like the city, Altman's film is a lot to take in at first. A numbing 24 major characters traverse a wide array of Nashville locations: then-tiny Berry Field airport; the knotted highways strangling downtown; Vanderbilt hospital; the Grand Ole Opry House and the Opryland theme park; varied nightclubs, churches and private residences; a wrecking yard; the Nashville Auto Speedway; and ultimately Centennial Park.
With the opening credit still scrolling, Nashville establishes both its modest time warp and the hippie/country conflict woven into the film. It is set two years after its actual filming, in the summer of 1976, as Opry statesman Haven Hamilton (played by former Laugh-In regular Henry Gibson) is recording a patriotic anthem to cash in on the Bicentennial.
"We must be doing something right to last 200 years," Hamilton sings, accompanied by a heavenly chorus. Abruptly, he interrupts the session to berate the long-haired musician Frog, played by the film's music director, Richard Baskin.
"He plays like a frog," Hamilton grouses, before demanding a replacement: "When I ask for Pig, I want Pig. Now get me Pig!" (The in-joke tips its hat to A-list session pianist Hargus "Pig" Robbins; in her research forays for Altman, screenwriter Joan Tewkesbury had been amused by a Nashville penchant for barnyard-animal nicknames.) With that Hamilton storms out, pausing to admonish Frog: "Get your hair cut! You don't belong in Nashville."
But Frog is in Nashville, and in fact turns up repeatedly as a wordless presence backing varied musicians onstage. Also ubiquitous (and mute) is Jeff Goldblum's Tricycle Man, tooling around a three-legged motorcycle of the sort made popular in "that ol' Easy Rider movie." Meanwhile, Keith Carradine's hippie lothario Tom, part of a visiting New York folk trio, spends the next five days on a mission of callous sexual conquest, most notably of gospel singer Linnea (Lily Tomlin).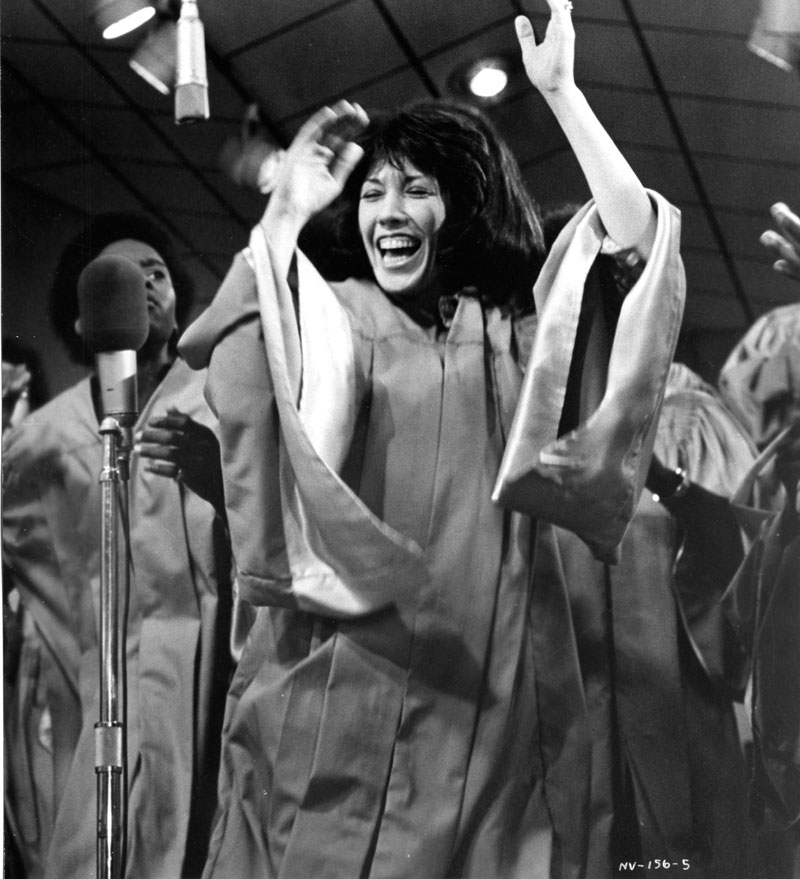 As the roundelay moves from makeshift strip club to main stage, from house party to hospital, almost every character has a double as well as an opposite: the country queens played by Ronee Blakley and Karen Black; the husbands played by Allen Garfield and Ned Beatty; the hopefuls of varying talent played by Barbara Harris and Gwen Welles. Even the settings have mirror images — the churches attended by Hamilton and Linnea, for example. Everything in Altman's Nashville seems to operate on two levels, the inside and the outside. The two come together, along with most of the cast, in a climactic political rally at the Parthenon.
The conflict in Nashville between left-coast Hollywood eccentricity and Music City conservatism was evident both on and off the screen. M*A*S*H had made Altman a hero of the counterculture — if somewhat incongruously, since the director turned 50 in 1975 and was a World War II Air Force veteran. The L.A. ensemble he ferried to Nashville for two months of frenetic shooting did have many card-carrying hippies and a definite leftist bent. Marijuana was a favored form of recreation, though Altman himself preferred Cutty Sark.
David Bennett, a Nashville native and former executive director of the Tennessee Film, Entertainment and Music Commission, was just entering his 20s in 1974. He recalls his exhilaration when Altman and his team arrived.
"It changed my life. The circus had come to town!" Bennett enthuses, noting the entourage's indiscreet enjoyment of weed as they bummed around. It is appealing to imagine the culture shock this encounter produced. Still, as the film makes abundantly clear, the hippies had already established a foothold in Music City by the time that Altman's Angelenos arrived.
The prospect of getting the deluxe Hollywood treatment fed the city's ambitions at the time. Boosters struggled to shake the hillbilly image, depicted in pop culture as either depraved (Deliverance) or comical (The Beverly Hillbillies and Hee Haw). It was not so long ago that "country" had finally overtaken "hillbilly" as the genre designation for Nashville's dominant musical output. The "Music City" brand had not yet overtaken the more parochial and patronizing moniker, "Hillbilly Music Capital of the World."
If the "country" label had been promoted as a substitute for hillbilly, it also served to distinguish Nashville music from the folk revival taking shape in Northern cities. Folk and country drew from a common musicological well but expressed very different political and cultural values, even though the boundaries were surprisingly permeable. Johnny Cash regularly made the pilgrimage from Nashville to the Newport Folk Festival, and Bob Dylan had recorded two seminal albums in Nashville studios by 1974.
Moreover, as the urban folk revival was petering out up North, more and more of its veterans were winding up in Nashville. They found each other easily.
"There were only a few places to hang out if you were a young person interested in contemporary music," recalls restaurateur Randy Rayburn, then a hip young operative who slipped among the worlds of music and politics with an Altman character's ease. "I originally came to town as a booking agent, and music and politics are very similar. One has the act, and the other the candidate."
In 1974, Nashville's counterculture centered on Elliston Place, the "Rock Block" of a generation hence. Its denizens gravitated toward renegade country songwriters such as Guy Clark, Shel Silverstein, Townes Van Zandt and Kris Kristofferson, who took up longer tenancies in the early '70s. They made the Exit/In a breeding ground for no-filter country, and naturally Altman found his way through its famed back-alley entrance.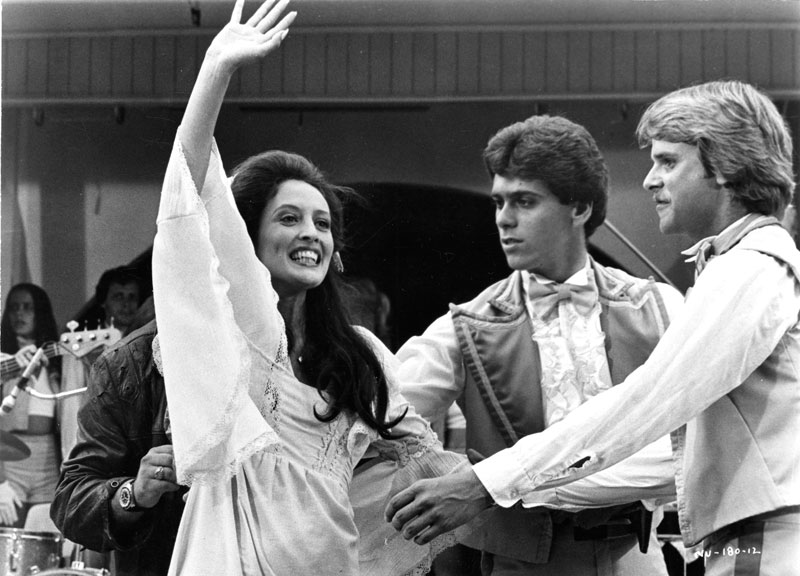 The Exit/In serves as backdrop for the movie's most celebrated sequence, as Carradine's insincere seducer Tom sings the ballad "I'm Easy" — an Oscar winner for Best Original Song — to a roomful of romantic conquests, each of whom assumes he's addressing only her. Tewkesbury reportedly modeled Tom on country rocker Jerry Jeff Walker. Bill Ivey, former National Endowment for the Arts chairman and director of the Country Music Foundation, says most locals saw the character as a dead ringer for Kristofferson, whose sexual charisma was legend.
Rayburn was an extra during the Exit/In scene. "There was a lot of excitement," he remembers. "But there were also a lot of questions about what kind of a singer Carradine was." He adds, "We didn't think that much of him."
Tom's casual opportunism represents the emptiest aspects of the Me Decade and the sexual revolution. At its darkest, Nashville depicts a city, and a country, painfully susceptible to glib come-on artists — whether they're murmuring well-rehearsed sweet nothings to multiple partners, or blaring vague populist twaddle through a campaign loudspeaker.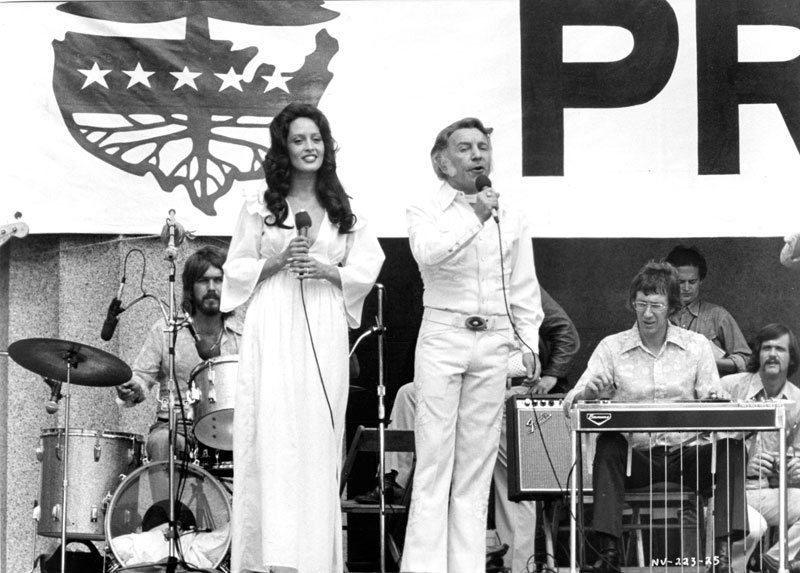 To some in 1975, especially above the Mason-Dixon Line, posing Nashville and the country music industry as a metaphor for America seemed far-fetched. From George F. Will to Rex Reed, a number of Northern critics insisted the midsized Midsouth city was too trivial, exotic and remote to bear so much symbolic weight.
But the director had stumbled onto something. The South, long the nation's least urbanized region, had emerged from the bruising battles of the civil rights era as a demographic and economic dynamo. Its growth was led by New South cities such as Charlotte, Atlanta and Nashville — cities that, like country music, ached to shed the shackles of regional stigma and become players in the national economy.
These cities also exemplified models that would hold for decades: low-density expansion coupled with a new style of suburban conservatism. The booming post-civil rights South was integral in redrawing the Electoral College map and reshaping American politics, beginning with Richard Nixon's vaunted Southern Strategy. Few had yet recognized these nascent developments in 1974, let alone fit them together into the cultural and political jigsaw puzzle Altman assembles in Nashville.
The changing times showed in the site of the movie's red-carpet Nashville premiere, the now-defunct Martin 100 Oaks Theater. At the time, downtown still boasted the Tennessee Theater, housed in a splendid Art Deco structure. It might have seemed a logical choice for a glamorous gala, having hosted the Grammys just two years earlier — the only time the event was staged outside New York or Los Angeles.
But downtown was on the outs in 1975. The grand theater would be demolished in 1989, a casualty of the urban crisis that wracked the nation throughout the '70s and beyond. The Ryman Auditorium, arguably Music City's most significant historic structure, only narrowly escaped a similar fate.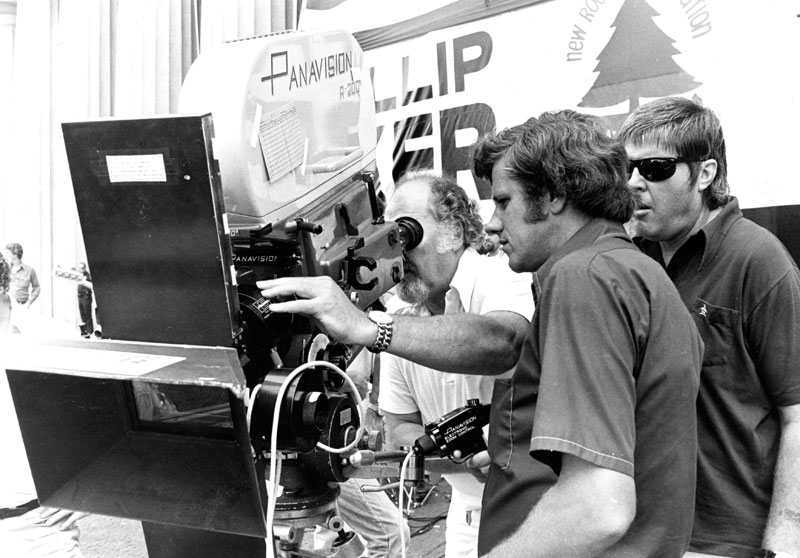 Watching Altman's Nashville, one would barely know downtown existed. It appears briefly in the opening frames, as populist presidential candidate Hal Phillip Walker's roving van pulls out of a Second Avenue garage. The van lurches onto a scarcely recognizable Broadway, with vacant storefronts interspersed among furniture outlets and a porn theater. In Altman's Nashville, as in the Los Angeles of his The Long Goodbye, public transportation is not a factor.
"Automobiles were a big theme in the movie," recalls longtime Scene architectural critic Christine Kreyling. The campaign van, an auto graveyard, a raceway appearance, and a highway pileup transposing the traffic jam in Godard's Weekend to I-24 are only a few memorable examples. Even when characters take to foot, like Albuquerque (Barbara Harris) and Kenny (David Hayward) after the highway disaster, the alienating landscape seems bent on dispersing people. They may move from crowd to crowd, but they arrive separately.
Like downtowns all over the country, Nashville's had been on the skids for years. The bottom truly fell out only months ahead of Altman's arrival, when the Grand Ole Opry pulled up its Ryman stakes for roomier digs across town. The downtown Opry had long anchored a commercial constellation that author/journalist Paul Hemphill dubbed "hillbilly heaven" in his 1970 classic The Nashville Sound. Most of the ancillary establishments swiftly closed. Tootsie's Orchid Lounge and the Ernest Tubb Record Shop were among the few holdouts.
As tourists do, Nashville screenwriter Joan Tewkesbury found her way to Tootsie's. She was enamored of colorful proprietor Tootsie Bess, who became the model for Barbara Baxley's character Lady Pearl. Apparently, Tootsie was less taken with the Hollywood interlopers.
"Tootsie, as Southern ladies did at the time, just let her hair grow," remembers David Bennett. "And then she piled it all up on top of her head and fastened it with this great long hairpin. And ... well, she was sweet as can be, but if someone got out of line, that pin would come out. And maybe you just got a prick, or maybe you got the whole thing."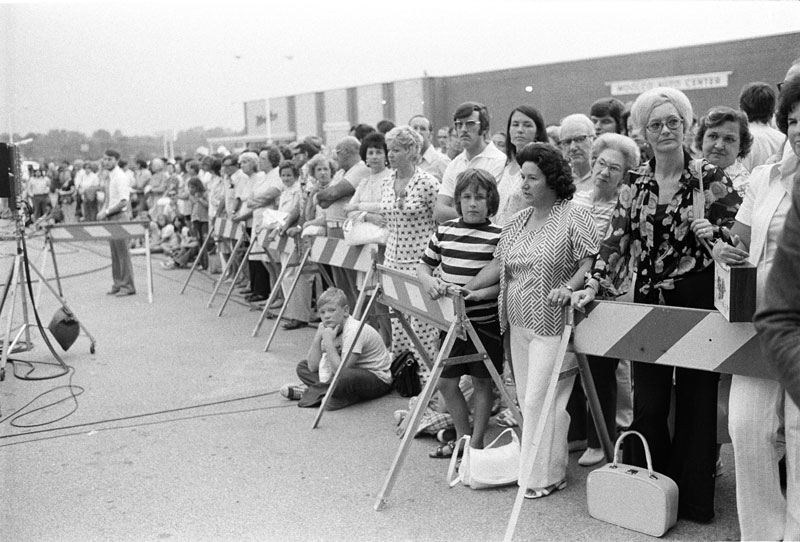 There's nothing to suggest Tootsie gave Altman a taste of the pin, but she did refuse him access to her joint. Instead, they filmed around the corner, at The Old Time Picking Parlor on Second Avenue (now in Marathon Village). And that's it for downtown — less screen time than Geraldine Chaplin's monologue gets in the wrecking yard. "What are you trying to tell me, cars?" her ditzy BBC interloper Opal implores.
Altman does visit the recently inaugurated Grand Ole Opry House, though, where Ryman pews and a circle cut from its floorboards had been transported. Doubling the Ryman's capacity, the new venue also had dressing rooms for the stars. Nevertheless, Altman shows them milling in the wings, perhaps from force of habit picked up in the Ryman's infamously cramped quarters.
Technically, Opryland is in the city limits, but as Kreyling observes, "The move of the Opry out to Opryland was a highly symbolic moment in terms of suburbanization. Parking was always a problem downtown." Not any longer. The Grand Ole Opry House was embedded in a sea of asphalt, adjacent to the theme park and the gaudy Opryland Hotel, the largest hospitality complex in America outside of Las Vegas. Pennington's Bend, the new location, was largely undeveloped pasture. As would become clear in 2010, it was also on a flood plain.
"It was more of a campus than downtown could ever be — like what Disneyland was, really," Kreyling says. "It was designed to control all aspects of the consumer dollar."
The controlled environment was considerably more hospitable to families than the decidedly promiscuous downtown. It symbolized the shift of country music away from Hemphill's hillbilly heaven toward a decidedly more sanitized suburban sensibility.
This was not an accident. Not yet sold to Gaylord Entertainment, the Opry, the hotel and the theme park were still in the hands of radio station WSM, then a subsidiary of local insurance company National Life and Accident.
"WSM had ambitions to take country music to a new level," Bill Ivey recalls. "[It] wanted country music to be more sophisticated. A new context and a more sophisticated environment. It made certain people more comfortable to package country that way and leave the hillbilly rough edges out of it."
"They were trying to restyle," Bennett agrees. "They were putting a spin on country, trying to break out of the hillbilly thing."
Yet after a concerted Music Row effort spearheaded by the Country Music Association finally banished hillbilly as a marketing designation, even "country" was deemed a bit too niche. The tomorrow-the-world aspirations were evident in the theme park's tagline: "The Home of American Music."
The new theme park featured costumed performers and choreographed dance numbers modeled more on a Broadway revue. In Nashville, the dancers warm up a matinee crowd for Ronee Blakley's fragile country diva Barbara Jean, ill-advisedly plucked from a hospital bed. Taking the stage of the sun-kissed Opry Belle outdoor theater, she quickly shows the limits of corporate predictability even in a controlled environment.
Blakley, a folk singer making her acting debut, plays the heartbreaking episode to the hilt. As the backup musicians watch helplessly, Barbara Jean's set devolves into a rambling monologue. The crowd's chorus of boos as she's led from the stage may be the most glaring false note to find its way into the picture. Nashville, then as now, is famously protective of its stars.
The suburbanization of country music extended its reach in ways that had both cultural and political consequences. In Nashville, Triplette, the advance man for unseen political candidate Hal Phillip Walker, scrambles to stage the rally that will provide the film's jarring climax. Played by Michael Murphy, who'll appear in coming weeks at The Belcourt, he cogently explains Nashville's place in the culture wars.
"The thing with these country music people is they have a real grassroots appeal," he says. "And they're the people that elect the president. If we line up a lot of movie stars I think people down here feel they are eccentric, crazy. Communists. A lot of them are." Later the glad-handing operative will refer to country music people as "local yokels" making "country crapola" when wooing a New York folk trio onto the bill, cynically playing both sides of a widening cultural divide.
That divide was evident on Aug. 8, 1974, when Richard Nixon resigned the presidency. Altman was still filming in the city. Up to then, Opry legend Roy Acuff had been a gracious if wary host, allowing the L.A. visitors onto the Opry House stage and helping to supply genuine Opry patrons as extras. But with the news, cultural and political fissures erupted. In his making-of account The Nashville Chronicles, Jan Stuart describes the normally courtly singer berating a group of Altman actors.
"Look what you've done to our president!" Acuff wailed, before storming off.
Nixon's and Acuff's paths had crossed only a few months before, on the new Opry House's opening night. The soon-to-be ex-president, running out of safe spaces to speak, arrived to a receptive audience and the strains of "Hail to the Chief" played on mandolins and banjos. Nixon gamely if ineptly attempted a few yo-yo tricks with Acuff. But he reached the crux of his appearance as he linked country music to a rising conservative populism.
"Country music is American," he told the crowd, channeling Haven Hamilton. "It comes from the heart of America, because this is the heart of America, out here in Middle America. Country music talks about family. It talks about religion. ... And we all know country music radiates a love of this nation — patriotism. Country music, therefore, has those combinations that are essential to America's character, at a time when America needs character."
Let the record note the obvious irony. This should not distract us from Nixon's deeper insight, though. As sociologists Paul DiMaggio and Richard A. Peterson wrote at the time, country music had emerged as "the ballad of the silent majority," Nixon's term for the Middle Americans who did not "burn their draft cards down on Main Street," as Merle Haggard sang in "Okie from Muskogee." In fact, Tewkesbury had originally penciled in a prominent spot on the soundtrack for Haggard's conservative rejoinder to the counterculture Altman and his crew largely represented.
"In Altman's vision of America, the line that separates the easy sentiments of candidates from those of country tunesmiths is barely discernible," Stuart writes.
Possibly Altman overestimated just how easy it was to package these sentiments into credible country songs. Nothing rankled the music community as much as Altman's decision to use original music written by the cast members themselves. This saved enormous headache and expense. But it also ferried the impression, in Ivey's words, "that anyone could write a country song."
Beyond offending local listeners, this decision compounded umbrage at the film's portrayal of characters like Haven Hamilton. As played by Gibson, the peacocking Hamilton is the Opry's senior statesman in the film, widely perceived to have been inspired by Hank Snow as well as the aging Acuff.
"Yeah, Hank had some of those qualities," Ivey concedes. "But Hank could also really bring it. When you have the artistry, the foibles can be laughed at, and forgiven. Take that away and it's just a joke."
Given his diminutive stature, spangled suits and helmet-haired toupee, it is easy to mistake Hamilton for a clown. But on repeat viewings, one grows in respect for Hamilton's prickly dignity and courage — in the end, he runs bravely if vainly toward the assassin's gunfire. Altman is far more merciless in skewering characters closer to his own image and political temper.
"[Screenwriter] Joan Tewkesbury hadn't spent a lot of time in Nashville," Ivey complains. "That's the attitude towards the South — people helicopter in for a few days, eat at Loveless, stand backstage at the Grand Ole Opry, and that's it." Yet Tewkesbury invented one of the movie's funniest and least redeemable characters as a kind of auto-critique: Geraldine Chaplin's Opal, from "the British Broadcasting Company," who obnoxiously inserts herself into the action while blithely misinterpreting everything she sees. Like Nashville's music community, Brits were not amused by the caricature, even though the movie suggests Opal's BBC credentials are fabricated.
Carradine's Tom, who shares Altman's leftist politics and notorious penchant for sexual indiscretions, is also grossly unsympathetic, rudely taunting Scott Glenn's uniformed Vietnam vet ("Hey Sarge, kill anyone this week?") and using his stage charisma as a narcissistic weapon. In cameos playing themselves as coastal interlopers, Altman veterans Elliott Gould and Julie Christie ooze unseemly condescension.
This bout of reflexive self-criticism did little to mollify the Nashville community. In contrast, characters like Keenan Wynn's Mr. Green (an ordinary Nashvillian tending to his terminally ill wife), Glenn's stoic soldier, and pathetic Sueleen all receive a more compassionate rendering. It may well be, as Ivey argues, that Altman would have strengthened his hand by calling upon the talented songwriters garrisoned in the city. Still, the film cannot be fairly called a hatchet job.
The liberal intelligentsia on the coasts couldn't (or wouldn't) see it, but as Sanjek says: "The people producing records in Nashville, as far as just technical skill, were as good as you'd find anywhere." Today, they're probably better. It's not clear that Altman himself understood this, and in fact, there is good reason to think he did not. But even if he failed to grasp or successfully represent the artistry, he tapped a link between country music, suburbanization and populist politics that has dramatically shaped American politics for 40 years since.
Today the local geography is much changed. The music industry reached dazzling heights in the 1990s. It continues to hold a dominant position in American musical production even as it struggles to retool its business model. Downtown is back from the dead, bolstered by a resurrected Ryman that welcomes the Opry "home" for two months each year.
Opryland is now a mall. Exit/In today opens to the front. East Nashville, where Altman recorded Hal Phillip Walker's campaign monologue in the storied Woodland Studios, has challenged the Rock Block's hip cachet. Today's schism between pop country and Americana, inscribed onto the geographic territories of Music Row and East Nashville, repeats the country/folk cleavage of Altman's film.
No longer do locals bristle about being small-time. Now the fear is becoming too big, and we worry more than ever about all those damn Californians pouring into town. A largely blue city nestled in a red state, Nashville continues to churn out the soundtrack for Middle America, and a lot of other things too. Today it seems perfectly reasonable to imagine that Music City could be a metaphor for America.
And still, somehow, Nashville holds everything together.