Days before the execution of Billy Ray Irick in August 2018, I sat in Kelley Henry's office and asked her how long she could keep doing this. 
Irick had suffered from severe mental illness since he was a child, and in 1985 he was convicted for the rape and murder of a 7-year-old girl he'd been left to babysit. He was set to be the first Tennessee prisoner put to death since 2009. But Henry, the supervising assistant federal public defender based in Nashville, has been representing death row prisoners for more than 20 years. She's seen some of her clients taken to the death chamber, and others spared at the 11th hour. And with Tennessee reviving its death penalty — bucking the nationwide trend of declining executions — Irick looked to be just one shackled marcher in a grim parade.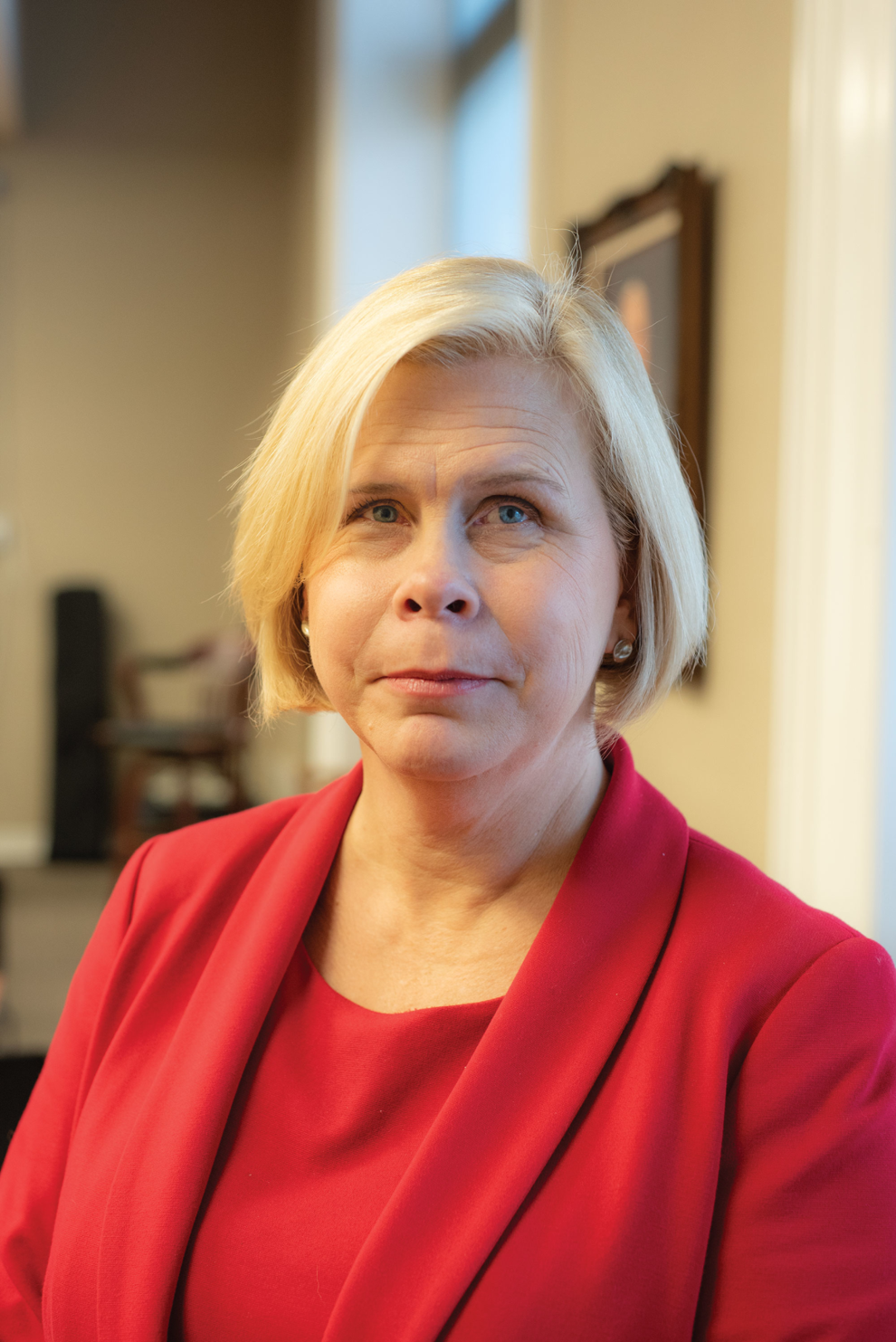 So how long, I wondered, could Henry fight these battles, facing long odds and a state determined to kill men she and her colleagues had come to care for deeply? How would she know when she'd run out of whatever it is that has propelled her into these cases for this long?
If the night ever came, she said, when one of the men she represents was executed and she did not cry, that's how she'd know. 
Almost three months later, Henry walked out of Riverbend Maximum Security Institution into a stiff, cold wind. She'd just witnessed the execution of Ed Zagorski, a man beloved by his attorneys, his fellow death row prisoners and members of the prison staff. On death watch, he'd spent his time doing push-ups and dictating thank-you notes to his lawyers and other people who'd supported him over the years. 
Zagorski's execution, for the murders of two men during a large drug deal in the woods of Hickman County in 1983, had originally been scheduled for Oct. 11, 2018. But just days before the appointed date, Zagorski expressed his choice to die in the electric chair instead of by lethal injection. That prompted Gov. Bill Haslam to grant him a last-minute reprieve so the state could ensure the chair worked properly. Henry had been the one to call Zagorski at the prison to give him the news, just hours before he was due in the execution chamber. 
"You're not going to die tonight," Henry told him. 
He responded with a bit of gallows humor: "Make sure these people know that."
But the governor's reprieve only postponed the inevitable. Zagorski's execution was rescheduled for Nov. 1, and on that night, Henry was with him every step of the way. She watched through a window as prison guards approached his cell to extract him. She listened as Zagorski absolved them. 
"First of all, I want to make it very clear I have no hard feelings," Zagorski told the guards, according to Henry. "I don't want any of you to have this on your conscience. You are all doing your job, and I'm good."
Zagorski had told Henry that he did not want this to be a day of sadness, and so she fought to smile as he was strapped into the electric chair, when he looked over to her and said, "Chin up." She smiled again from the witness room as his eyes met hers. She placed her hand over her heart, a symbol they'd agreed upon to let him know she was holding him in her heart. 
When it was done, Henry stood in the parking lot outside the prison, speaking to a group of reporters.
"We had a discussion about what was the last thing he wanted to see, and he said the last thing he wanted to see was me smiling," she said. "And so I tried very hard to do that." 
As she spoke, she fought back tears. 
---
Kelley Henry wasn't eager for a story like this to be written. It's not that she's unsure of herself. It's just that she isn't the type of defense attorney who seeks out a camera, or yearns to see her name in the paper. 
But the Irick execution was a cataclysmic event for the relatively small community of people in Tennessee who do the kind of work Henry does, representing people, mostly men, who have been cordoned off as the worst of the worst. The state is now killing their clients at a pace unseen here since the 1940s. In 2018, Henry led the legal team challenging Tennessee's new three-drug lethal injection protocol, arguing that it would effectively torture men to death. The protocol was ultimately upheld, and since then, five men have been executed, two of them by lethal injection. Less than 24 hours after Henry witnessed Don Johnson's execution on May 16 of this year, she got the news that Charles Wright — a death row prisoner from Nashville whom she'd known and represented for nearly 20 years — had died of cancer just five months before his scheduled execution in October. 
Henry does not represent Lee Hall, who is set to be executed in the electric chair on Dec. 5 for the 1991 murder of his estranged girlfriend. But she has been working alongside attorney Bradley MacLean to defend Abu-Ali Abdur'Rahman, a Nashville death row prisoner who was scheduled to be executed on April 16, 2020. Abdur'Rahman saw his death sentence vacated by a Nashville judge because of prosecutorial misconduct and racial discrimination in jury selection during his 1987 trial, only to have Tennessee Attorney General Herbert Slatery announce that he would challenge that decision and seek to ensure that Abdur'Rahman is put to death in 2020. 
Slatery has also asked the Tennessee Supreme Court to set execution dates for nine more men — Henry's office represents seven of them. 
But her work in this cruel moment is not just for the living. She is also part of a team of lawyers, including Innocence Project co-founder Barry Scheck, fighting for DNA testing that they believe will prove Tennessee executed an innocent man in 2006. Henry represented Sedley Alley in the run-up to his execution for the 1985 rape and murder of Suzanne Collins in Shelby County. Alley had confessed to the crime, but his attorneys argued that his statements had all the hallmarks of a false confession. He'd long told people that he believed he deserved to die if he'd raped and killed Collins — he just didn't remember doing it. The courts and then-Gov. Phil Bredesen declined to stop the execution to allow for DNA testing that his lawyers believed would exonerate him. 
After Alley's execution by lethal injection on June 28, 2006 — more than 12 years before she would stand in the whipping wind to address the media after Zagorski's execution — Henry told The Tennessean: "God help the people in this process if the DNA proves he didn't do it. We will test the DNA."
Henry is part of a legal effort to get that testing done. 
All of that is hanging in the air on a recent afternoon as Henry leads the way through her second-floor Broadway offices. This is where she and her colleagues devote their lives to trying to keep a deeply flawed system something close to honest. She stresses the collaborative nature of the work, and the fact that when her signature appears on a large court filing, it often represents the efforts of multiple attorneys or investigators. So she walks through the office introducing members of a diverse staff, many of whom are newer additions. 
In a long hallway, a collection of cardboard boxes packed with files is stacked four or five feet high. They bear the names of death row prisoners, some of whom have already been executed. On the wall is a framed copy of U.S. Supreme Court Justice Sonia Sotomayor's forceful dissent to the court's decision to allow Irick's execution. 
"If the law permits this execution to go forward in spite of the horrific final minutes that Irick may well experience," Justice Sotomayor wrote, "then we have stopped being a civilized nation and accepted barbarism. I dissent."
When Sotomayor came to Nashville for an event earlier this year, one of Henry's co-workers had her sign it. 
Henry's corner office — the same size, if not smaller, than those around it — is sparsely furnished, with a clean desk and a bookshelf that features a wooden clock carved for her by some of the men on death row. In front of her desk is a large photograph of a sunny beach — it's directly in Henry's line of sight when she sits down. Her best friend and right hand in legal matters, Amy Harwell, got it for her and put it on her wall, knowing that the beach is a place Henry finds peace. 
Harwell's office is next door, and the two agree it illustrates the differences in their personalities. Large plants stretch out toward the sunlight streaming through large windows behind Harwell's desk. The walls are covered with framed pictures, drawings, quotes and even a cross-stitching. Each item has its own colorful origin story.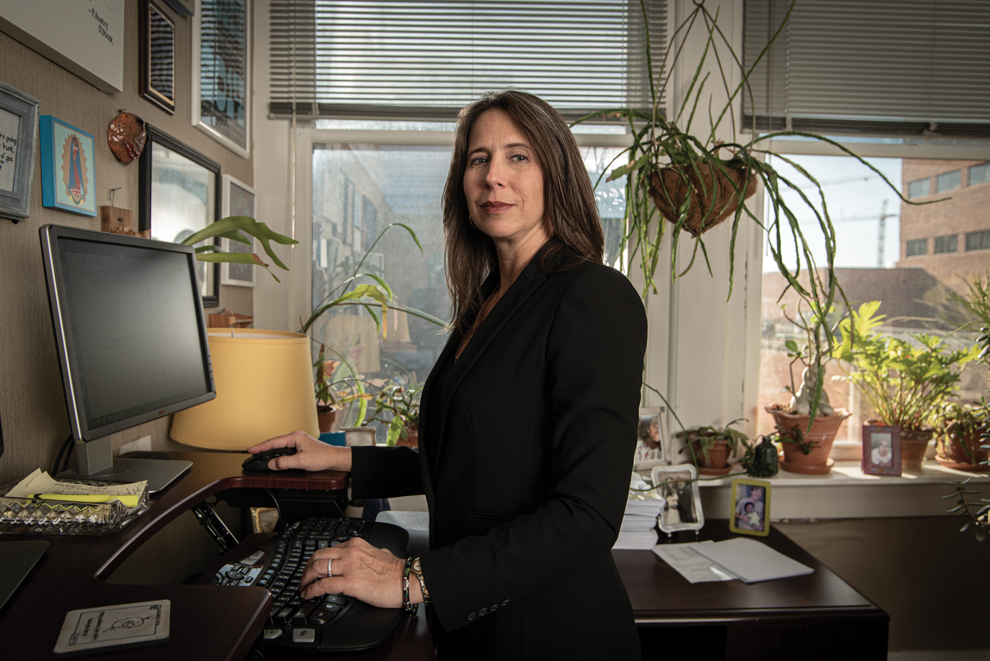 Working under Henry Martin, the Federal Public Defender for the Middle District of Tennessee, Henry and Harwell are the two veteran attorneys in the office's Capital Habeas Unit. In short, the unit — which Henry supervises — represents people who have already been convicted and are facing death sentences, doing things like highlighting instances of prosecutorial misconduct and insufficient legal representation. Even so, they have had — and do have — clients they believe are innocent. But as Henry puts it, a large part of their work is focused not on whodunnit, but on whydunnit. In addition to defending their clients' constitutional rights generally, they seek to fill out the picture of people whom society has largely dismissed as irredeemable monsters. 
"Learning about their families and learning about the ways in which trauma, hunger, poverty, racism, systemic dysfunction caused this horrible thing in their life to happen," Henry says. "In many ways, we get really frustrated, because we feel like we have so much to offer politicians, people in the public eye. You really want to stop murder? You really want to deter people? You really want to solve crime? Then solve education. Solve poverty. Solve trauma, child abuse."
Harwell adds that if the resources her office is able to put into a case post-conviction had been available to their clients at trial, many of them would never have been sent to death row.  
---
As younger lawyers, both Henry and Harwell had come to know and be mentored by Scharlette Holdman. The so-called Angel of Death Row pioneered the now universally accepted approach of mining the personal histories of condemned prisoners for details that might mitigate or add context to their crimes. Henry and Harwell speak reverently of Holdman, the Memphis-born crusader with no formal legal training who was known for her quick wit and sharp tongue. Holdman died in 2017 after more than 40 years of tireless work, which the author David Von Drehle described as "fueled by cigarettes, caffeine, alcohol and nerves."
Henry started on the path to defending prisoners facing execution when she was in eighth grade back in Blue Springs, Mo. A history teacher put her in a mock trial, and she decided right then that she wanted to be a defense attorney. Later, as a first-year law student, she got an internship in the Jackson County, Mo., public defender's office working under Sean O'Brien. On her first day, she recalls, she was thrown into the tank with 13 men who had all just been arrested and were being offered plea bargains. She loved it. 
O'Brien, a revered capital defense attorney in his own right, went on to become the first executive director of what was then called the Missouri Capital Punishment Resource Center. Henry was his first intern there. 
She was in her second year at law school, on May 17, 1990, the first time one of her clients was executed. His name was Leonard Laws. 
"I was back at work the next day, even though it was the day after finals," Henry says. "I was like, 'I have to fight this. I can't not fight this.' " 
She set about working her way up to capital work, and admits that her experience with those types of dense cases colored the way she approached lower-level cases as a young trial attorney.
"My first trial was a shoplifting case that I made last four days," she says, prompting a chuckle from Harwell, who's seated next to her. "The judge was like, 'This is not a death penalty case, Ms. Henry.' But I said, 'My client is facing life in prison because he's persistent offender, it's important to him.' 
"And he was acquitted," Henry adds. "In 26 minutes."
"Not that she remembers the details," Harwell quips. 
Henry moved to Nashville from Arizona, where she'd done similar work, in 2000. 
The all-consuming line of work they have chosen has bonded the two lawyers to an immediately noticeable degree. It's a cliché, but it's true: They finish each other's sentences, and it happens several times during our interview. 
If some defense attorneys are made and others are bred, Harwell falls in the latter category. Her father was a defense attorney, and she and her brother both grew up to become public defenders. She says she wanted to be a capital defense attorney as soon as she knew there was a death penalty. 
Harwell recalls that while she was growing up, one of her father's clients was frequently in trouble with the law. He'd call the family's home several times a week at dinnertime. Harwell and her brother would take turns answering the phone. 
Her father would often tell the kids of his client: "He's a good man, he's just a thief."
It was formative for Harwell, who got to wrestle with the fact that "my father, who was my hero, thought that there was somebody who could be both."
Ask the two lawyers how they came to work together, and what you'll see is something akin to a married couple playfully fighting over whose version of the story is most credible. 
Harwell was an attorney at the Metro Nashville Public Defender's office when she first applied for a job in Henry's unit. She didn't get it, but she liked Henry during their interview and emailed her to see if they could get lunch. They struck up a friendship over burgers at the late Alleycat cafe in East Nashville. Harwell would apply for three more jobs in the office before getting hired in 2007. 
"She was overqualified for the other positions, let's be clear," Henry says. 
The two bonded as professional partners while working together on the case of Michael Howell, a Tennessee man who was sentenced to death after a multi-state crime spree that included two murders. Howell couldn't write, but he left voicemails for Henry that she has saved to this day. One message came after she'd successfully fought to get a stay of execution for a different client in Arizona. Another came when a client — "one of her guys," as she puts it — was executed. 
"Hey Kelley, it's Michael," he told her in the message. "Just want you to know that I know, and he knew, that you did everything you could for him. You keep your head up. Don't you forget about me."
Howell died in 2013 after suffering from congestive heart failure. His ashes still sit in Henry's office, though she and her colleagues plan to one day spread them in a way that would honor him. A bracelet he made for one of Henry's sons is the boy's prized possession. 
In 2009, Henry was promoted to her current position as chief of the office's Capital Habeas Unit. In September, she received the John Paul Stevens Guiding Hand of Counsel Award from the American Bar Association's Death Penalty Representation Project. In an effusive letter recommending her for the award, Martin, her boss, wrote that "there are few capital habeas lawyers in the country who can touch her strategy, her command of the defense arsenal, or her presence in the courtroom." Scheck, the Innocence Project co-founder, wrote in a letter of his own: "I know of no better advocate or person in the capital community."
Harwell is insistent on praising Henry's "leadership of our little band of soldiers." Rather than having the attorneys in the office siloed and working on their own cases, Henry has worked to foster a collaborative environment that invites the team to see all the office's clients as their own. Also, she adds, it's just prudent.
"At this point, I'm old," Henry says. "I've been doing this for 30 years. So when you have the perspective of younger staff, they might be wrong or they might be right —"
Harwell jumps in to finish the thought:  "— but they may say something that we've not thought of or looked at quite that way."
In his letter, Martin also praised the way Henry has sustained herself by defending and preserving her family life outside of her relentless law work, and he emphasized the way she does the same for her staff. 
"She cultivates an atmosphere within the CHU where staff know that their personal lives are respected and valued," Martin wrote. "As jealously as she guards her time with family, she will guard the opportunity for an investigator to be at a parent-teacher meeting in the middle of a weekday, for a paralegal to attend field day at a child's middle school, for a team member to spend time with an ailing parent."
Until last year, Henry had a longstanding policy that no one in her unit would witness an execution. She worried it would be so traumatic that it would prevent her lawyers from doing their jobs. 
"Being there for that moment, while very important for the client, you have a whole bunch of other clients who need you the next day," Henry says. "I've heard stories, I know attorneys who, after they witnessed an execution, that was it. They couldn't do the work anymore. I know of attorneys who have committed suicide, who went down a hole of substance abuse. I didn't want that to happen to any of my attorneys."
Taking the choice out of her staff's hands also removed the possibility that lawyers might feel the need to prove their dedication or strength by volunteering to be an execution witness. 
She broke that policy herself because of the legal battles surrounding execution methods, particularly lethal injection. Henry felt it had become necessary for a lawyer with deep knowledge of the issue to be in the room. But the sights and sounds of a state killing do not stay in the death chamber. 
Henry says she wakes up regularly with the sound of Don Johnson singing echoing in her mind — he sang hymns before he succumbed to the lethal injection drugs. Sometimes she sees the smiling face of Ed Zagorski right before the hood is pulled over his head and he's electrocuted. 
Referencing attorney James Kunen's 1983 book How Can You Defend Those People?, in which Kunen says his life is like a "tapestry of crime scenes," Henry says her life is like a "tapestry of executions." The names of condemned men are forever tied to milestones in her personal life. She was writing a brief for Walter LaGrand, an Arizona prisoner who was executed in 1999, when one of her sons crawled for the first time. 
---
Henry and Harwell's devotion to their clients goes beyond the oft-repeated public defender maxim that people are more than the worst thing they've ever done. It's not just that they believe that to be true, and that they consider upholding the constitutional rights of people convicted of even the most heinous crimes to be righteous work. They're also driven by the fact that they truly like the men they represent. They enjoy their company. And they're convinced that if, say, the governor or the attorney general or any number of other state officials ever met these men, they'd feel the same way. 
They also know that all of this can feel like a dagger in the hearts of the families of innocent victims.
"Those of us who do this work really despise the fact that in doing this work, and even in this article, it could be hurtful to the families of the people who've lost loved ones who did nothing wrong," Henry says. "[People] who the system continues to victimize over and over and over again." 
"We do shed tears for the victims' family members," she adds. She also knows Cynthia Vaughn, Don Johnson's stepdaughter, who pleaded with Gov. Bill Lee to spare Johnson's life even though he'd killed her mother. Henry also knows April Alley, the daughter of Sedley Alley, the man Kelley believes was wrongly executed.
She will keep crying for her clients, because if the tears ever stop coming, it will signal to her that she has stopped believing in the system altogether. 
"I really believe in justice," Henry says. "I really believe in the Constitution. And when I cry, I cry not because I think I lost. This isn't a football game. It's not [that] my team didn't win. It's that we all lost. Everybody lost, because we weren't able to do justice for my client, for my client's family, for the victims, for the victim's family. It's just overwhelmingly sad."
On execution nights — with the exception of those when Henry has been at the prison as a witness — she and her team prefer to be at the office. The execution of Steve Henley in 2009 was uniquely difficult for Henry, Harwell and their colleagues. They left their desks and their files and went out to the field outside Riverbend Maximum Security Institution to stand with the crowd of death penalty opponents who hold a vigil each time the state kills someone.  
"It felt helpless to be out there with the supporters," Henry says. "Even though we love them, we really didn't want to be there. We wanted to be at the office, doing something in court. So as much as we appreciate and love those people who are out there in support of our client, it's hard to be there because to be there is —"
Without missing a beat, Harwell finishes the thought: "— to say you're done."