Today's young, wealthy, white 12South is a snapshot of New Nashville. Regional and national chains offer paleo pastries and $60 spun-cotton T-shirts to passersby. Artist Adrien Saporiti's riff on the Tennessee flag is one of Nashville's most popular Instagram photo ops, his uplifting tagline "I Believe in Nashville" inspiring merch and copycat murals throughout the city.
From Metro, 12South got a new school, a new community center and a torrent of improvements from the parks and public works departments. The city has doted on Sevier Park, a 20-acre green space surrounding the antebellum mansion Sunnyside. Sevier has hosted a popular farmers market since 2011 and an annual music festival since 2014. Millions in infrastructure and transportation improvements have made the area a premier destination for high-end shopping and hungover bachelorettes — not to mention young families pushing strollers, prepared to pay in the low seven figures for single-family homes with yards in both the front and back. 12South's changes have kept pace with Nashville's "It City" decade — marked by tourism, wealth and in-migration — perhaps more than any other neighborhood. Longtime residents live at the mercy of a real estate gold rush that tears apart and restitches neighborhood fabric.

Sixty years ago, Black families moved to 12South for the same reason white families do now: affordability, community, quality of life. In the mid-20th century, integration and white flight blurred the sharp boundaries that had previously separated Black and white neighborhoods. 
Segregated Black Nashville skirted downtown and flowed into North Nashville, a social and commercial hub. Black South Nashville was bound by South Street to the north, 16th Avenue to the west and Eighth Avenue to the east.
"If you went past Eighth Avenue, white kids were waiting to throw stones at you," remembers Thomas Pillow. He grew up going to John Wesley United Methodist Church on Benton Avenue and made the trek from public housing in Edgehill to Cameron High School in the late 1950s and early 1960s. "Older Black adults would get as many of us in their cars to get us past Fourth Avenue South."
Through the 1950s and '60s, the southern border of segregated South Nashville shifted gradually — Wade to Wedgewood, then to Acklen. Black families bought homes from white families leaving for the suburbs or moving farther west — bigger, sturdy brick bungalows and stately Victorians with breezy porches and big backyards. They had been parceled out from large estates and built up in the early 20th century, serviced by Nashville's streetcar system that ran from 1889 to 1941.
Historically Black Edgehill had been solidly redlined, according to Home Owners' Loan Corp. maps from the midcentury. Wedgewood to Green Hills, today one of the most expensive pockets of real estate in the county, was yellow-lined, tagged as "definitely declining" as white families left and Black families started to build neighborhoods there. It was a natural spot for younger Black families in their 20s and 30s, buying their first homes and moving down from the long-established Black community in Edgehill.
As racial demographics shifted, so did commerce along the 12th Avenue South arterial. Black-owned businesses opened in the 1960s and '70s along today's familiar stretch of 12th from Linden Avenue to Kirkwood. Some white businesses closed, while others, like Becker's Bakery, blended with the transitioning neighborhood.
Churches followed. Many of the congregations around 12th Avenue South are at least a century old. They moved to the area in the 1950s and '60s, sometimes building their own church buildings, a long-term commitment to the neighborhood. Many of these structures are now being gutted or replaced to make room for more housing, retail or, in the case of Greater Christ Temple on 10th Avenue, a private preschool. 
A decade ago, nine churches with majority Black congregations held services in the square mile between Eighth, 12th, Wedgewood and I-440. Tabernacle Baptist, founded in 1893, moved onto 12th Avenue in 1967 from South Street, the northern boundary of Edgehill. 
"All of our churches were neighborhood churches," says Tabernacle pastor Darin Freeman. "Although we're sad to leave the 12th South area — that's where a lot of our members grew up, got married — it's no longer their neighborhood." 
Tabernacle sold six parcels to Manhattan-based Turnbridge Equities for $10 million in May of this year. Would-be buyers had become a regular occurrence for Freeman, at times even following him to the parking lot after a Sunday service.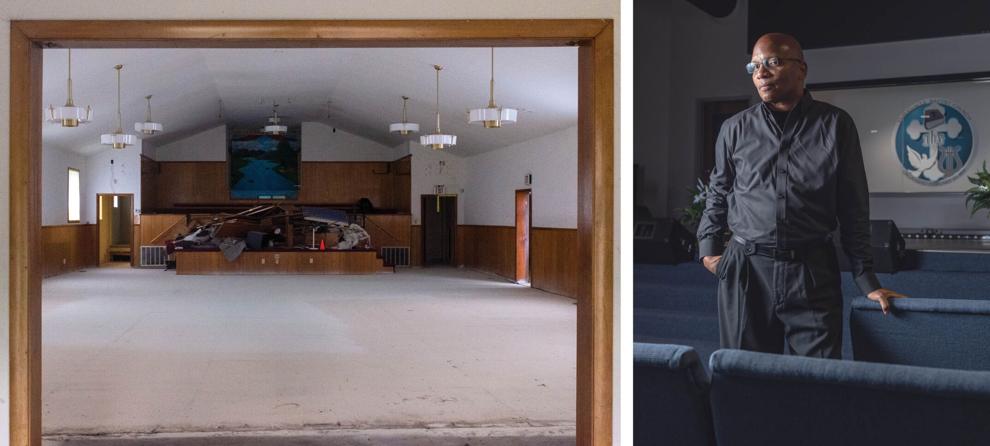 "We witnessed people walking their dogs by Tabernacle on a Sunday morning, allowing their dogs to do their business on the church lawn," says Freeman. "Many times. People started moving out of the neighborhood, and the people that were moving in weren't going to come to Tabernacle." He estimates that 85 percent of Tabernacle congregants who once lived in the neighborhood have since moved out.
"People only gentrify areas that look like me," Freeman tells the Scene. "Instead of coming in and helping the neighborhood, people would rather buy your property and build on it. A lot of that is due to the economic imbalance afforded to African-Americans in this country."
Tabernacle's new location on Charlotte Pike provides the church with space and opportunity to better meet its congregation's needs, according to Freeman. "I want to stress that Tabernacle is doing just fine," he says. "We have prospered. We decided to take the money and build a more modern campus, a more modern sanctuary, that would fit the needs of today's churchgoers, and that's what we did."
Mt. Gilead Baptist, founded in 1880, built a church at the intersection of Acklen and Elliott avenues in 1975. 
"Back then, Blacks were only allowed to live in a certain area," says a volunteer secretary at Mt. Gilead named Quincy about growing up in segregated South Nashville. "You lived together, you went to school together, and you went to church together. Everybody lived in the same neighborhood. When we moved, and built that church, it was a big deal."
Quincy grew up on Second Avenue and has been a member of Mt. Gilead since she was 9, when it was over on Hart Street in South Nashville. She's now in her 70s. In April, Mt. Gilead sold its corner lot to Brentwood Baptist, a white megachurch based in Williamson County, for $5 million.
Pilgrim Emanuel Baptist on Douglas Avenue sold in 2017 for $3.6 million to developers with a Gulch address. It has since been divided into townhomes, currently under construction. Greater Christ Temple on 10th Avenue sold in February for $4.5 million and now meets near American Baptist College north of the river. Hills Tabernacle Baptist purchased its church on Caruthers in 1967. The property hasn't changed hands according to city records, but the parking lot is chained off and spiders live in the mailbox. Hills was founded in 1916 — a sign in the front yard commemorates the church's 100-year anniversary.
---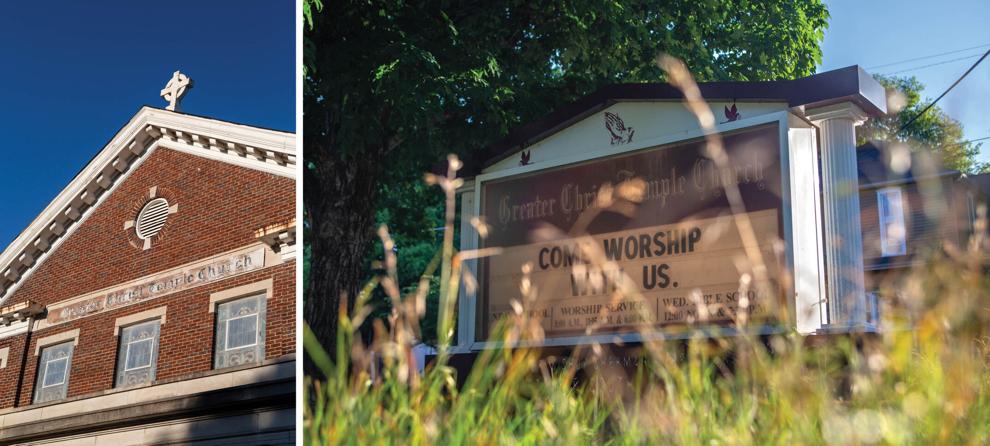 Three majority-Black congregations still meet regularly in the 12South neighborhood. The first, Lawrence Avenue Church of Christ, restricted its in-church services to only Sunday mornings as a COVID-19 precaution. Hicks Tabernacle Missionary Baptist on Sweetbriar holds hybrid services, which are broadcast on their Facebook page.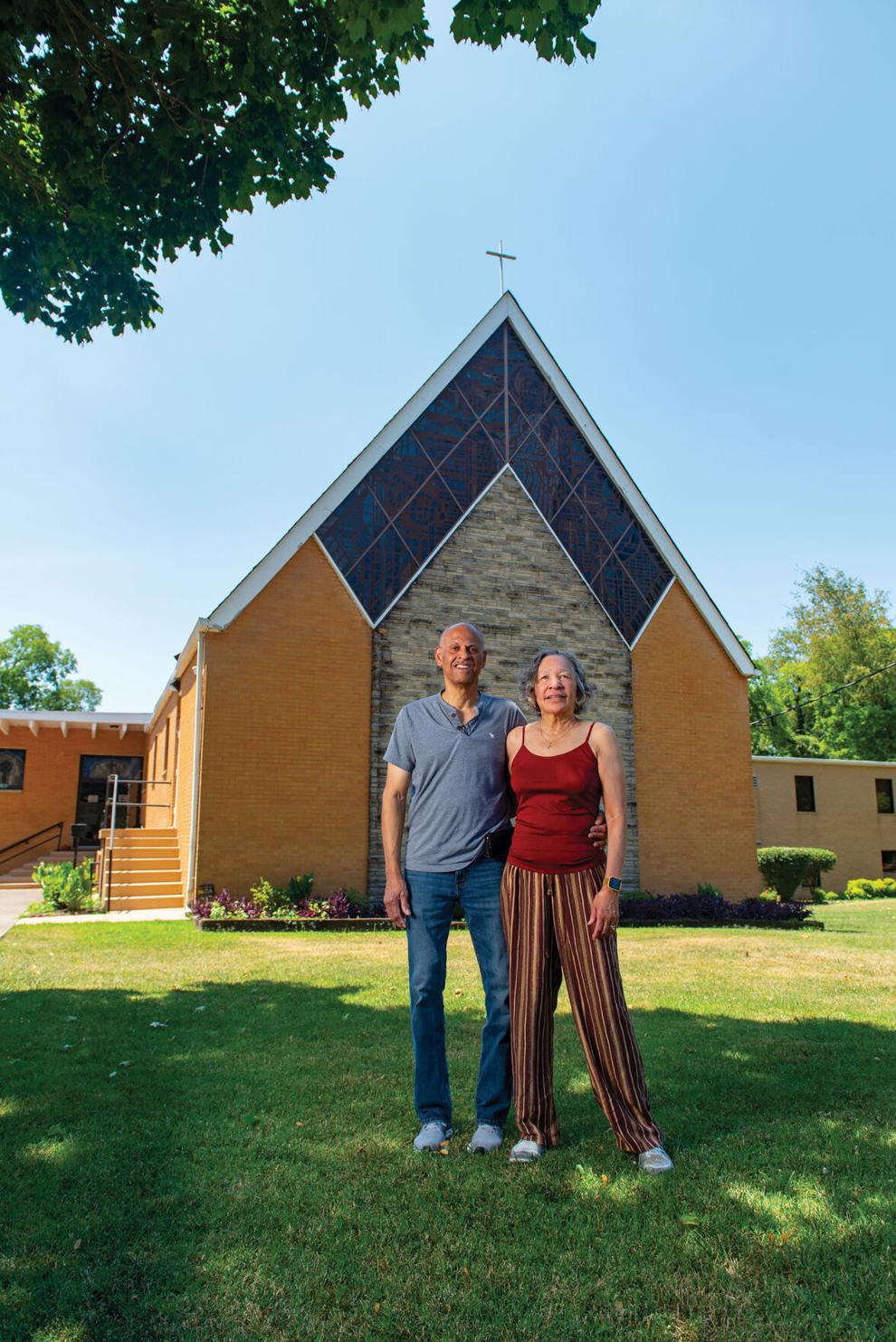 I met Gloria and Thomas Pillow in their pew on a Sunday in June at John Wesley United Methodist. Founded in 1898, the congregation built its church on Benton Avenue in 1963. Gloria and Thomas grew up in South Nashville during the 1950s; Gloria on Villa Place and Thomas in public housing — Napier, then Edgehill. Gloria is writing a book about the last generation of segregated Black students at Cameron High School, now a charter school at Lafayette and First. Her husband grew up at John Wesley.
"Everyone you saw in the choir, save one or two, their parents went to John Wesley too," Thomas tells me after church service as we drive his old paper route. He threw copies of the Nashville Banner and The Tennessean, which sold for a nickel apiece — his pay was 2 cents of each sale. Pillow points out the old boundaries that separated white and Black, recounting Black families' slow move down toward 12th Avenue after integration. "Back then, Blacks were leery of moving into these neighborhoods. They were dangerous."
There are conflicting accounts of the decades between white flight and white return. As the Black population grew near 12th Avenue, so did the perception among white people that the neighborhood was dangerous or undesirable — psychological redlining that depressed property values and fueled racist myths. White families had retreated to the suburbs with a significant portion of the city's wealth. The interstates of the late 1960s, built for the white suburban commuter, cordoned off the neighborhood. In the mid-1970s, the city closed Waverly-Belmont, the neighborhood's public school on 10th Avenue South. Sevier Park remained a popular site for after-church picnics and social gatherings, but its grounds deteriorated, neglected by the parks department.
Perhaps no individual was more vital to the planning and execution of the next phase of 12South than Mark Deutschmann, a Realtor who moved to Nashville in the 1980s and started practicing real estate in 1986. Deutschmann courted the investment and attention that had long eluded the neighborhood. He bought, sold or developed a significant portion of the area's commercial real estate, starting with an office building at 12th and Paris, and bought several nearby homes, speculative investments that paid off. Early Scene classifieds are bursting with Deutschmann listings — including the house I grew up in, a stucco Tudor on Cedar Lane.
"We focused on transitioning neighborhoods that had been affected by urban flight and on introducing Nashville to this next iteration of older neighborhoods," Deutschmann writes in One Mile Radius, a self-published retelling of his real estate career that is equal parts memoir and oral history. "I knew the key to bringing people back to the city was in creating a vibrancy that facilitated new business in order to inspire residential growth."
Read Deutschmann's book and it's easy to forget that people lived in 12South before he became enamored by the neighborhood's history, location and potential for development. Black homeowners were getting older, and some were getting offers to sell their homes. Based on today's congregations, Black residents chose Davidson County's more suburban neighborhoods that were still affordable a decade ago — areas like Hermitage, Madison, Antioch and Bellevue. Hard data on the racial demographics of this shift are difficult to pin down, but by the early 2000s, 12South was starting to flip. A city-planning document from 2008 estimates the area's Black population at around 40 percent. That number had fallen to 11 percent by the 2020 Census, a loss of more than 600 people.

A perception still exists, especially among newer residents, that 12th Avenue or Sevier Park used to be dangerous or hostile. It's hard to get detailed historic crime data, separate that from institutional bias during a notoriously racist era in Nashville's policing history, and come up with a truly scientific way to debunk that perception. But based on interviews, it's a racist myth that is far more pervasive among white people than Black families who have lived in the neighborhood for decades.
"The only crime I ever worried about was the Green Hills rapist," says Cheree Northern. In the 1980s, John Peltier Jr., a white man, terrorized the affluent white suburb. In 1989, he was convicted of raping and stalking eight women.
Like so many young Black families of their generation, Northern's grandparents moved from Edgehill to Primrose in the 1960s. She moved into their house as a child in 1974 and has lived there since. 
"We never went to church near 12th Avenue but my grandparents would go to church in Edgehill," Northern says. "I got a cake at Becker's Bakery every year for my birthday. I miss the car wash next to it, too."
My family moved across the alleyway from the Northerns and Peacocks in 1996, when my sister and I were toddlers. The first time I ever spoke with Northern was for this story. The Wyatts across the street bought their house in 1967 for $12,500. It's still in the family. The Peacocks, next door, bought theirs in 1972 for $17,250. In 2019 they sold to an Austin-based developer, who flipped their house two years later for a $310,000 profit.
Northern and her two aunts intend to sell the family home in the next six months. Her grandparents passed away a few years ago, and she says it's too big for them, too much work to maintain. 
Maintenance and land use were important motivators for Deutschmann and others in the 1990s. By his count, nearly half of the neighborhood's commercial center was vacant — the same lots are traded for millions between national real estate brokers today. He recalls storefronts with boarded-up windows and finding syringes on the ground of a newly acquired property. Ideas about what makes a good neighborhood — a coffeehouse on the corner, murals instead of graffiti — guided Deutschmann in those early years, as did the narrative that 12South had been abandoned, lost and forgotten. He reserved particular criticism for single-family lots that had been "dissected into rental duplexes, triplexes, and quads," and lamented absentee landlords who let houses fall into disrepair. Deutschmann set out with a blueprint for 12South based on a new demographic of residents, whom he termed "urban pioneers."
So public agencies and private stakeholders turned 12th Avenue South into 12South.
---
"That name, 12South, was coined by a committee of persons who wanted to change the name because they thought it was perceived as a rough area," remembers Sandra Moore.
Deutschmann takes credit for this bit of branding in his book. Moore, who is Black, represented the area on the Metro Council from 2007 to 2015. Her parents moved to Benton Avenue, a few houses down from John Wesley United Methodist, in the 1960s. She started attending in the 2000s because she wanted a church she could walk to.
The Metropolitan Development and Housing Agency, Metro's planning and parks departments, and Councilmember Mansfield Douglas, who served nine terms in South Nashville from 1963 to 1999, all played a part moving along budget items, improvements and projects. This launched a new phase in the late 1990s and 2000s, attracting a slew of independent businesses that have since disappeared.
Burgeoning designer Katy Kattelman moved down from New York and opened Katy K's Ranch Dressing, written up by The New York Times in 2005. Mother Africa sold art from the African continent, a more explicit nod to the shared racial identity of the neighborhood's customer base. Tye Dye Mary, still very active at arts fairs and markets, sold colorful clothing on the second floor of an old house across from Sevier Park. Homemade popsicles from Las Paletas became a destination for the neighborhood's growing population of young families with kids.
Parents left their children with Belmont babysitters for a date night at Rumours Wine Bar. The Islamic Center of Nashville purchased the lot at 12th Avenue and Sweetbrier with a donation from Yusuf Islam (formerly Cat Stevens) in 1979. Corner Music and Fork's Drum Closet held down the music economy, just down the street from Dolly Parton's high-walled adobe recording studio on Elmwood. The Creative Fitness Center, a visual arts studio in a big brick cottage on Linden, brought neighbors in for workshops and summer camps. Becker's Bakery, elegized by Kay West in the Scene upon its closure in 2004, was an institution on Montrose and 12th until it vacated the neighborhood, unable to weather another shift in real estate. Becker's had sold cookies, cakes and bread from its corner bakery since 1925.
The multiracial, cross-class, intergenerational neighborhood that could support burgeoning artists, young families and seniors on fixed incomes may have existed for a few fleeting years. But markets have ways of finding good deals, and prices kept going up.
By the early 2010s, that initial wave of independent businesses yielded to bigger players. A few independent businesses have stuck it out, like MAFIAoZA's Pizzeria and Minor Jewelry. Imogene + Willie sells custom denim out of an old gas station. Edley's Bar-B-Que and Frothy Monkey coffee moved in, each an empire with outposts across the city. Madewell and Marine Layer, national chains that sell high-end casual wear, replaced Corner Music. Athleisure darling Outdoor Voices, another national chain, remodeled a bungalow near Taqueria Del Sol, an Americanized Mexican restaurant that earned a cult following in Atlanta with its fried-chicken tacos. Across the street is one of Nashville's seven Jeni's Splendid Ice Creams locations. Nearly every store is part of a chain with locations elsewhere, while the few independent businesses sell niche goods at high prices. It's a lucrative area for short-term rentals. While 12South has become an expensive place to live, it's hard to say whether it has become a good neighborhood. 
---
On a walk down from Paris Avenue to Linden Avenue, Mark Deutschmann tells the Scene how the street has become something beyond even what he could have imagined. 
"A lot of times you could tout affordability," says Deutschmann. "The neighborhood was interested in having it come back and rejuvenate. I didn't think it would become a tourist destination."
He sold his last property in 12South, the building that houses Taqueria Del Sol, in May.
"Over the last 10 years it flicked a switch," he says. "We've been done with our work here for a long time. When Corner Music sold, I realized it was starting to shift into something different."
Deutschmann also clarifies his book's remarks about multifamily housing, which he thinks the city desperately needs amid a debilitating housing shortage.
Few areas in Nashville compare to the material prosperity of the 12South real estate market, which has produced a massive amount of wealth for property owners. Home values in the area have increased more than 1,000 percent since 2000, based on current listings. Many Black homeowners have taken the deal. So have some Black churches, like Mt. Gilead and Tabernacle Baptist, converting their assets into bigger campuses and better facilities elsewhere for their congregations. 
The Metro planning department locked in an extensive vision for the 12th Avenue South corridor in 2008, well into the neighborhood's meteoric rise. Waverly-Belmont Elementary came back in 2013 after intense lobbying by new parents — confused why they couldn't send their young children to the shuttered public school down the street — and by Will Pinkston, then a school board member. Pinkston delivered the inaugural remarks at the airy 1930s elementary school, all brick and hardwood. It had been converted into administrative offices when white families left the area.
"It could have happened a decade earlier," Pinkston tells the Scene about opening the school nine years ago. "It's just hard to get those things done. You have to be loud and persistent. You have to make them hear you."
Sevier got its makeover in 2014, and the city's master plan laid out new walking trails and playgrounds, complementing a new community center. A few years later, Metro started planning a complete restoration of Sunnyside mansion, funded in 2018 and set for later this year.
Churches, following their congregants, are the trailing indicator of this predictable and well-documented social and economic makeover. Never explicitly racist, making a neighborhood prohibitively expensive is the same as making it whiter in a country with a $10 trillion racial wealth gap. Now most neighborhoods want the same basic improvements delivered in the early days of 12South — lighting, pedestrian infrastructure, investment — particularly where residents are older, Black or lower income, and infrastructure comes late or not at all.
The city has historically been stingy and confused in delivering these basic services. Projects like the Jefferson Street Cap and Participatory Budgeting in North Nashville create slow or mismatched responses to community needs. The cap — a construction project proposed in the fall to cover I-40 in North Nashville, possibly with green space or affordable housing — would have cost the city tens of millions of dollars. It has since stalled amid community pushback, with residents questioning why that level of investment came only in the form of a massive urban planning project rather than basic, comprehensive services. The well-intentioned participatory budgeting process in 2021 became a bureaucratic slog that produced embarrassingly obvious improvements, like air conditioning at the Looby Community Center, new playgrounds and bathrooms at Hartman Park.
The congregations that once depended on the neighborhood have adapted. Many have survived, and some are thriving. No longer the idyllic neighborhood churches of the '70s and '80s, they've charted their own paths forward. Mt. Gilead and Tabernacle have turned valuable real estate into opportunities for a next chapter elsewhere in the city. John Wesley United Methodist has no plans to leave, betting on intergenerational bonds that will continue to support a small but tight-knit church.
Aging congregations and economic segregation are the latest challenges in a century-long story of adaptation.