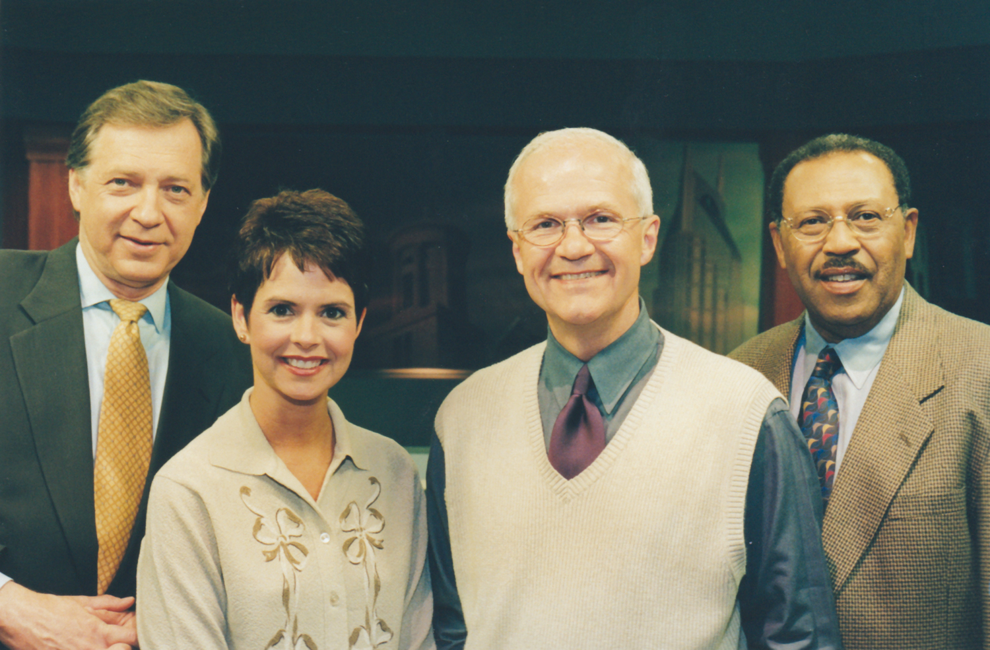 Just before midnight on Monday, Dec. 4, Demetria Kalodimos headed into the office for the last time. 
Earlier that day, the longtime WSMV-Channel 4 anchor and reporter had been working on another story about private prison operator CoreCivic. She drove before dawn with a photojournalist to West Tennessee to cover the parole hearing of a prisoner — it was supposed to be a vacation day for Kalodimos, but news called. Prisoners had complained to her that paroles were being delayed because of the prison.
On the way back to Nashville, news director Denise Eck texted Kalodimos.
"I have something important for you today," Eck texted. "I'm in a meeting until 2. If it's before then, Belinda will have it." 
Kalodimos pulled into the station a little after 1 p.m. and stopped by the newsroom desk to pick up her package: a white envelope, which was probably not a good sign. For months, Kalodimos had been expecting a new contract, as her current deal would expire at the end of December. Like her previous contract, this one was going to come down to the wire.
If it had been a fresh deal, it likely would have arrived in a manila folder. A new contract would outline everything from what the station was willing to pay Kalodimos to what newscasts WSMV wanted her to appear on to how many specials she would need to produce. But the white envelope was a little more ominous. She sat in her car, tore it open and read, incredulously — she would be gone from the station either Dec. 31 or Jan. 19, with a special send-off given to her on air. 
For almost 34 years, Kalodimos has been one of the most recognizable faces on local television. She's anchored Channel 4's signature broadcasts and done some of its most honored investigative work. She's the last link to one of Nashville's most beloved broadcasters, the late Dan Miller, and an era when WSMV's Scene at Six was appointment television.
But in her car, reading WSMV's notice, she was just mad. 
She called her husband, singer-songwriter Verlon Thompson, and told him to rent a U-Haul truck — his pickup just wasn't going to cut it. That night, they came back after the crew from the 10 p.m. broadcast had gone home and started clearing out her belongings. The cubicle that management had downsized her into a few years ago was overflowing, but the real work was in the old part of the building. Longtime employees keep their accumulated belongings in what the staff calls "cages." Nancy Amons has several. Dan Miller's has remained full since his death in 2009. Kalodimos and Thompson started loading the van with decades' worth of memories: filing cabinets full of old scripts and story notes, glossy promotional shots from a half-dozen different hairstyles, plaques and old tapes. In the pre-digital days, the staff would have to dub tapes if they wanted keep a memorable newscast or particular story, and Kalodimos had a ton of them. 
The next day, a picture of the empty cubicle made it onto social media, and people began to openly speculate about Kalodimos' future. Was she gone? Was this a negotiating tactic?
WKRN-Channel 2's Bob Mueller, one of the dwindling number of longtime anchors on the air in Nashville, took to Instagram with a picture of Kalodimos and himself, and an impassioned defense of his friend and news rival.
"It would be the height of disrespect if the last time Demetria exits Ch. 4 is at 2 in the morning through the back door with a box of memories from her 33 years of service," he wrote. He later deleted the post, possibly realizing that a reporter from one station commenting on circumstances at another station would cause heartburn for his own bosses. 
That evening, Eck called the news staff together and gave the company line: No changes had been made to the anchor lineup. The Tennessean reported that Eck, "with tear-filled eyes, went on to say she had no idea why Kalodimos cleaned out her desk."
Maybe Eck didn't know what was in the white envelope. Maybe she did. In either case, the Kalodimos Era at Channel 4 was over.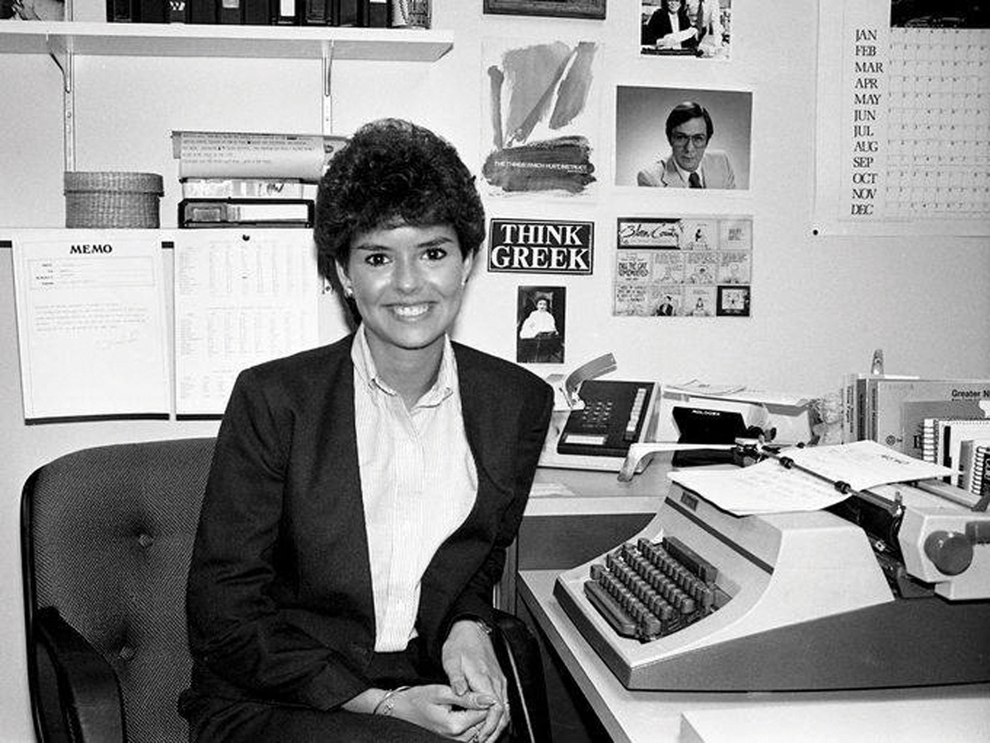 In the 1970s, Nashville's top two TV stations had a lot in common. Both NBC affiliate WSMV-Channel 4 and CBS affiliate WTVF-Channel 5 were legacies of radio stations (WSM and WLAC, respectively) and insurance giants (National Life and Accident and Life and Casualty Insurance Company). The faces of both were strong anchors who grew up in Georgia: Dan Miller at Channel 4, Chris Clark at Channel 5.
Miller's daily home was the Scene at Six and the Scene at Ten, where the smooth-as-silk Augusta native was just as comfortable delivering deadly serious news as he was giggling his way through a Huell Howser slice-of-life feature, like the one about a giant pet pig that lived indoors. Lonnie Lardner joined him as a co-anchor in 1978, and the duo proved to be a winning ratings combination. 
When Lardner left for a bigger station in Chicago at the end of 1983, the search for her replacement landed on an in-house talent, Sharon Puckett. But in the shuffle to replace Puckett as a weekend anchor with Teddy Bart, news director Bob Selwyn reached outside the newsroom to a fresh-faced reporter from a Champaign, Ill., station.
While in the master's program at the University of Illinois, Kalodimos had shown talent as a newsreader in addition to being a pugnacious reporter. After a short stint at Champaign's WICD, she came south to Nashville as a reporter and co-anchor with Bart. As a bonus, she got to keep her name — the Illinois station, thinking Kalodimos sounded too ethnic, made her appear as Demetria Kaye on air. Nashville had changed a lot since the 1960s, as 18 years earlier, WTVF had made Clark drop his given name of Botsaris. 
These were heady times for WSMV. Run by a general manager who came from the news side, Mike Kettering, the station won an Edward R. Murrow Award, given annually to the best television news operation in the country. The centerpiece of the station's coverage was a special-reports unit that produced around 80 series each year (the unit would be dismantled in a cost-cutting move in the 1990s). A three-page memo from management served as the staff's bible:
Series give us an opportunity to do in-depth, thorough and analytical reporting on a broad range of topics. Ideally, a series contains not only information, but better quality information than a story done in an 8-hour day. Series also should be better produced — which means they should communicate better than a daily news story. Series sometimes contain different kinds of information than general assignment stories. For example, we can address philosophical questions, we can put issues in perspective, we can provide historical background, we can show irony, and on occasion we can try to be funny. In addition, the 6-week and documentary slots provide enough time to do some investigative reporting. 

Finally, from a business standpoint, series provide us with (1) a promotable product, (2) some audience carryover from day to day, and (3) an opportunity to showcase personalities. All of these are said to help ratings. But what really helps ratings, I believe, is delivering high quality reporting, week after week. And the desire to provide our audience with high quality reporting is why we really have a series unit. It may sound pompous, but it's true.
That's a far cry from the "if it bleeds, it leads" caricature — rooted in reality as it may be — of many local newscasts. WSMV excelled with special-reports series, and it permeated the whole news operation.
Watching video of those broadcasts can seem jarring in the context of the quick-twitch, super-visualized newscasts of today — they have an almost elegant quality. Yes, the graphics are crude, and standard definition pales in comparison to today's HD feeds, but there's a complete charm to the close of every Scene at Six, when The Miracles' instrumental version of "Let the Children Play" plays over tight shots of each anchor desk member. It's humanizing.
Into that mix, Kalodimos was dropped. After six months, Puckett decided to leave the anchor chair, and at the ripe age of 25, Kalodimos slid behind the Scene at Six desk alongside Miller, weatherman Bill Hall and sports anchor Charlie McAlexander. Miller went to L.A. and later returned. Rudy Kalis took over for Charlie Mac in 1986. Hall would retire in 2005. But for the next three decades, the one constant was Demetria Kalodimos.
During this period, Kalodimos would be the only broadcaster in town to win two medals from the prestigious Investigative Reporters and Editors organization. The first was in 1995 for a series on the ethics of the University of Tennessee's famed body farm, and the second was for a 2007 series on the importation of low-level radioactive waste into the state. 
Al Tompkins, an instructor at the Poynter Institute for Media Studies and a former WSMV news director, put those awards into perspective.
"She is in the top tier of investigative reporters in the country," he says. "That's credibility, so she doesn't just stand and read the news. She works her fingers off, and even sometimes has funded her own projects of significance. I can't think of any other local news anchor who also is a national IRE-award-winning investigator, and I would know them if there were. I can't think of another one in this country."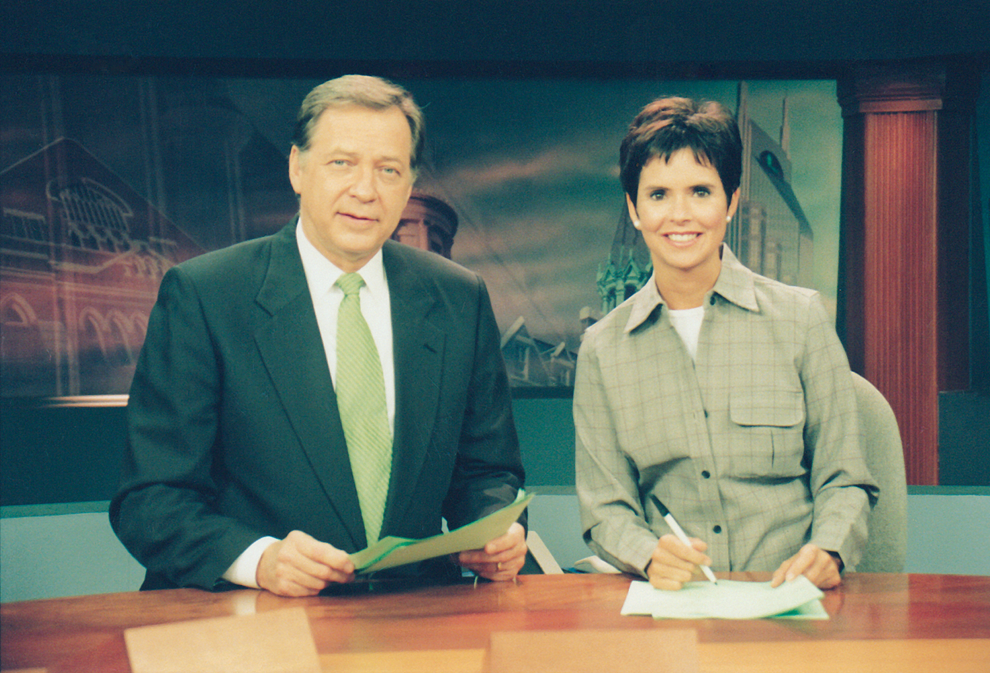 There are a few important things to understand about local television news ratings. First, stations and their news staffs obsess over ratings, poring over audience data that is parsed down to minutes and can determine not only the fate of on-air personnel but also drive ad rates — not a small consideration for what is often some of a local affiliate's most lucrative air time. Second, sometimes the quality of a newscast matters less to its ratings than the popularity of the programming around it. And third, ratings are often tectonic in nature — it can take years to change the habits of a particular viewer.
In the late '80s, even after Miller went to KCBS and then the short-lived national late-night program The Pat Sajak Show, Channel 4 remained on top, pulling an impressive 44 percent of 6 p.m. viewers for the Scene at Six in 1986 and slightly less in 1988 (according to Arbitron's ratings). But by the time Miller returned in 1992, CBS affiliate WTVF — now rebranded as NewsChannel 5 — was winning at 10 p.m. Through the 1990s and 2000s, Channel 4 and Channel 5 would slug it out to be the local news leader.
WSMV had been aided in a huge way in the 1980s by the prime-time lineup. NBC was long a second- or third-place network, but it finally built a juggernaut Thursday night lineup in the mid-'80s: The Cosby Show, A Different World, Cheers, Night Court and Hill Street Blues. This gave local NBC affiliates a tremendous ability to reach viewers. In the '90s, hits like Seinfeld, Friends and ER — branded "Must See TV" — continued to propel them.
"I mean, come on, you've gotta be an idiot to drive the ship on the rocks with that kind of stuff in prime time," says Tompkins. "Most NBC stations did very, very well. But the reason that's important is two-fold. One, you have access to your viewers to run promos during that time. But the other was that they would give you excellent lead-ins for your newscast, and lead-ins to this day are still vitally important to a newscast success. It is hard to get people to change a channel. It's really hard."
Through the 1990s, WSMV's 6 p.m. newscasts — for the most part — remained the ratings leader, even when a 5 p.m. newscast (anchored by Kalodimos) was added in 1993, siphoning off some of the viewers who would normally have tuned in for the Scene at Six. Their big weapon? An unbeatable lead-in from the Queen of Daytime Television herself, Oprah Winfrey.
To be sure, the progression of WSMV's main rival, NewsChannel 5, into the dominant ratings force it has become today is due to many factors, but as one rival broadcaster puts it, "They block and tackle" — that is, they do the fundamentals very well. Says the broadcaster, "They don't make mistakes on the air, they don't make bad video, their signal looks great, their shows look clean, their sets look up-to-date."
Tompkins echoes that, ticking off a list of NewsChannel 5's strengths. "They have a pretty deep bench of well-known people, and they also have a number of people now who've been there a long time. There's a significant audience for those people."
For much of the past two decades, just one person has either led the news operation or been in a senior leadership role at NewsChannel 5 — Sandy Boonstra. Meanwhile, since Tompkins left WSMV in 1998, the station has had six news directors, with Eck arriving in May. 
Sometimes it takes a major shift to change habits. The passing of Dan Miller in 2009 provided one of those tectonic events. To hear some longtime WSMV hands describe it, the station never found its way after Miller's death. Channel 4 has never seriously challenged NewsChannel 5 in a sustained way since then, despite consultant advice and changes in personnel.
But the second recent shift is a little more surprising. In 2012, ABC debuted the prime-time drama Nashville, and while it was never a smash nationwide — the nighttime soap eventually moved to cable network CMT after its fourth season — it was a huge success among local viewers. Many of them hung around for the local affiliate's 10 p.m. newscast on Wednesday nights, letting WKRN-Channel 2 surpass Channel 4 for that one night a week. Over the past five years, WKRN has made steady progress to the point that in November's Nielsen ratings book, it was second to NewsChannel 5 at both 5 and 6 p.m., and it tied for second with WSMV at 10 p.m. Internally, a source tells the Scene, WKRN has referred to Kalodimos' departure as a "historic opportunity" to solidify their newfound success. 
After being stuck in third place for decades, WKRN's Mueller and his crew had finally broken through.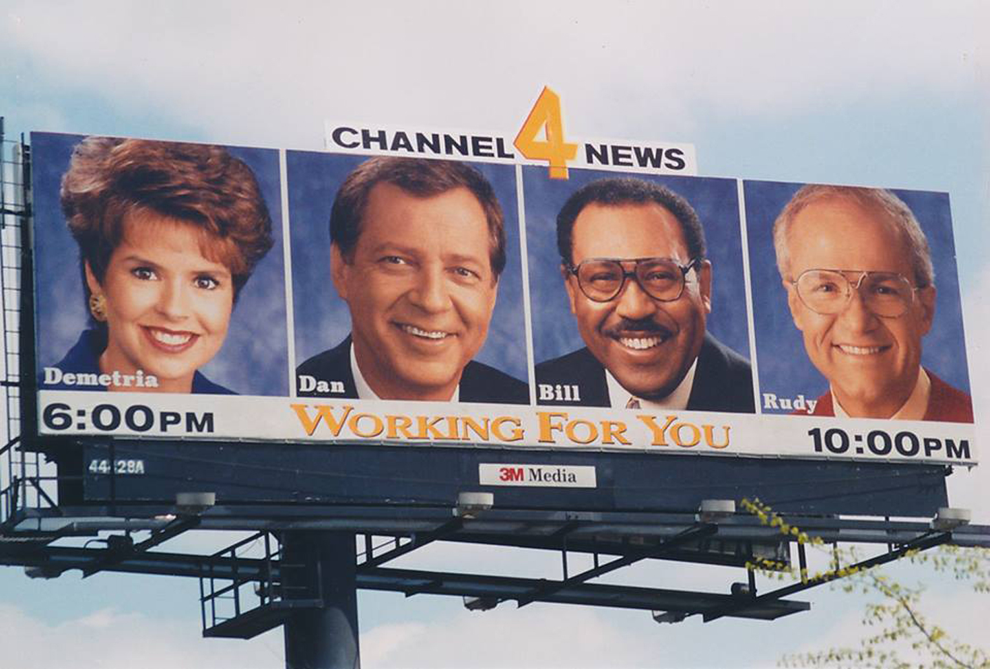 2017 was a particularly bad year for WSMV. 
On top of the ratings losses, former reporter Jennifer Herron filed suit in May, alleging that the station violated the Family Medical Leave Act when it terminated her as she was trying to care for her dying father. 
In August, the station endured a firestorm of bad reactions when management laid off Steven Good, the staffer who had played enormously popular weather mascot Snowbird since 1993. 
Then, in November, three former on-air employees — Dennis Ferrier, Jennifer Johnson and Nancy Van Camp — sued the station for age discrimination in their dismissals. Buried in the suit was one particularly inflammatory claim: Management allegedly referred to Kalodimos, the longest continuously serving news personality in the station's history, as an "old maid" and spread rumors that she was retiring. Kalodimos was not a party to the suit, but she had filed two internal complaints in 2016, followed by a complaint with the Equal Employment Opportunity Commission. 
On Dec. 31, Kalodimos received a letter from Eck via courier that her tenure at WSMV was officially over.
"Please remember your 'covenant not to compete' remains in effect for 6 months after your last day of work as described in Exhibit A of your Employment Agreement," the letter ended.
It was an ignoble end to a decorated tenure. In addition to the IRE medals, Kalodimos won 16 Emmys and two National Headliner awards while at WSMV. What's more, she's a talented filmmaker in her spare time, having launched Genuine Human Productions to craft documentaries about Nashville's history — including Pre-Madonna, about a female rock duo in the city's counterculture era of the 1970s, and Injurious George, about the notorious "Nashville Foot Stomper" of the 1980s. A documentary about the Marcia Trimble case sold out The Belcourt in 2012.
WSMV declined to comment on personnel matters. Kalodimos said she wouldn't talk on the record for this story, instead referring the Scene to the statement she gave the paper on Jan. 1.
"I have spent more than half of my life at WSMV, working long and unpredictable hours, winning awards and ratings, serving and understanding the community and building trust," reads the statement. "It is quite sad to end a nearly 34 year career the way this company chose to end it, with a letter left on a desk, no conversation, no face to face meeting, no thanks.
"To be clear … the 'extension' offered to me was for 2 weeks (Jan. 19) so that the station could create the illusion that I retired. The only offer made to me was an offer to leave, under WSMV's 'terms.' Longtime and loyal viewers need no explanation of what's been happening at WSMV, a once lauded 'legacy' television station."
And with that, the last link to WSMV's golden age was broken.