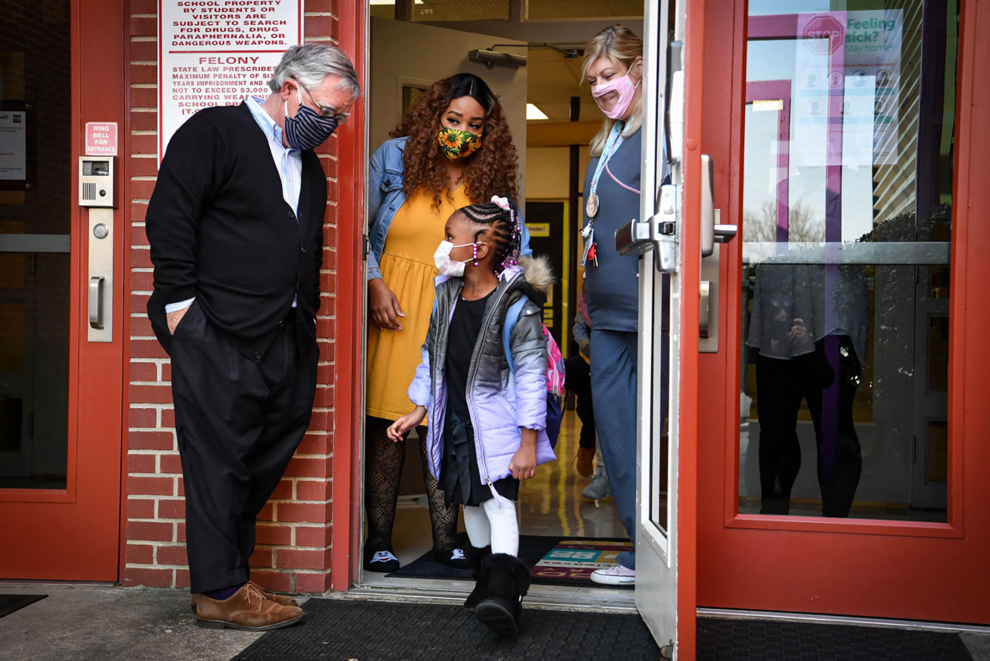 Rachel Thomas' daughter has never set foot inside Eakin Elementary School, where she is enrolled in kindergarten. She's made some new friends via teleconferencing — but she likely won't sit in a classroom until she reaches first grade in the fall.
Her schooling experience to date has been defined by disruption. In March of last year, her Metro-run pre-kindergarten center was shuttered because of the tornado. She briefly returned to class before the building was closed again due to COVID-19. 
Though Metro Nashville Public Schools are in the process of bringing students back to classrooms this spring, many families have opted to remain virtual for the semester, including the Thomases. 
"Safety is my first priority always, so I'm thankful they gave us the option to keep kids virtual," says Thomas. 
She admits that her family is fortunate to have two parents who are able to work from home and in a position to supervise their two daughters' virtual schooling. Still, it's been a challenge. 
"There are days we know we both have to be working," Thomas says. "Sometimes the school stuff gets put a little bit on the backburner. We know we can come back to it at night or the next day. Trying to prioritize what's most important has been really difficult for us."
For the Thomases' sixth-grade daughter, who attends Head Middle Magnet School, the "school" part of virtual school has been relatively easy. It's the social connection she misses. She and her friends have gotten creative, Thomas says, swapping after-school gatherings for video chats, even after a day full of them. 
Kelly Harkins' son Reagan, an eighth-grader at J.T. Moore Middle School, is also forced to get creative to socialize with his friends. Some of those friends will move on to high school later this year, and Reagan will never again share a classroom with them. The Harkinses also opted to remain virtual after consulting with an epidemiologist in the family, and like the Thomases, they acknowledge the privilege in having two parents at home during a year of virtual schooling. In making the decision, Harkins says the family considered both the potential that their son could bring COVID-19 home and the possibility that their son's absence could leave more space for distancing at the school for students who are struggling with virtual learning more than he is. 
"He's very social, and that's what he misses," Harkins says. "He's an only child, so he doesn't even have a sibling to fight with or play with."
Reagan has found social connection in after-school video game sessions with friends. He also goes on masked walks with a friend from the neighborhood, has cooked recipes alongside peers via video chat and has taken classes outside of school. 
"He understands why we have chosen this route," Harkins says. "He's bummed, but he also understands."
Gov. Bill Lee and Republicans in the state legislature pressured Nashville schools to reopen earlier this year, but many Nashville teachers and school employees were scared to return before they could secure a COVID-19 vaccine. That fear was tempered for some, because many had already contracted the virus, and Metro began vaccinating teachers and school employees in February. 
Bobbie Cathey has been a library clerk for more than two decades at Haywood Elementary School. She says she contracted COVID-19 in November.
"I really don't even remember three or four days," she says. "My husband was a great nurse."
Cathey recently got her first of two vaccination shots and is excited to be back at school, where she also helps greet students getting off school buses in the morning. 
"They are so excited," Cathey says. "They're getting off the buses, and they're so glad to see their friends. It's really cute to see them together."
Another MNPS employee, L. Honey Hereth, recalls being "extremely worried" about returning to school before getting vaccinated. The Tulip Grove Elementary School paraprofessional has asthma and diabetes, two conditions known to worsen reactions to COVID-19. She contracted the illness earlier this year, before school was back in session. Hereth has largely recovered from a bout that resulted in four or five daily asthma attacks at its peak, but she still has lingering problems, including extreme fatigue.
"I'm considered a long-hauler now," she says. 
Hereth works one-on-one with special-needs students and says they had a particularly difficult time with virtual schooling. (One of her students is still virtual, while the rest have returned.)
"They're behind," Hereth says. "And it's going to show up not just this year, it's going to show up year after year, I think for the next two or three years."
She applauds MNPS leadership for pushing back on state pressure to reopen, and she says she would have preferred to keep her fourth-grade son at home. 
"As an employee, I think they've done as good a job as they can," Hereth says. "But as a parent, I don't think we should have come back when we did. So it's two sides to one story for me, and I have to tell you, if I could have stayed virtual [with my job], I would have stayed home with my son."