As radically as Nashville has changed over the past decade or so, some things always remain the same.
You can always count on, for instance, WKRN anchor Bob Mueller to have the most lustrous mustache in the local-news game. You can always bet that the Tennessee state legislature will make national headlines at least a time or two each session thanks to stunningly retrograde and embarrassing legislation. And you can always expect jokes about Dolly Parton and cowboy boots to show up in the Scene's annual "You Are So Nashville If …" submissions.
This year, out of roughly 1,000 entries, Dolly showed up seven times, and boots six. Long lamented theme park Opryland — closed 24 years in December — was mentioned roughly the same amount of times, while four entries included a reference to personal injury lawyer and Music City mainstay Bart Durham. But plenty of New Nashville was in the mix as well. There were references to tall-and-skinnies, bachelorette parties and property tax increases, not to mention Kid Rock and — thanks to a deeply unfortunate incident at Rock's Lower Broad establishment that made international headlines back in May — colostomy bags. (We can safely say that this year we had more references to colostomy bags and the, uh, contents therein than ever before.)
Less present this year than last, however, were the references to COVID-19. While YASNI competitors made 128 COVID-19 references in 2020, this year only 22 mentioned the virus by name — and just 33 entries contained the word "mask." There were a handful of references to this year's flooding, and 15 to the Christmas Day bombing, not to mention a half-dozen digs at Christian finance guru Dave Ramsey and his various troubling and unhinged practices. As ever, plenty of folks talked about just how swell and neighborly a city Nashville can be, while others bemoaned the influx of those dastardly Californians.
But just as much as we saw locals bemoaning unfortunate changes like rampant development and out-of-control party culture, we saw something that's as Nashvillian as Arnold's or The Parthenon (not the Greek one): folks who are willing to have a laugh at themselves, to not take our city too seriously. So join us in having a chuckle, and see what made the cut for this year's "You Are So Nashville If …" issue. —D. PATRICK RODGERS
---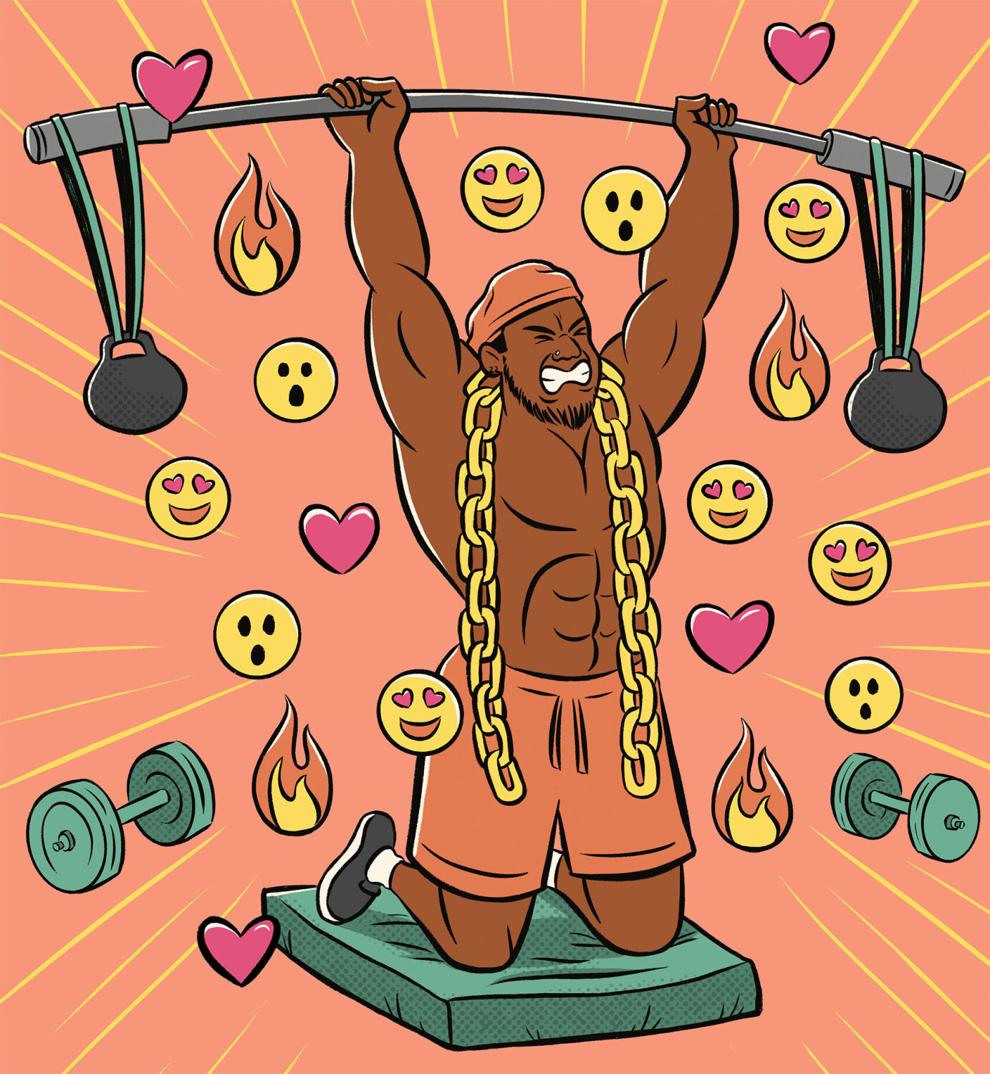 First place: 
You think Derrick Henry offseason workout vids should be flagged as erotica. — Chase Stejskal
---
About the Winner:
Derrick Henry is known to turn grown men into schoolgirls. Just ask accountant Chase Stejskal, winner of the Scene's 33rd annual You Are So Nashville If … contest. His entry about the 6-foot-4 Titan running back's workout videos is, honestly, something we've all been thinking. 
Stejskal engages in a kind of ritual when a new video drops, and it involves Scene staff writer J.R. Lind, who once wrote that Henry looks like "some sort of sacred statue carved by angels." 
"Every time I see one of those videos," says Stejskal, "one of us texts the other saying, 'Looks exactly like my workout.' We're the people in the background just casually riding the stationary bikes." (YASNI entries are judged blind, by the way — no Scene staffers were aware of who wrote any of the submissions when we voted on them.)
Henry is one of only eight NFL players to rush for at least 2,000 yards in one season. He is one of only two NFL players with a 99-yard touchdown run. He's won the rushing Triple Crown the past two seasons. And for Stejskal, the Heisman Trophy awardee has transformed the Titans. 
"It's been cool to see his draft class turn things around," says Stejskal. "That's another reason I think a lot of fans are endeared to him, because he's been a catalyst for their turnaround. A couple of years ago, they were one game away from the Super Bowl, and he was the real workhorse there. … He's playing other professional athletes and tossing them around like rag dolls." 
Look, we're not here to objectify the man, but have you seen his dead squats? His wrought-iron quads? His pecs glistening with sweat while he jumps rope? Find Henry's NSFW workout vids on his Instagram account (@last_king_2) — keep an eye on his stories — and find more with a Google search. Chase, thank you. —ERICA CICCARONE
---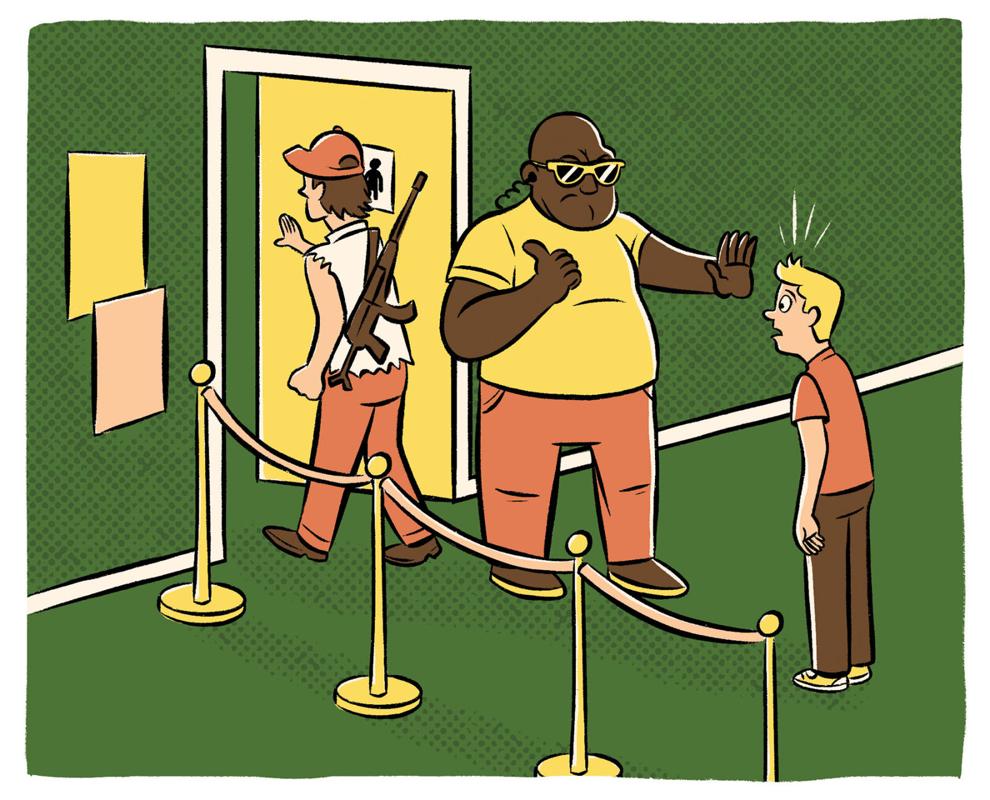 Second Place: 
You can buy an assault rifle without a license but can't use a public bathroom without showing your birth certificate. —Curt G. 
---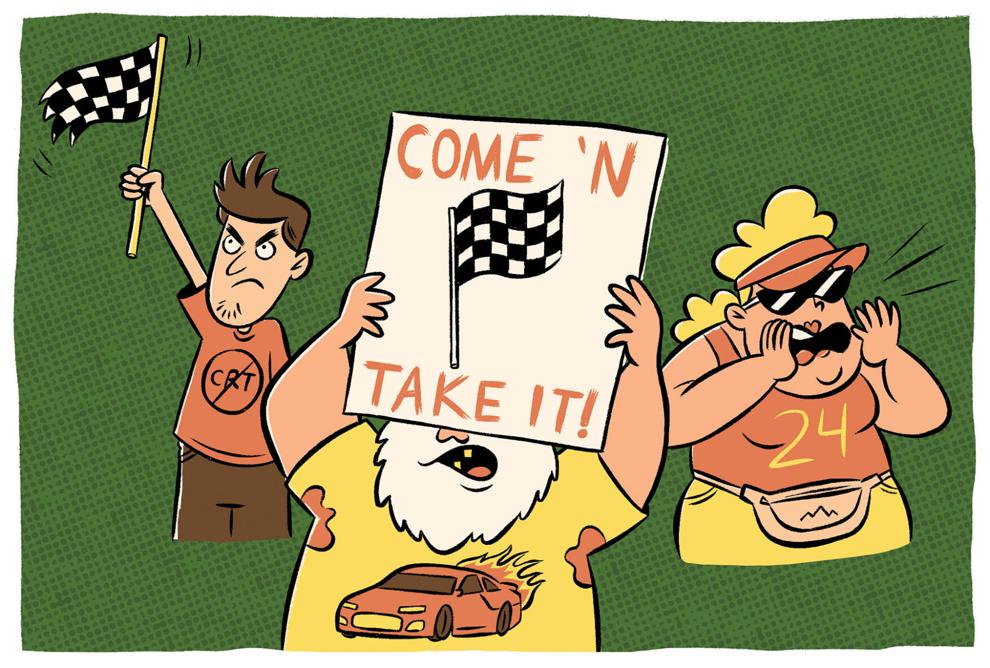 Third Place:
You thought critical race theory was the debate about NASCAR returning to the fairgrounds. —Allison Lund
---
Honorable Mentions: 
You suddenly can't remember where you bought your hats. —Andy Logan
You're thirsty for Dr. Alex Jahangir to start an OnlyFans. —Hunter Kelly
You sold your Ring footage to TMZ. —Allison Lund
Your cat inherits your Nathan Bedford Forrest memorabilia. —Jeff Brousal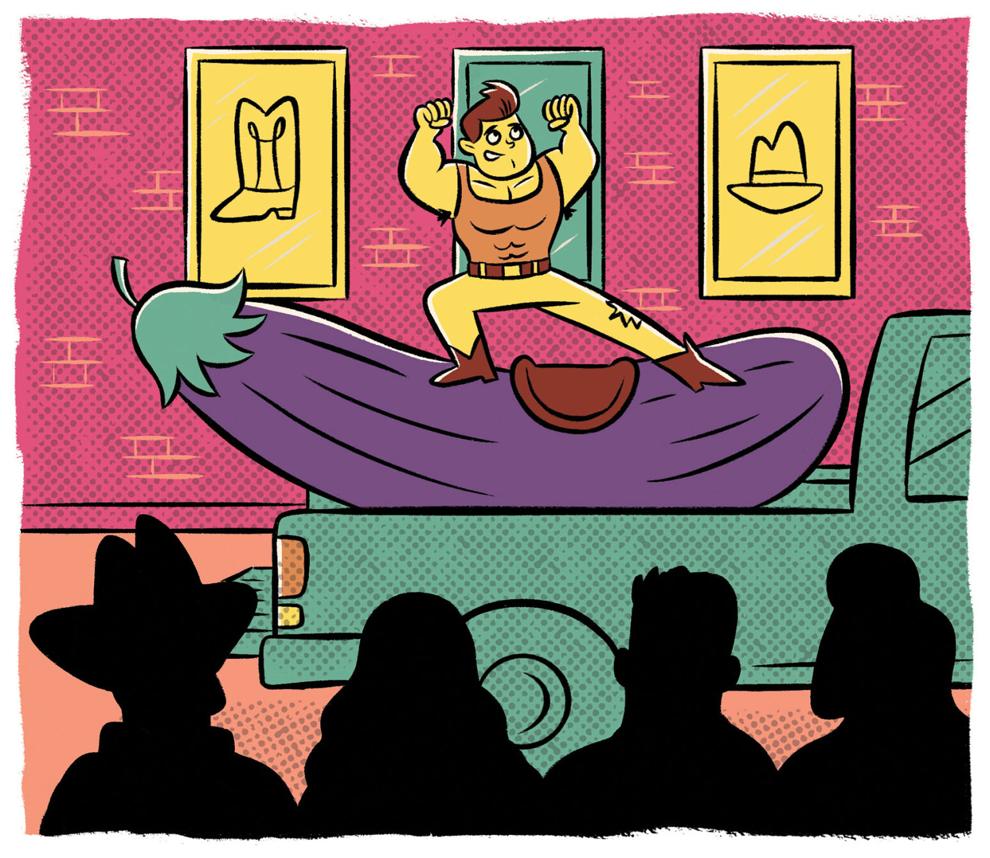 Thanks to Kings of Hustler male revue, Steve Smith is no longer the biggest dick on Broadway. —Allison Lund
The only mugshot your website refuses to publish is your own. —Nate Griffin
Upon seeing Ben Shapiro take a selfie in a cowboy hat, you emailed your councilmember asking if something could be done about this. —Logan Elliott
It's easier to tell your parents you got knocked up than it is your employer, Dave Ramsey. —Logan Elliott
You left your garage open overnight and by morning had three rental offers. —Paul Stansel
You're still chuckling about WKRN anchor Bob Mueller's COVID vaccine photo revealing that he has a tattoo ... of an anchor. —Stephen Yeargin
Your idea of constitutional carry is a colostomy bag. —Allison Lund
You never realized that Kid Rock's Big Ass Honky Tonk would be THAT kind of swingers' club. —Ben Legg
You opened for Johnson & Johnson at Nissan Stadium. —Drew Maynard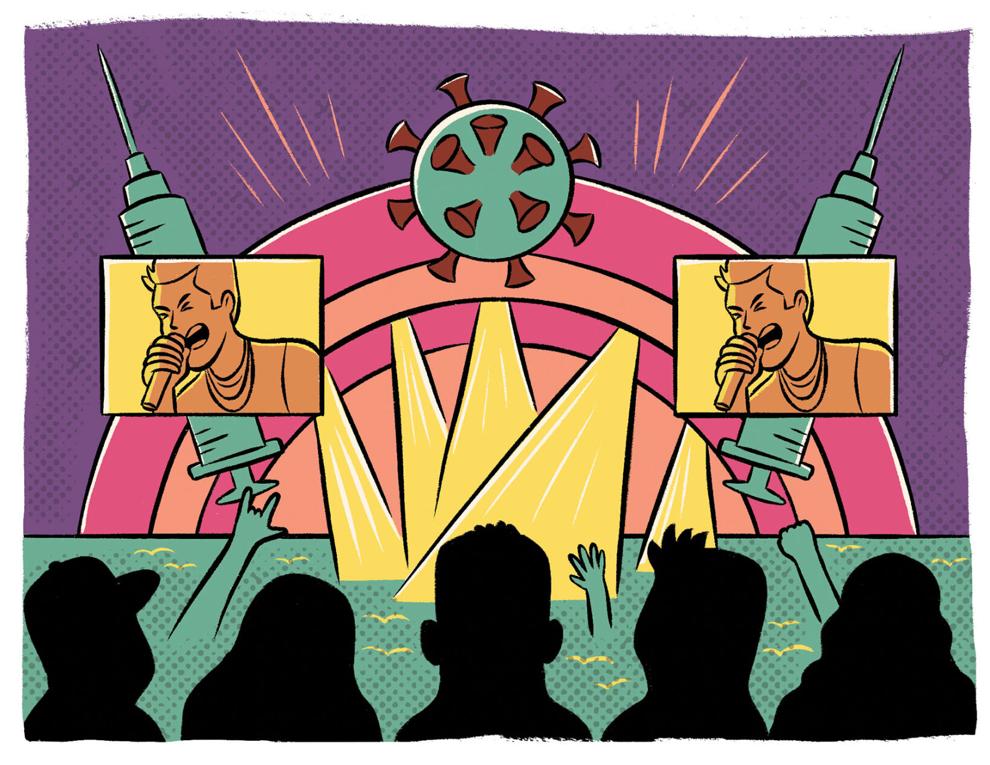 ---
And the rest: 
Half your skyline went up while you were working from home. —Trenton Hanner
You were so relieved that the cicadas weren't coming here but you forgot about the Southern Baptist Convention. —Tara Aaron-Stelluto
You're not sure where to take the kids for s'ketti anymore. —Jade Swafford 
You heard Old Spaghetti Factory wasn't reopening and thought the end of the world was upon us. —Hilary Jones 
You need to ask which disaster the #NashvilleStrong fundraising merch is for. —Sarah Brownell
One of your neighbors received a full pardon the day before President Trump left office. —Ray Shelide
No one told you about chiggers before you moved here and you found out the hard way. —Joe Scutella
You know this is the year Ernest Saves Nashville. —Megan Minarich
You wonder how many bro-country singers have to be canceled before herd immunity from shit is achieved. —Allison Lund 
You check @ScanNashville to see if that bachelorette party from your hometown is going to jail. —Miles Hutcherson
You ask for comp tickets to a benefit concert. —Jacqueline Menish
​​Your COVID bubble was lower Broadway. —Justine Avila
You gutted it out through the emotional manipulation that was Marriage or Mortgage to see the Five Daughters doughnut wall get its 15 minutes of fame. —Mark Naifeh
You just moved here from California, bought three houses sight unseen, and are willing to pay someone to explain all these jokes to you. —Andy Gasparini
You paid more property tax than Amazon. —Hunter Bernstein
Your property taxes went up … no, wait, they didn't … oh, wait, they actually did. —Clifton Kaiser
Your school is banned from discussing the pink statue on I-65. —Nate Griffin
You went to hell and the dog got the money, the horse and some useless flags. —Tripp Sullivan
You wonder if Miranda and Blake's bars can get along. —Heather Burwell
You associate Elmington Park with a melange of peaches, lobsters and medieval battle. —Trenton Hanner
In this past year, you've dined in fewer restaurants than Sean Brock opened. —Charlie Harris
You still feel like you're getting away with something by buying liquor on a Sunday. —Matthew Rewinski
You donated to the GoFundMe to save a place you haven't been in 15 years. —Nate Griffin
You're against critical race theory in schools because you think kids should only be taught positive stuff about Dale Earnhardt. —Dan McNamara
You meant to rate your HVAC repairman on Yelp but accidentally elected him for governor. —Curt G. 
You don't mind a little bit of racism if you can still listen to your shitty music. —Allison Lund
Horoscopes are against your religion but the enneagram is taught at your women's group. —Ashley H.
Good news, the price of your house doubled over the past couple of years; bad news, the price of everyone else's house doubled over the past couple of years. —Lindsay Bergstrom
You get more calls about buying your house than you do from your mom. —Jamie Yost
B.C. doesn't mean Before COVID, it means Before California. —Lightening de La Flame
Garth Brooks appears at a fundraising benefit in your honor. —Kenneth Anchor
You've driven a piece of furniture through East Nashville. —Debbie Emory-Utzig
Your mask is on your chin, because your party bus is about to begin. —Daniel Harris
You put "for sale" signs on your yard just to fuck with people. —Tom Still
Organizing a protest counts as your high school senior project. —Hilary Jones
Your aesthetic has been personally attacked by @musicshitty. —Ashley H.
Your anxiety goes through the roof thinking of a place to take your suburban in-laws to dinner. —Gwen Arney
The local media landscape is so rough that reporters have turned to offering great deals on a PS5 on Twitter. —Stephen Yeargin
You cried at Pekka's last start, but still don't fully understand icing. —Rob Graham
The first time you saw a pedal tavern this year you said to yourself, "Nature is healing." —Logan Elliott
You asked Soccer Moses to sign your Bible. —Logan Elliott
You are confused when you see an actual fire truck that doesn't have drunk people on it. —Jamie Yost
You're looking for a new hat dealer. —Jade Swafford
You expected live music at your vaccine venue. —Dr. Jenn Johnson
Your favorite local musician is Tunnel Tuba Guy. —Andy Gasparini
You created a hot chicken cryptocurrency during quarantine. —Corbin McGrath
The spider picture you posted on Nextdoor has been verified by 89 people to be a brown recluse. —Clifton Kaiser
Macaroni-and-cheese counts as a vegetable. —Hilary Jones 
The first time you went to Trader Joe's without a mask, you were afraid people would think you were from Williamson Co. —Ashley H.
You're glad Wilson County finally took that sad fair off our hands. —Trenton Hanner
You posted one #ad about skin care and now qualify for the vaccine as a health care worker. —Ashley H. 
Your daily newspaper is so poorly read that nobody noticed the racist print ad warning of "Islam" detonating a bomb in the city until they published a second one. —Stephen Yeargin
You've ever said, "Know where the Blockbuster used to be?" while giving directions in Green Hills. —Russell Ries Jr.
You are the star of your own conspiracy theory. —Mark Shenkel
You avoided COVID for a year but got an infection from strapping a dead catfish to your chest on your first night out. —Miles Hutcherson
You just know for certain all the city's problems would be resolved with the return of Opryland theme park. —Heather Burwell
You pack hot chicken in your toddler's bento box. —Chris Miksanek
Bob Mueller has been on the air longer than you've been alive. —Hilary Jones
You've ever looked at four parking spaces and thought, "Yeah, we can build a 40-story hotel there." —Lindsay Bergstrom
You get excited when you spot Stuffed Animal Car in the wild. —Andy Gasparini
Your local real estate developer has more yards than Derrick Henry. —Alex W. 
You've been secretly plotting your Baby Ruth attack on the rolling hot tub bro barge. —Julia Martin
You have a daily comedy routine where you run to hold onto the vase on the mantel (like in Mary Poppins) when the developer down the street blasts away. —Anne Krueger
You're happy that Lee Beaman got a worse deal on his divorce than you did on your Corolla. —Curt G. 
Can we get an extension on this? —Trenton Hanner
You sold more music through Zoom than Spotify. —Ken Lass
You have a goldfish named Bart Durham. —Jamie Yost
You remember when we used to remember the nun bun. —Charlie Harris
You see more bachelorette parties than turn signals. —Emma Sacks
You rode a party barge to work because it was cheaper than a Lyft. —Katie Wesolek
You could finally claim it "feels like '98" after attending a 15 percent capacity Predators game. —Ashley H. 
You call going to Bellevue One "taking a trip to the country." —Tom Still
J.R.'s columns kind of make you want to walk a mile with him. —Trenton Hanner
You worry your local bowl-game sponsor will be outlawed by the legislature. —Ken Lass
You included your right kidney and firstborn in your home offer and still got outbid by someone from California. —Mike Streit
You attended the Capitol insurrection. —Alise Alicardi
You spent a good bit of time Googling the names of local January 6 insurrectionists to see which side of the family tree they were on. —Stephen Yeargin
When U.S. Capitol-storming Zip Tie Guy was identified as a Nashville bartender, you already knew it was one of two places. —Andy Gasparini
You stormed the Capitol because you were looking after your mom. —Allison Lund
You spent your first day as a junior senator being a little traitory. —Allison Lund
You're not a fan of the poop-throwing maniac, but you can kind of understand where he's coming from. —Max Kingsley
You change your mask policy after taking a colostomy bag to the face. —Allison Lund 
You support open carry but your bar now pats down for colostomy bags. —Allison Lund 
Colostomy bag contents actually improved your bar's health department score. —Allison Lund
You crashed Jeni's site trying to buy Dolly Parton ice cream. —Jade Swafford
You ask your vaccine administrator, "Is this one of those Dolly shots?" —Hilary Jones
Every single one of your kindergarten students knows who Dolly Parton is. —Elizabeth Henard
You drop Dollyisms as sincerely as a psalm. —Jade Swafford
Everyone at the songwriters' circle took off their masks to write a song about taking the pandemic seriously. —JJ Wright
You still picked up a copy of the Scene, knowing you weren't going anywhere. —Dr. Jenn Johnson 
You've had to dust off your pre-pandemic excuses when your friend asks you to check out their band's midweek gig or writers' round performance. —Jason Peterson
Why can't EVERY Taco Bell serve alcohol? At least that way, you would have an excuse to go to Taco Bell sober! —Hilary Jones 
You can tear down a building in the blink of an eye, but it takes months and a special commission vote to remove a racist statue. —Allison Lund 
You want to say "Fuck Dave Ramsey," but you'd have to marry him first. —Andy Gasparini
Your COVID weight-loss support group was actually a cult. —Ashley H. 
You didn't get tickets to Picasso. —Trenton Hanner
You think your tall-and-skinny is more tasteful than the new one next door. —Ken Lass
You call water Cumberland Punch. —Sedric Walker
You can't decide whether to watch greased-pig wrestling or the Metro Council meeting on TV. —Phillip George
You love to complain about traffic but still figure anywhere you drive will take about 20 minutes. —Russell Ries Jr.
You envy newcomers because they don't have memories of TECHS. —Hilary Jones
You seriously considered whether it would be cheaper to just buy Exit/In rather than buying a new house. —Page Forrest
You can't afford the neighborhood you live in anymore. —Rachel Karr
You were hoping your 34 percent property tax increase was going to go toward a defensive coordinator. —Andy Logan
You think it would be more accurate to start calling ourselves Mixed-Use City. —Joey Butler
You sing along to Billy Ocean's "Get Outta My Dreams, Get Into My Car" under your COVID mask at Kroger. —Matt North
You have memories of Polaris. AND you're tired of explaining to newcomers what the UFO on top of the Sheraton is. —Hilary Jones
You hope the construction at Centennial Park will be done in time to welcome your great-grandchildren. —Trenton Hanner
The only thing that got you through the pandemic was Nashville Humane's Instagram. —Lindsay Bergstrom
You deep-fry a sushi roll. —LA Cole
Your preferred gender pronouns are y'all and y'alls. —Curt G. 
You put shiplap and some succulents in your kids' tree fort and now it's booked for the next six months on Airbnb. —Katie Wesolek
You're desperately trying to remember how you coded your MySpace page so you can apply at Oracle. —Corbin McGrath
Shelby Bottoms are the gay people living on Shelby Avenue in East Nashville. — Bil Breyer
You waited in line at Paula Deen's Big Ass Honky Tonk and Chicken Fried Butter Skillet House. —Allison Lund 
After a year of isolation, the horniest thing in East Nashville was still that barge back in January. —Andy Gasparini
Tempo the Coyote was literally the best thing to happen to you all year. —Hilary Jones 
You're wondering when Nashville SC will introduce a roadrunner secondary mascot. —Hilary Jones
Fucking lizard people?! —Nate Griffin
You got a full cash offer, sight unseen, for this contest before it was even published. —Jamie Yost
---
The Weirdies
You wonder what happened to the Bang This twins and hope they are well. 
You run into your son's mohel while enjoying a Station Inn performance at Yazoo Brewing Co. 
You're not good 'cause you're old, you're old 'cause you're good. 
You interrupt binge-watching Charlie's Angels to call your doctor to report an erection lasting more than four hours.  
​​You don't know what belongs to the Spicy Boy. 
You wish the Friedman's Army Surplus old Kroger door pads could have survived long enough to see the old Compton's on the corner become another Kroger's! 
You wish Frazier was still on TV so they could do a season's worth of shows of Frazier and Niles trying to find the perfect mask during COVID. 
---
Past Winners:
1989: You think our Parthenon is better because the other one fell apart. — Susan Fenton
1990: Your mayor is married and engaged at the same time. — Maralee Self
1991: You say to the person behind the counter at the Hot Stop, "We really kicked y'all's ass in that Desert Storm." — Willie D. Sweet Jr.
1992: You go to a Hank Williams Jr. concert at Starwood and pass out before Hank does. — Ted W. Davis III
1993: Your church congregation is referred to as "the studio audience." — Sharon Kasserman
1994: You think that the H.O.V. lane is for people with AIDS. — Paul Allen
1995: No winner
1996: You never meant to stay here this long. — Robert Jetton
1997: You've checked your flower bed for Janet March. — Terry Robertson
1998: You're the only one who doesn't know you're gay. — Diana Hecht
1999: You dig up your mom. — Rick Hagey
2000: You want to vote Brad Schmitt off the island. — Chad Tribble
2001: Your minister follows the Nine Commandments. — Ken Lass
2002: Towns you've never heard of are going to be hit by a tornado at 6:51, 6:53 and 7:01 p.m.  — Rick Hagey
2003: You returned a friendly Southern wave to Adam Dread as he veered across Franklin Pike. — Cindy Parrish
2004: You need a war to sell records. — Joe Scutella
2005: Your governor gives TennCare beneficiaries McDonald's instead of health care coverage. — Ken Lass
2006: You were a gay cowboy before being a gay cowboy was cool. — Michael Williams
2007: You saw Kenny Chesney in a Kroger reading Out & About. — Michael Williams
2008: Your DUI arrest gets a five-star rating on YouTube. — Roy Moore
2009: Your local GOP makes the KKK look like the ACLU. — Jonathan Belcher
2010: Your city flooded and all you got was a lousy T-shirt. — David Anthony
2011: Gay gay gay, gay gay; gay gay gay gay gay. — Dana Delworth
2012: You think Bart Durham should direct The Real Housewives of Nashville. — Holly Matthews
2013: You think the TV show should have been called Mount Juliette. — Bill Hench
2014: Your amp goes to 11, but not to Belle Meade. — Zack Bennett
2015: You're afraid Bob Mueller's mustache will be torn down to build a high-rise apartment building. — Zack Bennett
2016: Your therapist doesn't know you're gay. — Russell Ries Jr.
2017:In June, you were citing Rule No. 48.24-B that states a goal can be reviewed if an inadvertent whistle caused a stoppage in play. In January, you thought hockey was played with a ball.  — Brian Bates
2018: Nashville is canceled. Also, the TV show was not renewed. — Charlie Harris
2019: Your idea of "light rail" means doing just a little bit of coke.  — Katie Wesolek
2020:Your idea of contact tracing is checking for hand stamps from Kid Rock's Big Ass Honky Tonk & Rock 'N' Roll Steakhouse. — Megan Minarich